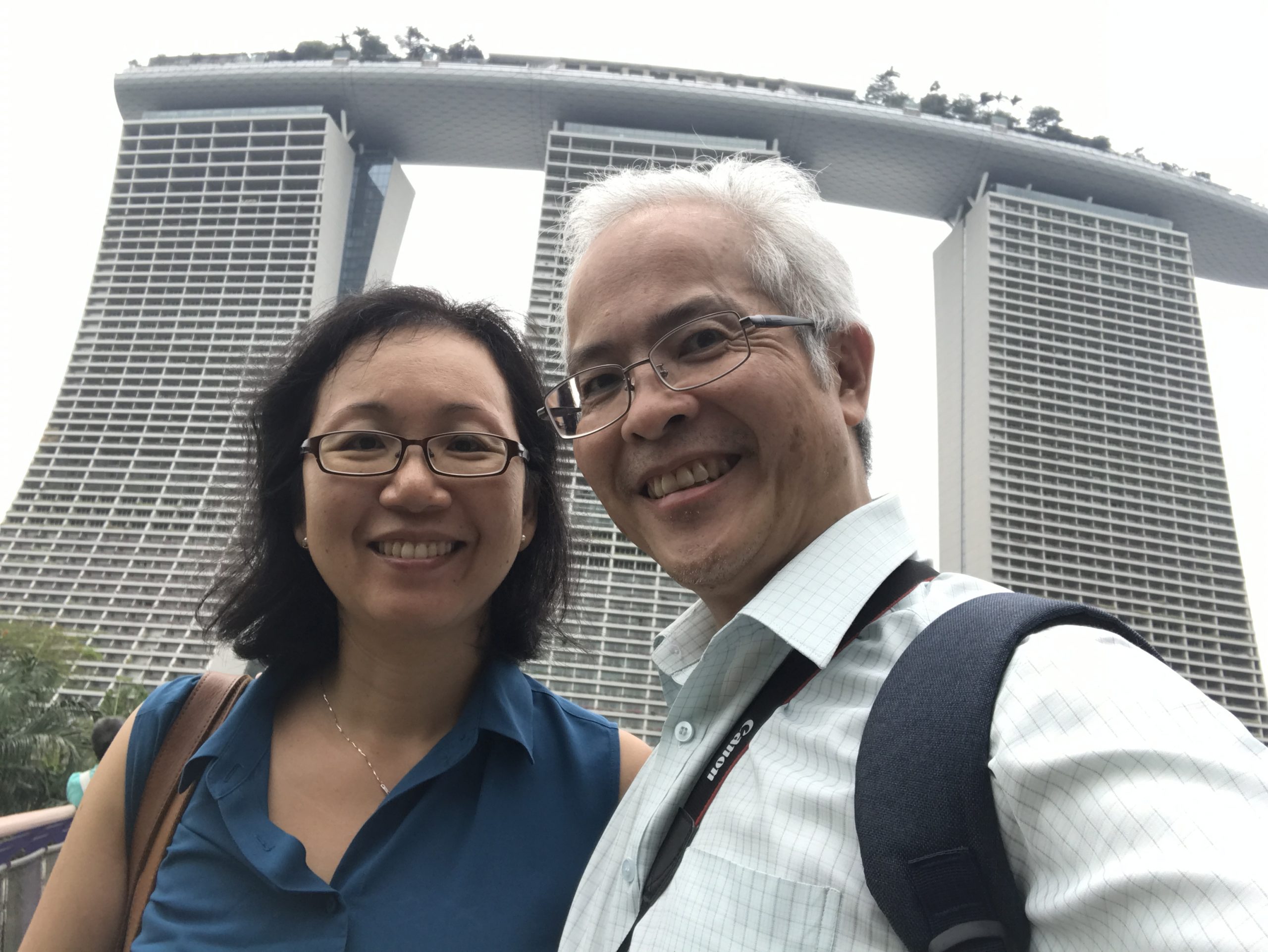 Dr Mark Syn with his wife, Ruth. A Singaporean who emigrated to Australia at age 7, he is the first non-American to serve as International Director of Pioneers. Photos courtesy of the Syn family.
Dr Mark Syn has been appointed as Pioneers' new International Director, the first non-American to serve in the position, announced mission organisation Pioneers late last month.  
Dr Syn was born in Singapore, grew up in Australia, and has been the Director of Pioneers inAsia, the movement's mobilisation base in Singapore, since 2014. He will assume duties of the new role in March next year. 
Prior to serving in missions, Dr Syn was an engineer in the automotive industry. He and his wife, Ruth, moved to South Asia in 2004 and did missions work for 10 years there. Dr Syn, 55, has degrees in mechanical engineering, management, an MBA from Monash University and a doctorate in intercultural studies from Biola University. 
He will take over the role from Pioneers' current International Director, Eric Peters, who has served since 2010. The international director leadership role is appointed by Pioneers' international council, a group comprising mobilisation base directors, board members and field leaders from the Pioneers community. 
Dr Mark Syn, Pioneers' new International Director, is the first non-American to serve in the position.
"It is with gratefulness and anticipation that we welcome Mark Syn as the new Pioneers International Director," said Peters. "Mark's innovative and visionary servant leadership, his exceptional analytic skills and his demonstrated life of devotion to God are a gift to Pioneers and will bring timely influence in these days of rapid change in global mission." 
Pioneers is an evangelical missions movement that partners with local churches to send teams to make disciples of Jesus among people groups with little to no access to the Gospel. It has 17 mobilisation bases and offices, and more than 3,200 international members serving on 335 teams in 103 countries.  
Since its founding in 1979 in Washington, DC, other organisations such as World Outreach Fellowship, Ameritribes and Arab World Ministries have merged with Pioneers.
The movement launched bases around the world and it eventually shifted to a decentralised and international structure. This has allowed the movement to partner with churches and mobilise missionaries from nations that were themselves once mission fields, including Ghana, Kenya, Brazil, the Dominican Republic and Peru. 
The new international director will be tasked with nurturing unity in a movement composed of Christian workers from diverse cultural, generational and denominational backgrounds to achieve Pioneers' ministry focus of initiating church-planting movements among unreached people groups. 
"I'm honoured to be asked to serve in this role, and humbled that the Lord has chosen me in this season to steward the amazing legacy begun by our founders, Ted and Peggy Fletcher, more than four decades ago.
"Their pioneering and innovative approach has shaped our ethos and are still part of our organisation's DNA," Dr Syn told Salt&Light.  
"The task of the current leaders is to seek the Lord for what 'pioneering' means in this generation and to ask what the Lord requires of us."  
Globally, Pioneers works with over 500 people groups and almost 300 languages.  
However, Dr Syn noted that there is no shortage of additional unreached people groups to work with.  
"Global missions is one of the occupations where there will never be unemployment. I would love to see the global church more engaged in the harvest. This is not just the task of legacy countries in the West, and we rejoice that there are many more nations from the global South that are coming alongside in the race," he said.  
Childhood in Singapore 
Dr Syn was born in Singapore but emigrated with his family to Australia when he was seven years old.  
Before the relocation, he lived in Bukit Timah and recalled memories of going fishing near his grand aunt's house in Pasir Panjang beach. Though he only attended Anglo-Chinese School for one-and-a-half years, he can still sing the school song. 
"I had made periodic trips back to Singapore over the years and while the flavour of everything was so familiar, everything has changed now. Everything is much smaller than I remember," said Dr Syn, who moved back to Singapore with his family in 2014 to lead the movement's mobilisation base here.  
He first heard the Lord calling him to serve in long-term cross cultural missions work way back when he was involved in Christian ministry in university. So, he had planned to go into the mission field five years after graduating with an engineering degree.  
But God had other plans.  
Lord, why have You not sent me yet? 
Dr Syn ended up working for Toyota and other automotive companies. Each time he was promoted up the management ranks, he wrestled with God and asked Him: "Why is it that You have not sent me out yet? Surely You need more workers on the field; why am I climbing the corporate ladder when I could be in the mission field?"  
Yet each time the Lord would say to him: "This is your training for your real job in life."  
"In the Lord, no experience is wasted. There are many things that you don't learn in Bible college which are useful in missions work."
He recalled that Toyota was once doing badly in sales and they offered voluntary retrenchments to any staff who would take it. Dr Syn volunteered to be retrenched, thinking that the money would allow him to go to Bible college. Immediately, the Lord made it clear to him that it was not the right time and he had to go back to his boss to ask him to take his name off the retrenchment list.  
"On hindsight, it was clear to me that the Lord wanted to equip me in the local church and the corporate world before he sent me to the field.
"In my work now, I see the purposes of the Lord more clearly. In the Lord, no experience is wasted. There are many things that you don't learn in Bible college which are useful in missions work," said Dr Syn.  
He advises young people who aspire to go to the mission field to get a few years of work experience under their belt, as it inculcates discipline and faithfulness in the natural things that also shape them for the field. Yet he also cautioned them not to get too intoxicated by the professional world.  
"I know many people who felt called to be pastors and missionaries when they were in university, but never walked in that call. I, too, felt the pressure of providing for my family, educating my children and caring for my ageing parents.
"I, too, felt good about each promotion, seeing my pay check grow each year, driving a company car around, and receiving company shares. But as Charles Spurgeon said, 'If God calls you to be a missionary, don't stoop to being a king'. Being a missionary is a high calling in God," said Dr Syn.  
Missions work in a country he once hated  
After working in the corporate world for 15 years, God led Dr Syn and his family to do missions work in a country in South Asia for 10 years. It was a place he had hated after going there for a short-term trip in university.
At the time, he had told God he would be willing to serve Him in missions, but not in that country.  
Years later, when he was praying about where to serve, God began laying the country on his heart.
He and his wife, Ruth, took their three-month old baby along for a recce trip there, much to the consternation of others who said they were "throwing away their careers" and that it was a stupid idea to bring a newborn to the country.
During that trip, the Lord gave them confirmation after confirmation that it was the place He wanted them to serve. They eventually returned to serve there for a decade before moving back to Singapore.  
During his time here, he and his team mobilised people from over a dozen Asian countries, even as far as Kazakhstan, to reach out to the rest of Asia.  
"Singapore is a strategic location, multicultural, blessed with a mature church, and culturally between East and West. It will continue to be the mobilisation base which helps to catalyse the emerging missions movements in Asia," said Dr Syn, who titled his book On Being the Antioch of Asia after coming to believe the special call Singapore has as a missions-sending nation. 
He anticipates being based in Singapore for at least the next couple of years.
After handing over the work of Pioneers inAsia mobilisation base to a new leader, he will be more engaged in the international role of leading, guiding and growing the movement that now has missionaries serving in more than 100 countries. 
Preaching to the Church before preaching to the lost
What continues to burden him is that the global church spends a mere fraction of its resources on reaching those who do not have the Gospel.
Open Doors reports that Christians are living in a time when persecution against believers is the highest in modern history. 
Instead, the Church tends to spend most of its resources on church buildings and programmes as well as on those who already have received the Gospel. 
He noted that, according to statistics for the year 2000 from the Urbana conference in the US, less than one cent is given towards the unreached for every $1,000 of Christian income in the world. 
He also observed that there are new challenges facing global missions moving forward – doors are closing in some places to traditional models of missions, with more scrutiny by governments, and a growing hostility towards Christianity in many countries.
Open Doors reports that Christians are living in a time when persecution against believers is the highest in modern history. 
"I think we need to continue to preach the Gospel to the lost, but we also need to continue to preach to the Church. Many of us live as if the 80 years that we live on this earth is all that matters," said Dr Syn, who has three children who are still studying.  
Regardless of whether believers are called to serve at home or overseas, he added that all of us are commanded to engage in the Great Commission, not just the special few who are "called". 
Said the former engineer who will soon be the head of an international missions movement: "There is no shortage of money in the Church, but we have a shortage of labourers. Today, we need workers with all kinds of skills, traditional skills that we associate with 'ministry', as well as skills we usually associate with our professional lives."  
---
RELATED STORIES: 
If you have enjoyed reading Salt&Light...
We are an independent, non-profit organisation that relies on the generosity of our readers, such as yourself, to continue serving the kingdom. Every dollar donated goes directly back into our editorial coverage.
Would you consider partnering with us in our kingdom work by supporting us financially, either as a one-off donation, or a recurring pledge?
Support Salt&Light