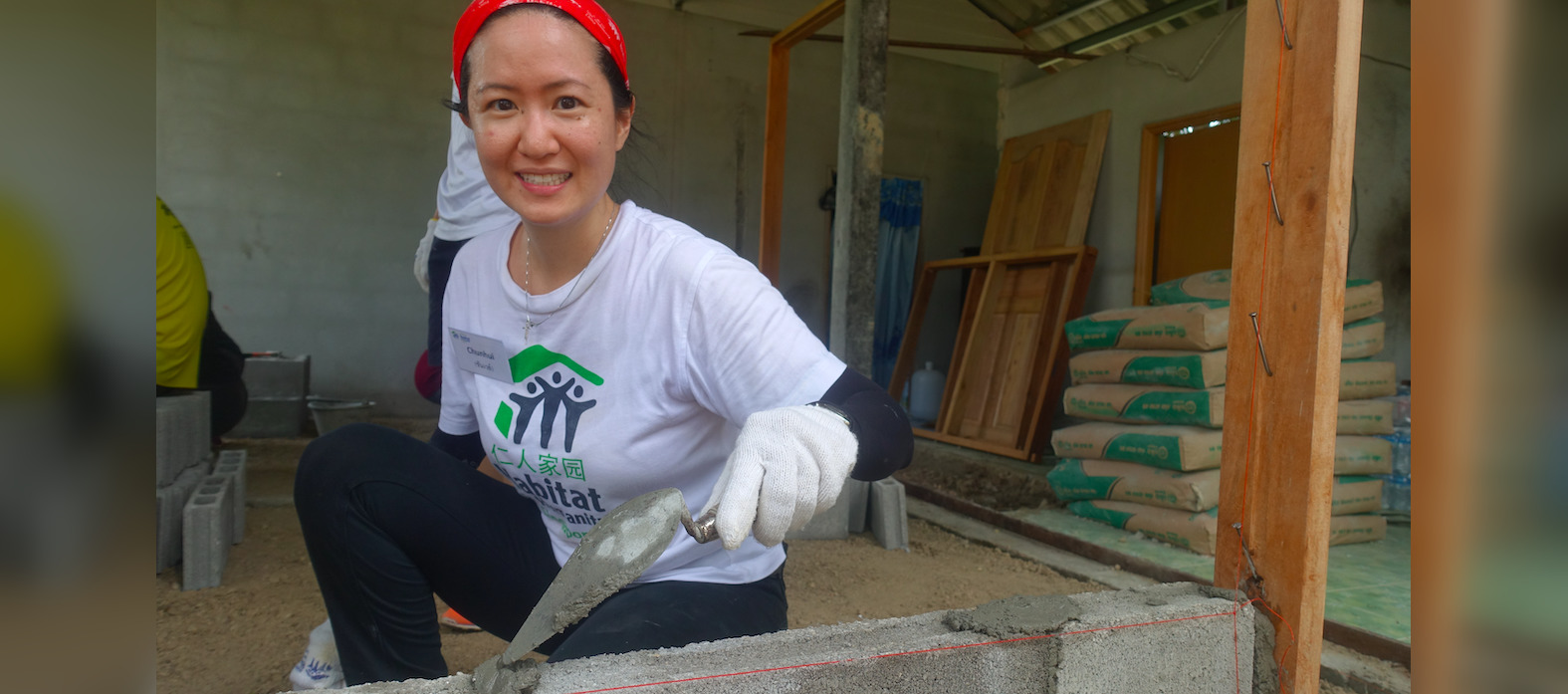 Through baring her weakness, Sim Chunhui, who was born with a deformed right arm, hopes to encourage vulnerable homeowners so that they, too, can overcome the barriers they face in life. Photo courtesy of Habitat for Humanity Singapore.
Despite only having one hand, Sim Chunhui has spent the last eight years mopping floors, scrubbing toilets, painting walls and hauling furniture in and out of cluttered homes.
As a staff member of non-profit organisation, Habitat for Humanity Singapore, Sim works with vulnerable persons to rehabilitate their homes into a safe and sanitary state.
"I hope to encourage them through my own vulnerability, to give them hope that they can do it too."
The work is physically challenging and back-breaking, but it has done anything but deter the 37-year-old, who was born with a deformed right arm that ends just below her elbow.
On the contrary, it has taught her how to carry out tasks creatively. For example, she uses her bodyweight to move heavy objects, and engages other body parts, like her feet, to hold down items that need to be cut.
Transforming the homes of these vulnerable homeowners helps to bring back a sense of normalcy and calm to their lives, said Sim, noting that the state of their houses is often a physical embodiment of the inner turmoil they are experiencing.
"For many of them, something they didn't choose has struck them in life, be it a health condition, an intellectual disability or some emotional trauma, and they've fallen down," she said, adding that an orderly home helps to lay the foundation of healing in their lives.
But more than just cleaning up their homes, Sim hopes that, as she bares her own weakness, she can encourage these individuals to overcome the barriers they have faced.
"I hope to give them hope that they can do it too – creatively and through some perseverance. Maybe they have to do it differently from others, but it can be done. They're not useless."
Growing up different
After all, Sim understands first-hand the shame of having to ask for help to do the most basic of tasks, as well as the crippling frustration of helplessness.
From a young age, she struggled with daily tasks that her peers often took for granted, like wearing a watch, buttoning a shirt or tying her own hair.
"Anything that needs two hands to do is challenging for me," said Sim, who has worn a prosthetic arm since she was four.
For example, while her peers could focus solely on solving problems in a mathematics class, she had to, at the same time, figure out how she was to draw a line with a ruler.
Even the daily commute to and from school posed a challenge, especially when the bus driver moved off before she could put away her EZ-link card, leaving her with no free hand to steady herself.
"I will always remember the time the boy I had a crush on was on the bus, and I fell down! Oh, horror of horrors," she recalled.
Is God a cruel prankster?
Vulnerability did not come easily for young Sim, though she had loving parents and accepting peers who never bullied her.
"What kind of God are you to create me with this disability that gives me so much difficulty?"
As a matter of fact, she fought her hardest to cover up her weaknesses from her teenage years, after the reality of her disability and what that meant for her future really sank in.
When she searched out part-time jobs, she encountered employers who were sceptical of her ability to carry out tasks. And though she entertained big dreams of becoming a singer one day, she doubted that people would accept her because of the way she looked.
She recalled: "Suddenly there was this awakening, this realisation, that everyone else seemed okay. Nobody else had to struggle like me. I thought, why is life so unfair?"
It made her resentful.
Though she had no religion at the time, she railed at a God she believed was somewhere out there, playing a cruel prank on her.
"I remember the thought that struck me so deeply: What kind of God are you to create me with this disability that gives me so much difficulty? Are you up there having fun watching me like this?" she said.
If God is not one to be trusted, she decided, then she would just have to help herself and be strong on her own.
An armour of false strength
Sim resolved to be independent and to prove to others – and herself – that her disability did not make her inferior. 
Refusing to show any signs of weakness, she would become irritated with people who offered to help her with simple tasks.
"I kept chasing harder and harder after these things, but it just felt very hollow and endless."
"The moment there was a chink in my armour, I'd have a big reaction," she said, adding that asking for help felt like a crushing defeat.
At school, she worked doubly hard to score good grades.
When she began working in the Meetings, Incentives, Conventions and Exhibitions (MICE) industry, she slaved away to obtain high ratings for her appraisals and ascend the career ladder.
Her salary was splurged on branded bags, which she was convinced would serve as marks of her success.
But, while this resolve helped to build up her personal ethos of perseverance and resilience, it gradually began to consume her identity.
"At some point it crossed a line. I got a bit crazy chasing after all of these things and endlessly needing to be recognised. I just wanted the admiration and praise," she said.
Yet, even though she had what many would consider a successful life, the gaping void in her heart remained.
"I kept chasing harder and harder after these things, but they just felt very hollow and endless," she said. "The harder I chased, the emptier I felt inside."
She also found herself caught in a web of lies that she felt she had to tell different people, just so that she could "appear perfect" in every relationship she had.
Sim recalled: "I started getting very confused. Like, who am I?"
Jesus, a religious fanatic?
By her early 20s, she found herself at breaking point. The pressure she had long put on herself had finally grown too heavy for her to bear.
Sleep eluded her as her mind whirred without pause. Anxious thoughts about delivering stellar and perfect results swirled constantly in her head.
"It just felt like I was trapped at the bottom of this dark pit and, if I don't climb out, I'd just die here," she recalled.
"I said, please. My soul is so restless. I just need some rest, some comfort."
During these sleepless nights, she found herself singing Christian songs she had learnt during her years at Anglican High School, a mission school.
Though she had never paid much attention to the Bible study sessions, songs like God Will Make A Way and You Are My All in All had stuck with her.
The name Jesus had stuck with her, too. However, she did not know much about Him, and thought Him to be just a religious fanatic who had been killed for his beliefs.
But, desperate for some form of relief, she began to pray in His name.
"I said, please. My soul is so restless. I just need some rest, some comfort," said Sim, who at the time was pursuing further studies part-time in Perth, Australia.
To her surprise, every time she prayed to Jesus, she would end up falling asleep. Maybe there is something to this Jesus, she thought.
So when members of the student church at her university reached out to her, she followed them for church services and cell group.
"At that point I had already tried doing things my way, but it only made me feel emptier and more hollow. So, I decided to try another way. And I was starting to think that maybe the answer could be found in Jesus Christ," she said.
"What if my disability were a gift?"
When she returned to Singapore, Sim got married and found a church to settle down in with her husband.
During one Bible study, she learnt that Jesus was not just any other religious fanatic but God Himself who came to die for her sins. The truth struck her deeply.
If God loves her so much, then surely her handicap cannot be a mistake or something cruel, she reasoned.
"I was so mind-blown and touched. It became so personal suddenly, knowing that God loves me so much that He would come to die for me," she said. "That was really the moment that turned everything around for me."
As she learnt more about God and began to have a relationship with Him, she realised that He was all she needed to fill the gaping void in her heart.
"I had been trying to feed my soul with people's praise, admiration and love. But all that felt like I was just eating soil. No matter how much I ate, it couldn't fill me," she said.
"Through all my prayers and struggles, I found out that the only thing that can really fill me is Jesus Christ. He was the One who gave me rest, fed me and filled that hole in my soul."
But more than that, her knowledge of God's unconditional love for her shifted her perspective on the disability that she had spent years resenting.
"God loves us in all our brokenness. He can fill us to overflowing."
If God loves her so much, then surely her handicap cannot be a mistake or something cruel, she reasoned.
"Instead of seeing it as a shortcoming or a defect, what if it were a gift? How do I use it for good, to glorify God in His creation of me?" she wondered.
Just like that, her desperation to appear strong and independent melted away. In fact, she began to see that her "tough armour" was hindering others from seeing God's strength in her.
"Paul says that it is in our weakness that people can see God's work (2 Corinthians 12:9), so I wanted to let people in, to let them see that I am imperfect, and God loves me so much anyway," she said.
Over the years, she also realised that she had been wrong to think that everyone else had life easy, just because they did not have a disability.
"I realised that all of us have our own struggles. Mine just happens to be more obvious," she said.
Acknowledging that she is imperfect, flawed and sinful has been both humbling and liberating, she added. And, more importantly, it has allowed her to use her weaknesses to glorify God.
She hopes that in being honest about her struggles, others will know that they are not alone and that it is okay not to be perfect.
"I guess by sharing, I'm hoping to encourage more people to see how much God loves us in all our brokenness. He can fill us to overflowing," she said.
Learning what love is
The more Sim experienced God's love in her life, the more her focus shifted from obsessing over her own shortcomings to looking to the needs of others.
Love is doing what it takes to care for someone else – even if it means battling her fear of flying cockroaches.
As she began to seek God for direction in her life, He opened her eyes to see that she has been greatly blessed.
"It was a very clear call to step out and give back to the community," said Sim, who admitted that she had not volunteered for much community work up until that point.
After spending a year volunteering at various organisations, God eventually led her in 2013 to a full-time job at Habitat for Humanity Singapore, a Christian non-profit whose mission is to provide decent and affordable housing to those in need.
Her past struggles have allowed her to relate to those she serves, especially when they make snide or seemingly ungrateful remarks to those who try to help.
"I can understand, because I was exactly like that," she said.
Sim has since gone from wearing two-piece suits at a posh conference centre – with a cup of Starbucks coffee in hand – to wandering around the neighbourhood carrying mops and pails.
"Only God's love could fill me up, and when I share this love, it seems to grow and multiply."
"In the earlier days at Habitat for Humanity, I was thinking: What am I doing with my life? I'm squatting here in someone's toilet and every time I flush, the cockroaches run out of the cistern," she said, breaking into a laugh.
But she has learnt from Christ that this is exactly what love is: Rolling up her sleeves, denying herself and doing whatever it takes to care for someone else – even if it means battling her fear of flying cockroaches.
"Even if I'm scared, no. I still have to go in there, because aunty and uncle are also in there and we want them to have a cockroach-free environment," said Sim, who is now a senior manager at the organisation.
But perhaps more precious to her is experiencing the truth of what God says in His word, that it is more blessed to give than to receive.
She said: "At first I tried to receive and suck in so much from other people, but it couldn't fill me up. Only God's love could fill me up, and when I share this love, it seems to grow and multiply."
---
IF YOU LIKED THIS STORY, READ:
How do we enable differently abled persons to be full participants in the community of faith?
"Nigel and Donavan, one day we'll meet again," say parents of boys in tragic Tampines accident
If you have enjoyed reading Salt&Light...
We are an independent, non-profit organisation that relies on the generosity of our readers, such as yourself, to continue serving the kingdom. Every dollar donated goes directly back into our editorial coverage.
Would you consider partnering with us in our kingdom work by supporting us financially, either as a one-off donation, or a recurring pledge?
Support Salt&Light