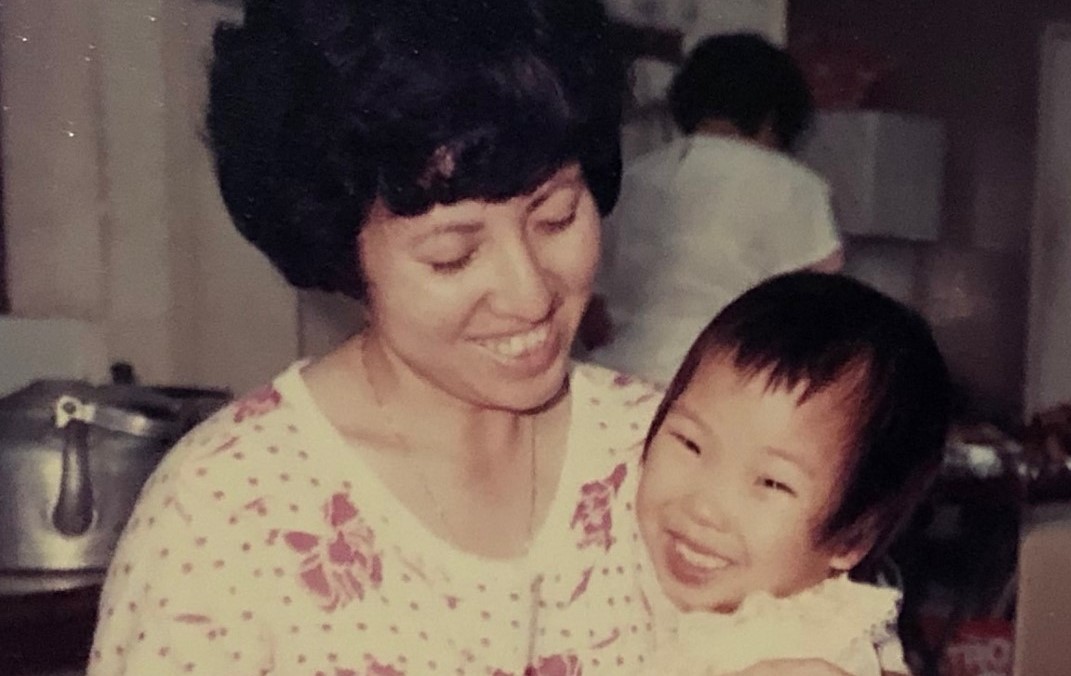 A second chance at happiness: Grace's adoptive mother celebrating her 4th birthday.
Grace Lee grew up in a children's home but memories of her time there are hazy.
She was always hungry, she recalled, as the older kids would snatch her food. When she cried, they pinched her and left bruises all over.
Once in a while, the staff would dress the children up nicely and tell them they had an important meeting to attend.  
Those were the days when potential adoptive parents would turn up and "choose" which child they wanted to adopt.  
Most of the children would be at their best behaviour, with every child secretly hoping that this would be the day when he or she would be singled out to be loved in an actual home.  
Skinny and bruised  
Yet there was something different about a couple who showed up one day.
Their attention landed on a bruised young girl who was perpetually crying every time they visited.
It was not a child's smile nor laughter that drew them in. Rather, their attention landed on a young girl who was perpetually crying every time they visited and on whom they noticed many bruises.   
The couple prayed about adopting this two-year-old girl. Meanwhile, they visited her every week at the home and observed how her face would light up whenever they brought her food.
Grace would sit contentedly on their laps, clutching the snack in her tiny hands.
After much prayer, they felt led by God to adopt Grace. The process was a difficult one – records showed that she had been abandoned and reasonable efforts needed to be taken to obtain consent from her birth parents before she could be adopted.  
Apart from engaging a lawyer, the couple also had to place an advertisement in the papers to try and locate her biological mother. It was only three years later when the couple managed to get all the paperwork approved that they could finally bring the five-year-old girl home.  
Said Grace, whose birth name is Ho Zhen Xue: "The adoption process was not easy so they renamed me Grace as a reminder of God's grace that enabled the adoption to go through."
Every Sunday, Grace tagged along with her parents to church.   
"They renamed me Grace as a reminder of God's grace that enabled the adoption to go through."
Even at a young age, Grace's heart craved love, despite being happy and not knowing that she was an orphan or had been adopted. 
She especially loved worship songs like "Jesus Loves Me"or verses likeJohn 3:16 that spoke about love. 
When she was in Primary 1, she said the Sinner's Prayer together alongside the rest of the children in her cohort as she wanted to follow Jesus.  
By the following year, however, she stopped going to church. Two incidents happening in the same week had rocked her world.  
The truth comes out  
The first occurred during a bus ride she took on the way home from school. A senior lady came up to her and asked if she had lived at Wilkie Road Children's Home before. Grace was too stunned to respond because she only remembered growing up in a confined space with other children and did not know the name of the place. The incident left within her a strange sense of unease.  
She suddenly blurted out: "You know you are adopted right?"
That very same week, a senior pastor from her church also approached her to chat.  
"She asked how my life and studies were and then suddenly blurted out: 'You know you are adopted right?'" said Grace, now 35.  
Rendered speechless, question after question surfaced in eight-year-old Grace's mind: What is she talking about? You mean everyone in church knew I am adopted except for me?"  
Overwhelmed by an inexplicable feeling of shame, Grace immediately asked her parents about it in the car.  
"Was I abandoned or adopted?" she asked them.  
They became quiet and then quickly diverted the conversation. They questioned her instead about who had told her about the adoption and began talking among themselves.  
During subsequent times when she broached the topic with them again, they fobbed off her queries by asking her not to worry about it.  
From that day onwards, she stopped going to church.  
There was no point in doing so, she thought, since the adults whom she trusted – her parents and leaders in church – would not answer the question she most wanted to know: Was I abandoned?  
She went back to the senior pastor to ask her more, but this time she was told, no, she was not abandoned.  
Liars, all of them are liars, thought Grace. She was also angry at God for letting her find out about Wilkie Road Children's Home and her adoption, yet not offering her any of the answers she was seeking.  
Grace started withdrawing from people and bottling her feelings up.  
When she turned 12, another incident turned her world upside down.  
Unwanted and unplanned 
While helping her parents to pack things before they moved house, she found the missing person advertisement for her biological mother that her adoptive parents had placed in the papers in order to adopt her.  
It was the first time she saw the face of her biological mother and the resemblance of their noses shook her from the inside out. She also found out from the paperwork that was attached to the newspaper article that her mother was a bar girl who had an affair with a married man. In other words, she realised she was not only "unwanted" but likely to be "unplanned".  
Grace went into her room and cried like she had never done before. Then, she threw away the Bible that she had and burned the photographs she had taken with her church friends. She had found the answer to her question – she was indeed abandoned by her mother in a hospital. She concluded that all those trusted adults in her family and church had "lied" to her; it did not matter that perhaps they did so out of a desire to "protect" her from the truth.  
"No one was ready to have such conversations or they felt I was not ready to handle it. My world crumbled," said Grace.  
Each time her parents had to go to school because she was causing trouble, she would feel proud, not embarrassed.
The teenager then became her own investigator. At 12 years old, a classmate accompanied her to the police station to get more information on her biological parents. She gave the police officer her mother's name and identification card number. However, all the police officer would tell her was that her mother's address was listed differently from the Joo Chiat address in her birth certificate, and that she needed to write in formally to get more information. 
She did write in, five years later when she was in polytechnic, and found out that her mother was listed as missing. There was also no father's name registered in her records. The trail had gone cold and she stopped investigating.  
Throughout her teenage years, Grace's bedroom door was always shut. She withdrew from her family and relatives by not talking to them or joining in any gatherings.  
When her parents took her to counselling sessions, she refused to talk to the counsellor. Instead, she acted out by banging her head on the wall and floor until her parents and the counsellor gave up.   
"Though I had shut Him out of my life, He still answered me when I cried out to Him."
She kept bad company in school, lied, ran away from home and shoplifted. She stole small items like candy and chocolate just for the thrill of it. Yet each time she would be so terrified when caught red-handed by the staff from large supermarket chains that she would utter a desperate prayer for God to get her off the hook.  
Though she was caught four or five times, mysteriously, every time the staff member took up the phone to call the police, he would have a change of mind and would give her a second chance.  
"I saw it as God's protection and mercy upon me. Though I had shut Him out of my life, He still answered me when I cried out to Him," said Grace.  
 Her rebellious antics made her notorious in school. Each time her parents had to go to school because she was causing trouble, she would feel proud instead of being embarrassed.  
Unresolved hurts 
In her heart, she knew her parents loved her, but they could not answer her questions about her birth and origins to her satisfaction.  
Her inner hurt could not be healed, and her unresolved past affected her ability to make friends. She only had seasonal friends and no close ones.  
"I didn't know who I was and so I could not be real with people. I could not share with others that how I spent my weekend was being by myself in my room. So I became used to being alone," said Grace.  
In her teens, Grace cut a solitary figure, usually reading or sleeping in her room or catching spiders and insects by herself among the trees in the park downstairs. Her adoptive parents had a son four years after they adopted her. She got along very well with him but saw him mostly as a playmate rather than a confidante due to his younger age.  
"I didn't know who I was and so I could not be real with people."
Loneliness felt normal, but it also carried a lingering sense of emptiness. To assuage those feelings, she remembered the childhood worship songs she used to sing and would play them in the darkness of her room. She kept the volume low, not wanting her parents to know that she was listening to Christian songs.  
Despite loneliness being her shadow, she strove to be as self-sufficient as she could. She did not want to depend on or involve anyone in her life. If she did not have money, she would steal. If she needed her parent's signature on her report cards, she would forge it. She was getting "F" grades most of the time anyway and did not want to have to account to her parents.   
Life became slightly better for Grace when she entered the Institute of Technical Education (ITE). She liked the hands-on nature of the curriculum though she continued flunking her tests and exams.  
Words that spoke to her broken heart
During her first semester at ITE, she attended a talk by a motivator speaker who was also a single mother.  
Every word that came out of the mouth of the speaker seemed to speak directly to her broken heart.  
It was as if the speaker was her own mother, speaking to the young and abandoned Grace. 
The single mother shared about why she abandoned her own child and how she felt about the decision. The speaker was very repentant and said she had already made a mistake by having a relationship with a married man, so she did not want to make further mistakes by aborting her child. She talked about how no parent would deliberately abandon their own child and how many of them did not have the capacity to care for the child at that point in time.  
It was as if the speaker was her own mother, speaking to the young and abandoned Grace. 
"During that time, I felt so lost and I remember crying to God for help and guidance in my life. I believe He sent her to my school to give the talk," said Grace.  
"A one-hour talk by a stranger managed to give me all the answers I was in search of for the last 17 years of my life. I took to heart her advice about how the past could not be undone but that we have the power to change our own future," said Grace, who found herself in tears.  
From then on, Grace began accepting herself and her past. She also decided to take charge of her life by studying hard. Every day after classes, she would park herself in the staff room to study and unabashedly go up to her teachers to ask for help with any questions that she had.  
"I realised what my parents must have been feeling and why they could not really talk about my abandonment."
She also tried to spend more time with her parents at home and asked them for feedback on her schoolwork, something she had never done before. 
To her surprise, she aced her subjects and went from being at the bottom of her class to placing in the top three by the end of her first year at ITE. 
During that time, Grace did not have the courage to go back to church but she listened to sermons online and kept up with reading the Bible.  
She did so well academically that she made it to Temasek Polytechnic's business diploma course. In polytechnic, she began being able to make close friends as she found herself slowly being able to talk about her past, though she would still omit the parts about her abandonment and adoption.  
"It was then that I realised I could understand what my parents must have been feeling when the topic of abandonment and adoption came up and why they could not really talk about it," said Grace.  
As she opened up to people around her, she realised that she was actually quite a chatty and sociable person. So when the opportunity came for her to give the hospitality industry a try through a four-month internship stint in a hotel in China, she went for it.  
She enjoyed her role as an F&B intern because she loved food, since she did not have much of it at the children's home.   
Smile angel
At the end of her stint, her reporting manager, who was also a single mother and whom Grace felt bore a "40% resemblance" to herself, gave her a special certificate to recognise her contributions.  
"The certificate was for the title "Smile Angel". She told me that my smile drew people in and observed that I would excel in this industry," said Grace, who was then praying for career guidance.  
Though she studied business in polytechnic and eventually got a scholarship to read business economics at Nanyang Technological University after polytechnic, she decided to follow her heart and go overseas to study and work in the hospitality industry.  
Her decision was also partly prompted by further turmoil at home. When she returned home after her internship in China, she found her mother sobbing in bed. It turned out that her adoptive father had had an affair and they were going through a divorce.
At that time, Grace had just started healing from her own past wounds, only to be overwhelmed again by anger towards her adoptive father and sadness for her mother.  
So she packed up and chose to go abroad.  
She furthered her studies in a Swiss hospitality institute and graduated with first-class honours. Then she took up her first job in Dubai and stayed there for two years.  
"When I finally got what I thought I wanted, I didn't want it anymore. What was wrong with me?"
In Dubai, Grace met and fell in love with a man of a different race. While with him, she worried constantly about whether her parents would approve of him as well as the possibility of divorce if things did not work out between them. She eventually broke off with him before heading back to Singapore.  
"My life experience made me lack confidence in men and it affected my love life. When things got serious with someone, I tended to withdraw," said Grace, who had also left her first love in ITE.  
However, should the right person come along, she says she is still open to marriage and parenthood.  
Upon returning back to Singapore, Grace continued in the same industry for close to 13 years, rising to the position of department head at a hotel. 
Last year, she received the good news that she would soon be promoted to a senior leadership position in the company. This was something that she had been slogging for and dreaming of for years. Yet when the news came, she did not feel happy.  
That puzzled her.  
"When I finally got what I thought I wanted, I didn't want it anymore. What was wrong with me?" she asked, crying in the staff locker room.  
"Look for your purpose" 
Later on, she came out to the guest check-in counter for a breather and happened to serve a guest who looked uncannily like her. Both of them did a double take and could not help looking at each other.  
"Is she my mother?" Grace wondered to herself.  
"Your career can change, but your purpose doesn't. Look for your purpose."
The two of them began talking and Grace found out that the guest used to be a hotel general manager and was now a life coach.  
Both of them arranged to meet to chat further over cocktails that evening.  
Grace hit it off with the guest and began confiding in her. The life coach told her: "Your career can change, but your purpose doesn't. Look for your purpose."  
For the first time Grace revealed her full personal history. She had not even shared with such depth with her two former boyfriends. 
Being able to share her story brought Grace a sense of "full closure".  
The life coach suggested that Grace tell her story to more people.
Together with the coach, Grace analysed her strengths and what she had to offer – natural public speaking skills and a broken past – and decided to use them to encourage a group of people she cared deeply about: Children and young people from disadvantaged backgrounds.  
She quit her job and started volunteering with children's homes by sharing her story with them. She also gave motivational speeches at schools. A teacher was so impacted by her sharing that he encouraged her to do it full-time.  
Hope and healing
Grace equipped herself further by enrolling in neurolinguistic programming and emotional intelligence courses before setting up her own life coaching company last month. She aims to use her past experiences to help children and youth rebuild their self-esteem and chart their life plans and goals.  
She also uses some of her coaching techniques on herself, especially when depressive thoughts take hold in her mind.  
"I'm someone without any relatives in this world. That thought alone can be very depressing," she acknowledged. Yet before those thoughts can take root, she has learnt to interrupt their flow and renew her mind by thinking positive thoughts or seeking out a mentor for conversation.  
When churches are able to resume their physical services fully, Grace also hopes to find a church community to settle in.  
"One cannot grow spiritually in isolation. I also miss the worship and fellowship," she said.  
She has seen the clear hand of God in her life, sending three key motherly figures in critical moments of her life to direct her paths.   
Joshua 1:9 reminds her not to be afraid or dismayed for God would be with her wherever she goes.  
"He sent people who either looked like me or who shared a life experience that I could connect with so that I would pause and listen to them. He has never left me," said Grace.  
That is why her favourite verse is Joshua 1:9, which reminds her not to be afraid or dismayed for God would be with her wherever she goes.  
This year, Grace turned 35.  
This was the age her biological mother gave birth to her and left her.  
Yet it was also when her adoptive mother took her in and loved her.  
At 35, Grace says she has "almost fully healed" and hopes to bring light to the darkness of others who may be facing similar pain or hurts. 
Life has indeed come full circle. 
Children belong in families. Will you open your homes to foster children in need?
"We knew in our heart that we are Kaela's 'forever family'": Couple who were moved to adopt their foster child
"Every time we say 'God, help us!' there are breakthroughs" says couple led to adopt a Timorese daughter
If you have enjoyed reading Salt&Light...
We are an independent, non-profit organisation that relies on the generosity of our readers, such as yourself, to continue serving the kingdom. Every dollar donated goes directly back into our editorial coverage.
Would you consider partnering with us in our kingdom work by supporting us financially, either as a one-off donation, or a recurring pledge?
Support Salt&Light