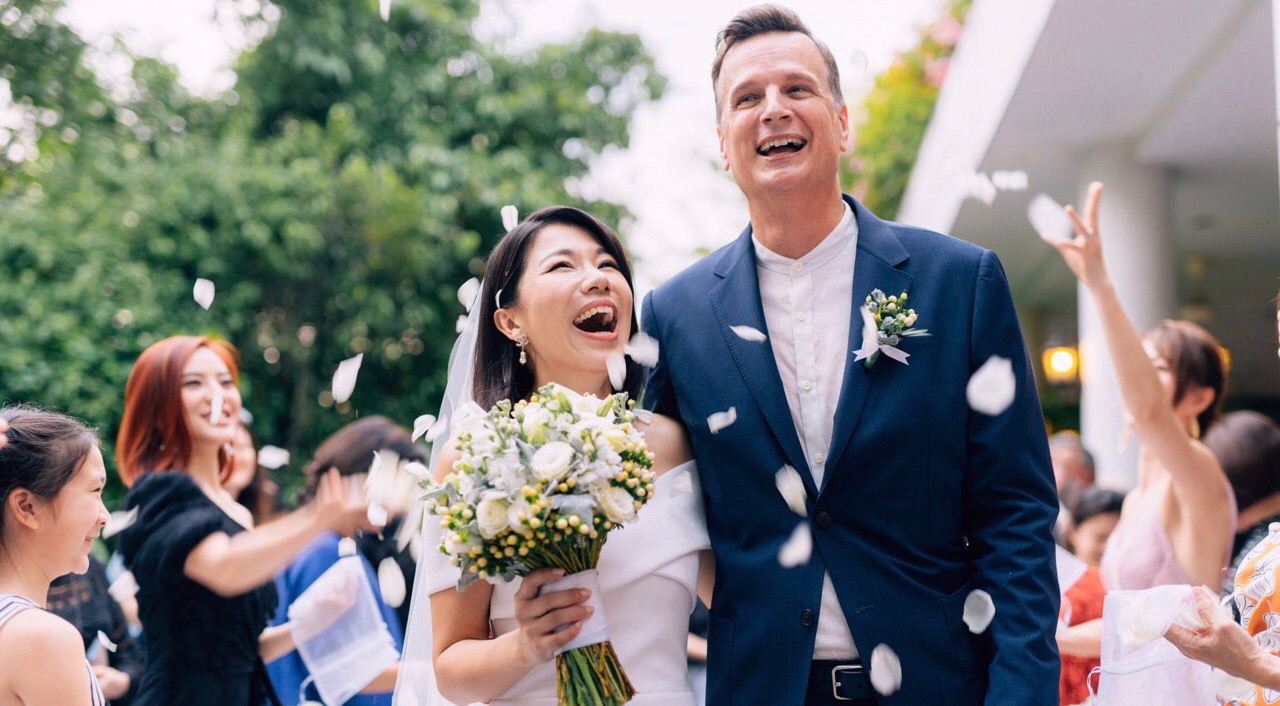 "People say: Never ever settle for second best. I feel that I've settled for God's best," says TV host and actress Belinda Lee of her husband, David Moore. All photos by Trouve Photography, courtesy of Belinda Lee.
Crap.
That was literally the topic of conversation when Belinda Lee first met David Moore.
It was June 2018, at the New Life Community Church camp.
Romance was the furthest thing from Belinda and Dave's minds as they were both going through rough patches.
They hardly noticed each other. Dave was hanging out with the golfers; Belinda was spending time with her sister's family and her dad.
The two were among a larger group of foodie friends who were determined to makan their way all the way up to KL. And makan they did.
"At breakfast we ate SO MUCH," says the popular bilingual TV host, her expression comical. "We ate so much that I had a stomach ache. And I needed to run back to the hotel.
"That one heart-to-heart started it all."
"So I was walking faster and faster, and this guy, Dave, was also going back to the hotel. And we introduced ourselves and he started to chat.
"But before we could continue the conversation, I couldn't take it anymore. I said, 'I'm so sorry, I gotta go. I need to take a dump. Bye!' And I ran!"
"Oh you were sprinting," Dave agrees, laughing, and adds amusedly: "I'd never had one of those words being the first that came out of the mouth of someone I just met."
"You know how big the roads are in KL?" Belinda says, choking back laughter. "And he saw me running across! It must have been quite hilarious."
A little later, the two bumped into each other again at the hotel lobby.
"How's your tummy?" Dave asked.
That was all it took to crack Belinda up and "we laughed for a good 10 minutes".
Over more makan that evening – this time, it was prata for supper with their pastors and friends – the two started chatting … and ended up chatting in the hotel lobby until 3 or 4 in the morning.
"That one heart-to-heart started it all," says Belinda, smiling up at Dave.
Love and loss
We are in Belinda's charming, cream-coloured living room. Crimson orchids and happy family photos make cosy accents around the serene home. Sounds of children in the HDB playground below filter through the curtains.
Belinda sits cross-legged on the cushy sofa. Dave's arm is around her shoulders. The couple gaze into each other's eyes often and tenderly as they tell their love story.
 "That first chat was such a good start," recalls Belinda. "I showed him my TV shows –  at that time I was filming this show called Bra. I was acting as a breast cancer patient and, you know, he had lost his wife a few months before he came for church camp and I had lost my mum because of illness as well. So I think it was the loss of a loved one that connected us.
"I think it was the loss of a loved one that connected us."
"We talked about some of the hardest issues right from the beginning," agrees Dave, a tall American with a gentle manner and kind eyes.
It seemed like God had conspired to throw them together repeatedly at that church camp.
A big dinner had been planned for the campers the next night. Dave walked into the ballroom and was looking for his golfing buddies when "a woman just grabs my arm and says, Comecomecome, you sit with us".
It turned out to be Belinda's sister.
"It wasn't because my sister wanted to matchmake us! She asked him to sit there so he could chope the front row table for us!" Belinda says with another peal of laughter. "But that gave us more opportunity to chat over dinner."
Both sides now
His interest piqued, Dave looked up Belinda's shows on toggle.sg, and was touched by how her shows were "so humanitarian and so caring about people".
"That's what I really loved about her. It wasn't a façade. She really is so genuine and just pure in her heart."
In their growing friendship, he found the warm and bubbly Belinda to be the same offscreen as onscreen.
"That's what I really loved about her. It wasn't a façade. She really is so genuine and just pure in her heart about what she's passionate about. She really cares," he relates.
"We were on a walk a couple of months ago and there was an uncle who collected cardboard crossing a busy road. The first thing I see her doing is turning around to make sure he crossed safely. She's always looking out for somebody else."
"I guess it's because I've been on both sides," Belinda says softly. "You know, I understand how it feels to have nothing. I guess I am wired to be sensitive to the hearts of people simply because I've been there. And, now I am so blessed with so many generous people around me, if I can give to others, why not?"
On Belinda's part, she was struck by the consistency and kindness of Dave, an architect with WATG who has lived in Singapore for 17 years and wallops chilli like a local.
"You know, my family already knew him before I knew him because they were from the same church," says Belinda. "They were raving about his big heart even before I raved about him!"
Growing pains
But the course of true love did not run smooth.
Dave grew up in a loving home in Orange County, California, with parents "who still hold hands".
It was an all-American childhood filled with baseball, basketball and soccer, and parents who were "very involved in everything my brother and I did".
"It was a warm childhood," recalls Dave. "As brothers always do, you beat up on each other a bit, but really Kenny was always my biggest defender. If anything went wrong, big brother would take care of it!
"Bel, love David, love him. He is a gift."
"My folks were very giving, very loving. Our house was open to anybody and we were always having people over. Friends would show up for dinner almost every night. My folks just set a place for them – if they showed up, they showed up. If they didn't, they didn't. Some of these kids were going through different situations and their families did not always provide them with dinner. So all my friends wanted to hang at our house and my mom would always provide food like her lasagna and breakfast waffles!"
Belinda came from "a completely different background".
"I came from a very broken past," she says, alluding to a childhood where she had to stay with different relatives because her parents needed to work. "Naturally I was a little bit more cynical than Dave."
It took awhile for Belinda's walls to come down. And that was only when one of her closest friends told her: "Bel, don't reject this man, receive His love."
At Christmas that year, she heard the Holy Spirit speak, saying: "Bel, love David, love him. He is a gift."
"I still remember I ran to the house when I heard that. I broke down and I wept and I wept. I couldn't understand why I kept rejecting him. It was only after many months that I realised that one of the biggest reasons I rejected Dave was because I felt that I wasn't good enough for him.
"I thought to myself: What have I done to deserve a love like that?"
"David, in my eyes – and it's very clear to my friends and my family as well – is a representation of Christ's love for me. And I couldn't accept it because it was so unconditional. I couldn't accept it because I thought to myself, What have I done to deserve a love like that?
"So I kept rejecting him. That's why we never became a couple until much later into the friendship. But after accepting his love, things just kept getting better. Every step of the way seemed right," said Belinda, who, because of a past traumatic and public relationship break up, had held off announcing their engagement to the public.
Meanwhile, Dave sent a copy of Belinda's book, Larger than Life, to his parents who "fell in love" with Belinda's stories and fell in love with her passion. They felt like they knew her before they even met.
"We had the chance to communicate over the phone. And I remember when I first saw them when they arrived for our wedding in October, they were so tired after the 16-hour flight," recalls Belinda. "But you know, nothing was going to stop them from coming to Singapore because they truly wanted to celebrate our union.
"I gave them a big bear hug and I could feel their warmth and love. The feeling is very mutual. And I'm so grateful that I have a pair of new parents who are so accepting and who allow me to be me."
A special kind of love
The couple, who had an intimate solemnisation and wedding dinner for close friends and family at a Peranakan restaurant on October 27 last year, is determined to have "a God-centered, not a self centered kind of love".
They pray together every night over friends and family and anyone they know of who is sick or downhearted.
"It's how we try to make sure God is centre in our life," says Dave. "We also ask God what He wants us to do next … we surrender to the plans that He wants us to drive. I'm looking forward to seeing those answers come because I know they will, and the opportunities will arise."
The couple has a few friends going through difficulties, whom they try to journey with.
"Some of them are non-believers, and we share our faith with them and I have to say they're very receptive to hear and I think they feel thankful that we listen to them or have a meal with them," says Dave.
"It's interesting, because we were given opportunities to minister to somebody on the streets, and pray for people out of the blue … everything was spontaneous," adds Belinda, who is struck by how Dave is someone with whom she is leading the life of her dreams.
"I am never left alone to feel that I am taking on a burden on my own."
"I didn't realise it until recently, but looking back at my social media posts, a few years ago someone asked me: What are you looking for in marriage? And I said: I want to be able to find somebody with whom I'm able to do things that will make a difference to people's lives.
"Dave is that person! If I have a friend's dad who's very sick and I tell him I'm going to see Uncle at the nursing home, he comes with me and we pray over him as a couple. If we meet a friend who has left the church, we stop and listen and ask if we can pray for them. So I am never left alone to feel that I am taking on a burden on my own. 
"It's such a joy to be able to do life with somebody who believes in what I believe in, who understands my heart.
"That was my deepest desire. But deep down I wasn't confident that I would ever meet somebody like that. So God answered my most intimate prayer when He gave me Dave!"
Embracing others extends to Dave's in-laws with his former wife, Kristin, a Singaporean with whom he had "a beautiful marriage for 19 years". She passed away from pneumonia, and Dave credits Belinda for helping him heal from the pain.
Before Kristin passed on, she had encouraged Dave to remarry if the right one came along. Her parents were invited to Dave and Belinda's wedding, where they gave the couple their blessing.
"That was very special and meaningful. I would never want Dave to cut ties with them," says Belinda.
God's best
A look of wonder comes over Belinda's face as she confesses: "To this very day, I'm still very overwhelmed with everything. I still think: Oh I actually got married! I said the vows! I'm married to you! Everything came so quickly, I had no time to process it! But throughout the entire journey, there was just that peace."
Her eyes turn misty as she says: "For the past eight years, I've always been told, Aiyah, your expectations too high lah. Go and marry a pastor, an angel, or Jesus.
"I was told that to the point where I really felt demoralised because I was made to feel that the problem was me. And my expectations were impossible.
"But God has shown me one thing: Whatever human beings deem impossible, God makes it possible.
"If God tells you he has the one for you, are you patient enough to wait?
"For eight years I didn't give in to peer pressure, I didn't give in to what society thought I should do as a 40-year-old woman. I didn't give in to the disappointment of relatives who told me, Why is it that every year we just keep giving you ang bao after ang bao? Even when my mom was extremely sick, and she told me, 'Why don't you quickly go and find somebody? This is my last, last wish.' I didn't even give in to her wish – not because I was defiant, not because I didn't love my mum. That was because I hadn't met the right one.
"It is not my timing, it is not my family's timing. It is God's timing that matters."
"And I'm glad I chose to wait. Because it is not my timing, it is not my family's timing. It is God's timing that matters. And in His perfect timing, he sent David into my life. And I'm experiencing the fruits of all the years of waiting."
She chuckles as she says: "A lot of my single lady friends tell me, Oh perhaps they should go for the next church camp to see if they could meet somebody with potential!
"But that's not the point. We went to church camp with no agenda. And because you go with a pure heart, that's when you allow God to work in your life."
The couple agrees that lovey-dovey behaviour is not what a strong relationship is about, but appreciating and supporting each other with the gentleness and patience that Jesus displayed and exhorts us to show.
Tearing up, Belinda says: "Meeting someone as wonderful as Dave was really unexpected. You know, even doing this intimate interview, our first interview together in this house which I bought because I thought I was going to stay single for the rest of my life … it is really special.
"People say, Never ever settle for second best. I feel that I've settled for God's best."
"Me too," whispers Dave. "Me too."
If you have enjoyed reading Salt&Light...
We are an independent, non-profit organisation that relies on the generosity of our readers, such as yourself, to continue serving the kingdom. Every dollar donated goes directly back into our editorial coverage.
Would you consider partnering with us in our kingdom work by supporting us financially, either as a one-off donation, or a recurring pledge?
Support Salt&Light