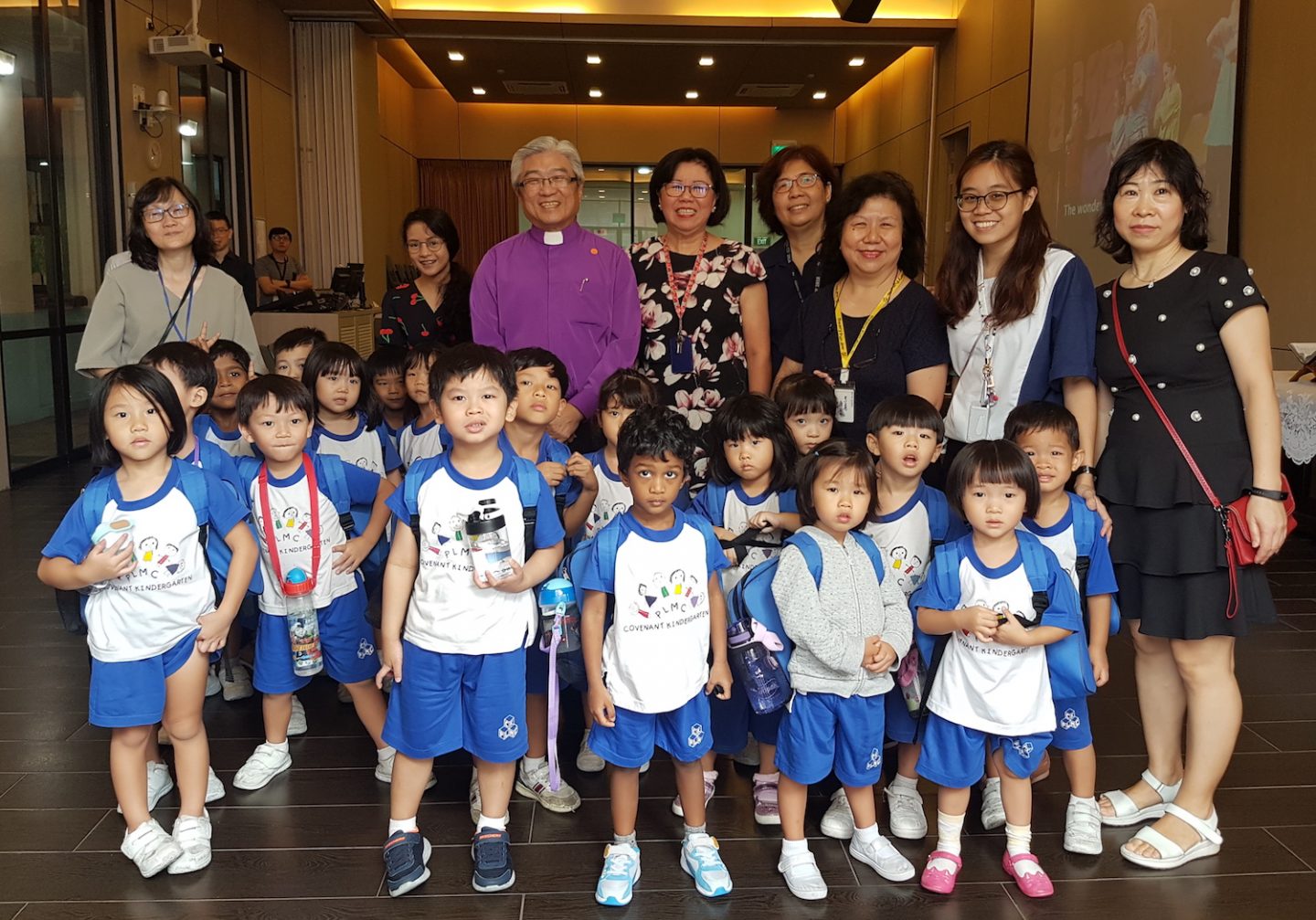 Bishop Chong Chin Chung (centre) with Covenant Kindergarten principal Adeline Tso (last row, fifth from right), staff and students. Photo by The Methodist Church (Singapore).
The test of faith arising from having a case of COVID-19 linked to Paya Lebar Methodist Church "has been a good thing for my brothers and sisters here", said Rev Dr Chong Chin Chung, Bishop of The Methodist Church (Singapore) this morning (February 14) on a visit to the church's Covenant Kindergarten.
"It shows how important it is to care for one another."
Calling the test "a positive one", he added: "It reveals their level of faith in God, their confidence in church leadership and in each other.
"It reveals their level of faith in God, their confidence in church leadership and in each other."
"Trust is being built, especially between one another."
News linking Case 41 to PLMC broke last Sunday (February 9). Since then, professional services have been engaged for a deep cleaning and disinfection of the entire premises, and Covenant Kindergarten was closed for two days for sanitisation.
The church has not been given many updates by the Ministry Of Health (MOH) on Case 41's condition. However, contact tracing has been completed and all the necessary quarantine orders have been issued.
Rev Dr Kow Shih Ming, PLMC pastor-in-charge, noted that his congregation has responded positively. Concerns were raised immediately after the news broke, "but it was expected and we have been constantly communicating with our members and keeping them updated".
Aside from the church's official website, PLMC posts updates via WhatsApp and its social media accounts. Comments on those channels have been encouraging and upbeat in nature, said Rev Dr Kow.
Kingdom children
At Covenant Kindergarten, student attendance was hovering at 60%, compared to 85% pre-DORSCON Orange days, according to Adeline Tso, who has been its principal for 12 years.
"Our parents have been very supportive," Tso said, sharing that while children are taught about the virus, they are also being taught that "God is bigger than the virus, so they are quite assured".
Some 40 preschooolers received Bishop Chong enthusiastically as he declared: "Jesus loves the little children," then teased: "Are you little children? And are you the ones that Jesus loves?"
Before they were dismissed, he prayed: "Dear Lord Jesus, we give You thanks. For You told the disciples to bring little children to You and not to hinder them as the Kingdom of Heaven belongs to such as these.
"This is a good opportunity to put our relational strength to the test and to express our faith and dependence in God."
"Oh Lord, we pray for Your protection and care on all the little children at our kindergarten. 
"Lord Jesus, as You used the child who brought his five loaves and two fishes so that the 5,000 had plenty to eat, we pray that You use us, as little children at Covenant Kindergarten, to become blessings to our parents and to many others. 
"Protect us that we may grow well, strong and healthy, that we may become blessings to our society and our country. 
"Lord, bless every teacher and staff here. Remember their hard labour. Give them good health and a life full of joy. 
"All this we pray, in the Name of our Lord Jesus Christ. Amen."
To the adults, Bishop Chong said: "Remember the words of our Lord Jesus, 'Peace I leave with you; My peace I give you. I do not give to you as the world gives. Do not let your hearts be troubled and do not be afraid.' (John 14:27)
"These words will help us face this trial well. This is a good opportunity to put our relational strength to the test and to express our faith and dependence in God."
Novel Coronavirus: Churches in Singapore call for prayer and calm, even as precautionary measures put in place for services
Three denominations uniting to save Christian preschool education in Singapore