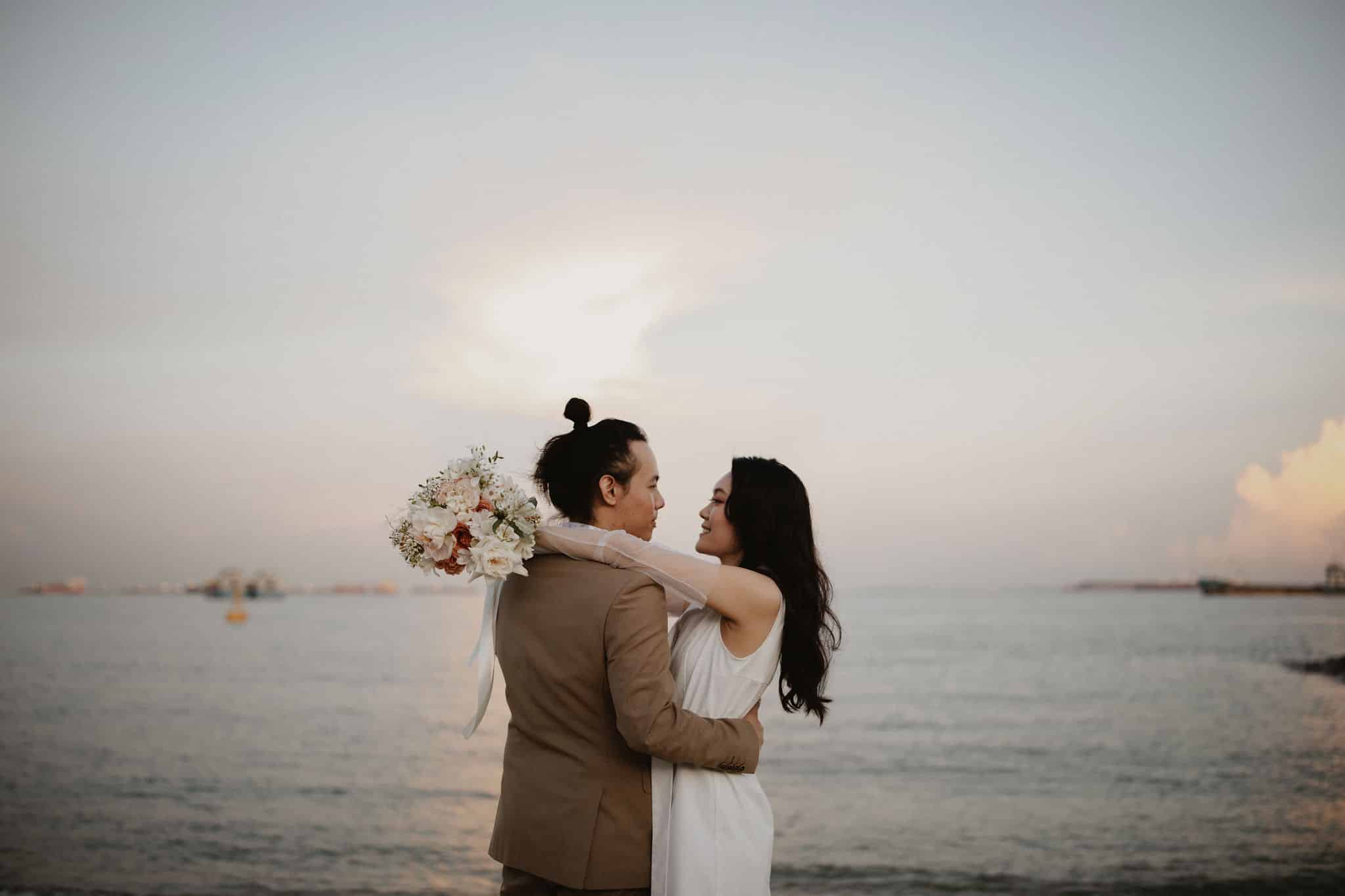 Ahead of meeting each other, God worked in the lives of Joshua Tan and Audris Quek to prepare them for marriage. All photos courtesy of the Tans.
He was the rebel reformed. Once a hard-partying musician, he had surrendered his life to God two years before.
By the time he returned from Bible school in Perth, friends and well-meaning aunties in church were ready to help the eligible bachelor find a helpmate.
"I got a teammate, best friend and wife."
She was the girl who had never really dated.
Her grandmother had often told her that if she could be happy single, "that was enough".
A front-row seat of some marriages and friends' relationships had also given her a "deep rooted fear of being cheated on". So her life motto was: I don't need a man.
Yet within a year of meeting each other, Joshua Tan had proposed to Audris Quek and she had said "yes".
By the next year, in October 2022, they were married.
Said Audris. 28: "He has seen the ugliest parts of me and he can still graciously hug me and say that he loves me."
Joshua, 33, added smiling: "I got a teammate, best friend and wife, someone to be in the trenches together and celebrate together."
But theirs was no ordinary love story. Theirs was a romance divinely appointed.
A new calling and destiny   
Being in a relationship was the furthest thing from Joshua's mind. He had turned his life around. But the echoes of past mistakes and missteps still reverberated in his soul.  
Then, while on a work trip in 2019 to film the seven churches mentioned in Revelation with a tour group, one of the group members talked to him about his personal life.
"One of the aunties asked me if I had a girlfriend. When I said 'no', she asked if I had discovered my calling and destiny. When I said 'no', she said, 'Good. Discover that before you find a girlfriend.'"
"I told God, 'If You have someone for me, I will be open.'"
Within months, Joshua would find himself on a sponsored trip to Perth to study in a Bible school.
One of the classes he had to attend was called Calling and Destiny. There, he formulated his mission statement for his life: To be a storyteller for Christ and to live life as Christ did.
"I was 29 and ready to stay single. If Paul could do it, if Jesus could do it, why not me?"
But on another course at Bible school, his teacher called him aside and gave him a personal prophetic word.
"He told me that after this season, it would be a season of three things: Matters of family, matters of relationship and matters of work."  
Joshua did not think much of the word. When he returned to Singapore, his pastor asked him to attend a course on what it meant to be a husband and father. Though he thought it would be awkward as a single man, he obeyed.
"In the course, I learnt that a husband and father plays a significant role in being a priest and king for the family.
"A desire came out from that class to build a family altar through devotion, worship and spending time with the family, and being missional. It became my passion.
"I told God, 'If You have someone for me, I will be open.'"
"Prepare yourself to be a wife"
While God was dealing with Joshua, He was also preparing Audris.
"I had an unhealthy perception that all men are the same. Once they cheat, they will always be a cheat.
"My eyes were not opened to go and look at a good marriage. My lens was so stained with negative experiences that I had seen others go through," admitted Audris.
But six months before she met Joshua, God dealt with her views on relationships.
She was praying about the men who had expressed interest in her and asking for God to remove them from her life because she did not want to get romantically involved with anyone.
"God countered, 'What if this guy exists somewhere in the world for you?'"
"Then I felt God ask me, 'If you could choose a guy, what would that guy be like?'"
The question prompted Audris to write down 10 criteria.
"The first one was that he has to be missional, has to love God more than he loves me, be led by the Spirit, love the Word and he must not be afraid of cockroaches.
"I said to God, 'I'm practically asking for a perfect man. Only Jesus can make this cut.' And I laughed it off.
"But God countered, 'What if this guy exists somewhere in the world for you?'"
It made Audris realise that when God gave the world Jesus, they didn't want Him. They also didn't deserve Him.
"I was like the world, seeing a husband in that manner, like true love and marriage were too good for me."
Then God told her something that took her by surprise. He told her to "prepare yourself to be a wife".
Life-giving gardens
Still, when her friend offered to set Audris up on a blind date with someone "very suitable", she demurred.
"If God wanted me to meet someone, He would arrange it," Audris reasoned.
Her friend persisted. Without telling her he was setting them up with each other, he asked both Audris and Joshua out to breakfast. The following week, he did the same except this time it was to lunch.
"God told me, 'Allow yourself to be pursued.'" 
Said Audris: "We were chatting about his testimony, then Joshua talked about waking up at 5am to spend time with God.
"As he said that, I saw, in my spirit, light come out of his eyes. And I said to him, 'You are such a gangster for Christ.'
"I had never met someone who read the Bible from 5am to 7am daily. I thought: This guy is something else."
Said Joshua: "I was always insecure. I have had sex before marriage, did drugs. I felt a bit dirty."
Talking to Audris, however, he felt "she gave me life".
"It felt like a garden growing very fast. I saw this picture in my mind," Joshua said.
He told himself that if she followed him on social media, he would get to know her better. She did and they ended up exchanging texts. That led to a meet-up over coffee.
"The first time we met one-on-one, he told me, 'I would like to let you know I'm interested in you and I want to take you out on intentional dates.'
"I was honoured and impressed that he was honest. I told him, 'Let me go home and pray about it.'"
She did and, in the wee hours of the next morning, she sent him a "super long message saying 'yes'".
"When I prayed about it, God told me, 'Allow yourself to be pursued.' I had never heard this before from God.
"God had given me the green light."
A prayer of release
On their first official date that started with church in the morning and ended late into the night, Joshua told Audris: "I'm going to make you my wife."
Said Audris: "My jaw dropped."
Joshua hastened to explain: "I felt this sense of confidence that came over me."
They had much in common. Both had gone to Bible school and had found the experience transformative.
Audris had received her call to business as missions in Bible school which had led her to start fashion label Paradigm Shift Label.
"He ticked all the 10 items on my list. And he's not afraid of bugs or cockroaches which, to me, is a bonus!"
Joshua was inspired by Audris' life story and response to God's call to the mission field. She also met one of his key criteria.
"I had told God, 'I'm ready to be single. But if you have someone for me, make her a prayer warrior.' I felt that was a crucial thing for building a family altar."
"I had told God, 'I'm ready to be single. But if you have someone for me, make her a prayer warrior.'"
On that first date that lasted hours, Joshua bared his soul and shared his past as well as the uncertainty of his future. He had committed to being part of a newly launched Christian creative agency and he was not drawing an income.
Moved by his honesty and vulnerability, Audris prayed for him there and then.
Said Audris: "Praying for someone I meet is a lifestyle. I try to pray for people at the end of every meeting to have a God encounter."
Of the experience, Joshua said: "This prayer took a long time and it met a lot of issues in my heart."
Said Audris: "I have never had a date like that before. It felt like I was talking to a friend from long ago.
"His heart for God was very attractive. The transformation that took place in his life, the faithful steps he took to carry on the fire every day, I thought: Wah, this guy is consistent."
Added Joshua: "We were so comfortable with each other. I felt very alive. Her missions heart, the way she lived her life, is an example to me.
"After the prayer, I felt something was released and I could date again."
Joshua would return home to pen a song for Audris. One month later, they agreed to date with a firm eye on marriage.
Same same but different
Well-matched as they are, the couple did have disagreements. One major issue was managing friendships with people of the opposite gender. Joshua had long settled that area of his life.
"Before I became a Christian, I used to be someone who played the hero. It created a lot of unwanted bonds. Out of respect for my future wife and not to allow it to affect my future relationship, I cut off those ties."
It took many more hours of talking things through before Audris could come to terms with the matter.
"I realised that it's not very healthy to be out with guys one-on-one, out of respect for each other."
The last big fight they had was actually during their honeymoon.
"I am ready to go wherever God calls him."
Said Joshua: "It was about expectations of who was to do the planning. When we were dating and we quarrelled, we could go back to our respective homes.
"After we got married, going home was to the same place. It was a shock for me. We quarrelled all the way till we came back to Singapore."
Their different conflict resolution styles and upbringing did not help either.
Audris needs time to process her thoughts; Joshua prefers to talk things out immediately.
In Audris' household, even the youngest child has a say; in Joshua's family, his late father was the authority.
"Josh taught me a lot about coming together in agreement before we take next steps. I learnt that I am not a solo traveller in this life anymore."
That is why Audris has relocated to Perth with Joshua who has been hired to work in a church there.
"I am ready to go wherever God calls him. We are one."
---
RELATED STORIES:
"If You can change water into wine, please turn the urine test from positive to negative": A drug addict's desperate prayer
Are deeper, 3-2-1 relationships the first step to healing a fragmented world?
"Our intent is missional," says founder of The Fireplace Collective creative agency
If you have enjoyed reading Salt&Light...
We are an independent, non-profit organisation that relies on the generosity of our readers, such as yourself, to continue serving the kingdom. Every dollar donated goes directly back into our editorial coverage.
Would you consider partnering with us in our kingdom work by supporting us financially, either as a one-off donation, or a recurring pledge?
Support Salt&Light