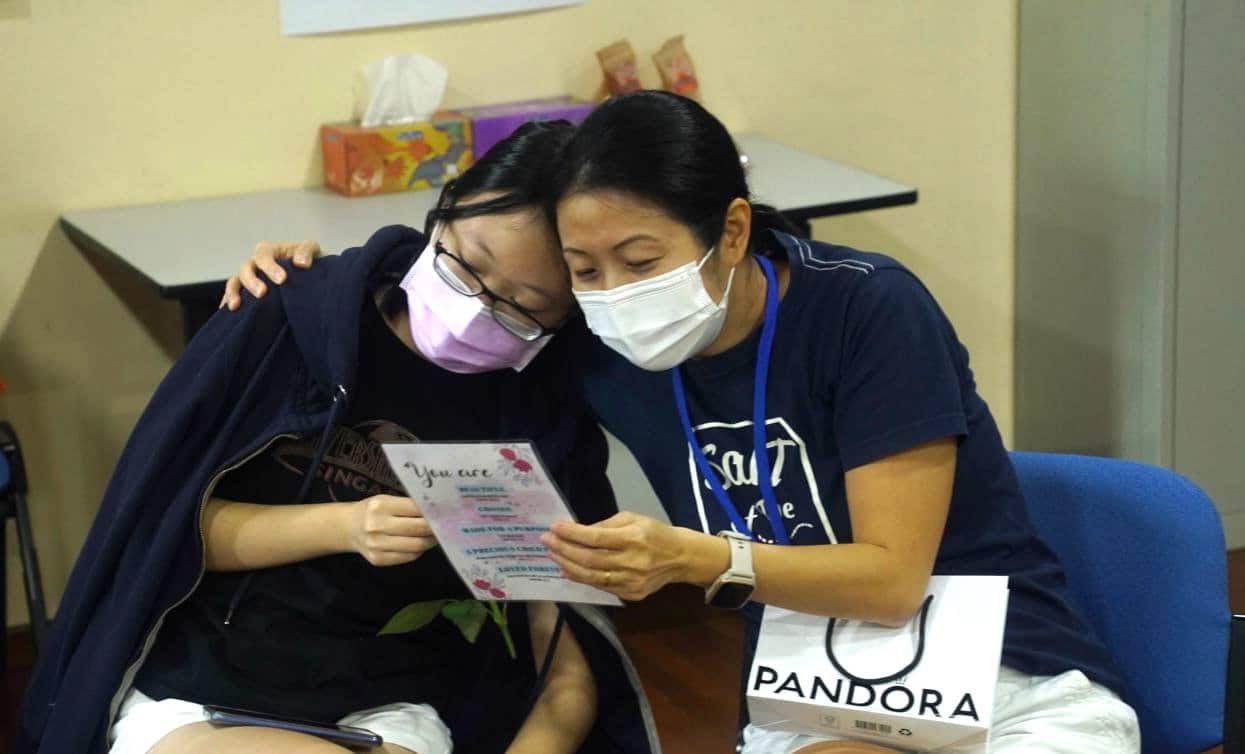 The You Are Beautiful weekend retreat for mothers and daughters helped them talk through sensitive issues like sexuality, studies, stress and social media. All photos courtesy of Carol Loi.
It was an innocuous remark.
Carol Loi was beside her daughter, Nicole Soh, who was watching a K-pop music video, when she commented to her child: "Don't they all look the same?"
Nicole's response was totally unexpected.
"It was all the insecurities of losing my daughter. I shocked myself at my reaction."
"She turned from the screen with those eyes and said, 'Why are you so judgemental?'"
Nicole was then 12 and Carol had been told to expect the tough teen years of rebellion and sullenness.
"I was so angry that I went to cry. I was shaking in anger and crying because I was shocked," said Carol.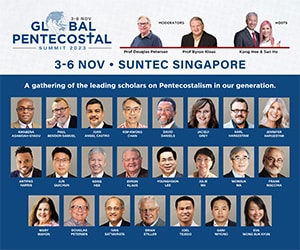 "She had never talked to me like that before. Why was my daughter talking like this to me over Korean boys?
"Next time when she has a boyfriend or a husband, then how? It was all the insecurities of losing my daughter. I shocked myself at my reaction."
Upon reflection, Carol realised that she should have approached her child "in a posture of curiosity" rather than criticism. Nicole also realised that she had been harsh with her mother and, after the remark, tried to reconcile with her.
Nicole is now 20, and mother and daughter not only get along swimmingly, they work well together too. They recently came together to organise a retreat to help other mums and daughters prepare for the teen years.
A shared dream
The genesis of the retreat goes back to December 2020. Travel was not possible then because of Covid restrictions and there was little to do as a family.
So Carol and her husband Albert decided to take their daughters Nicole and Gillian, who was going to take her O-level examinations the next year, on a local retreat.
The theme of that retreat was transitions – changing and evolving – and included dealing with issues such as changing jobs and changing seasons.
"We wanted to do this for the younger girls to help them focus on their mother-daughter relationship."
Said Nicole: "I had the personal time to have closure with God over something that I had been struggling about for a long time. It had caused me to have a lot of negative emotions and self-doubt."
Added Carol: "Every time there is a transition in their lives, we would go on a retreat as a family. When Nicole turned 12, we went overseas for a conference and that became our family retreat."
This family practice of going for retreats during the milestone years of the girls' lives started because Carol felt that she wanted to journey with her daughters through their important transition years.
Another thing Carol did for her daughters to make transitions easier was to arrange for them to meet women in her circle of friends who were successful in the areas in which her daughters had a keen interest when they turned 12.
"I picked women who love God, were disciples and positive role models. I wanted to give them some inspiration.
"They got to ask them questions like, 'What was it like when you were 12? What are your views on boys?'"
One friend even invited her daughters to her office so they could see her at work.
"I wanted to do this with Nicole so that it would be inter-generational."
Said Nicole: "I appreciated the intentionality and the fact that I got to meet these ladies whom I would never have met if my mother hadn't arranged it."
The retreats and the role models had such an impact on her daughters that Carol and Nicole wanted to do the same for other girls on the cusp of teenhood.
Said Nicole: "We sat down and wrote it all down, and put it on the wall. It was really dreaming.
"We wanted to do this for the younger girls to help them focus on their mother-daughter relationship. That was what motivated me."
Added Carol: "I wanted to do this with Nicole so that it would be inter-generational. The girls would have someone to look up to.
"Amongst the mothers, because their experiences are so diverse, they could draw from each other."
Far from the madding crowd
In May 2022, their dreams came true. A dozen pairs of mothers and daughters aged 11 to 15 joined Carol and Nicole at Montfort Centre for a weekend getaway dubbed You Are Beautiful.
Carol said: "The idea was for one-on-one time for mother and daughter, away from the normal routine of life. That, to me, was something that was powerful especially during those transition years.
"If the parent-child relationship can be solid at that age, it can bear good fruit."
"That's why the focus is on girls aged 11 to 15 because that is when they go through a lot of transitions: Puberty, PSLE, going from primary to secondary school where they have to go from dealing with four subjects to eight.
"If the parent-child relationship can be solid at that age, it can bear good fruit."
On the agenda were topics like self-leadership, the use of social media, sexuality, and managing studies and stress. They were issues that both Carol and Nicole had given talk on at churches and various Christian organisations.
Carol is a digital literacy educator, and leadership and family coach. A John Maxwell Certified Trainer for leadership and communication skills, she is also the founder of Village Consultancy, an organisation dedicated to equipping families, educators and children to be leaders and influencers both online and offline.
Nicole serves in the children's ministry in her church and was involved in her school's prayer group.
A recent graduate of the Colson Fellows programme, a 10-month Christian worldview education programme, she also regularly speaks in churches on dealing with the media and on cultural engagement. 
You are Beautiful
Over the course of two days and two nights, the mother-daughter pairs were led through a series of activities designed to draw them closer to each other, prepare them for change and discover a deeper faith.
There were serious talks about understanding their personalities and strengths, social media, sexuality and mental health. But there were also fun activities such as a leadership games and breakout sessions in rooms designed like caves in which the Montfort monks of old used to meditate.
"The girls loved it," said Carol.
"This is what the biblical world view does for us. It gives us clarity in our life."
But it took a while for the girls to get into the programme.
Said Nicole: "When we asked them what they learnt, they said, 'I wasn't really listening. I was with my friends.'"
But because the topics were engaging, conversations soon flowed easily.
"We got to talk about issues that concern my generation, like abortion. They were holding really liberal views of 'my body, my choice'. But they didn't really know what it meant.
"They were taking in a lot of messages that they had been seeing in popular media. They didn't understand the full picture. So, it opened up a door for really, really good conversations," said Nicole.
Carol also included a bonding activity-cum-object lesson that lasted throughout the retreat. The girls were shown a completed jigsaw puzzle and told that the picture was very much like the biblical world view.
"We live life and it looks very complex, like a puzzle that is not done.
"I was expecting the girls to stick with their mums but they bonded very well."
"But when we look at the picture on the box of the puzzle, then the puzzle doesn't look so complex anymore. We develop a strategy, a vision to work towards.
"This is what the biblical world view does for us. It gives us clarity in our lives," explained Carol.
Then, the girls were asked to break up the puzzle and attempt to put it back together again.
They were given a printout of the puzzle as reference so they could make sense of the puzzle, much like how the biblical world view affords us a reference of how to live life and helps us make sense of the chaos.
As the girls spent time piecing together the puzzle over the weekend, they bonded. Their mothers also had the chance to chat with each other at the sidelines.
Said Nicole: "I was expecting the girls to stick with their mums but they bonded very well even on the first night.
"When we ended for the night, they hung out together. It was cute that they found a community and made friends."
The mums forged strong friendships too.
Said Yvonne Kong-Ho who was there with her 11-year-old daughter Natalie: "I appreciated the presence of fellow mums who were so encouraging, loving and whose hearts are so big.
"We teared together, we prayed together, we spoke life into one another. No judging, no condemnation, no unkind words, only love. I felt my own journey of healing after having been judged, been 'rejected' for having been vulnerable, was finally starting."
The retreat ended up with each girl being affirmed of her worth.
Said Carol: "Each girl had to pick up a flower and say, 'I am beautiful.' Then, all the mothers replied, 'You are beautiful!'"
Open conversations, open hearts
The mothers were particular appreciative of the You Are Beautiful retreat.
Yvonne had signed up for the retreat to "speak life into her daughter and sow seeds of courage, faith and life" while she was "still malleable enough for the right shaping to take place".
There were plenty of opportunities for her to talk to her daughter about a myriad topics, from calling and destiny to the purpose of studying and stewarding opportunities, gifts and talents.
Said Yvonne: "We are now so cool with sexuality chats that when I 'lamented' about something about being a mum, her comeback line to me was, 'Too bad. Never use condom, lor!'"  
Some of what she discovered was unexpected though.
"She surprised me by saying she wanted me to make more mac and cheese for her. I had somewhat stopped cooking so much for them because I thought my culinary skills were just sub-par.
"His love also came and filled me so that I could also release His love to her."
"The taste apparently didn't matter so much to her. She didn't want outside mac and cheese. She just wanted her mum's mac and cheese."
Loke Huiying also learnt to talk to her 13-year-old daughter, Angel Tay, because of the retreat.
"I realised my own heart and spirit conditions, and sought the Lord for His healing and restoration.
"And I was able to start talking to my girl without feeling stuck or frustrated. His love also came and filled me so that I could also release His love to her."
The breakthrough lasted past the retreat. When they returned home, Huiying felt that her daughter was "more happy and open to talking".
New adventures 
Running the retreat with her daughter, Carol also got to see some of Nicole's strengths up-close.
"I saw how Nicole can do many things – lead praise and worship, teach. She also knows my needs before I tell her.
"Some mornings, I had no time to go for breakfast. She would go down and get me breakfast and make sure I eat. Or she will set up the room for me. She's a potential mother – you don't need to say anything and she anticipates your needs."
"We are thinking about more spaces for conversations to talk about things."
The admiration is mutual. Nicole got to see much more of her mother's can-do attitude.
"It was basically a two-woman show. One portion of the retreat, I had to help out in church so I went off. My mum did everything herself.
"She spoke at the front, went to the back to see if they had completed the puzzle. She was everywhere all at once."
This retreat dovetails nicely with the new work Carol and Nicole are doing.
Carol has just been appointed Director of Kallos, a Christian ministry that teaches and inspires young women to be advocates of inner beauty with a biblical world view. Nicole is Kallos' new community manager. This is in addition to the work Carol does as the International Director of Generations of Virtue.
"We are thinking about more spaces for conversations to talk about things that seldom get talked about in churches and cell groups. We want to build a community and to bring girls to pray through Kallos.
"This retreat showed us we could. The 12 pairs of mothers and daughters remain close even after the retreat. They still stay connected."
---
For another parent-child experience, sign up for the Your Device, God's Story: A Parent-daughter Photowalk hosted by Carol Loi and Nicole Soh on August 10, 2022 from 3pm to 6pm.
---
RELATED STORIES:
From "nobody's child" to precious "Bao Bei": The love story of Belinda Lee and her mother
Mom's secret ministry: Editor of Letter to my Daughter reflects on her mother's hand in her journey
Broken, but not forsaken: Kallos publishes A Daughter's Faith, a devotional journal for women
If you have enjoyed reading Salt&Light...
We are an independent, non-profit organisation that relies on the generosity of our readers, such as yourself, to continue serving the kingdom. Every dollar donated goes directly back into our editorial coverage.
Would you consider partnering with us in our kingdom work by supporting us financially, either as a one-off donation, or a recurring pledge?
Support Salt&Light