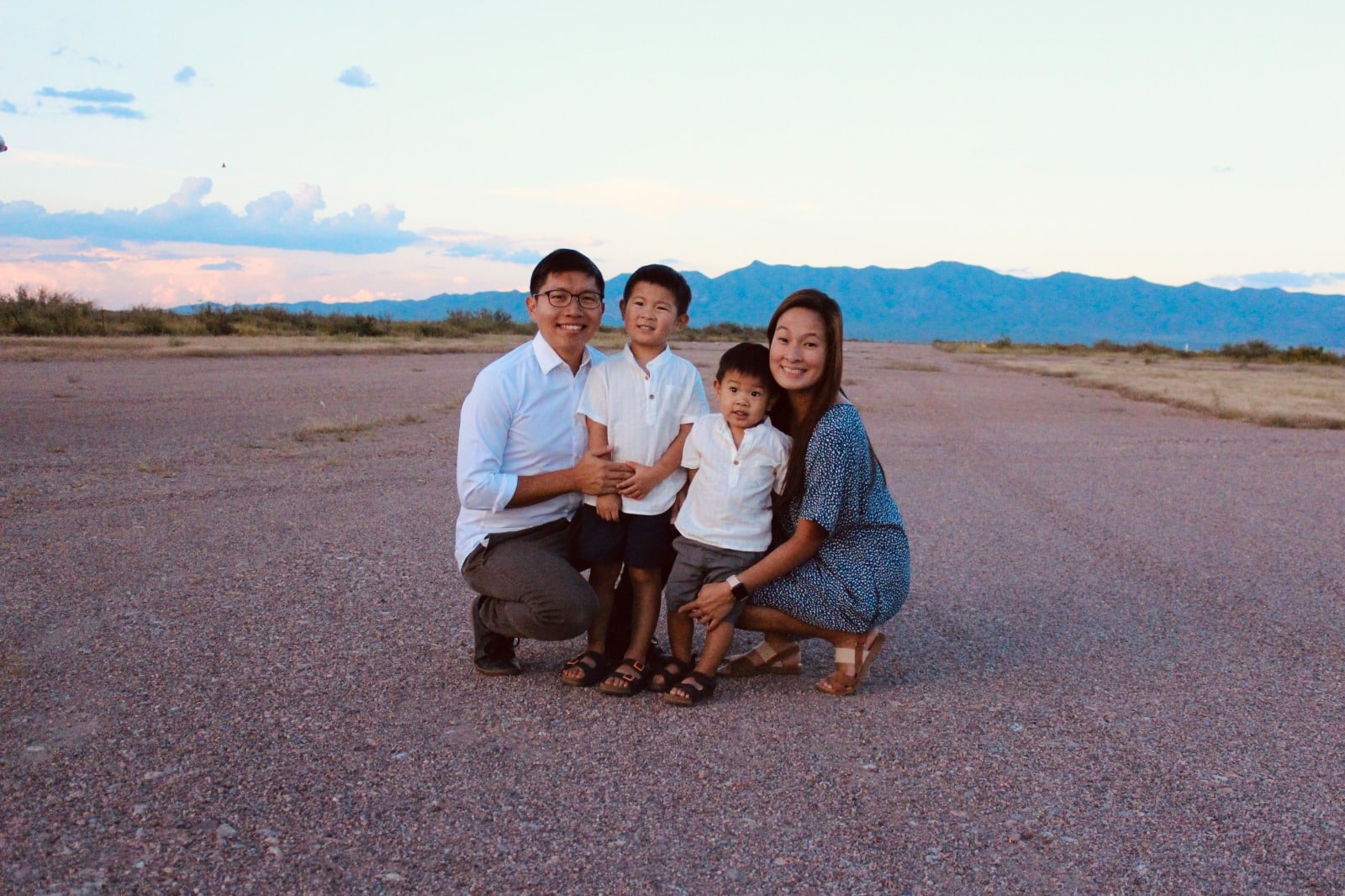 "Every now and then we still look at our peers and think about what life could have been, but back then it didn't feel very dramatic or a big deal to us ... We trusted that God will lead us and provide," said Reuel Yeow. All photos courtesy of the Yeows.
While many in their 30s focus on establishing their careers, Reuel Yeow and Gracia Choo spent their 30s chasing a different dream.
Five years ago the married couple quit their lucrative jobs in the corporate world – he was an Air Force pilot while she was a financial crime investigator – to prepare for an adventure they will finally embark on this June.
With their two young sons, Ezra, 5, and Judah, 3, the Yeows will be moving to a Southeast Asian country where Reuel will serve as a missionary pilot supporting church-planting and Bible-translating missionaries working with unreached people groups without the Gospel.
"A lot of times these places are unreached because there are physical barriers and restrictions. Aviation enables missionaries to get there and sustains them while they are there by bringing them whatever they need to survive, like housing material, equipment, food supplies," explained Reuel, 38.
The family plans to be in the new country for the long-haul – a decade, at the very least, until their boys have to return to Singapore for National Service and tertiary education.
A change in pursuit
While many may marvel at their courage to take the road less travelled for the sake of the Gospel, the Yeows do not think that they are doing anything particularly amazing or noble. 
Their decision was simply something that arose out of their obedience to God's gentle nudging in each of their hearts.
"Growing up I was quite active in church ministries, but I always felt that I could give more of myself. Yet I never had the courage to do something big or drastic," said Gracia, 32.
Reuel could identify with this godly dissatisfaction. Even though he had initially been drawn to the good career prospects in the Air Force and the comfort it would afford him, God's Word slowly began to change his heart.
"One passage that was quite clear was Matthew 6, which talks about not laying up treasures in heaven and not being anxious about your life but seeking God's kingdom first. Gradually I had a desire to do something different instead of pursuing comfort and security brought about by worldly ways like money," he said.
As the two came together, they realised that they had been living in a way that was often self-centred and self-serving, and felt challenged to re-examine their perspectives on how they should live as disciples of Christ.
After looking more intentionally at where else they could serve and after talking to other missionaries, they realised that there was a pressing need for pilots to support mission work in rural areas – a perfect fit for Reuel, given his skills and expertise.
Feeling peace in their hearts after prayer and seeking counsel from their church leaders, they quit their secular jobs – at the same time – to become full-time staff at their church for two years, before moving to the United States for a three-year training programme with the aviation arm of missions organisation Ethnos360. 
Asked how they felt to quit their well-paying jobs at the same time, Reuel said: "Every now and then we still look at our peers and think about what life could have been, but back then it didn't feel very dramatic or a big deal to us.
"A lot of it had to do with the fact that we were both of the same mind, trusting that God will lead us and provide."
Gracia agreed, adding that she felt a sense of relief after turning away from the pressure to chase career success and achievements, which had been ingrained in her growing up.
"People always think that it's a big sacrifice to go into ministry. But I don't feel that way. I feel like anyone can do it. It's about whether you want to be free from this idea that I can leave the system and live in another way," she said.
Sharing that she quit her job a month before receiving her bonus, she added: "It felt nice actually, and honestly it hasn't affected us. We still have enough financially. Sometimes we do think about it, like everyone else is upgrading, but I think it's okay. No one else has had family time like we've had."
The real work of missions starts in the heart
With just a few more months to go till they start this new season of life, the Yeows are eager to finally settle down in their mission field and hit the ground running. 
"It's not about me. I really trust that God is able to take care of us, instead of trying to plan out my whole family life."
As typical Singaporeans focused on getting things done, they had struggled with the long preparation period that they had to go through. Yet they found that God had a purpose for this season of waiting.
"We wanted to go and do the actual work, but a lot of the work that God wanted to do first was in our hearts," said Reuel, who learnt to focus on nurturing his personal relationship with God and becoming more dependent on Him.
For Gracia, who is a planner, she had to learn during this period to give up control, especially of the future of her young boys. 
"We didn't even know where we were going to be based till our final year of training.
"Just not knowing what to do with my kids, how I'm going to settle their school … even till today there are a lot of unknowns about how the whole thing is going to pan out and that has been quite hard for me.
"In Singapore, there would be a clear path," she said.
"But I've been going through the idea that it's not about me, it's not about knowing. I really trust that God is able to take care of us, instead of trying to plan out my whole family life."
She is also trusting God to show her where and how she can serve in the mission field.
While she will be mostly involved with homeschooling her sons, she is hoping to find ways in which she can also impact the community for good.
Serving God wherever you are
As they embark on their new journey, they will hold fast to the lessons they have learnt – that discipleship is less about doing big things for God and more about being good stewards of what He has given to them.
While their family senses God's call to go overseas to serve, they have great respect for faithful Christians who stay in Singapore to obey and serve God in the marketplace.
Said Reuel: "A lot of people think of God's calling or will as one specific thing that you were born to do, and you have to figure out what that is, otherwise you're screwed.
"But after looking at what the Bible teaches about calling, a lot of it simply refers to the calling to be Christians and to serve God with the opportunities and gifts that you have."
---
RELATED STORIES:
"He has called me to a different kind of life": 29-year-old music teacher and missionary to Rwanda
If you have enjoyed reading Salt&Light...
We are an independent, non-profit organisation that relies on the generosity of our readers, such as yourself, to continue serving the kingdom. Every dollar donated goes directly back into our editorial coverage.
Would you consider partnering with us in our kingdom work by supporting us financially, either as a one-off donation, or a recurring pledge?
Support Salt&Light