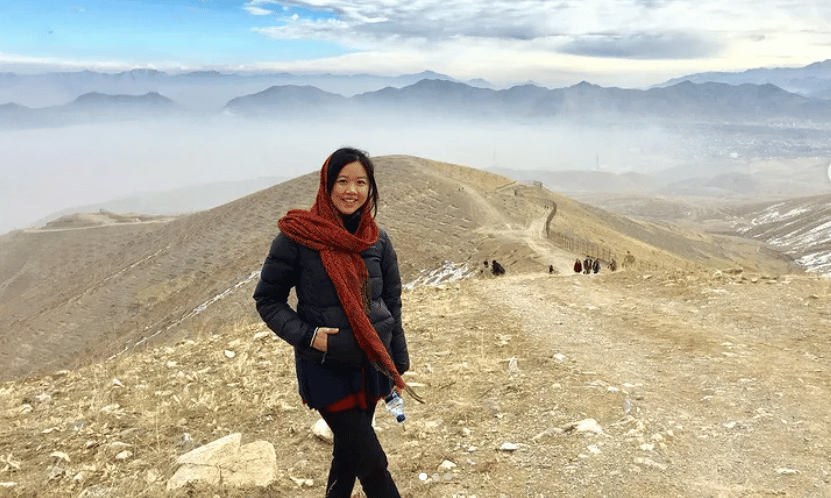 A young woman with a heart for Jesus and missions, Janielle is often called to the road less travelled. All photos courtesy of Janielle Beh.
Janielle Beh had known for the longest time that she would one day live in Africa, she just didn't know when. It was a dream planted long ago in the heart of a young girl with a desire to live a life in service to the Lord. 
A music teacher by profession, the 29-year-old calls herself a tentmaker – a term for Christians who feel led to hold both a salaried job and be a missionary.
Since her youth, she had always had a heart for the poor and vulnerable. But it was through prayer, seeking God and owning her faith did she discover her calling. 
Willing heart
 "One of the main things was the fact that my parents always encouraged me to seek God for myself and to choose to follow Christ for myself," Janielle shares. 
Janielle and her two sisters were always encouraged to use the gifts God had given them to serve Him and bless others. 
With both of her parents in ministry, she was able to see the contentment found in following Jesus.
Janielle and her two sisters were always encouraged to use the gifts God had given them to serve Him and bless others. 
Looking back, she credits her parent's decision to homeschool her from the age of nine until 15 as a major influence on her career choice. She was taught at home and socialised through Sunday School, youth church and Royal Rangers.
"My homeschooling years were amazing times. The great thing about it is that you have the freedom to focus more on the things you enjoy. So I had a lot of time to discover that I like music, and I hoped one day that I would use it for something, for God's purpose in my life." 
Music of dreams and hurts
Janielle spent the first 15 years of her life in Malaysia before her family emigrated to Melbourne, Australia, in 2008.
"In Malaysia, we are surrounded by different races and religions. To be a Christian among Christian circles is easy, but then when you step out of that Christian bubble, you really have to be intentional to reach out to people about your faith," she says. 
Her mother's family was large. She fondly remembers her childhood years, spending dinners with cousins and extended family. This emphasis on community, Janielle says, equipped her for the seasons ahead. 
"Those times helped me identify with cultures that really value community and family, even when it may not necessarily always be a good thing. In most of the places I have ministered in, they're usually communal cultures."
"I love using music in my work, missions and travels because it connects me with God and with people."
Naturally, Janielle decided to pursue music and attended the prestigious Victorian College of the Arts Secondary School. She completed her Bachelor of Music (Piano) at the Melbourne Conservatorium in 2014, and her Master of Teaching (Music Education) at Monash University in 2017. 
"Music is a kind of universal language that can enable us to connect with people; it has a way of sending what can be at times a difficult message, but also touching people's hearts." 
Through music, Janielle hopes to engage young people from all walks of life and cultures to experience the freedom found in being able to express oneself.
Whether through music without words or through song, she believes that healing can be found in between musical notes. 
The passionate teacher also believes that music can open the way for peace-making because the arts are a powerful way to creatively share a difficult message or social cause without direct confrontation.
"So what I hope to achieve may not sometimes be measurable by human standards. I also love the idea of songwriting as a way to engage young people to be able to express their stories, feelings, dreams and hurts," she adds.
Wrestling with suffering
Prior to her move to Rwanda last year, Janielle was the Head of the Piano Faculty at the Afghanistan National Institute of Music. Living there surrounded by poverty, war and "all kinds of spiritual impoverishment causing oppression, suffering and lost opportunities", Janielle often found herself wrestling with God.
"How do we reconcile suffering from a loving God and what the Bible tells us about who God is and why Jesus came to show us and be the way of salvation?" she asks. It can be agonising because, often, one person alone cannot help everyone or break someone out of the cycle of poverty.
While she admits she doesn't have the answer to why God allows suffering (saying there are many good answers out there), she believes that's not the point. The answer, Janielle says, is found not in why suffering exists, but rather in why He allows us to see, feel and experience the suffering of others. 
"I believe God wants us to see the suffering up close; He doesn't want us to ignore it. Secondly, that's why we need the Gospel, for Jesus to come and show us that God suffers with us. That He knows our suffering.
"And, lastly, if we are in a place to be there for someone who is suffering, there's no doubt that God wants to use us at that moment," she says.
"I believe God wants us to see the suffering up close; He doesn't want us to ignore it."
"We can sit there and wrestle with it until we die because it won't end, or we can sit there, wrestle with it, ask God for His compassion and wisdom to help, encourage or lift their spirit."
Sharing an example, Janielle remembers her last winter in Afghanistan; it was December 2020 and bitterly cold. There were so many poor people who could not afford to buy wood or coal to burn and heat their homes. Out of desperation, they burned whatever they could find, which in turn polluted the air and made it difficult to breathe. 
"There was a woman who was a cleaner at my school, and I made a remark about how cold it was. She then revealed that her family (she has seven or eight children) did not have any heating. It really made me cry. I felt like I was in this dark place where I couldn't even see God."
As Janielle cried out to the Lord, she found herself moved to action. So she decided to take some of her savings to enable the woman's family to buy wood and coal to heat their home. 
The next day, a random friend from the United States, whom Janielle had only met twice, sent her a message saying, "I've been praying, and is there any young woman or women in need that I can help you to help them?"
Janielle was mind blown. It was just the night before that she had been crying out to God. "And then I realised, 'Oh! God wants me to do this,' and so I sent out a message to some friends and we were able to help several families with heating and basic necessities."
Praying parents
It's not easy being a female missionary with a call to places many would not wish to go to. There are challenges, both seen and unseen, and family members can struggle with the choice to serve far away from home. 
Looking back, Janielle is grateful for her praying parents who walk with Jesus and encourage her to live a life of service to Him, in whatever skills or abilities she has.
"My family is the first to pray, commission and send me out."
"They're the first people to pray, commission and send me out. I thank God for their faith, and for releasing me."
She also acknowledges the struggle of fear, doubt and worry that can plague the loved ones of missionaries. While her father is "steady and chill", Janielle recognises and honours her mother's human struggle (as any mother would, she adds) to surrender her daughter into God's loving hands. 
Asked if she has any encouragement for young people who feel called to missions but face opposition, her response is to cry out to God for vindication, to move the hearts of the people who are important (usually parents, siblings and those close to you) and to help you differentiate godly wisdom from advice out of fear, anxiety or selfishness. 
Giving voice to Rwandan youths 
In what can only be a God-orchestrated move, Janielle left Kabul for Rwanda two months before the Taliban took over.
She'd received a job offer to teach music at an international Christian missions school in Kigali, a door she knew God opened. 
"It's exciting how God has always been able to crush my limited dreams so that He can do something more."
Africa had always been on Janielle's heart. When she was still in Australia, God opened her eyes to the African migrant communities living in and around Melbourne.
She would visit refugee families at a detention centre, volunteer in English camps for Sudanese and Afghan refugee youth, and travel to multicultural communities in Melbourne.
She became part of a pioneering church aimed at reaching out to African youth in one of these communities and poured her heart into worship and discipleship ministry there for seven years before her move to Afghanistan in 2018.
"I thank God for opening this door, as I've been coming to Rwanda since 2015. God has been repeatedly moving my heart to come here to do youth discipleship and worship ministry." 
Janielle also always wanted to start a music school in Rwanda, but God seems to have other plans in mind. He has revealed that, together with her Rwandan husband, Janielle will be reaching young people in the schools they are at instead of building just one school.
"It's exciting how God has always been able to shift my thinking and expand my perspective, and also crush my limited dreams so that He can do something more," she says with a laugh. 
Her hope and prayer for Rwanda are that the new generation will experience the full healing and reconciliation that can come only with the Gospel, and that young people will be able to write songs that both express their hearts and bring praise unto God.
Undivided heart
Looking back on the years and experiences that have led her to where she is today, Janielle knows it is God who has called her to a different kind of life. But she is sure of her purpose – to use music and the power of the Gospel to lift others up.
"A Scripture that means a lot to me is Psalm 86:11: Give me an undivided heart, that I may fear Your name. It means a lot to me because, in this world, it's so easy to have a heart that's divided, to not love God with all your heart, soul, mind and strength." 
For now this zealous woman, with a heart for Jesus and people, knows she's where the Lord wants her to be.
"Ask Him: What's next? What is beyond this place and season? What can't I see? And God will show you, just as He did for me."
In recent years, Isaiah 54:2 has resonated within her, challenging her not to limit what God can do.
"I've been having an expectant heart to see what He wants to do in Africa as I'm here, also wanting to see Him in my family, in my future family, to see Him move in my house," she says.
"I would encourage young Christians with a love for music to, first of all, realise it has to be you and Jesus. Secondly, start where you are. Ask God to open your eyes to see the needs and opportunities to serve in your community.
"Lastly, if you have done these two things, start asking Him: What's next? What is beyond this place and season? What can't I see? And God will show you, just as He did for me."
---
This story was first published by Michelle Chun for Faithour, and is republished with permission. Faithour (read: faith-hour) is a digital platform that is faith and impact-focused with an aim to springboard Christ-followers to live out their faith in relevant ways.
If you were encouraged by Janielle's story, follow her journey on Instagram at @janiellewayfarer.
---
RELATED STORIES:
A picture of a sitting toilet confirmed this couple's call to missions
"Don't lose heart in doing good", urge charities facing plummeting donations and isolated beneficiaries
Six months after Taliban takeover, most Afghan children are "hungry all the time": Hagar International
If you have enjoyed reading Salt&Light...
We are an independent, non-profit organisation that relies on the generosity of our readers, such as yourself, to continue serving the kingdom. Every dollar donated goes directly back into our editorial coverage.
Would you consider partnering with us in our kingdom work by supporting us financially, either as a one-off donation, or a recurring pledge?
Support Salt&Light