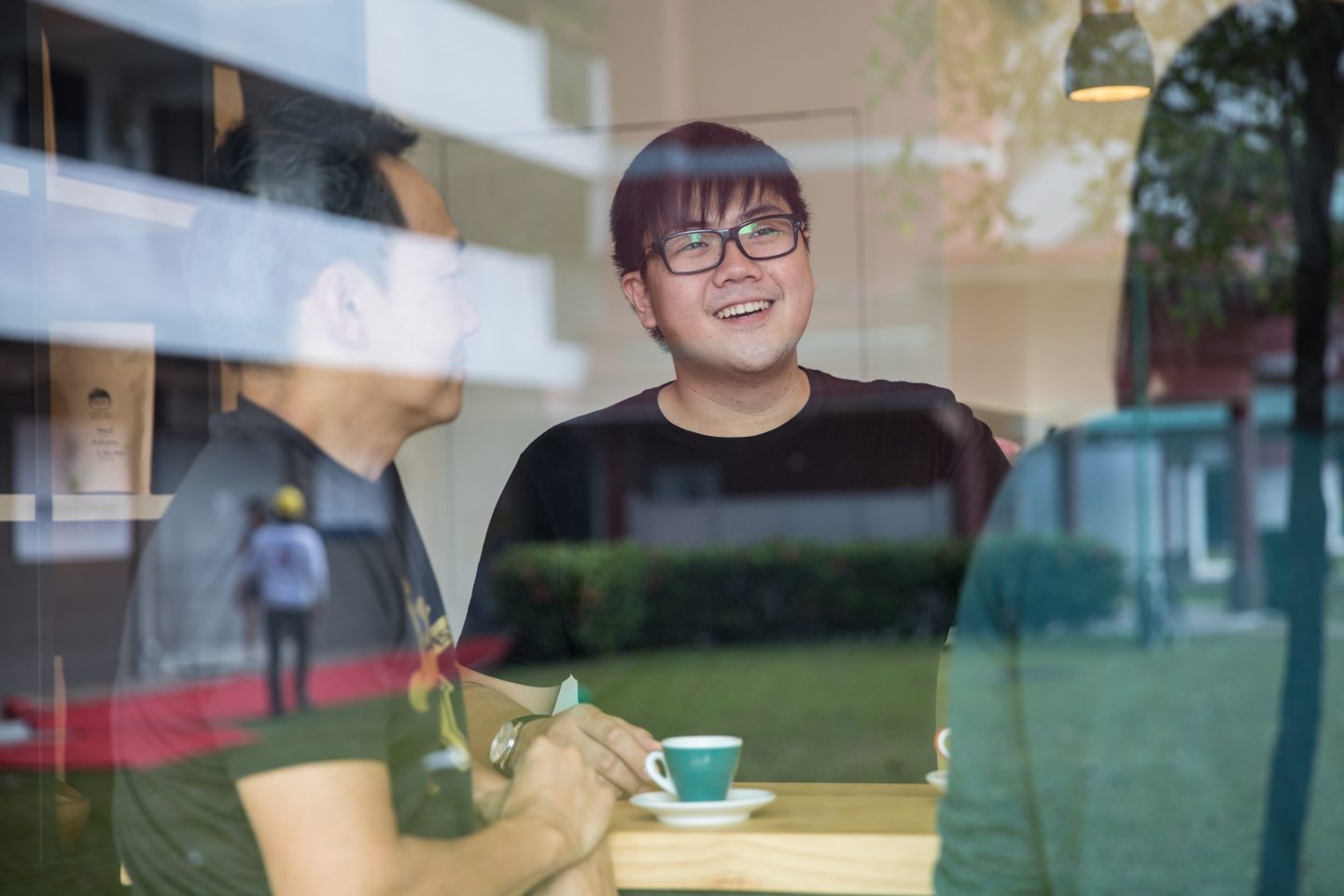 Glen Ho made baristas of former streetwalkers as part of a Tamar Village programme to empower their beneficiaries with life skills. Photo by David Lawrence Lim.
If, somewhere in church or at a wedding, you have seen an inviting coffee cart run by Tamar Village, there is one man to thank for it.
Glen Ho, 31, is the owner of Prodigal Café. Last year, the former Youth With A Mission (YWAM) Singapore missionary teamed up with Tamar Village to teach coffee making to some of its beneficiaries.
Established in 2010, Tamar Village, a subsidiary of Mercy Centre, reaches out to people in the sex industry, from pimps to streetwalkers, to their spouses and children. Their mission is to "bring hope, help and healing to red light districts".
Head of Tamar Village, Mercy Ho, said she felt that picking up barista skills would be one of the ways to help the men and women at Tamar Village develop positive habits, character and values. Eventually, they could tap on these skills to assimilate into society and find work. 
Learning to make coffee is one of the eight work skills programmes Tamar Village offers. Others include sewing, cooking and woodwork. 
Over the course of two to three months in mid 2017, Glen provided crash courses to two former streetwalkers and a staff from the organisation. He taught them the basics of making a decent shot of java, showed them latté art, shared wisdom on product pricing, as well as set up a mobile coffee cart for them to use at events. 
Food as ministry
Glen admits that teaching the women can be a delicate task. Because of their background, many lack self esteem.
For example, when he helped out at a few of their engagements, he noticed that the women panicked when they messed up behind the coffee machine. He would tell them to take a break and assist with taking orders while he took over the coffee making.
The still, small voice of God told Glen: "I'll be with you. I'll take the responsibility. Just go."
"You have to be very encouraging and extra patient with them," he said.
But this is not an excuse for inferior standards, he added. During training, he poured away many cups of coffee in front of them.
"A bad cup of coffee is a bad cup of coffee. There are many variables to making a cup of coffee. There's temperature, how much coffee to pour, how you pull the shot, how you steam the milk, and many other elements. Being consistent is not easy." 
But he believes that, besides practice, gaining confidence is essential for the women. His hope is that they can be proud of their newfound skills. 
A call to coffee
Prodigal Café – the name harkens back to one of the most beloved parables on grace in the Bible. 
But the reference does not stem from any personal Prodigal Son (Luke 15:11-32) testimony of Glen's. Instead, the name serves as a daily reminder of God's provision. 
The Restoration Centre's purpose is to walk with the "brother or sister" as they make decisions to change their lifestyle.
During Glen's time at YWAM Singapore, he was surprised to find a certain comfort level as a missionary. 
But then, through family members and a prophetic word by YWAM Singapore's national director, Joseph Chean, he was called to enter the marketplace. He was absolutely reluctant to do so. 
"The truth about God's provision was something I held on to dearly, especially since I saw what He could do for me as a missionary (Matthew 6:25-34). So I never thought about going into the marketplace. I thought He would just keep providing," said Glen. "But through a prayer, my leader told me to enter the marketplace. It hit me that I had to go."
He did not know what the next step was, except that his next job would have something to do with coffee. He had developed a thirst for it during his stint at YWAM Singapore after a friend served him a homemade cup that left him in awe. 
Ho found a position immediately at Assembly Coffee. Starting out at the bottom washing the dishes and the floor, he went on to serving tables, and only after that did he begin learning the ropes of making a cup of joe.
He left Assembly Coffee after a year to prepare for his own business, working as a private-hire car driver in the meantime. In August 2016, Glen opened his first café at Ang Mo Kio called Prodigal Roasters.
He had not entirely figured out God's purpose for him in the marketplace.
All he could do was to hold on to the still small voice of God (1 Kings 19:12), who told him right before he launched his business: "I'll be with you. I'll take the burden. I'll take the responsibility. Just go."
A cup of hope
He didn't hesitate to answer the call of Tamar Village and became one of the volunteers offering skills training to the beneficiaries.
Former sex industry workers undergo skills training at Tamar Village's Restoration Centre from Mondays to Fridays. The beneficiaries are paid a daily allowance if they turn up at the centre as scheduled. The centre also provides them counselling, casework assistance, job and home placement opportunities and mentorship. 
"We want to restore the hearts of these men and women so that they can love themselves, and eventually their families."
The Restoration Centre's purpose is to walk with the "brother or sister" as they make decisions to change their lifestyle, said Mercy. The intention is not just to help them be financially stable, but to integrate them into society and support them as they "iron out their character and habits".
Volunteers can eat with them during lunch, exercise with them at the gym, walk them through their debt problems and, for the entrepreneurial few, teach them how to start their own business. 
"We want to help them feel a sense of belonging," said Mercy, who has found that it takes anywhere from one to five years for the sex industry workers to voluntarily enter the Restoration Centre. Rebuilding their lives takes even longer.
Restoring hearts
For Glen, Prodigal Roasters took on new meaning when Tamar Village came knocking.
Making a living from his favourite beverage was one thing; using his barista skills to give a possible future to Tamar Village beneficiaries have been far more rewarding.
"When I got the chance to equip people, I went, 'Wow, this is actually meaningful'," said Glen.
It was then that God's purpose in calling him into the marketplace became clearer.
"I wouldn't have done this if I were still in YWAM. I wouldn't be able to set up a coffee cart, to establish the team's workflow, to work alongside them as we make 200 cups of coffee non-stop," he grinned.
"It was definitely a God-given opportunity." 
To the budding baristas, that cup of coffee they brew is not just any cup of coffee. It is a shot at a future.
Said Mercy, "We want to restore the hearts of these men and women so that they can love themselves, and eventually their families and community."
Prodigal Café is located near Tai Seng MRT station at Block 81, Macpherson Lane, #01-55, Singapore 360081.
If you have enjoyed reading Salt&Light...
We are an independent, non-profit organisation that relies on the generosity of our readers, such as yourself, to continue serving the kingdom. Every dollar donated goes directly back into our editorial coverage.
Would you consider partnering with us in our kingdom work by supporting us financially, either as a one-off donation, or a recurring pledge?
Support Salt&Light