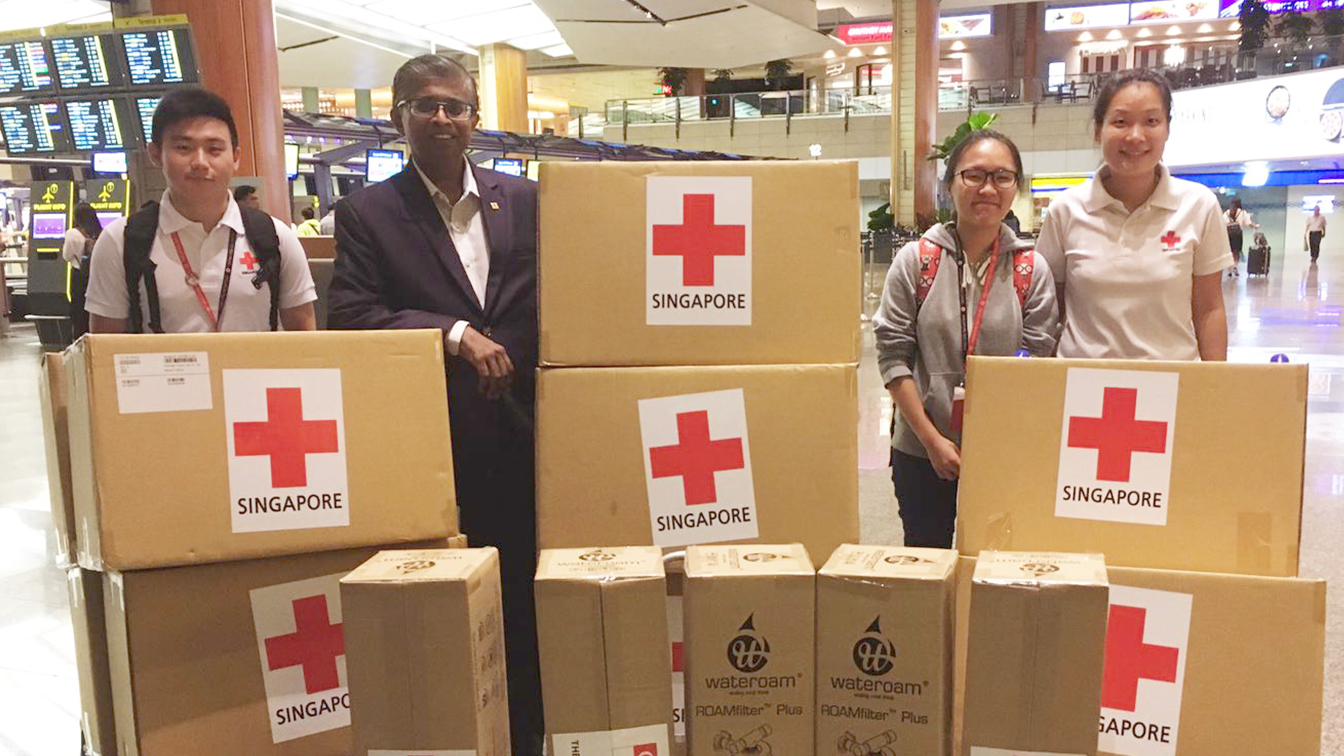 The Singapore Red Cross team with Secretary General and CEO Benjamin William (second from left) leaving for Laos to discuss long-term support for communities affected by the devastating floods. Photo courtesy of Singapore Red Cross.
Deadly floods in Kerala, Laos, Myanmar and South India, the devastating Lombok earthquakes, hundreds of lives lost, thousands displaced – the rash of natural disasters in recent weeks could overwhelm even the most seasoned of humanitarian workers.
But secretary general and CEO of Singapore Red Cross (SRC), Benjamin William, 59, remains calm by necessity, as he coordinates international relief efforts from his office in Penang Lane.
As Salt&Light visits the former statesman in office, he excuses himself a number of times to take urgent calls from government officials and address staff who are rushing out a press release.
"Ending up in Red Cross is a continuation of the story of how God is guiding my life."
"I don't visit disaster areas in the emergency phase because as secretary general, when you go, you are actually pulling a lot of people away from their tasks," he says, giving us a glimpse of the urgent and critical work behind the scenes.
He visits a disaster zone a few weeks after the emergency, in order to meet with local leaders and assess the needs of rebuilding.
William speaks in such gentle, humble tones, that you might forget the illustrious 30-year career this diplomat has had in the Ministry of Foreign Affairs (MFA).
He was Singapore's former ambassador to Laos from 2007 to 2011 before joining SRC.
"Ending up in Red Cross is a continuation of the story of how God is guiding my life," says the Christian. "Looking back at all the things I've done in MFA, I would say that I can see the hand of God in it."
Foreign service
The former diplomat had considered going into full-time ministry as a youth. Active in his church youth ministry since he was 13, he was delivering sermons by the time he was in his early 20s.
Full-time ministry seemed to be a natural step.
"It is not only in full-time ministry that you can serve God – sometimes you can serve Him better in other areas."
Yet, the doors never opened.
"Even after joining MFA I thought that, maybe at some point, I would go into full-time ministry. But 40 years later, I still haven't gotten the calling," he says with a chuckle.
"Looking back, I realise why God planned things that way – it is not only in full-time ministry that you can serve God. Sometimes you can serve Him better in other areas."
After his 'A' levels, William had read engineering in university for a year but decided to give it up as it was not a field he was drawn to pursue. 
He was the last foreign service officer hired with 'A' level qualifications – an exception it seems, as the last time this happened was in the 1960s.
"That same year I was hired, MFA recruited a few others with second upper honours from university. It was God's grace that I got into the Foreign Ministry."
Taking study leave from MFA, he later graduated with a degree in economics and political science, and returned to serve in the foreign service.
"Right from the start in 1981, my interest in international affairs was translated to my work, so I loved it," says William.
Streams in the desert
His first overseas posting in 1988 was to Bandar Seri Begawan, Brunei.
While he was looking forward to his first foreign assignment, he was also concerned that living in a country dominated by other religions would usher in a period of dryness in his Christian service – "like going to the desert".
Instead, it turned out to be "one of the most active periods of my Christian work", he says. He served in the Tamil ministry in the local church, ministering to the large Indian expat community during his free time.
"When you testify and take a position, God is faithful to you."
"It confirmed my sense that I didn't have to be in full-time ministry. In fact, if I were, there would have been no way I could have served God in Brunei."
But his diplomatic portfolio did not always allow for church work. There were times when the culture of the country ran contrary to his faith.
William recalled a time during his ambassadorship in Laos, when a Singaporean expat invited him to grace an event. He also took the opportunity to call on the governor of the province where the event was held. As with most events in Laos, it involved a spirit-calling ceremony.
Given his diplomatic role, William would have found it difficult to decline the invitation. But the governor, himself a Lao Buddhist, knew William was a Christian and excused him from the ceremony.
"When you acknowledge that you're a Christian and you have certain beliefs, somehow or other, God will work it out," says William. "My wife and I have experienced that a few times during my time in Laos. When you testify and take a position, God is faithful to you." (Hebrews 10:23, 1 Corinthians 10:13)
His various missions to Bandar Seri Begawan, Manila, Washington and Laos further affirmed that he was meant to be in the marketplace.
In each of his placements, he was able to sow into the local church community – something that working in foreign service facilitated.
"It wasn't a mistake that I didn't get a calling for full-time. In a sense, I was very much in full-time ministry. It is important for Christians to shine where they are placed." (Matthew 5:16)
Coming home
Upon his return to Singapore at the end of an assignment to Laos, William had an offer from then-MFA permanent secretary Bilahari Kausikan: A secondment to Singapore Red Cross.
To Kausikan's surprise, William readily agreed. In fact William and his wife, Angelin, had already been discussing and praying about working in a non-governmental organisation (NGO).
The two-year secondment to SRC turned into seven years. During this time, William restructured the organisation, reworked its constitution, and turned SRC's focus to the local community.
His secondment to SRC, in his view, was by no means an accident. "God had a role for me to play."
When he first joined SRC, the organisation was known only for responding to disasters overseas and running blood donation drives.
"If I can look back and say, 'Yes, God was able to use me to touch lives', then I'll be quite happy."
"One of my first policy decisions involved the fact that if Red Cross does not exist for the local community, we have no reason to exist," says William. Internal discussions identified the elderly and the disabled as vulnerable groups in Singapore.
Since then, SRC has added new local services, including TransportAid, FoodAid and 24-hour home monitoring for the elderly who live alone.
At the end of his seven-year posting to SRC, he decided to join the NGO full-time upon his retirement from MFA in March this year. It was a decision couched by prayer.
Since he was a youth, it had been William's one desire to be called a man after God's own heart. 
Despite the grievous sins King David committed, including adultery and murder, God called David a man after His own heart. (1 Samuel 13:14, Acts 13:22)
William believes that David was given that recognition partly because of his love for people.
To this end, the SRC CEO hopes to achieve one critical thing during his time in the organisation – to bring aid and care to the lives of the vulnerable, both in Singapore and overseas. (Matthew 25:31-40)
"If at the end of my stint here, I can look back and say, 'Yes, God was able to use me to touch lives', then I'll be quite happy."
How you can help relief efforts
Give to a trusted agency, so that those at the front-lines of humanitarian action can have the material resources to feed the hungry, clothe the naked and comfort the broken-hearted. There is still a huge need for emergency supplies and for reconstruction efforts in the near future. 
Pray for the affected areas, and that Christian humanitarians may be strengthened in spirit, mind and body to minister to the wounded and those in need. 
Go, so that the Lord's servant army may be reinforced in the field. We can collectively present a stronger witness for Him. Volunteering options are being worked out by several agencies such as the Anglican Crisis Relief, Outreach & Support, Singapore (ACROSS).
To donate or volunteer for relief and rebuilding efforts: