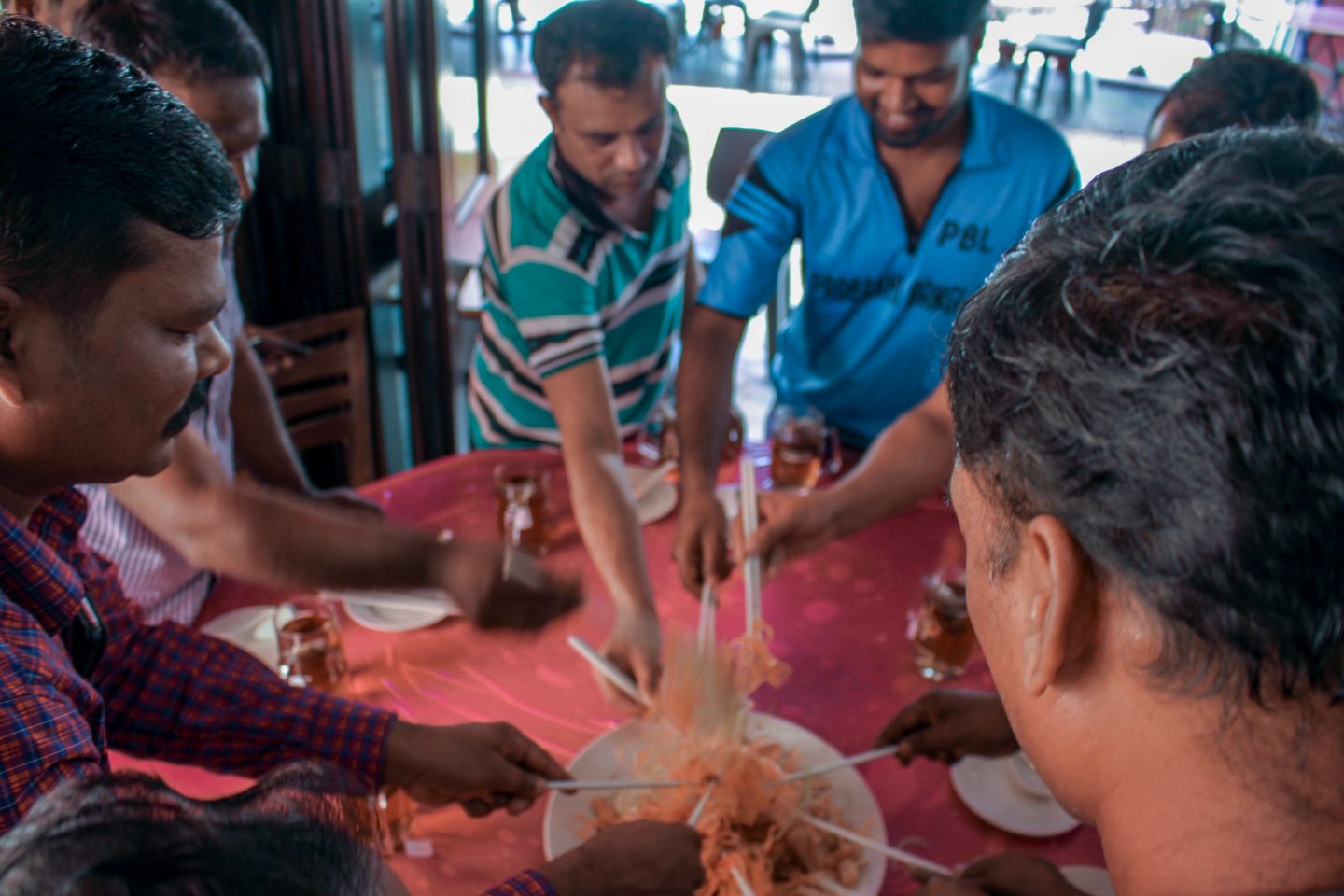 Like many social organisations, migrant worker charity HealthServe held a Chinese New Year gathering for those under their care. Photo courtesy of HealthServe.
Chinese New Year marks the start of spring for Chinese worldwide. It's a time to enter a new season of life with a full belly and good cheer. 
But for others, separated from family, the occasion can beget loneliness.
Several faith-based organisations in Singapore have taken the step forward to offer companionship to those who spend the holiday in solitude.
Homeless Hearts of Singapore ran their first Chinese New Year dinner this year at Yio Chu Kang Chapel on the seventh day of the new year. The church lent them the space at zero cost – "a godsend", says Abraham Yeo, who founded Homeless Hearts in July 2014. 
At the dinner, there was the usual lo hei (salad toss) ritual, musical performances and the chance to do calligraphy. 
Yeo said the party was a chance for Christians to give Jesus, who was homeless when He was on earth (Luke 9:58), the honour He deserves (Matthew 25:40-45). 
Inviting those living on the streets out for a meal is harder than it looks, says Yeo. Some are too shy to go as they do not know the other homeless beneficiaries, or they could be tied up with their jobs, which tend to have unpredictable schedules.
Getting the homeless to the venue is also a challenge if it isn't close to the area they stay at, given the inconvenience and cost of transport.
"HealthServe is like a second home to our beneficiaries."
The volunteers, who in previous weeks gave out printed invites during their fortnightly walks, picked some of them up before dinner. 
Migrant worker charity HealthServe also organised a meal for their foreign beneficiaries on day seven, where 32 of them – one third of South Asian ethnicity – turned up, ready to feast. 
Many of the workers tell the staff that HealthServe is like a second home to them, said Jeff Chua, the casework and social assistance head. "As a family, we should celebrate this event together."
Like a family, some of the beneficiaries who could not go back to China also initiated a dumpling-making party at the compound on the eve of Chinese New Year, shopping for ingredients and making the little dumplings together. 
On the first day of Chinese New Year, ACS Oldham Hall at Barker Road held a dinner for the 50-odd foreign students – the majority of them Chinese Nationals – who did not return to their home country for the festivities. 
The student hostel holds the annual dinner to alleviate the homesickness many of the boarders feel, knowing that the Lunar New Year is an important family affair among the Chinese, says Josiah Lau, the institution's IT, marketing and communications executive and a former boarder. It is also a time for staff to bond with the students, especially those who recently arrived. 
In the east of Singapore, cell groups from Bethesda (Bedok-Tampines) Church have been making their rounds at the blocks of flats around the church with mandarin oranges and snacks in tow since end-January. 
Pastor Sharon Liau, who coordinated the effort, says this outreach came about because the church knew they were located in this  neighbourhood to share the Good News.
"And if we don't share it with our neighbours, who will?" she said. "Out of our love for God and for the people He wants to save, we are willing to come out of our comfort zone to go out and reach them for Christ."
Interacting with neighbourhood residents allows BBTC church members to build a rapport with them and assist individuals who need social support.
The initiative started more than 10 years ago. A cell group interested in serving the community can adopt a block of flats, some which house low-income families and seniors, and visit each unit one to four times a year.
Food and flyers to invite them to BBTC's events are given out, and by interacting with the residents, the church members build a rapport with them too. 
The visits are also a way for the church to find out which residents need help. Bethesda Community Services (BCS) will step in to assist specific individuals that need further social support. Once, church members met a boy who was working in order to afford his school fees. He later received financial aid through BCS. 
While the programme is not solely evangelistic, some residents have came to the faith through it.
Pastor Liau recalls a woman whom they befriended for 10 years before she set foot in the church. She later got baptised and now attends service and cell meetings.
Pastor Liau sums up the attempt to love one's neighbours: "It involves years of faithful sowing. We need to avail of ourselves to be that channel and depend on God to draw men unto Himself."
If you have enjoyed reading Salt&Light...
We are an independent, non-profit organisation that relies on the generosity of our readers, such as yourself, to continue serving the kingdom. Every dollar donated goes directly back into our editorial coverage.
Would you consider partnering with us in our kingdom work by supporting us financially, either as a one-off donation, or a recurring pledge?
Support Salt&Light