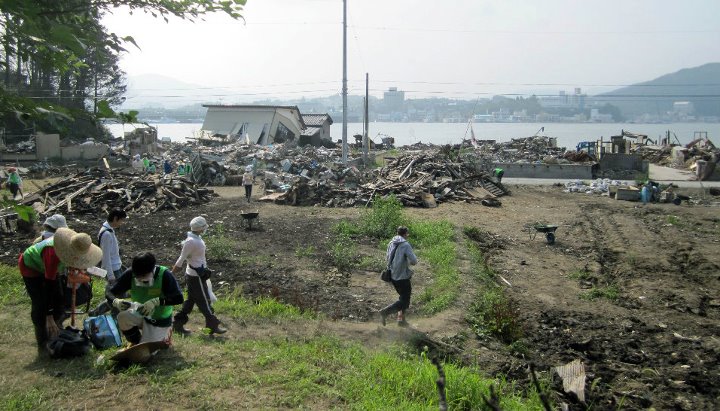 The EPJM team in Kesennuma in July 2011, helping to clear the debris caused by the tsunami and earthquake. Photo from EPJM Facebook page.
Staring at the images of deadly waves and rivers of shattered homes on screen, Pastor Caleb Chan knew it was the time he had prepared for.
This was hours after a magnitude 9.0 earthquake and tsunami struck the northeast coast of Japan on March 11, 2011. Buildings collapsed, fires engulfed cities and a nuclear plant exploded. Thousands died across 20 prefectures and thousands more were rendered homeless. 
Over the next five days, the Faith Community Baptist Church (FCBC) pastor hurried to pack his bags and make contact with the pastors he knew were in the midst of the havoc.
By the 16th, he was on the ground in Sendai helping to hand out supplies through a local church.
Pastor Chan stayed on for another three and a half months, partnering humanitarian aid organisation Samaritan's Purse to coordinate relief efforts with FCBC Singapore, which sent some 200 volunteers over.
A vision
His assignment was a long time coming.
In 1998, Pastor Chan was in Kazakhstan to visit missionaries. A German prophet prayed for him and saw a vision – Pastor Chan was carrying the flag of Japan with his left hand. On his right was the Olympic torch. The message: He would be part of efforts to "bring revival to Japan".
In 2013, FCBC Singapore sent Pastor Chan, his wife and two other church workers to start a church plant in Japan.
His first stop was Kesennuma, a fishing port two hours by train from Sendai, to assist a pastor from Kesennuma First Bible Baptist Church, whose building was wrecked by the tsunami.
It has been five years after the move. Since then, Pastor Chan moved the church from Kesennuma to Sendai, and planted churches in Yokohama and Nagoya, as part of FCBC's plans to plant 12 churches in the 12 largest Japanese cities. His stay in Japan is indefinite, he says.
The effects of the devastation of the 2011 earthquake and tsunami are still being felt today.
Despite the inferno the triple disaster caused – 18,431 dead or missing and 51,778 still displaced – missionaries in and to Japan say that the calamity has softened the spiritual ground in what is the second most unreached people group in the world. 
Seeing such profound loss was painful. Yet there was a silver lining, as "the earthquake and tsunami opened the door for us to bring God's love to them", Pastor Chan said.
 Hands and feet
The English Presbytery Japan Mission (EPJM) under the Presbyterian Church of Singapore is another collective steadfast in serving the afflicted region of Tohoku.
"The earthquake and tsunami opened the door for us to bring God's love to them."
A month after the disaster, several Christians from across various Presbyterian churches met at a missions talk, where the conversation of doing crisis relief work in Japan came up.
The group bonded and, with the English Presbytery Missions Committee's approval, dispatched their first team of volunteers in July 2011.
They have sent a team up almost every month since (there are no trips in January), as long as there are two willing parties. A total of 474 individuals from 46 churches have joined the 66 EPJM trips. The programme is open to non-Presbyterian members.
The mission started out with immediate relief work. EPJM partnered CRASH Japan, a Christian relief organisation, to remove debris from the roads and houses, and give out relief supplies to the victims.
A year later, after most of the immediate needs had been fulfilled, EPJM shifted towards providing emotional care at the temporary housing complexes, in the likes of cooking for them, conducting crafts sessions, or providing massages.
"We just want to come to show the Lord."
The work evolved as survivors moved away into their new apartments and some came to Christ.
Since 2013, EPJM has partnered the 3.11 Iwate Network, a group that focuses on church planting in the predominantly rural Iwate prefecture in Tohoku.
The county only has 80 pastors and only 0.16% of the population are Christians – 4,321 followers among 2,690,574 people, according to official figures.
While the EPJM teams continue to serve at shelters and community halls, their work has moved on to supporting the Christians in Iwate. Over 10 days, they travel to three to four town to visits the homes of new believers, or help pastors to give out tracts in their neighbourhood in order to give the church a face, for example.
Though the work sounds simple, it is crucial, said chair of the EPJM committee Susan Eng, given that the pastors in each town is overworked running both outreach activities and managing the church.
Loneliness is prevalent too. Many survivors who lost their homes stayed in temporary shelters for years, only to find themselves living in sterile high-rise apartment with new neighbours again when the shelters closed, she added. 
"We are just going there to be their hands and feet of Jesus, to encourage our local partners, to show the presence of God."
Cooking sessions and Gospel choirs
Being largely rural, Tohoku is typically more conservative in a country already guarded towards foreigners.
But the influx of foreign volunteers who entered the region after the tragedy increased their acceptance among the locals.
In particular, Christians are well regarded, given the many aid organisations that are faith-based. This provided more inroads for missionaries to connect with the Japanese.
Pastor Chan said the tried and tested way to reach out to non-believers is to organise "neutral activities" where people can mingle without feeling any religious pressure.
His churches organises English classes, cooking sessions and Gospel choir concerts – a big hit in Japan.
Being Singaporeans help, given that the country is well-regarded by the Japanese.
History, though grim, plays a part too.
On her first EPJM trip in 2013, Eng encountered an elderly man who asked why they were in the country given Japan's World War II record.
She told him: "We just want to come to show the Lord. And this is how the love of God is manifested – our willingness to come, even though we have to cross so many barriers.
"What atrocities that has happened in the past does not hinder us from coming to bless the nation."
Despite the plethora of ongoing activities, it's rare for the Japanese to profess faith.
Pastor Chan attributes it to cultural and social pressure in a predominantly Buddhist and Shinto country, where keeping to rituals such as ancestral worship are a priority. Family members are ostracised when they do not.
The jumble of religions also creates a lot of confusion on issues like the afterlife and vengeance, said Eng.
Crest of a revival
So far, EPJM only sends short-term teams, but Eng does not discount the brief but consistent sojourns – the regularity has bred camaraderie between the Japanese and any Singaporean who goes up.
In Miyako, a coastal town in Iwate, one new Christian in his eighties, who goes by Abe, hops into EPJM's van, joining them on their drives whenever they are in town.
Another woman in her 90s, who converted while living in the temporary housing complex, told Eng she prays for the EPJM team. Photos of the missionaries decorate her unit.
Among the participants, many who return from their trip end up joining EPJM's monthly prayer meetings, and others have become long-term missionaries. During the group's last annual thanksgiving meeting in January this year, they commissioned two families who previously went on EPJM's trips.
If there is a time to serve in Japan, it's now, said Pastor Chan, who believes that there has been an exponential growth of Christians in Singapore, China and South Korea over the past century. But the wave missed Japan.
Then he refers back to the time he moved to Japan in August 2013. A month later, the country announced it was hosting the 2020 Olympics. Another sign corresponding to the vision he got 21 years ago.
This is what he believes: "We might be at a crest of a revival in Japan."