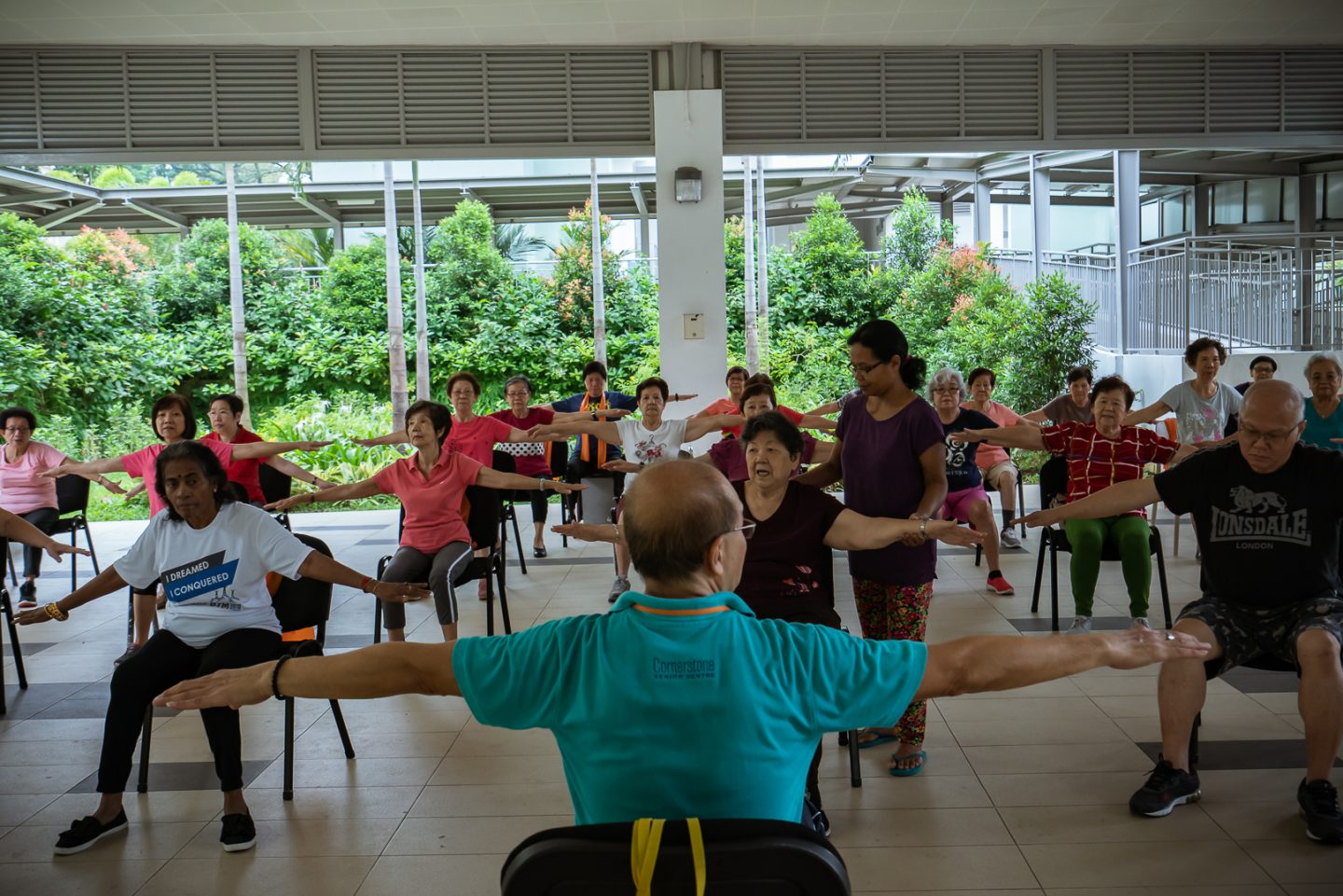 Seniors at the Cheng San neighbourhood in Ang Mo Kio meet five mornings a week to exercise. Photo by Rachel Phua.
Rosalind Phoon is now an accidental poster girl.
In February last year, the former primary school English teacher moved to a two-room flat in Ang Mo Kio. She had trouble leaving the house, having injured her back 20 years ago.
One major hindrance was getting groceries from the wet market nearby. Phoon relied on her trolley for balance, which on hindsight, was dangerous.
The neighbours' doors were always shut and there was no one from whom to seek help. Her two children had mostly stopped contacting her, while her husband is bedridden in a nursing home.
But she discovered there was a senior centre run by Cornerstone Senior Centre at the block next to hers and asked the staff if they could do her a favour and buy food on her behalf.
Then, in October, they told her a new gym and daily exercise programme would be starting soon, run by the active ageing charity Empower Ageing. 
"It was great because I wanted to be able to walk properly again," the 82-year-old said. 
Today, Rosalind is able to carry out the routine with a walking stick. And, sometimes, neighbours whom she befriended during her morning workouts would drop by in the afternoon, food in tow.
Her story of recovery and newfound friendships is an example that Empower Ageing has been using to encourage other residents to take part in their activities and start living joyfully – as God intended. 
Lifting weights and spirits
Isaiah Chng, the founder of the charity, launched a series of fitness classes and opened a gym within the senior centre in October 2018 to provide last-mile rehabilitation for the elderly residents.
The gym cost $2 per entry, while users who pay a $10-per-year membership fee can enter for free.
"I want seniors to stand up and believe in themselves again."
Chng said he saw a lack of support for elderly patients who were discharged from hospital but were not fully able-bodied yet. Many of them are still prone to falls and lack the confidence to leave their homes.
He wished to get them to the point where they aren't just able to function at home, but are able to take the bus or go wherever they like.
"I want seniors to stand up and believe in themselves again," Chng said.
Another reason to organise the exercise sessions is to encourage neighbours to mingle and form friendships.
Studies have found that both exercise and strengthening one's social network improves the seniors' mental health.
All of these solutions point to mitigating depression among the aged. According to 2017 figures from the Singapore Department of Statistics, one in five residents aged 65 and above live alone in Singapore, a factor linked to loneliness and depression, although those living without a peer were found to be just as lonely.
A 2015 study conducted by researchers from the National University of Singapore and the Ministry of Health found that 51% of the older population sometimes, or mostly, felt lonely.
A person in weak physical health can also end up depressed, as their self-esteem is affected when they are unable to look after themselves, said Dr Chia Tee Hien, the medical director of St Luke's Hospital.
And living with depression may cause other issues: Further disabilities and health problems, poorer quality of life, and a higher mortality and suicide rate.
While some seniors may lack the motivation to watch over their health, others may become more paranoid and seek solace in meeting physicians, increasing the burden on both finances and the caregiver, Dr Chia added.
Adding joy
LoveAid is another voluntary welfare organisation ministering to the elderly in MacPherson.
The group, set up in 2013 by members from 3:16 Church, runs a weekly gathering called Jiale (In Chinese, this phrase has various meanings such as "add joy'" and "happy family". It is also the name of Caleb in Chinese.), where the beneficiaries meet to have tea and do activities at a Residents' Committee centre. 
Clement Ee, one of LoveAid's founders, said that he felt the need to reach out to the elderly, given that MacPherson is a mature estate where many seniors and low-income households reside. (316 Church chose the neighbourhood as their community outreach area as it was the site of the church's first premises.)
He was also moved after reading news about the high depression and suicide rates among older people.
Since the afternoon meetings began in 2017, Ee noticed that the attendees weren't there just for the free food. They would bring their own coffee and serve it to one another.
The number of participants has ballooned to 32 from 14 when Jiale kicked off. LoveAid is planning to start another cluster at a separate centre.
"You would think that what they're after are material needs. But true poverty is the lack of connection, and that's what they want," said Ee.
Deepening relationships
In the Bible, Caleb was 85 years old when he asked Joshua to give him his inheritance (Joshua 14:9), which he still had to fight the giants for. But he knew victory was his (Joshua 14:12).
Chng believes that the story of Caleb highlights God's mandate for every person to live his or her entire life to the fullest, and to fight their "giants" – stroke, broken relationships with their children, or self-pity, for instance.
1 Timothy 5 shows that taking care of our fathers and mothers isn't exclusive to one's parents, but anyone who is older.
It is the responsibility of the Church and Christians to help their parents fulfil their destiny, Chng said, since we have also been called to honour them (Leviticus 19:32; Proverbs 23:22-25).
Ee goes back to the 10 commandments, which state explicitly that Christians are to "honour your father and your mother" (Exodus 20:12). 1 Timothy 5 further shows that taking care of our fathers and mothers isn't exclusive to one's parents, but anyone who is older.
In practical terms, Dr Chia said that Singaporeans should be less task-oriented and deepen the relationship they have with the elderly around them instead.
"Provide them with an avenue to vent and talk to them," he said. "Learn to speak their lingo." Family members who spot their parents showing signs of depression should accompany them to seek therapy at a polyclinic or family service centre as well.
A touch away 
While face-to-face interaction is essential, there is a new avenue for Christians to support the elderly through the digital space as well.
In January this year, the LoveSingapore Church network launched an app where users can search for eldercare services by service type or its faith-based provider.
Pastor Eugene Seow, the chief executive of TOUCH International and a member of LoveSingapore's leadership team, said the app enables people to attend to the elderly at all times.
"If you see an injured grandmother on the roadside, or happen to talk to an old woman who professes she is lonely, you can search for assistance right away," Pastor Seow said of the app, which is a means for the body of Christ to provide care to seniors in Singapore.
Raising Abraham 
When Caleb claimed his mountain, it wasn't just for himself, but for future generations as well.
Chng, Empower Ageing's founder, believes that if Singaporeans want to be blessed by seeing a revival in the nation, then it's necessary to obey God by restoring dignity among the country's forerunners. 
Neither will the Father raise up Jacobs and Isaacs and leave out the Abrahams, he added. 
And a revival may be what's necessary. Data from the Singapore Department of Statistics show that in 2015, only 18.3% of people aged 55 and above are Christians, leaving more than 80% of them untouched by Christ.
Serving them creates an opportunity to make the Gospel known by instilling hope, said Ee, pointing out that some of LoveAid's beneficiaries have came to the faith, moved by what its volunteers and staff have done for them.
Ee said: "There is a message of redemption behind our actions – that life was once meaningless but is now renewed."
If you have enjoyed reading Salt&Light...
We are an independent, non-profit organisation that relies on the generosity of our readers, such as yourself, to continue serving the kingdom. Every dollar donated goes directly back into our editorial coverage.
Would you consider partnering with us in our kingdom work by supporting us financially, either as a one-off donation, or a recurring pledge?
Support Salt&Light