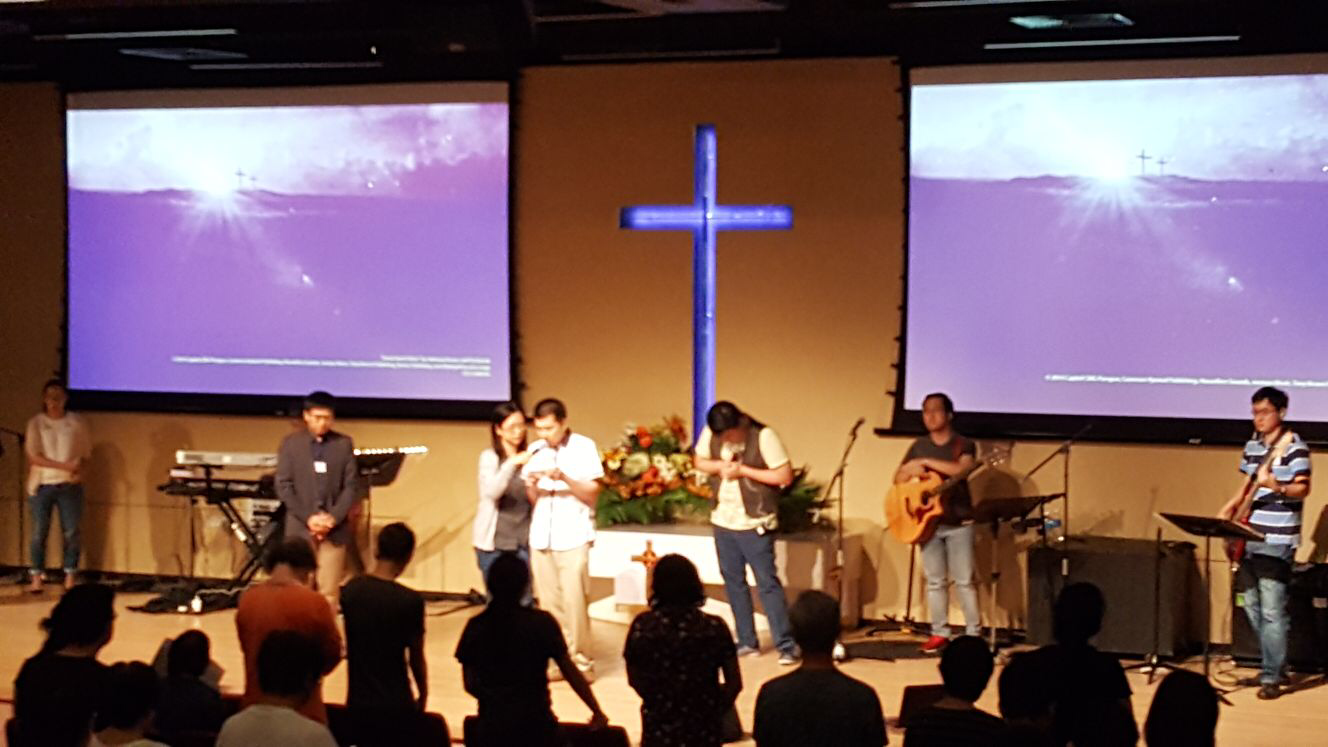 A mindset shift is needed to give people of differing abilities the chance to serve alongside other members of the congregation, says a paper on discipling the differently abled. Photo courtesy of Praise Special Community (PSCom), Wesley Methodist Church.
The Church currently looks like "a set of conflicting limbs – less than the sum of its parts", wrote author Jacqueline Woo in Discipling the Differently Abled into Disciplemakers: A Preliminary Exploration. The paper was released by Centre for Disability Ministry in Asia (CDMA). 
At age three, Woo was diagnosed as having generalised dystonia, a neurological movement disorder which affects her ability to fully control her muscles. It causes involuntary spasms, and has also affected her vocal cords. The 26-year-old gets around on a wheelchair and communicates by typing on her phone or laptop. 
Woo's paper explores how churches can fill the "discipleship gap" for Christians with special needs. The gaps are challenges, obstacles and mindsets that lie in the way of inclusion. 
It is important to (re)engage with the core elements of the Christian faith, so that inclusion does not degenerate into mere tokenism.
"As the situation stands now, the Church does not look like one body of Christ."
Currently in most Singapore churches, "differently-abled Christians are usually only present in churches, rather than being actively discipled or taking on the role of a disciple-maker".
"While disability ministries are making headway into Singaporean churches … these ministries are often conducted separately from mainstream services, resulting in the continued alienation of Christians with disabilities from the wider congregational community." 
She also cites Nancy Eiesland, a theologian known for her pioneering work on disability, who was born with a congenital bone defect: In order to promote inclusion, it is important to (re)engage with the core elements of the Christian faith, so that inclusion does not degenerate into mere tokenism.
Without a loving community, "differently-abled Christians might backslide and lose faith in God".
Woo's paper is adapted from a chapter that she wrote for the upcoming book, Enabling Hearts: A Primer for Disability-Inclusive Churches (CDMA and Graceworks, 2021).
Separately, Salt&Light spoke with three churches about their journey of inclusion and integration. 
Preparing to serve in mainstream services: Wesley Methodist Church
A mindset shift is needed to give people of differing abilities access to formal training opportunities and the chance to serve alongside other members of the congregation, wrote Woo in her paper: "We need to assume the giftedness of differently-abled people, and thereafter seek to identify those competencies." And not treat them as "objects of charity".
The Praise Special Community (PSCom) ministry at Wesley Methodist Church, which runs separate programmes for its members, aims for this inclusion: Embracing people with special needs into various church ministries, enabling them to meaningfully serve and participate in church activities, and forming genuine relationships with them. 
Every person is fearfully and wonderfully made by Him, and is hence a beautiful creation. 
 Its members are children and adults with conditions that include autism spectrum disorder, Down syndrome, cerebral palsy and dyspraxia.
It encourages members to participate in rituals like Holy Communion together with the rest of the church. They have opportunities to serve along with ushers at the main services, take part in joint activities with other Children Ministry departments, and engage meaningfully with the Youth Ministry and Small Group Ministry.
According to team leader Mabel Wong, if a special friend is stepping up to serve as an usher, PSCom and ministry leaders first help the other ushers to better understand this friend's needs. This includes the dos and don'ts, methods of communication, and how to calm a special friend when they get anxious or have a meltdown. 
PSCom also works closely with the special friend's parents to prepare them in advance. This includes talking and walking through the tasks they need to perform, providing a checklist to help them remember their duties, and pairing them with PSCom volunteers for physical coaching and emotional support.
The group's name is inspired by Psalm 139:14, a reminder to praise God because every person is fearfully and wonderfully made by Him, and is a beautiful creation. Its 23 members are currently supported by 19 volunteers. It started in 1992. 
All have gifts to bless the community: Bethesda Church Bukit Arang
Members of the Jesus Club at Bethesda Church Bukit Arang (BCBA) are rostered to serve at their fortnightly sessions. It could be co-emceeing, co-leading a song, leading the closing prayer or helping  to prepare supper, says Jessica Chow, who has been serving the group since 2015.
"Finding opportunities for them to serve together is so important, as it affirms and reminds them that they are an important part of the body of Christ," said Chow. 
It is part of the club's mission to make Christ known to people with intellectual disabilities, so that they can enjoy a relationship with God.
Even now when Jesus Club sessions are online, opportunities to serve still abound. They include taking turns to lead prayers for the group over Zoom.
The Club was launched in 2013 at BCBA. It also operates at Bethesda Frankel Estate Church (BFEC). 
Recently, they introduced a new initiative to harness members' strengths to bless their community. Uncoloured birthday cards are mailed to artistically-inclined members to colour in. They are then sent to Club members celebrating their birthdays that month.
It reflects the Club's  belief that all have spiritual gifts and can help to build up the body of Christ in love (1 Corinthians 12:11). 
Showing love in practical ways: Bethesda (Bedok-Tampines) Church
Special needs educator Shalyn Wong, from Bethesda (Bedok-Tampines) Church (BBTC) noticed that the church did not have a specialised ministry to meet the needs of the growing community of worshippers with different abilities.
Depending on their condition, those with disabilities may face difficulty as they move from the structured programmes of Sunday School to a youth group or adult service.
Wong worked  with Pastor Jeffrey Aw to assemble a team for the ministry, God's Love Overcomes (GLO). Some of its 24 volunteers are teachers or professionals in special education, others have family members with special needs. The rest had no experience interacting with people with special needs prior to serving. 
Its first service took place on February 2019.
"When we love, we show it through our actions."
Through a two-hour programme held fortnightly, GLO disciples Friends – those with special needs.
Running much like Sunday School services, lesson plans are customised according to the needs and abilities of Friends.
There are three groups. The Guided Word (for older Friends with milder intellectual disabilities) goes deeper into Bible studies and discussions. The Activity group uses pictorial references such as stickers in place of text, helping Friends who are less- or non-verbal understand and relate to the Scriptural content.
In between is the group, Narrative Word, for those who are verbal and able to read and write.
Two volunteers are attached to supervise and guide each Friend during the service.
Many assume that complex biblical truths are impossible to teach to people with intellectual disabilities, but the GLO team would disagree.
They believe that fundamental biblical truths are very simple and can be shown in practical ways.
For example, to teach the truth that God loves us and so we can love others, GLO shows Friends what love actually looks like – through the time volunteers devote to building a relationship with their Friends, constantly checking up and journeying with them.
"Love can be an abstract concept, but it is also something very easy to understand. When we love, we show it through our actions," the core team say.
Team members, like Aunty Violet (as she is affectionately known), stay in close contact with parents through Whatsapp. They ensure that no Friend is left behind: They check to see if the children were able to understand the service. 
This has become especially crucial during the Covid-19 period, when the ministry is not able to hold a service in real life. 
The team encourage Friends to apply what they have learnt in the service over the next few weeks. While it can be difficult to verify their level of understanding of Scripture, especially for Friends who are less verbal, it is easier to see the transformations in their lives.
The ministry is also an outreach to pre-believing families.
The parents of Dylan* (not his real name) are encouraged by his growth since joining the ministry. He has developed new friendships, and his attention span has increased and he is able to focus more on the instructions given by teachers during their online meetings. He has become comfortable exploring BBTC's YouTube channel, where videos or GLO services are uploaded every two weeks. Dylan is a member of the Association for Persons with Special Needs (APSN)'s adult centre.
GLO is a safe, inclusive space for their caregivers and family members too. They face difficult challenges in managing their children with special needs every day.
Volunteers show God's love to these families through their warmth and commitment. The ministry is also an outreach to pre-believing families.
"We need volunteers who can reach out to them and provide them with a space to share their struggles openly and find respite, comfort or even practical help," say the GLO team. 
GLO hopes churches can allocate resources to train volunteers to form support groups for these families.
---
Inclusivity also means …
Greater knowledge of their strengths and challenges
The first step towards true inclusivity begins with awareness.
Genuine relationships can be formed when there is a greater knowledge of the strengths and challenges of persons with special needs, says Wong from PSCom. 
"People tend to shun our Friends with special needs because they don't know how to interact with them, especially when they see them experiencing meltdowns." 
Changing mindsets
"Churches should regularly talk about disability during congregation-wide activities to foster awareness, correct misconceptions about persons with disabilities, and sustain the idea that the differently abled are very much a part of God's beloved family too," suggested Woo in her paper. 
"Where possible, just like we would do for other members of the church, it would be a good practice to publicly celebrate the achievements of differently-abled Christians as a testimony to God's goodness and faithfulness in their lives."
Respect the individual
"For a start, churches could match volunteers to be spiritual mentors or buddies to differently-abled Christians. Such volunteers could serve at both the spiritual and practical levels, by providing friendship and providing concrete help. Importantly, when doing such matching, churches should respect the individual agency of differently-abled persons … rather than only consulting their caregivers or family members," wrote Woo.
This could include consulting the individual first, although in some circumstances, it may be unethically appropriate to consult with the differently-abled (for example, if they are children or intellectually challenged) without their guardians present.
Reaching out outside "church time"
"Often, the most painful part of having a disability is not the disability itself but the resulting social isolation," wrote Woo.
Chow from the Jesus Club suggests that church members could invite friends with special needs to take part in social activities to get to know them personally. Doing this in groups would be helpful: There is motivation in taking the first step, and support through the process.
Rather than making inclusion the end goal, Chow believes that knowing God's love for all and our common need for the Gospel, should drive us to reach out to our friends with special needs. "The image of the Church as one collective body of Christ reminds us that our friends with special needs are precious and essential to its growth." 
GLO likewise hopes that the main congregation, beyond just GLO volunteers, will proactively reach out to those with special needs. They could also come in the form of providing suitable employment opportunities.
Creating "cry rooms"
"Many of our caregivers share that they've stopped bringing their children with autism to church because they get death stares from the rest of the congregation when their child paces around or makes noise during the service," said Grace Mao, a co-founder of Jesus Club.
"If we can create cry rooms in church because we want to include mothers with babies in our meetings, could we not also think creatively about how to similarly include our friends with special needs who might not be able to sit through a long meeting?" 
An internal audit of accessibility of church facilities and practices
The church could generate guidelines together with the differently-abled, suggests Woo in her paper. They could "serve as a blueprint for the creation of best practices for church services, cell group meetings, and other activities of the local church".
"Communication could be thoughtfully organised on accessible platforms using technology to bridge the gap for persons who have communicative disabilities." For example, online written chats enable communication between Deaf and hearing people.
---
Jacqueline Woo read History at the National University of Singapore while living on campus at the College of Alice and Peter Tan, and graduated with a BA (Hons) in 2017. She is currently working in corporate communications. She recently co-authored a 31-day devotional, Let Us Consider, based on her daily experiences of disability. 
---
More stories on how churches can enable people with special needs:
Beyond access ramps, "Let Us Consider" how to truly include the differently abled
Blind greeter, drummer with Down's Syndrome, inspire participants at disability-inclusive course for churches
How do we enable differently abled persons to be full participants in the community of faith?
If you have enjoyed reading Salt&Light...
We are an independent, non-profit organisation that relies on the generosity of our readers, such as yourself, to continue serving the kingdom. Every dollar donated goes directly back into our editorial coverage.
Would you consider partnering with us in our kingdom work by supporting us financially, either as a one-off donation, or a recurring pledge?
Support Salt&Light