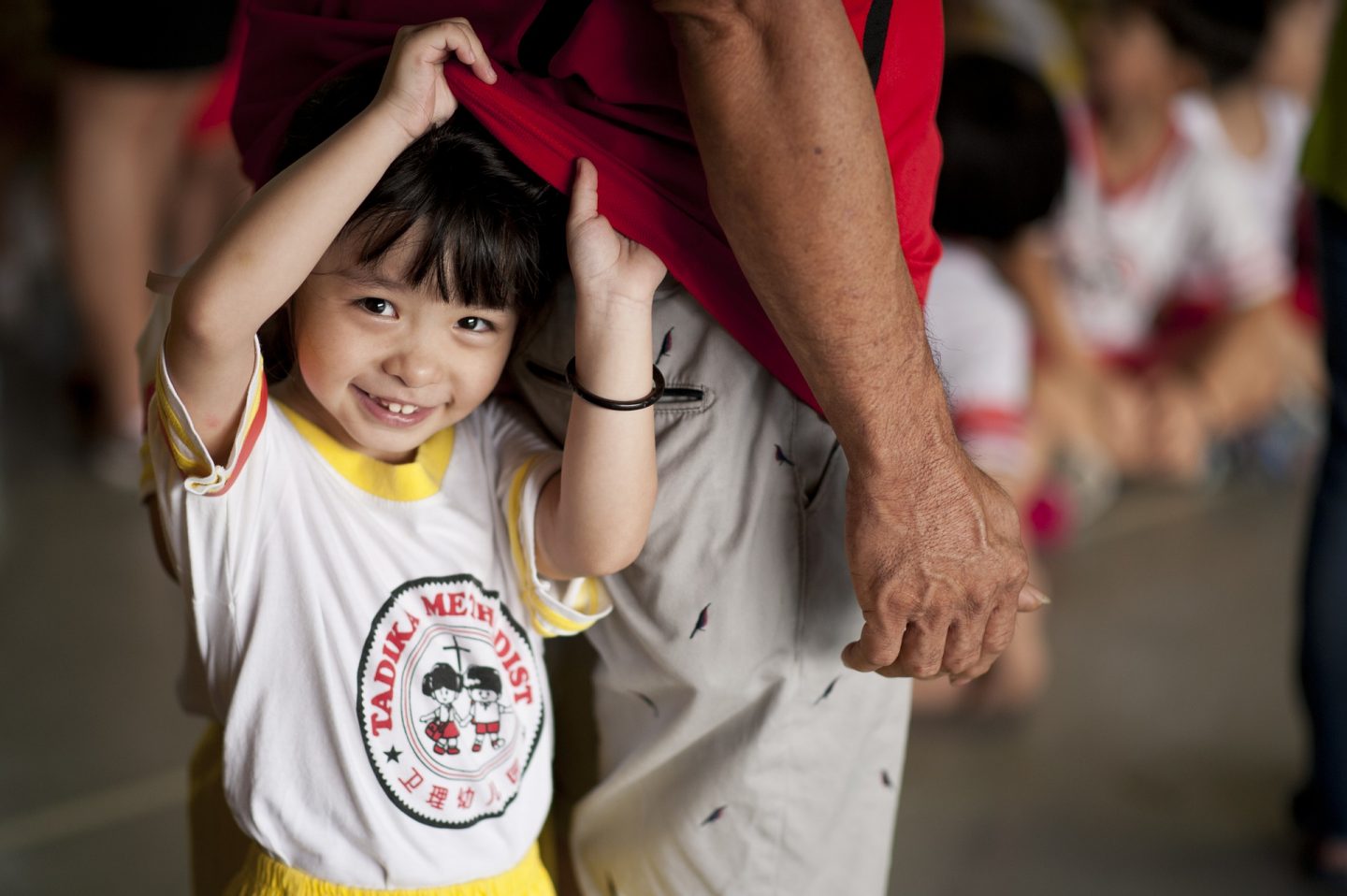 A recent study by Big Love Child Protection Specialist Centre showed that child abuse is on the rise in Singapore, which may mean more foster children who need homes. Stock photo by Pixabay.
"How do you love a child who is not your own?"
"I am so busy, can I be more inconvenienced than I am now?"
"You know what? It's not my calling."
These were the initial responses from these parents when the idea of fostering a child was first presented.
For couples Kelvin and Grace Ng, Vivienne and David Mok, Joseph and Li Ping Gan, it was a tough call.
Jesus loves me
Despite the questions and doubts, the call from God to serve the "least" in society (Matthew 25:40) resonated strongly, too strongly to ignore. Individually, they took a step further, broaching the subject with their loved ones, seeking counsel.
"My grandmother totally did not approve of this initially. She asked why I would want to take care of somebody's child. Fostering is so counter-cultural in our society and the idea of family is so insular," recalls Tay Li Ping, 41, who is studying at Trinity Theological College with the intention of becoming a pastor.
"When we told people about our fostering, their reaction was, 'Are you crazy? Too free, is it?'"
Vivienne Ng, 52, founder of Home for Good SG, a Christian network that supports fostering and adoption, reveals that her friends thought that she was "seow" (crazy). "They said, 'Look at you, you don't even have enough sleep. You're so busy at work, with so much responsibilities!' Even my parents said, 'Just take care of my grandkids well.'"
Teacher Grace Tan, 49, and her husband Kelvin Ng, 53, a private tutor, say they received the same reaction: "The feedback we got was, 'Are you crazy? Too free, is it?'" 
In the end, it was an obedience to the still, small voice in their hearts that ruled despite the chorus of caution. 
Even then, that step to foster was a big decision, not to be taken lightly.
Li Ping, a Stanford psychology graduate who worked as an industrial organisational psychologist in MINDEF (Ministry of Defence) for eight years, confesses: "I struggled for a year because I have three sons of my own and I'm studying part time at Trinity Theological College.
"But singing Jesus Loves Me to our kids was what really convicted me. It's a nightly bedtime routine at our home. One of the verses struck me:
Jesus loves me! He will stay,
Close beside me all the way;
He's prepared a home for me,
And some day His face I'll see.
That stanza spoke to me about a child's desire to be part of a family. It broke my heart."
Fostering as a family
Bringing another child into the home meant they had to get every family member on board with the fostering plan.
"My husband, David, said it's not his calling, but if God calls me to do it, he will support. He's been a wonderful foster father. He's really been there for the kids, playing with them and helping with schoolwork," says Vivienne, who is also the chief psychologist at MSF (Ministry of Social and Family Development).
The couple and their three sons, Ethan, 22, Ewan, 19, and Elliot, 17, have opened their home to fostering since 2013. The family currently has two primary-school age foster children residing with them. As we chat, the two girls are pottering about Vivienne's kitchen, preparing a snack and looking right at home.
"We spent almost a full year just engaging our children, ensuring that they understood the cost of fostering and why we were doing it as a family."
Grace recalls: "My two girls were okay for us to bring a foster child into the family but had a request for a child younger than them. We respected their decision."
Together with Kelvin and daughters Jay Xin, 14, and Jay En, 11, Grace welcomed four-year-old Angel* into their home. She has been residing with the family for more than a year.
Joseph Gan, 41, CEO of V-Key Pte Ltd, adds: "It was very important to make sure our own children understood what fostering entailed. We spent almost a full year just engaging them, ensuring that they understood the cost and why we were doing it as a family. If anything, they were very excited about more playmates."
Both Joseph and Li Ping have been fostering Sam*, a 10-year-old, for the last three years. They now have four boys in their home, including their three biological sons Joshua, 16, Daniel, 11, and Gabriel, 7. From February 1, they will be taking in their second foster child, a seven-year-old boy, bringing the number of boys in their home to five, ranging in age from seven to 16.
Traces of trauma
For the three families, the first six months to a year of fostering proved to be especially difficult. It was a period of adjustment for both sides.
The foster children, especially, needed to get accustomed to a new family and an altogether new environment. Some who had earlier issues of trauma came with emotional baggage. 
Li Ping recalls: "In the early months, Sam would cry and get angry easily. He would throw tantrums and fling things around the house. We were not used to that and I had to explain to my children that Sam came from a hard place, and that was the way he responded. That helped them to understand."
Joseph says: "According to MSF, some foster children do come with a background of trauma, and the negative behaviours really stem from emotional issues. After dealing with his behaviour, my wife Li Ping either hugs or tells Sam that he is still loved."
"Every night I would tell him, 'You're safe. God loves you, you are His child.'"
Li Ping shares an incident when Sam lost his water bottle in school and flew into a rage.
"In the end, he found the water bottle, but his automatic assumption was that someone had stolen it. So, I asked him if that reminded him of a time when someone stole from him at the children's home. He broke down and cried.
"Outside the disobedience is that deep hurt.
"I had to keep assuring him that our house is safe, and nobody would steal his things. I had to emphasise it again and again. He still has a lot of fears and sleeps with a nightlight. Till now, his bed has curtains hung around him.
"Every night I would tell him, 'You're safe. God loves you, you are His child.'"
"I want my mummy"
Vivienne, who has fostered several children since 2013, has seen her share of meltdowns. But the one that she recalls vividly involves a four-year-old foster son who stayed with the family for two years.
"He was a happy-go-lucky boy, smiling all the time. You could hardly see any sadness in him. One day the childcare principal messaged me to come down at once. There was a birthday party at school and my foster son went into a frenzy, pinching himself, trying to bite others, pushing tables and kids. 
"You may think this child is misbehaving, but actually it is so much grief they feel."
"My first reaction was, 'He's misbehaving, I have to be firm and reprimand him.'
"When I saw him, there was this intense look on his face. I thought maybe when he saw other parents at the birthday party, he missed home. 
"Finally I asked if he was sad. He looked at me blankly. He didn't even know what 'sad' was, so I had to give him that label of what sad was and explain it to him.
"He just broke down and sobbed for 20 minutes, 'I want my mummy, I want my mummy.'
"For weeks after that, he sobbed every night for half an hour before he slept.
"Unless you look underneath that behaviour, you wouldn't know it's grief. You may think this child is badly brought up, but actually it is so much grief they feel."
Out of our hands into their lives
Vivienne attests: "God's love is so overwhelming, but these kids often don't have a chance to experience it. A loving family can give them a taste of God's love, something that makes them long for more and have the idea that life can be better." 
Li Ping, a first-time foster parent, is quick to add: "We are not super parents by any stretch of the imagination. There are sacrifices but it's doable."
To help her foster son adjust initially, Li Ping found she had to forgo the pleasure of being part of the Trinity Theological College choir for six months, something she treasured.
"Each time I let go and let God take over, the cost becomes less important. Maybe God stretches me a little bit more."
"You never know to what extent the costs are, but it is never wasted in God's economy. God uses it and multiplies it many times.
"As a student of a theological college, there's a lot of cerebral knowledge. But fostering grounds me every single day. That's the practicum that God has placed in my life.
"I realised that God is using my fostering to not only redeem the child, but myself. There are things that I needed to change in my life and God used fostering to redeem me."
Vivienne agrees: "I have to lay everything at the altar. Each time I let go (my wants) and let God take over, the cost becomes less important. Maybe God stretches me a little bit more … He takes the negative and gives back so much more."
While the sacrifices in fostering are real, the joys are real too.
Says Li Ping of her foster son: "Sam was very defiant of any kind of authority at first. But he has come to trust and love us to some extent."
Vivienne adds with a smile: "My previous foster kids get so excited to come back for a visit. They have all met each other. They reminisce over their time here and it forms a narrative of their life story. For them, it's a happy time sometimes in a sea of not so happy memories. That joy makes up for the challenges."
Grace's foster daughter was sickly when she first came, throwing up almost nightly. Those nights seem far away now. The joys revealed themselves after six months of fostering.
Says Grace: "Now every night I pray for Angel, kiss and hug her goodnight. It is a routine she must go through, or she will be upset.
"And my husband and I are now thinking: Yes, we can take on another foster child."
It takes a village 
Fostering impacts the whole family.
Grace says: "My eldest daughter had an assignment to talk about the poor and she decided to talk about fostering. After her presentation, a classmate asked if she treated her foster sister as her own and she said, 'I guess so.' After that sharing, I found her more caring towards her foster sister. Certain thought processes must have helped her change." 
For Joseph, "fostering is something we could do as a family. It impacts lives in a real way and brings that ministry very close to our lives".
"Fostering is bringing mission work or ministry into your own home."
Vivienne can't agree more. "Fostering is bringing mission work or ministry into your own home. You don't always have to send your kids to some third-world country to do missions."
The foster parents all agree that their journey would not have been possible without friends and loved ones.
Joseph says: "When we started our fostering journey, we made sure we had a community around us. A few of the foster families at our church, Aldersgate Methodist, came together to tell the church, 'Hey we are going to foster, and we need lots of help. We can't do this ourselves!'
"Our cell group rallied around and became an extended family for Sam. When we have cell group meetings, he plays with the other kids. He gets disappointed when we have to cancel meetings! Church friends also help ferry him to and from classes when we are busy and even take him out for lunches." 
Letting go, letting God
Fostering is only a temporary arrangement and MSF's goal is often to reintegrate the children with their natural parents, even though there have been cases where the child has stayed on with foster parents on a longer term basis.
"As Christians we have a wonderful weapon which is prayer. Even if they go back we can still intercede and pray for them."
The foster parents do worry about sending their foster children back to less than stable environments. But when that happens, they have to trust that God will watch over the children.
"Our period of ministry to the child is the time they have with us," says Joseph, a hint of emotion in his voice. "Our focus really is to minister to and help them as much as we can in the time that they have been given to us."
Vivienne concedes: "One of the most helpless things about being a foster parent is knowing you can't replace the parent. You can just be there to hold them. Sometimes you feel that isn't good enough, but we just have to trust the Lord that He will work things out for them.
"As Christians we have a wonderful weapon which is prayer. Even if they go back we can still intercede and pray for them."
* The names of the children have been changed to protect their identities.
If you have enjoyed reading Salt&Light...
We are an independent, non-profit organisation that relies on the generosity of our readers, such as yourself, to continue serving the kingdom. Every dollar donated goes directly back into our editorial coverage.
Would you consider partnering with us in our kingdom work by supporting us financially, either as a one-off donation, or a recurring pledge?
Support Salt&Light