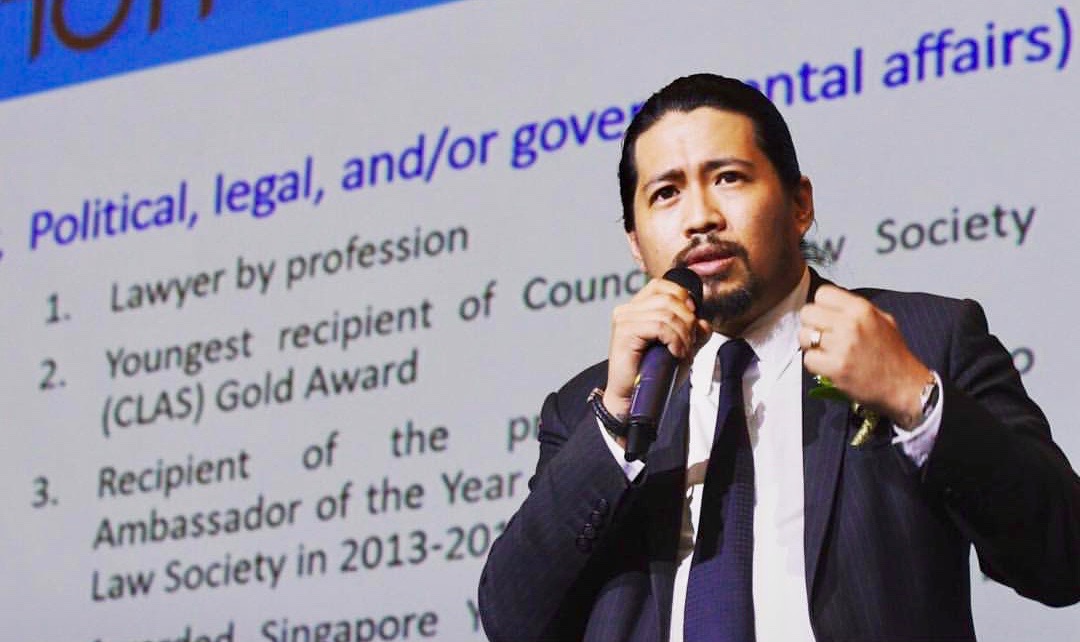 Lawyer Josephus Tan was one of the five people who received the Singapore Youth Award in 2015. The award honours exceptional young people who enrich the community and bring distinction to the nation. All photos courtesy of Josephus Tan.
Providence is God's steering of circumstances, even as His people exercise their responsibility in decision making.
Miracles are occurences when God intervenes against the laws of nature to achieve something extraordinary.
Well-known criminal lawyer Josephus Tan, 38, sees the hand of God guiding him towards his mission in life through the lens of both the providential and the miraculous.
"When I look back at my life, I see all the dots connecting. There is clearly a higher power at play."
"When I look back at my life, I see all the dots connecting and there is clearly a higher power at play in leading me to where I am now," said Josephus, speaking from his new law firm, Invictus Law Corporation, along Havelock Road.
His trademark long locks were neatly tied back and framed by a sporty-looking pair of sunglasses.
"I don't know how to explain this feeling, but I know that God has been guiding me in a quiet voice," he added.
To understand the faith journey of this prominent criminal lawyer who has handled several high-profile cases, one must go back to his childhood days.
Two tight slaps
His parents were blue collar workers – Dad was a breadmaker at a factory and security guard – who pulled long hours outside of the home. The family lived in a rough neighbourhood and young Josephus was longing to belong somewhere.
One day, non-profit organisation Singapore Youth For Christ (SYFC) came to his primary school to put up a performance and he found himself drawn to it.
He began participating actively in SYFC activities and found a spiritual mentor called Wilson through it.
Together, they would hold bible classes in the backyard of his secondary school and fan out into the streets to evangelise to strangers.
"If You hear this, give me a chance. Take away this pain and help me start over again."
When he was 16, however, shortly after he was baptised at Fairfield Methodist Church, he left the church after having a conversation with his friend.
She had related to him how she was touched by the Holy Spirit at the church's annual retreat to Penang. She asked him if he ever felt the Holy Spirit.
"Her question hit me hard. I realised that, all these years, I had been going to church for the wrong reasons – out of peer influence and in order to hang out with my friends. God was peripheral in my life," said Josephus.
Disillusioned, he decided to leave the church and search for God in his own time and way.
"I turned to alcohol, violence, gang activities, drugs, sex, rock music and all forms of frivolity. You name it, I have done it," said Josephus.
"Being intoxicated heightened my senses and made me feel vulnerable; it was my desperate attempt to feel something, to connect to something. I was crying out to God in the most illogical of ways."
Yet the deeper he plunged himself into these pursuits, the more lost he felt. His greatest fear was having a sense of purposelessness, having no reason to live.
At the height of his substance abuse and alcohol-fuelled rages, one day he found himself strangling his then girlfriend and threatening to throw her off a balcony.
His father, himself a former gangster, saw it and stomped over to give him "two tight slaps" that "woke" him up.
Give me a chance, God
Those slaps registered with Josephus, despite the state of his hardened heart, because it was the first time the young man saw his "strong and silent" Chinese father "express" himself.
Father and son sat down to talk that night and through the words of his earthly father, Josephus found God speaking to him.
His father said to him in Hokkien: "You have been naughty and failing all your life. Have you thought of doing something good for yourself? Just as you have tried the bad, try the good also, then you can decide which is the best path."
The next morning, Josephus, who once prided himself on being godless and fearless, looked up at the sky and said a silent prayer.
He told God: "If You are here and You hear this, give me a chance. Take away this pain and void in my life and help me start over again."
Immediately, he felt his heart lighten up and he purposed to take responsibility for his choices in life. Recognising that he was a violent and depressed alcoholic, he sought medical help.
To get his act together again, he started himself on a routine of waking up on time, making the effort to brush his teeth, eat breakfast and read the newspapers. He stopped stealing from others and took up odd jobs of washing toilets, selling second-hand computers and moving furniture instead.
Dreams are not for the poor
By then he was a school dropout. His poor 'O' level results meant that he could only qualify for a secretarial course at the Institute of Technical Education.
He later enrolled in a private school for his 'A' Levels but ended up with one "fail" and three "absent" grades for his exams.
But when he was reading the papers one morning, an advertisement caught his eye. A private school was advertising its external law diploma course offered by the University of London.
Somehow, the ad stuck in his mind for the next few weeks. He felt a prompting to go back to school to study. He had always been strong in his languages and had a penchant for reading, so studying law did not seem inconceivable.
"My dad asked me why I wanted to become a lawyer, for such dreams are not for poor people like us."
He plucked up the courage and asked his parents for their blessings and money to attend school. They borrowed money from a relative and he also supported himself through night school by taking on odd jobs.
In the end, he did not do well but passed adequately enough to receive his external diploma in law.
It was only when he decided to go all the way to study to become a lawyer that his parents started laughing at his dreams.
"My dad asked me why I wanted to become a lawyer, for such dreams are not for poor people like us. I joined in their laughter because I myself did not believe in me. I told him I hope one day, I can use the law to save the world," said Josephus.
Back then, the only law school around, National University of Singapore, did not recognise his diploma. The British pound was at its strongest and the exchange rate was about S$3 to one pound, making it very expensive to study law in Britain. The odds were not in his favour.
Nonetheless, he took up a bank loan and private loans from his relatives and went ahead to England to study law.
There, he juggled his studies with part-time jobs. Life was tough and he struggled but it was also a time when he felt the closest to God ever since he left church. He prayed regularly and read devotionals like Our Daily Bread.
During his first year of school, he failed criminal law and had to stay back for three months during the summer break to study for it again and retake the exam.
But God turned his failure into a lifelong passion. While studying doubly hard to retake the paper, his interest in this aspect of the law was sparked.
In his second year of studies, he topped his class in criminology.
In his final year, he began enjoying modules on youth justice and prison systems and did his dissertation on gang violence.
Subhas Anandan, friend and mentor
During summer breaks, he saw his friends busy applying for internships back home and so he did the same and interned at law firm, Harry Elias.
There he developed a friendship with Singapore's most famous criminal lawyer, Subhas Anandan, and asked Anandan if he could take him in as a pupil master when he returned.
Back in the UK, in his final year, stress was mounting. Then, the Singapore legal system did not allow lawyers to practise if they did not obtain a second upper honours.
"I remembered God's assurance to me that I will be okay. That was when I returned to fulfil my promise to God."
One day, while walking along the streets, Josephus saw a run-down church next to a lottery centre. Feeling overwhelmed and wanting to "space out for a while", he went into the church, looked up at the crucifix and sat there for an hour.
He opened his heart to God and thanked Him for giving him the chance to study law.
"I told God that I felt pressured to perform because so much was at stake, and made a promise to Him to spend the rest of my life doing good works and being His testimony if He would help me," said Josephus, who felt peace in his heart after that.
But when his results were released, he did not dare to open the stapled results slip. He knew that he did not answer the questions well in one of his modules.
The director of student affairs at the University of Southampton called him into her room, opened his results slip for him and broke the news: "Jo, you failed but you made it."
Josephus was confused. Failing one subject would mean an automatic relegation to a second lower honours.
Then she explained.
He had failed family law but the exam board had deliberated and, on account of his good performance in his previous years, they made an exception for him and awarded him a second upper honours degree.
"How do you explain this? At that moment the fog cleared up and I remembered God's assurance to me that I will be okay. That was when my mission became clearer and I returned to fulfil my promise to God," said Josephus, who returned to worship at Fairfield Methodist Church.
This is the first of two never-before-told stories of criminal lawyer Josephus Tan's faith journey. To read the second part on the path that led him to take on the Annie Ee case, click here.
If you have enjoyed reading Salt&Light...
We are an independent, non-profit organisation that relies on the generosity of our readers, such as yourself, to continue serving the kingdom. Every dollar donated goes directly back into our editorial coverage.
Would you consider partnering with us in our kingdom work by supporting us financially, either as a one-off donation, or a recurring pledge?
Support Salt&Light