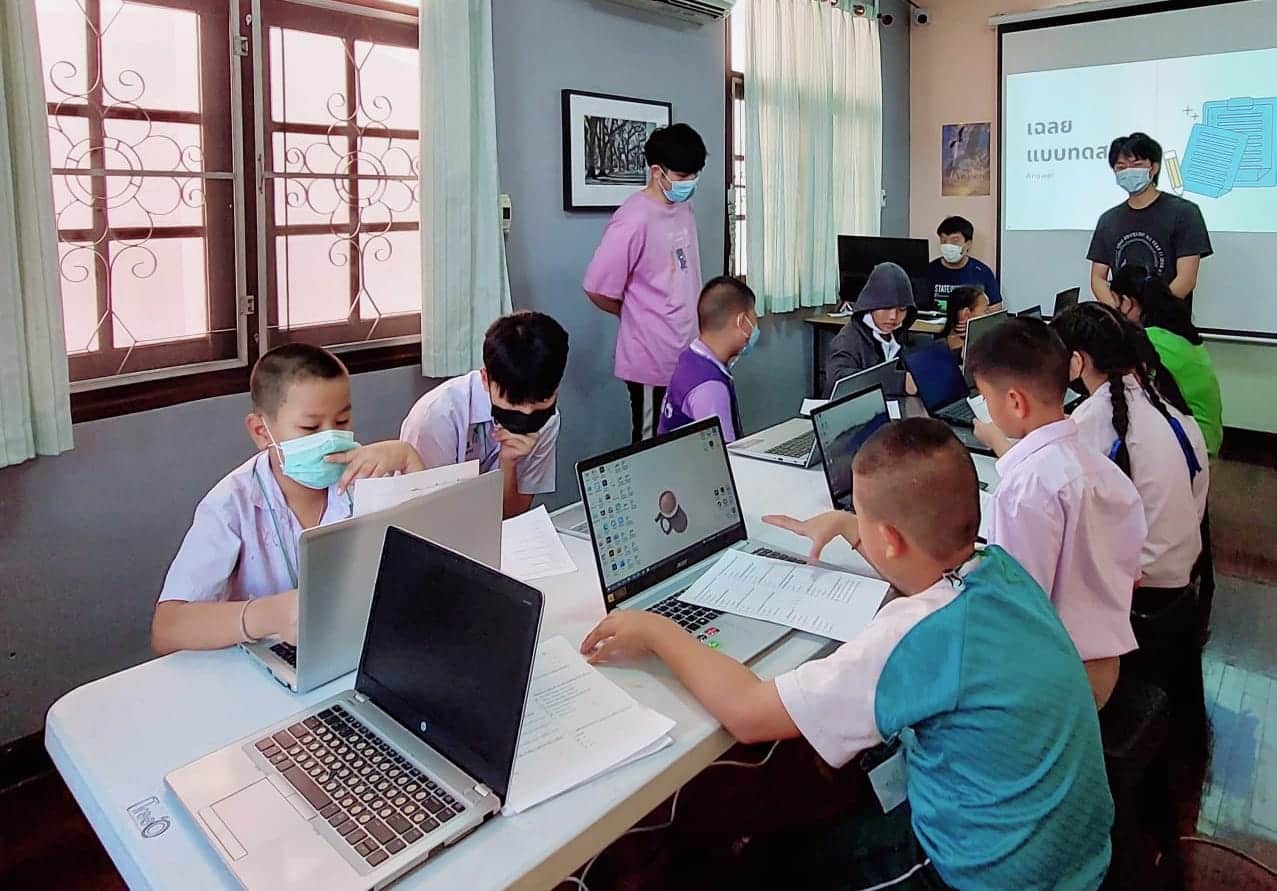 Jason and Sheryl Goh taught digital skills to local Thai youth as part of the business they set up in Thailand. The youths went on to run courses for other children and youths in the community. Photo courtesy of Jason and Sheryl Goh.
What does hope and transformation in Christ look like, for someone who hungers to bring about change in their communities and nations, but have no skills to effect change?
Imagine you are a young adult and a sincere follower of Christ from a developing nation.
You are from a very simple family with limited means. Your parents are uneducated farmers and they do not have the capacity to guide you. You desire to create positive impact on your society as a Christian but you are not sure how.
If you leave your ancestral land to seek opportunities elsewhere, you do not know if you can survive, because you have no marketable skills to make a living with.
Many of your peers leave the country to be unskilled migrant workers so as to earn money. You are tempted to join them, but you love your country and want to do something for your people.
Across the developing world, I believe multitudes of Christian young men and women are in this situation. 
Markers of transformation
Very often, we design mission policies from our point of view, as leaders of churches or para-churches based in developed and wealthy societies where jobs are plentiful and educational opportunities are abundant.
We see the task of missions from a particular paradigm, and from that vantage point, we decide what the indicators of success are: Number of baptisms. Number of church plants. Attendance at our services. Level of tithing, and so on.
What are the indicators that speak of God turning lives around?
We equip prospective missionaries to be able to hit targets in these areas which we track carefully, and we incentivise behaviours that lead to the attainment of these targets.
I do not dispute that these are important indicators that give us an idea of the effectiveness of mission efforts.
But if we asked the local disciples how they experience the power of the Gospel, would there be other indicators that speak tangibly of transformation in their lives from their point of view?
Transformation from a lack of purpose to seeing God in the Monday to Friday. From living in dependency and financial lack, to earning money and living with dignity. From being an irresponsible person, to internalising work ethics and being trusted with responsibility.
Are these not also indicators that speak of the transformation of God in turning lives around?
Platform for discipleship
In 2007, my co-worker and I founded an NGO in Timor-Leste that we named Cocoon, to symbolise the social and spiritual transformation of Christ that we wanted to see in Asia's youngest nation.
We started by teaching English to youth, and then expanded into children's work.
Seven years into the mission, we founded a preschool, because we realised that many of the learning challenges Timorese youth faced stemmed from early childhood deprivation.
In the course of running our NGO, we discovered that it was a powerful platform for discipleship.
Think about it: How much time do you spend at church weekly? Contrast that with how much time you spend at work.
It is obvious that most of us spend way more time at work, and we mingle with our bosses and colleagues more than we may do at church with our pastors and cell mates.
Because we worked amongst our Timorese disciples daily, there were countless opportunities to do deep discipleship and impart biblical values in real life settings.
We spent a lot of quality time together which gave us intimate access to their lives.
Beyond the overtly spiritual acts of worship, prayer and bible study during staff devotion, we had to teach together, do the accounts, engage our stakeholders such as local authorities and parents, budget, receive visitors, solve problems on the fly, and so on.
Each of these assignments presented countless teachable moments for us to model servanthood, love, integrity, excellence, attention to detail, humility, strategic thinking, and so much more.
In other words, the very process of running a business or social enterprise in the field is a rich and extensive curriculum for intense discipleship.
 Channel for the Gospel
Over time, thanks to the grace of God, we saw our disciples being transformed from ex-gang members with no hope for the future, to responsible, caring and skilful preschool teachers who were gaining the respect of the community, including parents who occupied high positions in Timorese society.
The very process of running business in the field is in itself a rich and extensive curriculum for intense discipleship.
Because of the preschool, these disciples can be socially relevant, with a platform to influence parents and the next generation, and create Christian impact as God enables them, beyond the walls of the church.
They are also able to earn a steady income through their own creative labour, and not rely on charity.
Imagine the children of farmers, now becoming respected and credible educators moulding young lives. Such is the power of Christ, who lifts us up from the ash heap and sets us in places of influence!
I am just one of many who have witnessed the transformation power of God manifested through a business platform, or social enterprise in the mission field.
Recently, I got connected to a young missionary couple, Jason Goh and his wife Sheryl, who are based in Thailand.
By the leading of God, Jason started Banah, a web design business that both trains and employs youths from disadvantaged backgrounds.
"In my mind, I didn't dare to start a business. I had so many questions. But all God needed was my obedience."
Today, Jason has a team of six local staff, who equip other youth with computer and web design skills, while taking on commercial projects. Most of their clients are start-ups and SMEs based in Singapore.
Jason recounts that it was a step of faith to embark on this endeavour.
The couple had gotten connected with a home for Shan youths from disadvantaged backgrounds, and the leaders were looking for ways to equip the residents so that they would have marketable skills to find a job with. The Shan people live mostly in Myanmar but are also spread out across parts of China, Laos and Thailand.
"In rural communities, it's hard to find people to do this kind of training. People don't really know how to use computers. The idea to start a business just grew from there," explains Sheryl.
Jason felt God say that he was to start a business, and through that God would bless the community.
"In my mind, I didn't dare to start a business. I had so many questions. But once I registered it, the clients came. God put me in a place where I had to exercise faith and He settled the rest. All He needed was my obedience."
"Work is sacred and delights God. There's a beautiful purpose why you're there working in a particular office," adds Jason, as he reflects on the need for more kingdom professionals to go into missions to provide jobs for local people.
Serving side by side
As a business owner with staff from another culture, Jason has had to grapple with how to build a work culture that is practical and yet also honours God.
"There is a desperate need for people with professional skills to complement and accelerate the work in the mission field."
"University students, especially those who have not lived in the city, have a different view of work ethics. Culturally, we have to meet in the middle and figure out what delights God in the office."
Jason hopes that the social enterprise can be a model that can be multiplied so that people with the right skills can adopt it and serve God in the mission field.
"A strong social enterprise can support Christian ministries so that the local ministries are less reliant on foreign supporters. There is a desperate need for people with professional skills to come and complement and accelerate the work in the mission field."
Meanwhile, Sheryl runs a community centre that reaches out to an at-risk community in Chiang Mai. This community located in one of the red light districts comprise mostly migrants, some without citizenship of any kind. They serve about 50 families and provide enrichment classes for children and youth, to broaden their horizons and hopefully win them to Christ.
The couple hopes that more like-minded Christian professionals interested in community development can join them in their work.
"I would encourage friends to acquire a professional skill when they're still in Singapore. It will come in handy; you have something concrete to contribute," says Sheryl, who has a background in social work and communications.
Jesus says that the harvest is plentiful and ripe. Opportunities abound for us to do good and create lasting impact in the nations, not just on weekends at church, but every day of the week, in the schools, markets, offices and streets, where the teeming masses live out the dramas of their lives.
As missions thinkers and practitioners grapple with how to do missions in a post-Covid world, may God renew our minds, challenge our existing assumptions, and give us creative strategies so many may experience the power of the Gospel touching every area of their lives, every day of the week.
---
RELATED STORIES:
"Business in the Bible is intended for the welfare of the people": Sustainability leaders at The Gatekeepers Dialogue
Business as missions: Reuben Ang of Elsie's Kitchen takes "heartware" seriously
If you have enjoyed reading Salt&Light...
We are an independent, non-profit organisation that relies on the generosity of our readers, such as yourself, to continue serving the kingdom. Every dollar donated goes directly back into our editorial coverage.
Would you consider partnering with us in our kingdom work by supporting us financially, either as a one-off donation, or a recurring pledge?
Support Salt&Light