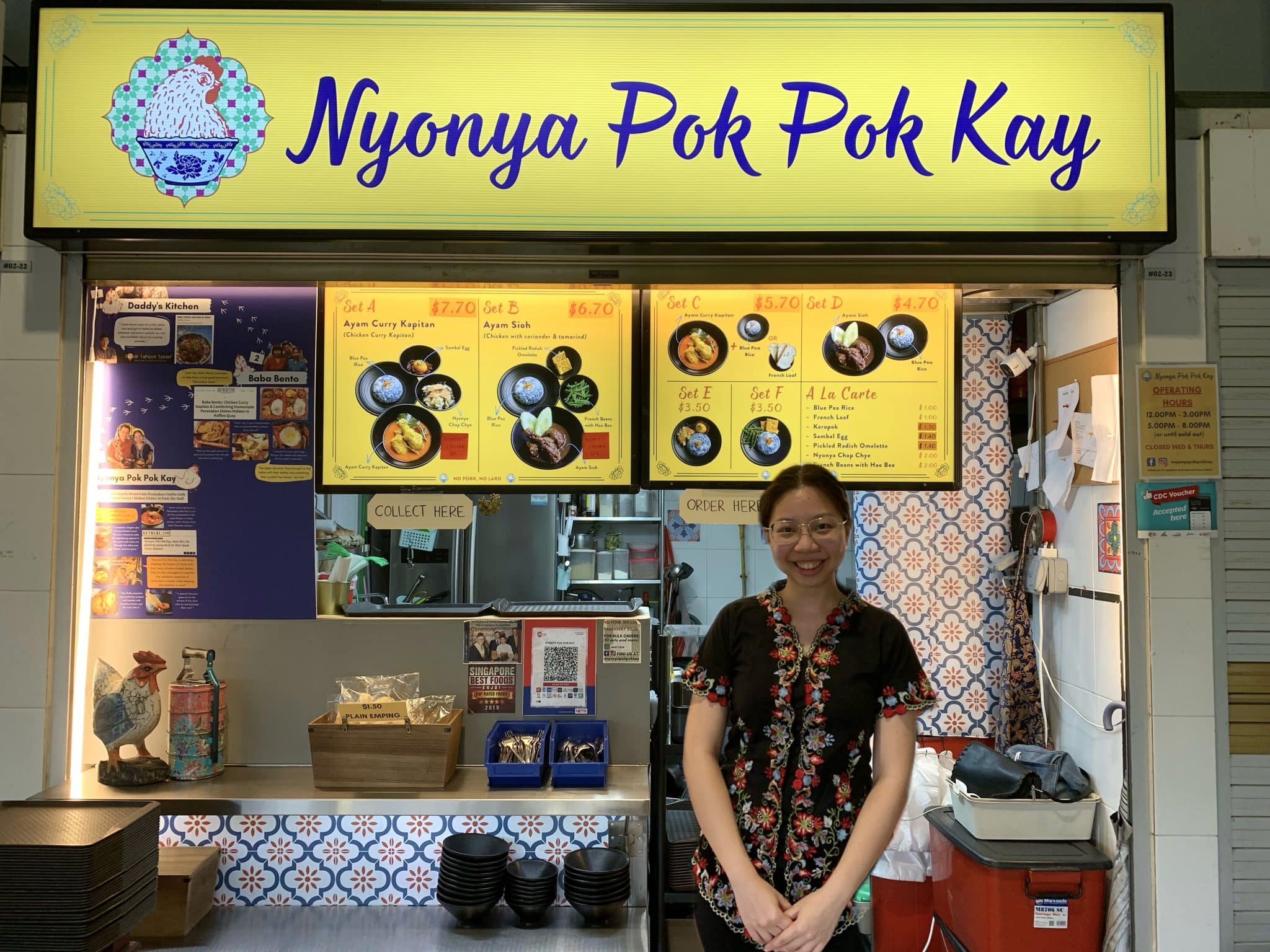 Sarah at her stall at Pasir Ris hawker centre. She first received a vision of this storefront in 2016; the vision was realised in 2021. All photos courtesy of Sarah Sng.
Even as Sarah Sng was in her mother's womb, she was prayed over by her mother, who asked God about His plans for Sarah's future.  
The prayerful mother saw a vision of gold coins, and received the interpretation that God's calling for her daughter was to be in business. 
As Sarah grew up, she found that she did have an interest in business. She studied business administration in polytechnic, and went on to major in marketing and public relations in her final year.  
After her graduation, Sarah sought the Lord intensely at her church camp in 2016.
"Should I take a gap year to rest or work part-time before taking a degree? Or should I go straight to doing a degree?" she asked God.  
God impressed upon her heart that she was to go to work. She also saw a vision of a storefront.  
"It had a bright yellow signboard with some bits of red and blue on it … I did not know whether it was a restaurant or a small eatery," said Sarah.  
"It seemed so far-fetched. At the time, I could not imagine myself owning a stall or shop."
Coming from a tightly-knit family, Sarah immediately shared the vision she received at the church camp with her parents.  
What she did not know was that they had been waiting for such a moment for years.  
Alignment of visions
Fourteen years ago, when her father – a trained chef with decades of experience – was at a crossroads in his career, he prayed about either starting a Peranakan food business or going into freelance teaching, counselling and mentoring.  
"I heard a pok-pok-kay (chicken clucking) sound. I think it's regarding a business and it will involve chicken curry!" 
Sarah's mother is Peranakan but did not know how to cook Peranakan dishes. To win over his wife, her Teochew father picked up the intricacies of Peranakan cuisine.  
As he and his wife prayed together, she suddenly turned to him and said: "I heard a pok-pok-kay (chicken clucking) sound and saw it in words. I think it's regarding a business and it will involve chicken curry!" 
In the end, Sarah's father chose to go into the teaching, counselling and mentoring route as he felt God telling him that he was free to choose either option, and that he would still be blessed either way. 
Shortly after, Sarah's mother heard from God that the chicken curry business would be for her daughter, Sarah, instead.  
"I was excited and happy that God had a plan for her. But I did not tell her about it because she was still young and not ready for it. I asked God to speak directly to her about it when the time came," said Sarah's mother, Madam Eleanor Wee, 52. 
So, more than a decade later, they found their hearts quickening when Sarah told them about her vision. It was another confirmation for both Sarah and her parents of God's calling upon her life. 
"I felt affirmed that I was seeing the vision correctly," said Sarah. "But it wasn't something that I actively pursued at the time. I just parked it at the back of my mind because it seemed to be such a big leap. I did not have any working experience and felt inadequate."
Instead, she worked on sustainability-related events with the Singapore Business Federation.  
After close to a year in the job, she moved on to doing media, marketing and youth outreach work in the Singapore chapter of the United Nations Global Compact, a corporate sustainability initiative.  
Road less travelled
"Though Sarah did not take the conventional route to get a university degree, I was perfectly okay with it because I knew what God had in store for her," said her mother, Madam Wee.
"Even when she chose to apply for other jobs, I didn't see her as veering off track. I knew that when she was ready, she would see God's plans come to pass."  
During that time, Sarah's parents had started a home-based private dining business to raise funds for her sister's university fees. They began hosting their own tok panjang (Peranakan for "long table", or feast) for guests at home.  
Initially, Sarah simply helped her parents in her free time, but later decided to leave her job to assist them full-time in 2017 when she was 22. 
"I enjoyed eating, serving and hosting guests and felt it was meaningful to share authentic Peranakan cuisine with others," said Sarah.  
Her father did all the cooking, while she set the table and assisted in preparing the ingredients and washing up.   
"It felt like I was taking one step forward towards my vision but I was still questioning whether the vision was really for me," she added.  
A year later, the family was given an opportunity to open a physical store at the basement of Hong Leong building at Raffles Place. They called it Baba Bento.  
Sarah was overwhelmed by the steep learning curve of handling the equipment and appliances, dealing with suppliers and managing the work flow. She even did a third of the cooking, even though she did not enjoy it.  
After nine months, however, Baba Bento closed shop as rent shot up significantly.  
Sticking it out
Sarah ended up going back to the corporate world to take on an events and communications role at an F&B and hospitality consultancy.  
In that job, she gained valuable skill sets through helping to organise the World Gourmet Summit and World Gourmet Awards. She familiarised herself with chefs, food and drink distributors and kitchen equipment suppliers.  
"That was the place where I grew my network and learnt about various food-related technology that can help save time in the kitchen," said Sarah.  
Although Sarah prayed about whether it was time to leave her job, she sensed that God wanted her to stick it out for a few more months.
Saving the best
One year into the job, her parents' godson, Raymond Tan, who runs a seafood congee stall, Reimondo Seafood Congee at Pasir Ris Central hawker centre, alerted her family about a possible vacant stall up for lease at the hawker centre.  
"He knew about my vision and asked me if I was keen to set up a stall. So, I prayed and asked God if this was the time to do so," said Sarah. By now it had been six years since she received the vision at her church camp.  
"I saw this latest development as a confirmation that it was time to pursue the vision God gave me."
The landlord gave her two options: There were stalls available at both Pasir Ris Central hawker centre and Our Tampines Hub.  
By then, Sarah was feeling more ready to run her own business. 
She resigned from her job last year, tendered for both of the stalls, and waited to see which stall would be allocated to her.  
She preferred the stall in Pasir Ris, where she lives. However, the only vacant stall there was in a far-flung corner, so she chose the stall in Our Tampines Hub, which sees higher traffic.  
"But God is good and He saves the best for us. The landlord later informed me that another stall holder would be moving out from Pasir Ris and so there was a new option for me to take up that stall instead if I preferred Pasir Ris," said Sarah.  
"I saw this latest development as confirmation that it was time to pursue the vision God gave me, though I had mixed emotions of nervousness and excitement," said Sarah.  
She named the stall "Nonya Pok Pok Kay", after her parents' vision. The signature dish is the Peranakan ayam curry kapitan.
When Sarah was setting up the stall, she knew she had to source for companies to get the signage done but had not yet had the time to do so.  
One day, as she was chatting with her Grabhitch driver, she briefly mentioned her upcoming stall.  He asked if she needed help with the signage as he happened to be in the line.   
"I got his contact and asked him for a quotation but I also did my homework and went to chat with three other vendors. His was not only the best quote, he was also offering me more things. So, it was like, wow God, you really provided for me," said Sarah.  
That was how the stall ended up with its bright yellow signboard, the same shade that she saw in the vision she had received at church camp, complete with the scattered bits of red and blue from the pictures of the dishes on the menu.  
It took a village to get the stall going when it finally opened in November last year. Her father coached her and assisted her with the cooking, while her mother, sister and boyfriend also helped out.  
Sarah works 9am to 9pm, five days a week. Mornings are spent preparing and cooking the food before the lunch crowd descends. She takes an hour's break in the afternoon before getting ready to serve the dinner customers.  
Years of refinement
God showed Sarah that He had been preparing her in the six years post-church camp; the years were not characterised by fruitless waiting nor were they a detour.  
"My role in media and marketing equipped me for my current social media and marketing efforts for the stall, and my events and communications roles came in handy for the operational and logistics part of the business. Even my last job exposed me to kitchen equipment and food technology so I know what type of food warmers to get, for example," said Sarah. 
"Sometimes it is also about being faithful in the little things, like when I was helping my parents out in the private dining business to raise school fees for my sister. On hindsight, I see it as a time of preparation and building up to something that is a lot bigger."
Receiving the vision was just the beginning of Sarah's story. In the following years, the Lord brought her on a journey of refinement.  
"Even when I was in that toxic job, I learnt how to stand up for myself and draw boundaries. That taught me to be firm when I deal with suppliers who play punk with me thinking that I am just a young girl – whether through missing my orders or having deliveries sent late," she said.  
Still, working as a hawker is no walk in the park.  
"She had felt drawn to apply for the job somehow. Though she is not a believer, she believes that there is a God."
"It's very tiring when you have to stand the whole day. It's hot and you are always sweaty. I would not choose to be a hawker, if not for the fact that I know this is God's business and that I am willing to be used as His steward," said Sarah.  
Ironically, one would be hard pressed to find her cooking at home.  
"I don't have a passion for cooking and it's not innate or natural for me. If I have a choice, I wouldn't cook for fun at home. But I don't find it strange to say that this is where God has called me because I enjoy other parts of the job – the running and managing of the business and sharing my love of Peranakan food with others," she said.  
One-and-a-half months ago, Sarah found herself crying at home before pulling herself together to head to the stall.
"I had my own insecurities and was fearful that I wouldn't be able to match up to my father's standards when I took over the stall. What if I don't achieve the same taste as Dad? What if people come and say, Oh it's because she is the one who is doing the cooking today. It doesn't help that I look like a young girl compared to my dad, who is older and more experienced," said Sarah.  
"I put a lot of pressure on myself. Though I don't like to cook, I knew I had to learn to cook well so I could only trust God and ask Him to help me. After all, He has shown up in many divine moments leading up to this." 
God was faithful even in providing a kitchen assistant for her.  
During the transition period when Sarah was preparing to fully take charge of the stall, she had been looking for a worker to assist her. 
Earlier on, her mother had told her that she had seen a vision while praying for a kitchen helper for Sarah. She saw a tanned-skinned and petite woman, who did not look Singaporean but was of Asian descent.  
As Sarah started her search, however, she did not particularly look out for such a person.  
She was desperate and needed an extra pair of hands urgently as her sister and boyfriend, who had been pitching in, were due to start their first jobs after graduating from university. Sarah was open to hiring almost anyone who was available.  
"When God provides for you, He gives you the best – the best worker, the best deal for the signage, the best location."
During the one-month search, however, the applicants seemed to lack commitment.  
"I was so stressed and worried that I could not sleep well. I knew God would provide. But time was also ticking," said Sarah.  
One Saturday morning, she received a message enquiring about the position.  
They arranged for an interview at 4pm that day.  
At 4pm, Sarah saw a nicely dressed woman, whom she assumed was a customer, walking towards the stall.  
"I thought the applicants would be male, as the previous two were, as they would need to handle heavy pots and pans.
"I am already small-sized but this woman was even more petite. To my surprise, she also said she was 59 years old; she did not look it," said Sarah.  
After sitting down with the woman, Sarah heard her story. The woman knew Sarah had been looking for a helper for quite some time as she had seen the job listing a month ago.  
"She said that she had wanted to apply for the role but hesitated because it takes her an hour to travel to Pasir Ris from where she lives," said Sarah. "After sitting on it for a month, she just had a feeling she needed to take down my contact details and ask if the position was still available."
The woman was God-sent, not only because she had 18 years of experience in the F&B industry, but also because of the unusual way the salary negotiations unfolded.  
Bargaining for "less pay"
When Sarah asked the applicant what her expected salary was, the woman countered by asking Sarah how much she could offer.
But when Sarah quoted her the amount, the woman felt it was too high.  
"I felt like crying, knowing that God had provided for both her and me. I can't deny His goodness."
"I asked what she was comfortable with. She countered with a range. I then offered her the highest amount in that range and she said she thought it was still a bit too high and suggested starting at a lower amount and if I was happy with her performance, we could discuss her pay again later," said Sarah, who was astonished at how the salary negotiations were unfolding.  
"Who in the world would ask for lesser pay? Given her experience and knowledge, I was more than happy to give her an amount that matches her skill set.
"I realised then that when God provides for you, He gives you the best – the best worker, the best deal for the signage, the best location."
Lo and behold, the woman's appearance also matched her mother's vision, as she is Cambodian. She told Sarah she could commit to the job because she is passionate about cooking and is in Singapore by herself without any family, having grown up in an orphanage.  
"There were so many moments in the interview when I felt like crying, knowing that God had provided for both her and me.
"I can't deny His goodness.
"She had felt drawn to apply for the job somehow. Though she is not a believer, she believes that there is a God and she prays and thanks God for the blessings in her life," said Sarah.   
"He cares about all aspects of our lives. He is interested in us and what we do because He loves us."
Almost a year in, the stall is doing well. Barring set-up costs, she has been turning a profit from the very first day of business.  
"I still do get discouragingly negative reactions from cab drivers or others when they hear about me not pursuing a degree and working as a hawker instead. But I know this is God's business and He will sustain it," said Sarah, who dreams of expanding her business internationally in the future.  
Why would the Creator of the universe be so deliberate in caring about the details of a small hawker stall in Pasir Ris, to the extent that He would impart a vision before Sarah was born, and guide her into its fulfilment, providing even the resources for its signboard and manpower?
To Sarah, the answer is clear.  
"It is not just about the business per se that He is interested in. It is about us.
"He cares about all aspects of our lives – whether our work or personal life, our growth or our well-being. He is interested in us and what we do because He loves us."  
---
RELATED STORIES: 
From lawyer to "kopi lady", why this millennial gave up the corporate life
Her darkest moments prepared F&B CEO Jocelyn Chng to steer through COVID-19
If you have enjoyed reading Salt&Light...
We are an independent, non-profit organisation that relies on the generosity of our readers, such as yourself, to continue serving the kingdom. Every dollar donated goes directly back into our editorial coverage.
Would you consider partnering with us in our kingdom work by supporting us financially, either as a one-off donation, or a recurring pledge?
Support Salt&Light