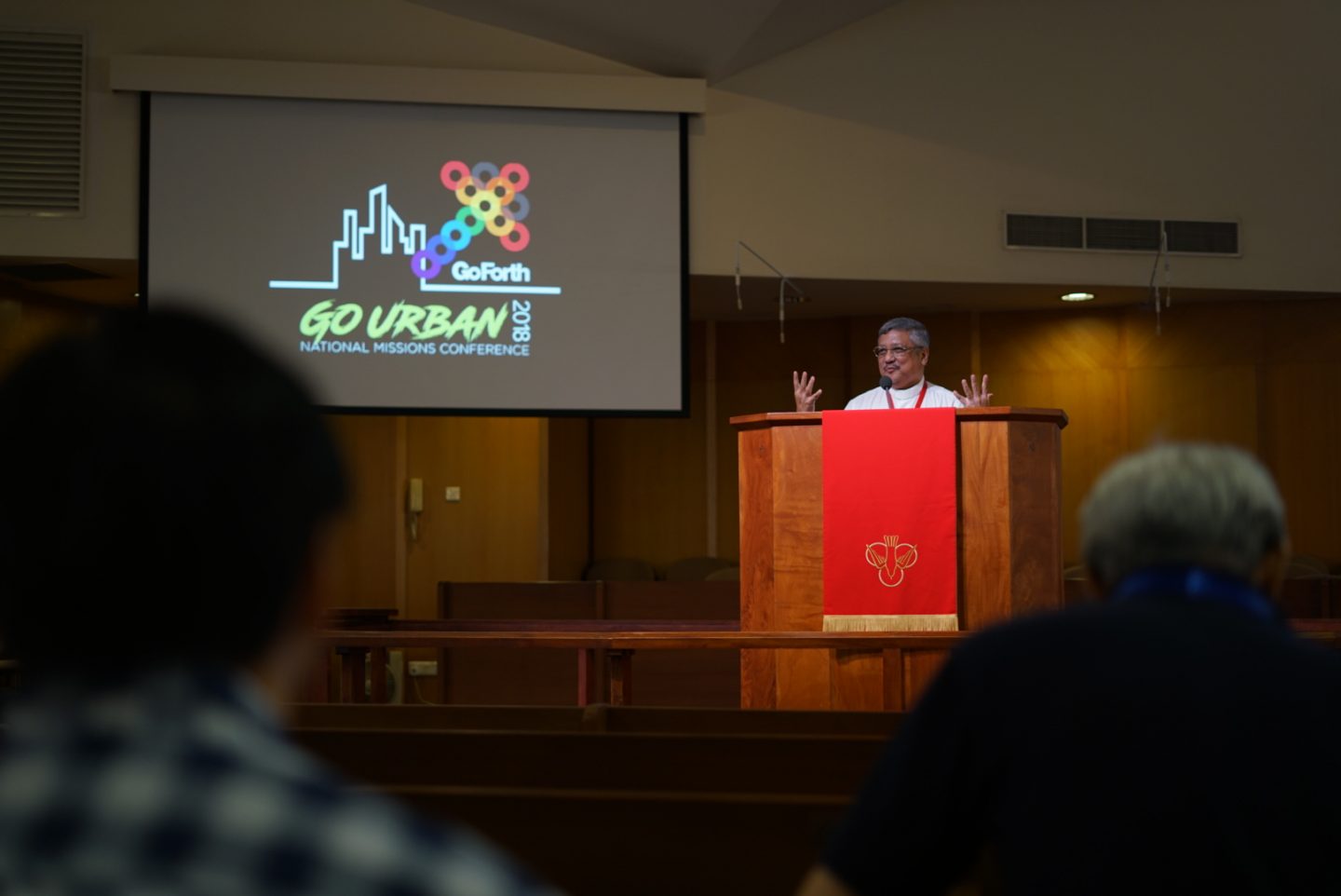 Bishop Emeritus Dr Robert Solomon speaking at this year's GoForth missions conference. Photo by Rachel Phua.
To fulfil the Great Commission, Christians must learn to partner others and pray unceasingly first, said two well-known pastors on Thursday (21 June) at this year's national missions conference, GoForth. 
In his speech, Bishop Efraim Tendero, the secretary general and chief executive of World Evangelical Alliance, gave three reasons why partnerships are necessary to accomplish the job God has set out for believers.
Firstly, the Triune God demonstrated it when He made men and redeemed men. In Genesis 1:26, the writer used the pronoun "us", referring to the fact that the Father, Son and Holy Spirit worked together in creation when He made mankind "in our image". 
Ephesians 1:3-14 shows how the Trinity worked together to save mankind as well. The Father had laid out His plans before the world began (Ephesians 1:4-5, 11), then Jesus Christ came to accomplish the plan by dying on the cross for man's sin (Ephesians 1:7-10), and the Holy Spirit ensures that redemption is applied to us by entering every believer (Ephesians 1:13-14).
"Some of us think we are better than the Trinity," Tendero joked, "because if the Trinity showed the blessings and the benefit of working together, why is it we cannot work with others?" 
"If the Trinity showed the blessings and the benefit of working together, why is it we cannot work with others?" 
Secondly, the nature of the Church calls for partnership, as she is one body of Christ (Ephesians 4:16). Since Christians are part of the body, all of us are brothers and sisters in Christ and there are no second-degree relationships one to another. Furthermore, the relationships are permanent and will go on for eternity.
Tendero acknowledged that these ties are fragile, which is why Paul tells us to "make every effort" (Ephesians 4:3) to maintain peace, even if it pains us.
Thirdly, the magnitude of the task requires believers to partner together. There are close to six million people in Singapore, yet only 18.8% of the resident population over the age of 15 in Singapore is Christian, this according to Singapore's Department of Statistics' General Household Survey 2015. 
Citing Paul as one of the biblical examples to follow, Tendero pointed out: "He was never alone. It was always Paul and Timothy, Paul and Titus, Paul and Barnabas. He always had other people working with him."
Effective partnerships
To ensure that the partnerships are productive, believers have to focus on learning to agree with one another instead of on the "little things that divide us". Christians need to have the mind of Christ, who had the interests of others before His own, Tendero said. "Though Christ is God, He did not regard equality with God to be grasped, but emptied Himself and became obedient to the point of death on the cross." (Philippians 2:3-4)
Letting go of our ego is also key, Tendero added, quoting John 12:24. He said that many times, individuals are not willing to let go of their pride because they think their rights are more important than their responsibility. 
He used courtship as an analogy of godly partnership: "When you court somebody, it's not what you can get, but what you can give. It's not only about your privileges but your duties. (Ephesians 5:21-28)
"When I asked my wife to marry me, I didn't ask her: 'Would you marry me so you can wash my clothes, cook the food?' No. I courted her and said: 'I want to give you my life. I want to serve you. I want to take care of you'."
Essential prayer  
In his speech, Bishop Emeritus Dr Robert Solomon said that before anyone enters the mission field, the church must first pray with her utmost effort. Dr Solomon was the Bishop of The Methodist Church in Singapore from 2000-2012.
With reference to 1 Corinthians 12:18 and 1 Corinthians 12:24, Dr Solomon said that it is God who arranges the body of Christ and "puts everything together". Therefore, it is Jesus who appoints the different officers in the Church, not men, and our response should be to pray for God to reveal who He has chosen. 
After Jesus said that the "harvest is plentiful but the labourers are few" (Matthew 9:37), He told the disciples to "ask" God to send out the workers. 
Dr Solomon said that in Greek, the word "ask" used in this verse is a powerful one – it means "to beseech". 
"It's not a simple request. It's a deep, deep burden coming from a heart that is broken by watching the needs of the world, the poor in the world, the wars and the conflicts in the world.
"Because we are motivated by love and compassion, we are called to beg the Lord to send workers."
Dr Solomon also quoted several famous theologians to emphasise the need to put prayer first:
John Wesley: "God does nothing but by prayer, and everything with it."
Oswald Chambers: "Prayer does not fit us for the greater works; prayer is the greater work."
DL Moody: "Every great movement of God can be traced to a kneeling figure."
Jonathan Edwards: "There is no way that Christians, in a private capacity, can do so much to promote the work of God and advance the Kingdom of Christ as by prayer."
Wesley Duewel: "We can reach our world, if we will. The greatest lack today is not people or funds. The greatest need is prayer."
It is only after praying that leaders will be able to recruit the right missionaries and workers, as Jesus did (Luke 6:12-16), said Dr Solomon, adding that it is not about choosing the right people, but discerning who God has chosen.