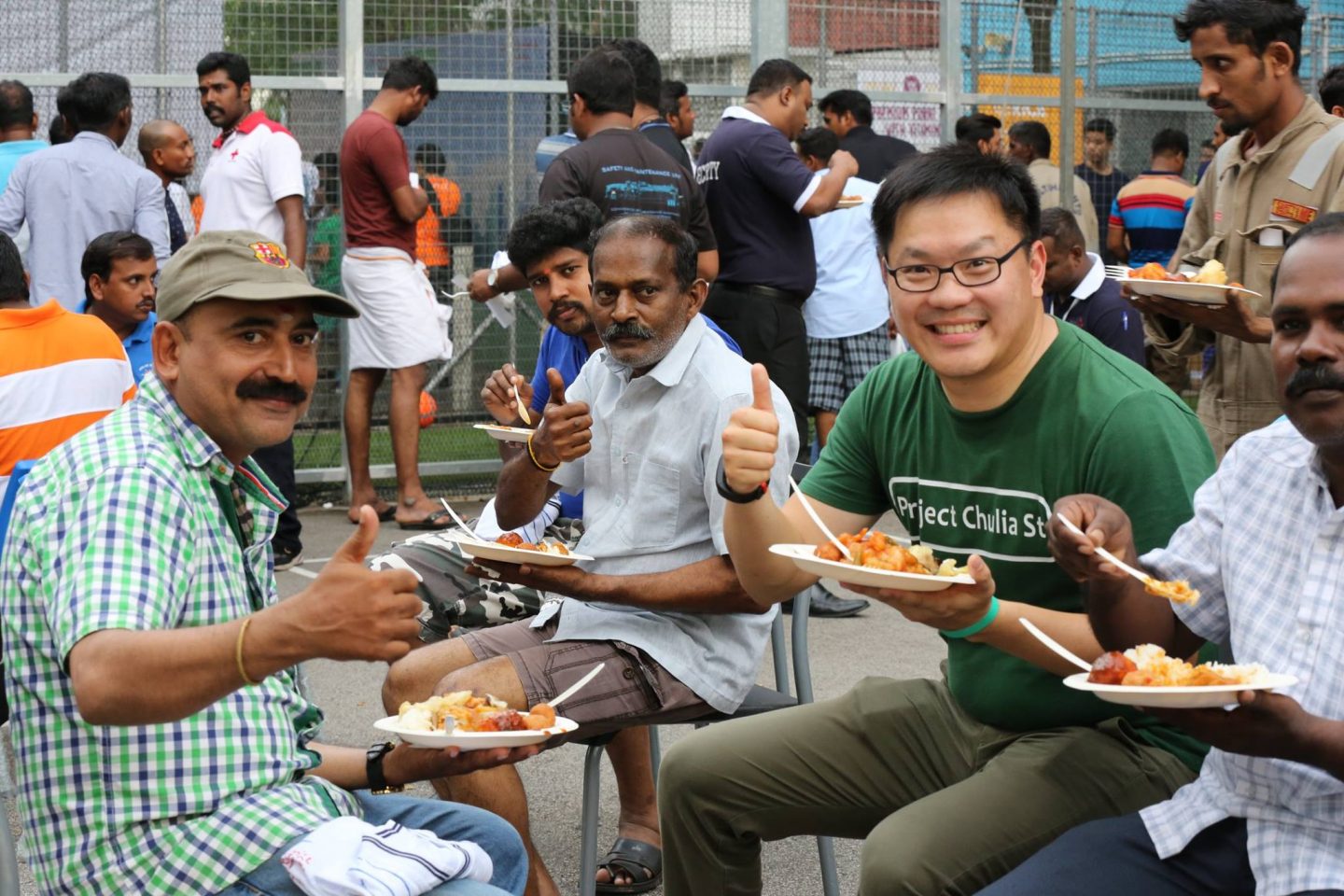 Shaun Lee (second from right), managing director of Project Chulia Street, sharing a meal with migrant workers at the recent fiesta at Westlite Woodlands Dormitory. Photo courtesy of Project Chulia Street.
Pulsating Bollywood hits filled the air to signal the start of the fiesta, to the delight of the 4,000 men in the queue. The migrant workers from Westlite Woodlands Dormitory had been looking forward to this all week.
The logistics for the fiesta were staggering: Some six tonnes of groceries ready for distribution. Nearly two tonnes of hot food. Over a dozen health check stations, including physiotherapists and counsellors on standby. Game stations, including a soccer goal stand, set up.
As the migrant workers moved through the fiesta grounds, some 100 volunteers had the opportunity to serve and thank them.
The thanks were received with modest nods by the workers, but their widest smiles were reserved for the children who shook their hands and thanked them for their hard work and dedication.
The November 25 fiesta was organised by Project Chulia Street (PCS), in celebration of Deepavali and in honour of International Migrants Day on December 18.
Barely three years old, PCS has already impacted the lives of some 35,000 migrant workers in Singapore.
And it all started with a lorry full of migrant workers, 700 fish heads and a bunch of naysayers.
700 fish heads
The seed of PCS was planted when, during his daily commute, David Goh's eyes kept being drawn to the lorries ferrying migrant workers to their work sites. It was a common sight in Singapore, yet something began to stir in his spirit.
He shared this stirring with long-time business associate and friend, Eva Lim, convinced that there must be something they, as believers, could do to break down the invisible walls between Singaporeans and the migrant workers living among us.
Goh, founder of Stewardship Equity, and Lim, global sales and marketing director at commercial fish farm Kuhlbarra, struck upon an idea.
Lim had a ready supply of 700 fish heads at Kuhlbarra.
"Jesus fed 5,000. We also fed 5,000 just like that!"
"Why don't we cook and distribute fish head curry?" suggested Goh, who had contacts in Westlite Dormitory, operators that provide accommodation for migrant workers.
Lim agreed to help prepare the fish head curry but declined his repeated invitations to be a co-founder of PCS.
It was a mammoth task, given the dormitory houses upwards of 4,000 people. A series of meetings with potential partners took place in early 2016. But many at the meetings baulked at the idea, saying it was too complicated and simply impossible.
Ironically, the naysayers steeled Lim's resolve to bring the idea to reality and she decided to accept Goh's invitation.
"The more I talk to different people, the more I get this. If nobody's gonna do it, then we better do it," said Lim, 43. She shared the idea with Kuhlbarra's management and they adopted the initiative as part of their corporate social responsibility efforts.
They rented a central kitchen and cooked the fish heads, got it packed and, together with other corporate sponsors, held PCS's very first fiesta on Labour Day 2016.
"Jesus fed 5,000. We also fed 5,000 just like that!" exclaimed Goh, 56. (Matthew 14:13-21)
Remembering the invisible among us
So how did the evocative name – Project Chulia Street – come about?
Chulia Street, in the heart of Singapore's business district, was where many of the earliest immigrants from Southern India settled. Prior to 1921, it was known as Kling Street, a corrupted version of "Kalinga", an ancient Indian kingdom.
The original street name was considered derogatory to the local Indian community and was changed following a proposal from the Indian Association of Singapore.
"We help because we are eager to share Christ's love with the rest."
Goh and Lim decided to name the non-profit organisation Project Chulia Street to recognise the workers among us who contribute to the development and well-being of Singapore, just as the immigrants did at the founding of Singapore.
PCS has three core pillars: Health care, nutrition and education.
After speaking to various stakeholders, they found that migrant workers generally do not have access to affordable dental care.
Healthserve, another non-profit organisation which has been providing medical care to migrant workers, had a ready pool of dentists but lacked funds.
PCS managed to secure the funding needed so that Healthserve could take over operations of the dental facility located in Westlite's dormitory in Jurong.
Collaboration is central to PCS's work, says its managing director Shaun Lee: "We do not want to duplicate effort, we believe in partnerships."  
Migrant workers also tend to have poor nutrition, with many suffering from diabetes and high blood pressure.
Besides providing nutritious meals and distributing healthier consumables at its fiestas, PCS also partners medical volunteers and organisations such as Red Cross Singapore to conduct health checks.
"For instance we have picked up a case of a migrant worker with diabetes," reveals Lee, 38. "We are on a journey to educate the migrant workers on nutrition, on their daily eating habits. This is something that we are looking into, to work with the dorms to help their nutrition."
The power of community
It is not physical health that the enterprise is concerned with. At the recent fiesta, Red Cross Singapore also brought along its social work volunteers.
Social workers are on hand to lend a listening ear to the migrants who sometimes need a platform to destress.
The social workers were on hand to lend a listening ear to the migrants who, being away from home, sometimes need someone to talk to or a platform to destress, said Kartini Saat, manager of Red Cross Singapore's community resilience arm.
"If they need help, our social workers can share contacts, be it internal or external referrals."
It is not just Singaporeans who are volunteering at the fiestas. Salt&Light met Kishore Kumar, 31, and Andrew Andrews, 30, volunteering at the health check stations.
The migrant workers from Tamil Nadu, India, were onsite to help with translation, as many migrant workers are not fluent in English.
"We help because we are eager to share Christ's love with the rest," said Andrews, who has been working in Singapore for 11 years.
He and Kumar got involved with PCS after getting to know about it through a church friend at Bethesda Hall.
The PCS fiestas are not evangelistic in nature but simply a way to show Christ's love for migrant workers in a practical way. (Leviticus 19:33-34)
The hope is that more Singaporeans and companies will be inspired to come  on board to meet the needs of, and befriend, migrant workers.
"At every fiesta, we are like a platform – bringing the community, individuals, the youth, companies together to give back. That is what we are about. We do not work in isolation. The greatest impact is when we collaborate," reiterated Lee.
"Would just saying hello help? I tell you it will help."
"I, for one, never thought that it would grow this scale. I was just helping because nobody wanted to do it," admitted Lim, who  is mindful that the fiestas do not turn into a food rationing event.
"We don't want that. We want the interaction, we want a service: I serve you, I want to be able to do something for you."
That was what prompted her to get volunteers to barbecue 8,000 sticks of satay (meat skewers) at a recent fiesta.
"You know, if it wasn't for events like these, many of locals would still keep a distance," said the mother of three. She has noticed how it has impacted her own children.
She recalled a time when they passed a lorry full of migrant workers; her children started waving to them and the migrant workers waved back.
"That was how my family has been impacted, which was a gift from God. I didn't even have to do a lot to educate them," she said.
"Waving to the workers is just something very simple. But how many of us do that? Would this little touch, just saying hello, and having young children happy to see you, would it help (in breaking down walls)? I tell you it will help."
Want to get involved?
Singapore is home to nearly a million migrant workers, with some 350,000 estimated to be in the construction sector alone.
Most of them come from neighbouring Asian countries, such as Bangladesh and India, in the hopes of providing a better life for loved ones back home.
If you are keen to be a volunteer or a sponsor, get in touch with Project Chulia Street here.
For more information on the following, click on the links: