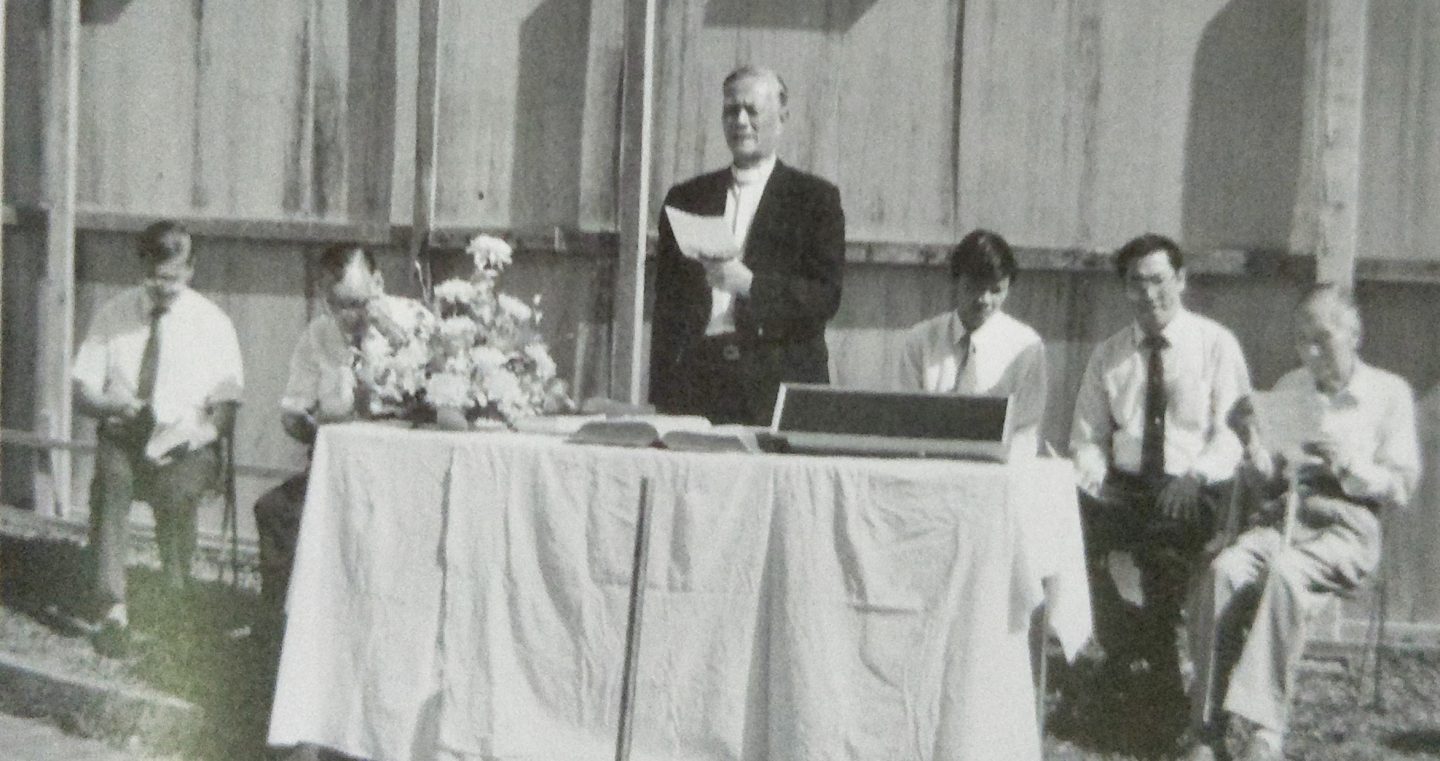 The late Rev Lee Huai Kwang speaking at the church sanctuary extension's groundbreaking ceremony at Bethel Church in 1991. He also played a key role in establishing All Saints Memorial Chapel and Columbarium, All Saints Home and Presbyterian High School. Photo courtesy of Bethel Presbyterian Church.
All Saints Memorial Chapel and Columbarium. All Saints Home. Presbyterian High School. As disparate as each entity is, they share one common thing – the visionary pioneering work done by the late Reverend Lee Huai Kwang.
The son of a port coolie, Rev Lee became a preacher at 22 in 1940 after graduating from Barbour College, located in his hometown of Swatow, China. In 1947, he was appointed preacher at Holy Light Church in Johor Bahru, Malaysia, after answering the call for Teochew preachers in Singapore-Malaya.
The Presbyterian Synod then posted him to Singapore's Bethel Church in January 1950 to care for the 25-strong flock. But the church was so poor that it could not afford to pay his salary.
He turned to "tent-making" – teaching at the nearby Ming Sin School, a Chinese school.
The heart of a teacher
Under his leadership, the church took over the school in June the same year and Rev Lee became its principal and Bethel's honorary preacher. In 1953, the church purchased the school property and began worship services in the school hall.
"In the 1950s, Chinese schools were not doing very well. When the school didn't have many students, it couldn't collect much income (from the tuition fees) and that had to be distributed among the teachers. So he had quite a hard time," revealed Rev Dr Lee Chong Kau, 79, his eldest of six children.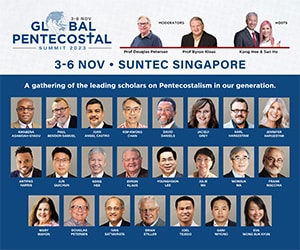 In 1965, the Synod opened Li Sun High School, which shared Ming Sin's premises. But 13 years later, it considered closing the school due to falling enrolment. Rev Lee then offered to manage it. Under his guidance, the school improved and the government provided new premises for the school in 1982 at Ang Mo Kio, which has since been renamed Presbyterian High School.
The heart of a shepherd
But Rev Lee was not just concerned with the academic learnings of students under his charge; he valued Christian discipleship too.
"In the midst of such a tremendous amount of work, he persisted in writing his sermons word by word and compiled adult Christian education materials for the church," said Rev Dr Lee, who followed in his father's footsteps to join the clergy and was on faculty at Trinity Theological College (TTC) until his retirement in June 2005.
His teaching materials went on to bless the wider church body, with the Synod publishing Our Beliefs for use in baptism classes in 1988. This went on to be published by the Presbyterian Church in Taiwan two years later as Abundant Life.
Some of his Chinese sermons have been compiled in series by All Saints Memorials Chapel, where sales proceeds go towards the Lee Huai Kwang Education Fund. The fund was set up after Rev Lee's death in 2005 to sponsor theological students and provide bursaries for the education of pastors' children.
Championing cremation
By 1965, the Singapore government was encouraging cremation, and was in the process of redeveloping burial grounds for general use.
Poh Huat Road, which was owned by Bethel Church, was not spared. In 1969, the government gave the church a two-week notice that it was taking back the plot of land.
In 2002, he was conferred the Public Service Star National Day award.
In a bid to keep the land, Rev Lee started researching Christian cremation, which was a sensitive topic in those days.
"In the late 60s and early 70s, cremation was considered taboo in Singapore. And many church leaders were against cremation for Christians as well," said Rev Dr Lee.
But Rev Lee saw cremation as a ministry to encourage Christians to practise filial love, promote respectful burial and remembrance of their forebears. He also saw it as an opportunity to preach the Gospel, promote Church unity and community service.
Working to change mindsets about cremation among the Christian community, Rev Lee also garnered support from the Anglican and Methodist churches, as well as leaders of independent churches, for the initiative. This culminated in All Saints Memorial Chapel and Columbarium (ASMC), which was eventually dedicated on Easter Sunday, March 26, 1978.
After its dedication, Rev Lee – who was also its chairman from 1976-2005 – led services every Sunday afternoon so that he could minister and witness to the family of the deceased.
Tireless even in his golden years
In the 1980s, Rev Lee turned his attention to setting up a nursing home. He approached Rev Dr Lee for help as the latter was involved with St Luke's Hospital.
"I knew how difficult it was to start one, so I tried to discourage him but he kept going on," said Rev Dr Lee.
"It is very, very rare to have a leader like this."
To meet the needs of the community, Rev Lee converted ASMC's ancillary hall into a 30-bed nursing home called All Saints Home in 1986. By then, he was 68 years old, remaining active in ministry at a time when retirement was commonly pegged at 55.
"Many of the building plans submitted for All Saints Home in Tampines were rejected by the government – as many as seven times! But he would continue to appeal and make adjustments," recalled Rev Dr Lee with a laugh.
"He would just go on and persevere. It is very, very rare to have a leader like this. If there are more people like him, I believe the church will be very, very different. So I really salute him, not just as a son but as a Christian and as a fellow Christian worker."
Rev Lee's contributions to the wider church body, as well as to the nation, did not go unnoticed. He was awarded the 1993 Senior Citizen Of The Year Award and, later in 2002, was conferred the Public Service Star (BBM) National Day award by then President of Singapore, SR Nathan.
A lasting legacy
In memory of Rev Lee's dedication to education and Christian discipleship, his family funded TTC's fifth professorial chair.
On August 29, 2019, Rev Dr Lim Teck Peng was inducted as the Lee Huai Kwang Professor of Religious Education.
"I hope to raise awareness about two things: First, the relationship between Christian vocation and education. Second, the need to engage educational challenges with biblically grounded understanding and imagination," said Rev Dr Lim, 59, on what he hopes to achieve during his tenure. He is the first lecturer who teaches predominantly in Chinese to assume a professorial chair in TTC.
"With this appointment, our college re-affirms the importance of Christian scholarship and our long-term commitment to the growing ministry of the Chinese-speaking churches in this part of the world," said Rev Dr Ngoei Foong Nghian, principal of TTC.
Looking back on his father's life – his desire to meet not just the spiritual needs of the Chinese diaspora but also their physical and mental needs – and what he has done for the Church and the wider community, Rev Dr Lee noted: "It is all God's grace that He used such a person to fulfil some of His plans."
70-year-old Trinity Theological College birthed in a dark period of Singapore's history
If you have enjoyed reading Salt&Light...
We are an independent, non-profit organisation that relies on the generosity of our readers, such as yourself, to continue serving the kingdom. Every dollar donated goes directly back into our editorial coverage.
Would you consider partnering with us in our kingdom work by supporting us financially, either as a one-off donation, or a recurring pledge?
Support Salt&Light