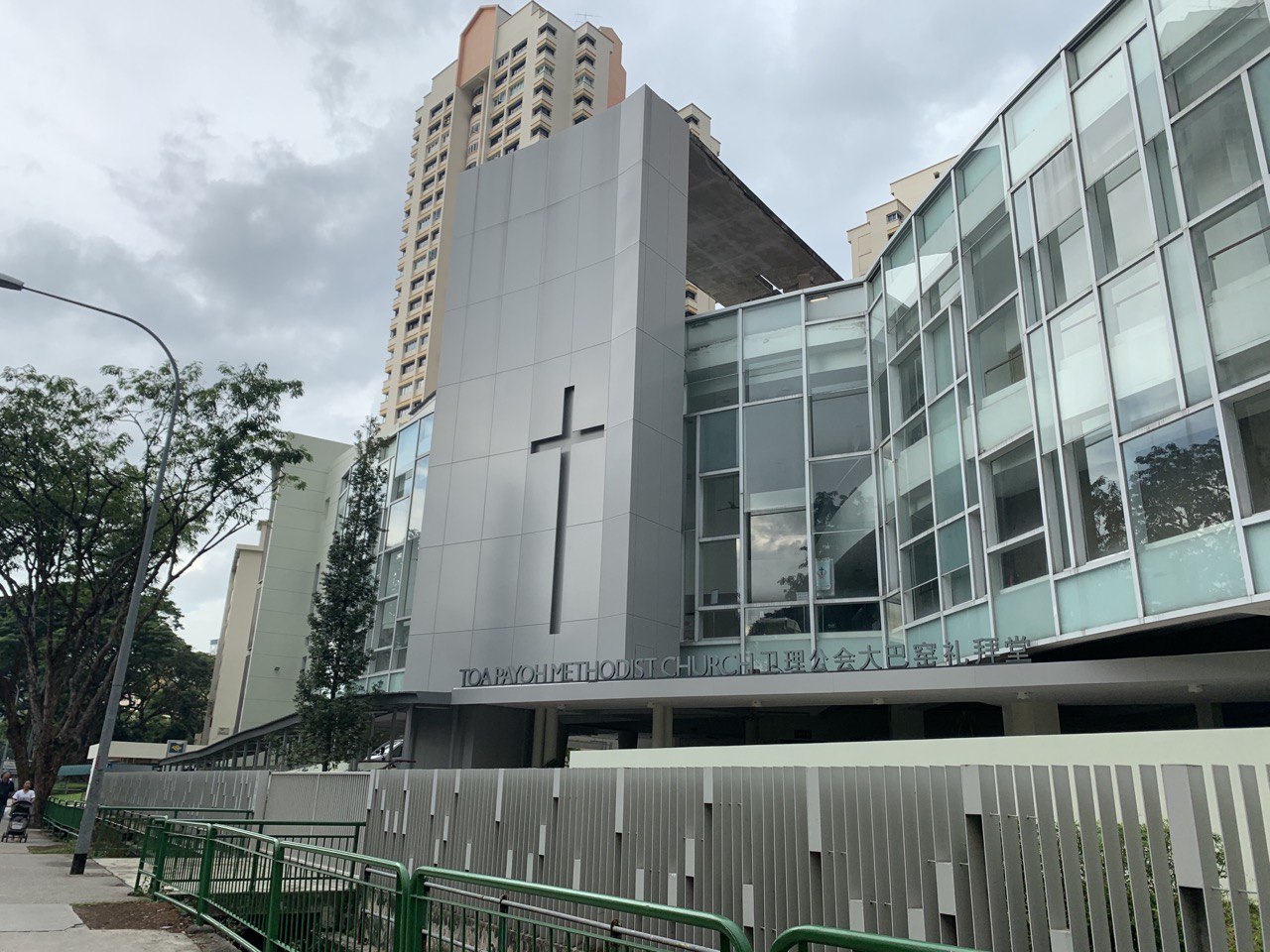 Toa Payoh Methodist Church was among the churches that provided shelter for rough sleepers during the recent Circuit Breaker. It is a ministry they will continue to provide to serve the community God has placed them in, says the church. Photos courtesy of Toa Payoh Methodist Church.
His business had collapsed and his savings were emptied. Left without a home, and estranged from his father, Tiong* (not his real name) headed for the streets of Toa Payoh. 
He was eventually referred to a shelter run by Toa Payoh Methodist Church (TPMC), where he settled in and began helping the church to care for the other rough sleepers living there. 
What he did not expect was to run into his father at the shelter. His father had been rendered homeless after a dispute with his landlord and was referred to the same Safe Sound Sleeping Place (S3P). 
Their reunion at TPMC soon turned into an opportunity to work through their tumultuous relationship. With the help of social workers, they reconciled and applied for a rental flat and are now living together. 
Safety and dignity
Tiong's story is just one of many fruit that have been borne through TPMC's S3P initiative. In September 2019, the church opened its doors for the first time to embrace rough sleepers.
After connecting with Catholic Welfare Services (CWS), which was already running "night missions" where volunteers were befriending rough sleepers in the area, TPMC registered as a S3P with the Ministry of Social and Family Development (MSF).
"We really wanted to help, because Toa Payoh is where God has placed us. It is a community we can serve," said TPMC's Pastor Ming Feong Ching.
Since then, the church has seen a total of 16 rough sleepers. Some have stayed for a couple of days, but others have stayed for months, especially during the Circuit Breaker period.
With the help of social workers, he and his father reconciled and applied for a rental flat and are now living together. 
The church-allocated room is designed to take a maximum of five male rough sleepers at a time, but the need for social distancing has seen TPMC limiting its capacity to three. The shelter used to only run from 10pm to 7am, but the rough sleepers have been allowed to stay 24/7 ever since the Circuit Breaker period.
New security provisions had to be considered when the TPMC Kindergarten re-opened in June. While in the past the S3P premises had always been vacated before students arrived, the church now demarcated separate areas for student pick-ups and drop-offs, while the rough sleepers remained in an area set aside for them during the day. 
So far, the arrangement has gone smoothly, for which Ps Ming is thankful.
"It has never crossed our minds to close the shelter, and we intended it to be an ongoing ministry," she said.
"Just love them first by providing for their material needs."
Most of the rough sleepers are referred to TPMC by CWS. The church houses them while they apply for rental housing.
Social workers from the Ministry of Social and Family Development and family service centres are also assigned to rough sleepers, to assist them with practical issues such as replacing their identity cards.  
While the staff used to be joined by members of the church, who would drop by to engage with the rough sleepers after their cell group meetings, these physical sessions were suspended due to Covid-19.
"It's not easy connecting with rough sleepers and knowing them beyond the superficial," said Ps Ming. The transient nature of their time at the shelter, as well as their guardedness, limits the depth of interaction.
The priority of the church is to "talk with them until they're comfortable, but just love them first by providing for their material needs".
TPMC tries to preserve personal space and privacy for each person it shelters, including providing each with a personal locker to store their belongings.
Back to health 
Though such a living arrangement is temporary, meaningful transformations have occurred in the process, both for TPMC and for the rough sleepers.
TPMC's night caretaker, Mary, prepared food for him daily, making sure that he was comfortable while he rested.
Ryan* was a rough sleeper who was temporarily warded for a leg infirmity while staying at the shelter. But when he was discharged, TPMC made an exception in allowing him to stay 24/7 so that he could recover fully.
During that period, TPMC's night caretaker, Mary, would prepare food for him daily, making sure that he was comfortable in the shelter while he rested.
"She actually nursed him back to health until he was well enough to leave," recounted Ps Ming.
Since Mary was there every night, she interacted the most with the rough sleepers at the shelter. The care she had for each of them was touching, said Ps Ming, especially since Mary had initially resisted the S3P's opening.
Chin*, a rough sleeper who stayed at TPMC throughout the Circuit Breaker period, now returns to the church regularly.
To allay her concerns over safety, a protocol was set up where a pastoral member of staff would personally introduce each new rough sleeper to Mary.
The concern that Mary and the church showed to Ryan through his recovery, made an impression on him. He had left the faith because of family issues, but eventually expressed a desire to return to the church.
Another rough sleeper, Chin*, who had stayed at TPMC throughout the Circuit Breaker period, now returns to the church regularly to give back. The Grab driver ferries a few of the church's visually impaired members to and from church, occasionally attending service with them.
Ps Ming, who says the church hopes to see this ministry run for as long as circumstances permit, celebrates these instances where there is a "turning of hearts".
"These little things that show God's grace and mercy," she said. 
"Many haven't experienced God's love, so let's be on the lookout": Yio Chu Kang Chapel, which opens its doors to the homeless
"Do not be afraid to do what is good": Homeless Hearts appeals for people to open up empty spaces for the homeless
If you have enjoyed reading Salt&Light...
We are an independent, non-profit organisation that relies on the generosity of our readers, such as yourself, to continue serving the kingdom. Every dollar donated goes directly back into our editorial coverage.
Would you consider partnering with us in our kingdom work by supporting us financially, either as a one-off donation, or a recurring pledge?
Support Salt&Light