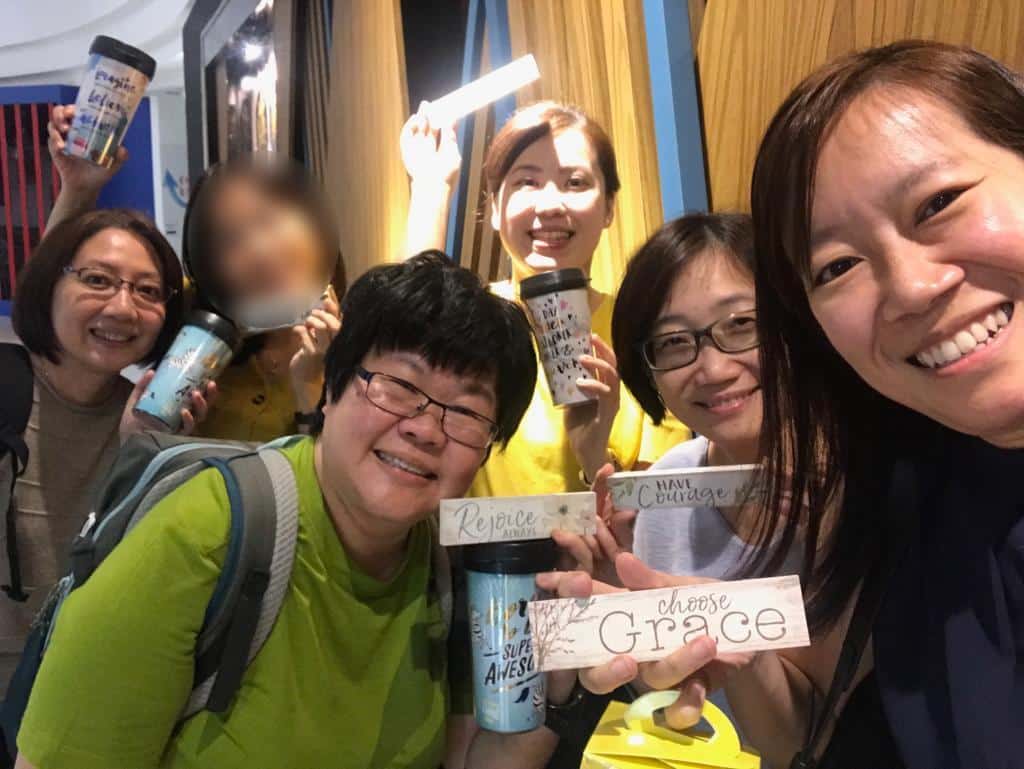 While the six friends (L-R: Wee Kuan, Anne (not her real name), Nicole, Gillian, Boon Chee & Yenn) were initially unsure if their skills would be helpful to the refugees, they prayed: "God, take whatever we can offer and turn it into something beautiful despite our self doubts." All photos courtesy of Nicole Wong.
It started with a "vision trip" organised by Interserve Singapore, a missions agency, in 2017. Nicole Wong learnt of Interserve through her university classmate.
After that first trip, she and a few other individuals helped to organise a second trip – on their own. Since then, her team of six women have been flying to Kuala Lumpur every one to two months, to serve in ElShaddai Centre Berhad and work with refugee communities in Klang.
Says Nicole, 50: "Usually, we would take our annual leave on Friday. We would fly in on a Thursday night, conduct our sessions on Friday and Saturday, and fly back to Singapore on Saturday evening so we can attend our church services on Sunday."
Vision trips aim to introduce to potential volunteers or mission workers about the work so they can prayerfully seek God if that is something they can contribute to, says Nicole. "They also have the purpose of letting us plan how we can use our God-given talent, knowledge and experience for this work."
A motley crew
The six women, aged 35 to 50, are all social workers or art therapists. They do not attend the same church.
"Some are colleagues, or ex-colleagues, or acquaintances whom we got to know in the context of work," says Nicole. The others had started as strangers to one another. Four of them, including Nicole, were on the second trip, while the remaining two joined later.
Like the single human body that is made of different parts (1 Corinthians 12:12), each member of the team contributes in different ways.
Several of them felt the calling to be part of these trips, using their expertise as they serve the refugees.
"Boon Chee is our commander-in-chief who coordinates with ElShaddai and plans the trips. Yenn is our 'vehicle commander' who books cabs. Anne (not her real name) and Gillian are in charge of food and entertainment. Wee Kuan is our 'trauma guru' (with much experience in trauma work) while I am the devil's advocate, often asking questions about goals and purpose."
Nicole adds: "The trips brought the team to a close bond of fellowship. Our Lord calls us to a common purpose to reach out to the nations at our doorstep, but He individualises our growth, sometimes through each other."
Several of them felt the calling to be part of these trips, using their expertise as they serve the refugees. Gillian has had to apply for unpaid leave after exhausting her annual leave, but felt she has learned much from the trips. For Wee Kuan, she decided to join the trips after the invitation to do so came at a time when God was challenging her to love her neighbours (Mark 12:31) and consider who her neighbours were.
Says Nicole: "The Lord placed this burden in us to use our talents and experience to serve this community. Yet we find that in surrendering to Him, the burden isn't heavy."
Safety for refugees
"We had concerns about our abilities," says Nicole, who has been a social worker for more than 20 years. "While we may have knowledge and some experience in trauma-related work, this is our first time working with refugees.
"Are we able to do it? Like Peter (Matthew 14:28-30), we were stepping into the water, with no life jackets, walking towards Jesus, praying that we don't cause others to sink."
At ElShaddai, a Christian-based organisation, the refugees it serves had fled their countries for various reasons — war, persecution or racial conflict – and are in transit in Malaysia, waiting for UNHCR to process their application to a country that is willing to receive them. The refugees come from Myanmar, Vietnam, Sri Lanka, Cambodia, Pakistan, Afghanistan, among other countries.
For Nicole and her team, they support about 100 students and 50 teachers who work in a school for refugee children aged 4 to 18. The team focuses on building a sense of safety for the students, and helping the teachers manage trauma.
"For the refugees, the concept of home and safety are in conflict," Nicole explains. "The homes where they come from are not places of safety, so they fled, leaving everything behind."
"Even when they have arrived in Malaysia, the sense of safety is not secured as well as they do not have the proper documents in Malaysia and they face livelihood challenges."
This is also why Nicole and her team decided on short but more frequent trips to Klang
"We were mindful of creating safety in the context of a relationship, so we decided that monthly sessions will create a good structure in terms of regularity, and allow continuity of building the relationship with adequate space in between to process the experience."
The trauma experienced by the refugees could also leave a lasting impact and be difficult to bear, she adds.
"For the teachers, we aim to increase their capability to foster a safe learning environment and manage trauma. The trauma may surface in different behavioural issues such as withdrawal, defiance, inattention, listlessness, anger and aggression."
Her team trains the teachers in basic counselling skills, child development, trauma management and self-care. While the language barrier sometimes posed a problem, the team taught techniques that were easy to pick up. For instance, they taught that one way to calm down and regulate oneself is to count the number of things of a particular colour in a room.
More than 40% of the teachers are themselves refugees. "It is important for them to be in a role where they are helping others, and not just being helped themselves," says Nicole.
Receiving in the giving
At times, Nicole had doubts of whether their work was effective and wondered if it was futile to continue. She felt this way during a teacher engagement session.
"That evening, we received a text from the teacher-in-charge, sharing that the teachers had gone through a very difficult week, dealing with many challenging situations. But the teacher said the engagement session had been a source of encouragement, reminding them of their purpose and God's sovereignty.
"What they didn't know is that their feedback had the same effect on me."
Says Nicole: "God can take whatever we offer and turn it into something beautiful, despite our self-doubts." 
The relationships built with the teachers, who are eager in wanting to help, and the students, have also provided strength and encouragement to the team.
One of the participants in the art therapy sessions is a 14-year-old who would create fantasy stories in his art. Despite having to work to support his family, he makes time to attend the sessions, in which he gets to touch sand.
The teachers and students have also provided strength and encouragement to the team.
"He has hardly touched sand and finds the sensation fascinating, perhaps comforting. Being the eldest in the family, he wanted his siblings to have a similar experience. He was visibly overjoyed when Boon Chee gifted him with a bag of sand at their last session," says Nicole. "Sessions like this remind us to stay compassionate and allow ourselves to share the sorrow that they feel, and yet be appreciative of the simple things in life." 
Meanwhile, the COVID-19 pandemic has derailed the team's plans to further develop the teachers' capabilities and provide more therapy sessions.
"Sadly, everything is on hold. So currently, our work focuses more on collecting donations and sending encouragement to the staff we work with," Nicole says.
"As the Bible admonished in James 2:15-26, 'If a brother or sister is poorly clothed and lacking in daily food, and one of you says to them, Go in peace, be warmed and filled, without giving them the things needed for the body, what good is that?
"We collected some donations and were thankful to know that it has helped some of them who were otherwise without support or even food. We are also thankful that God has raised ElShaddai Centre Berhad to be a channel of blessings and hope to the least of these. They may be so to some, but not to God."
And throughout all of this, Nicole believes that she and her team have been blessed too.
"Were we reluctant to take our annual leave? Sometimes. Were we physically tired? Definitely! Do we wish that we don't have to pay for our own trip? No!
"We believe that we are blessed to be blessings."
For more information on how you can support ElShaddai's work, click here.
If you have enjoyed reading Salt&Light...
We are an independent, non-profit organisation that relies on the generosity of our readers, such as yourself, to continue serving the kingdom. Every dollar donated goes directly back into our editorial coverage.
Would you consider partnering with us in our kingdom work by supporting us financially, either as a one-off donation, or a recurring pledge?
Support Salt&Light