Day 9: Call to worship
A LoveSingapore 40.Day prayer and fast devotional, following 2020's theme of In the Long Run – A Journey Through the Book of Hebrews.
LoveSingapore // July 9, 2020, 12:01 am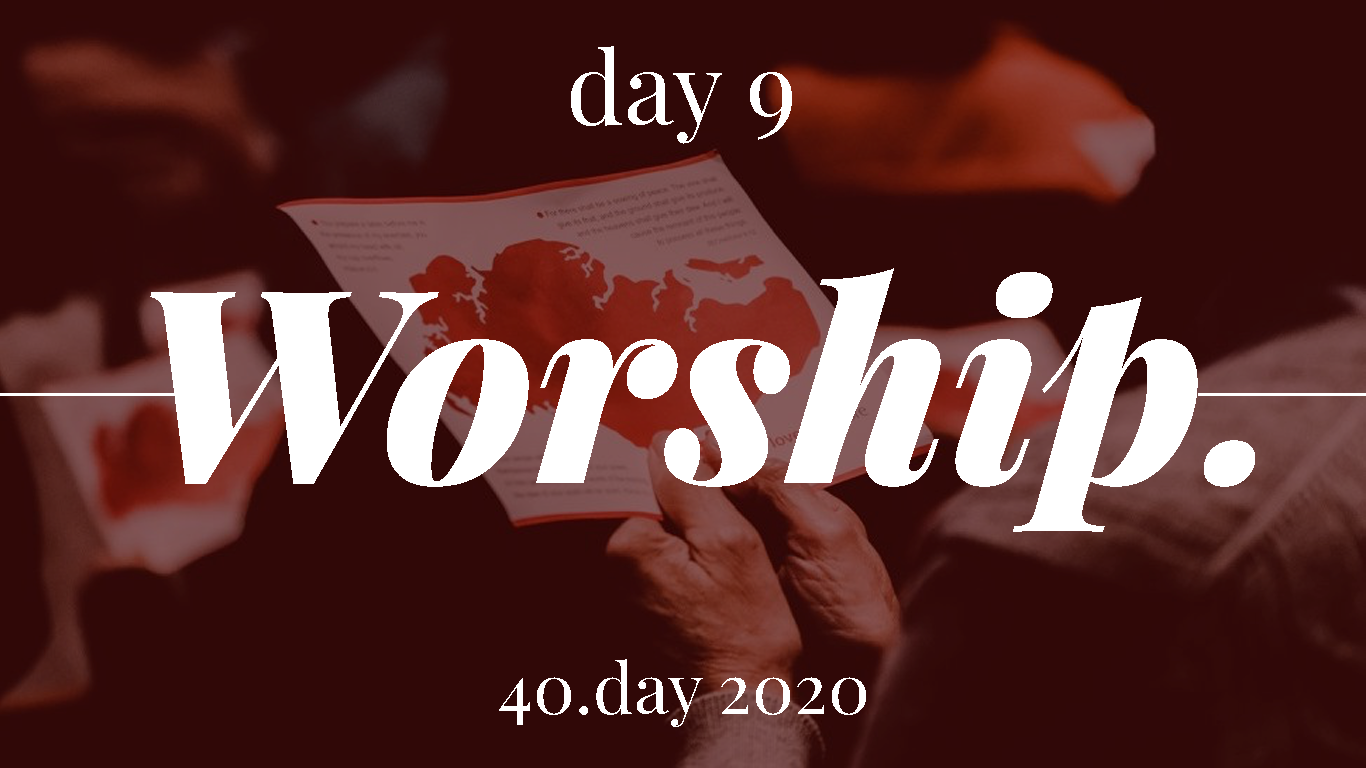 40.day 2020
Bible reading for 40.DAY 2020 | July 9:  Hebrews 9:11-14
---
You are summoned. To worship. Not in a tent. But in the Holiest Place of the Highest Heaven. The earthly tabernacle was but a copy of the Heavenly Sanctuary, where Jesus our High Priest has gone before us. To worship.
He stands before God in scarred human flesh. He secures redemption for us, not with animal blood, but with eight pints of pure and holy human blood, uncontaminated by the virus of sin. His sinless sacrifice covers our sin.
All this is done so that you can come. To worship.
But there is a problem. You know what you are on the inside. You feel guilty. Distant from God. Unworthy to approach His Holiness. Blessed are you. We are all guilty as charged.
You are invited, blameless and undefiled, to stand beside Jesus and worship the Father.
No one is perfect. Except One. No one is sinless. Except One. His worship counts as ours (Franklin Reding). His blood cleanses us from the inside out – our hearts, our inner self, our guilty conscience.
All this is done so that you will come, blameless and undefiled, to serve the living God. You are invited. To worship.
Who in their right mind would refuse such an offer? We are given unhindered access to the holy habitation of the Most High (Psalm 46:4). We are invited to stand beside Jesus, the Perfect Priest of Heaven, and worship the Father in spirit and truth. How can we be casual? Who can be indifferent? How dare we play with phone and plan our lunch in the Holy Place?
May God help us. To worship.
The Father seeks worshippers, not cheerleaders (John 4:23). He doesn't have a swollen ego. He's not a god who needs stroking on Sunday. He wants to raise you up to the heights of his throne every moment of every day. He wants your heart to sparkle with his divine nature (2 Peter 1:4). He wants to crown you with glory and honour as he has crowned his Son.
Jesus rings the bells and opens the doors of the Heavenly Sanctuary. He is waiting for you to come and worship with him in the Holy Place.
You are welcome. To worship.
Prayer Track
Respond in prayerful reflection 
Consider the human conundrum: One, we are obligated to worship God. Two, we are unworthy to worship God.

Consider the divine solution: One, Jesus' sacrifice is the ultimate act of worship that fulfils the human obligation once and for all. Two, his perfect worship makes ours acceptable to God despite our chronic unworthiness. Failing to grasp and appreciate this reality lies at the heart of casual Christianity and all our superficial worship today.
 

Respond in genuine repentance
Pray: Lord, forgive us. We take worship for granted. We go through the motions. We think we are doing you a favour by worshipping you. We attend church (on-site or online) and sing you a few songs we like. We drop a token in the bag for you. We endure a sermon for you. Then we carry on business as usual, forgetting what we heard. Have mercy on us!
 
Respond in deep gratitude
Pray: Lord Jesus, we are not worthy to take your holy name upon our unclean lips. Our sins, our guilt, our troubled conscience make it humanly impossible for us to approach you, a Holy God. But you preside in heaven as our Great High Priest. You offered yourself on the altar as an innocent, unblemished sacrifice. You did this for the Father as an act of pure worship. You did this for us so that we could come and worship the Father in spirit and truth. Thank you, Lord. Keep us forever grateful. Embed this Reality deep in our spirit and soul. Change us from the inside out that we might revolutionise our world for your glory.
 
Respond in fervent intercession
Covid-19 is our test in the wilderness. It has forced us to ask questions about who we are and what Church is all about. Online worship at its best is still a poor substitute for in-person gathering. But sadly, we will have to make the best of it for the time being. Whether on-site or online, we are summoned to worship. True worship depends, not on state of the art, but state of the heart. True worship is in spirit and truth (John 4:23).

Pray for Christians across Singapore: That, given the severe limitations of online worship, we will discover new depths of authentic worship in spirit and truth. That we will be just as serious in worship as if we were all together in one place. Not lazing around. Not fiddling with phone. Not sneaking a snack. Not surfing for options. Not switching from church to church. That we will honour God by participating wholeheartedly in every part of the service as an act worship. For he is worthy!
 

Respond in stillness
On this Cooling-off Day, a period of silence meant to give voters some time to reflect rationally on issues raised during the election, seek the Lord in quietness and in trust. Worship him: Be still and know that I am God (Psalm 46:10).
   
---
Visit Salt&Light for more of LoveSingapore's daily devotions over the next 40 days.
#TheBlessingSg: 772 leaders from 177 churches sing Aaronic Blessing over Singapore
Musician Ryan Kong's God-songs: Heart-driven even in 'fig tree moments'
If you have enjoyed reading Salt&Light...
We are an independent, non-profit organisation that relies on the generosity of our readers, such as yourself, to continue serving the kingdom. Every dollar donated goes directly back into our editorial coverage.
Would you consider partnering with us in our kingdom work by supporting us financially, either as a one-off donation, or a recurring pledge?
Support Salt&Light