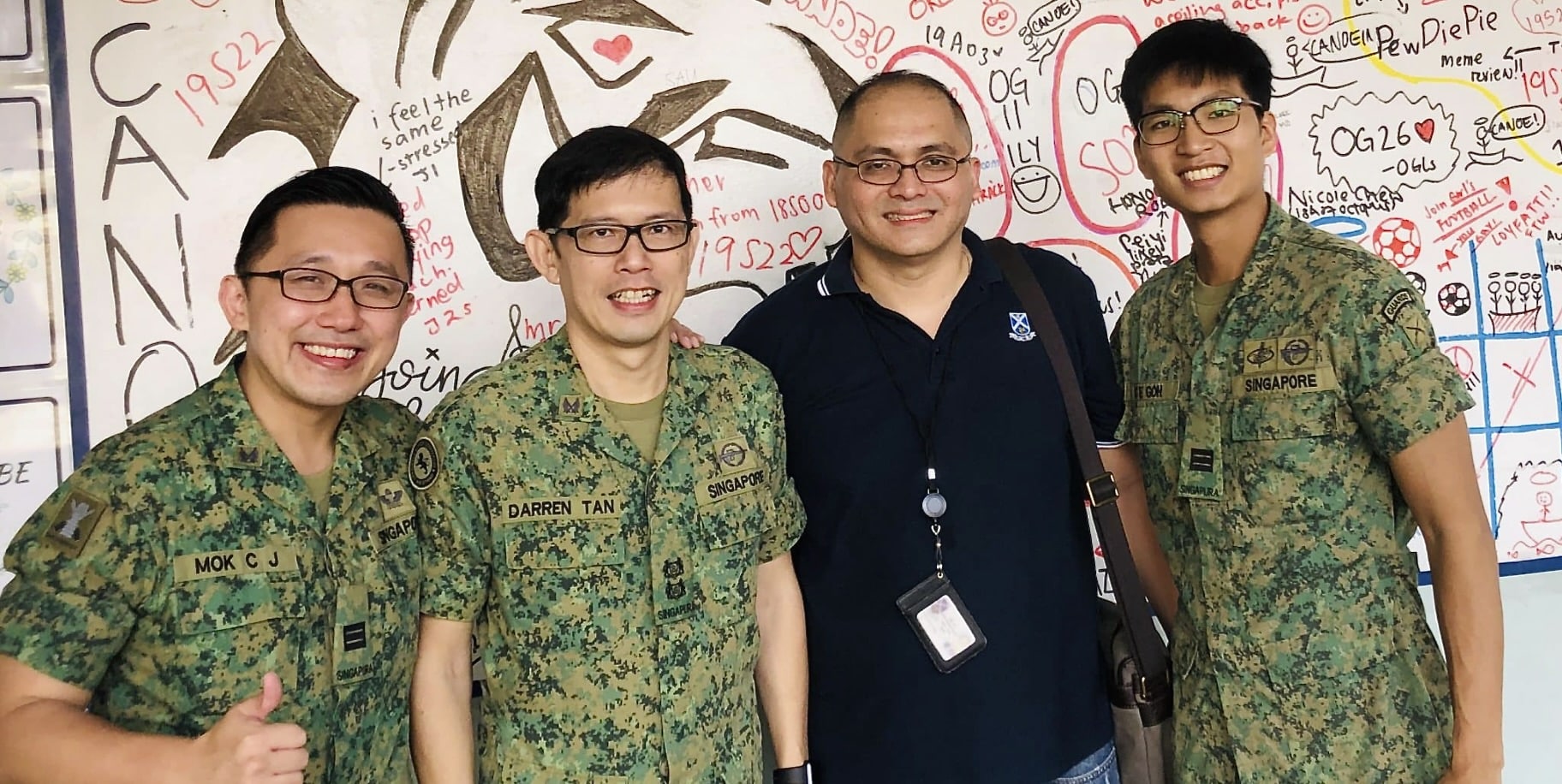 "I hope that servicemen will recognise first and foremost their identity in Christ," says CPT (NS) David Jeremiah Mok, seen here with MCF facilitators in St Andrews Junior College. All photos courtesy of MCF and David Jeremiah Mok.
Serving in the Armed Forces is a rite of passage for every Singaporean son.
But, as many a national serviceman can attest, National Service (NS) is also physically demanding, mentally exhausting and often stressful. In other words, a place of identity struggles and even spiritual warfare.
This is precisely why the Military Christian Fellowship (MCF) was set up – to journey with our young men as they strive and struggle through a challenging two years of their lives. 
A dream and a prayer
Putting on the armour of God (Ephesians 6:13-17) takes on special meaning for MCF.
The seed of the ministry started as a prayer on the lips of two men from the very inception of Singapore's National Service in 1967.
The seed of MCF started as a prayer on the lips of two men from the very inception of Singapore's National Service in 1967.
At that time, the two men – Tom Hamblin of the Sandes Soldiers Home and Gerald McClelland of SASRA (Serving Airmen Scripture Readers Association) – began to pray for a Christian witness to the soldiers in the SAF. 
A year later in 1968, they saw their prayer answered when a young Singaporean man was enlisted. 
Wrote MCF Singapore founder and first chaplain, Rev Dr Patrick Tan, in the publication Onward Soldiers: "I was enlisted in February 1968 and posted to the People's Defence Force at Beach Road Camp. I became acquainted with the trauma of soldiers, especially the trauma of Christian soldiers.
"God gave me a verse from Revelation 3:8: Behold I have set before thee an open door and no man can shut it. For thou has a little strength, and has kept my word, and has not denied my name.
"I began to look for Christians and in a year's time, I found over 200 of them.
"On January 1st 1970, 43 officers and men met together to launch a Christian Fellowship for servicemen. Our attempt to register it as a Society in the next two years failed. In sympathy and conviction, my good friend, Dr Bobby Sng, General-Secretary of the Fellowship of Evangelical Students (FES) offered to affiliate our fellowship as the Armed Forces Committee (AFC) of the FES.
"It was the moving of the Spirit. As prayer warriors were at work, small groups of Christian servicemen and women started to gather together for fellowship and Bible study."
Slowly but surely the AFC gained recognition and, in 1980, Reverend Dr Patrick Tan, who by then was a medical doctor and a retired Lieutenant-Colonel of the SAF, would see the AFC change its name to the present Military Christian Fellowship.
With an emphasis on "spiritual growth through prayer, discipleship and worship", MCF soon expanded from a small group of 43 officers and men, to include detainees in the SAF detention barracks, Ministry of Defence staff and families of the MCF volunteers and staff.
Today, MCF's motto reflects its roots of faith: We believe with great conviction that our primary ministry is where the Lord has placed us.
Christmas in camp
CPT (NS) David Jeremiah Mok, 42, can attest to the impact MCF has had on Singapore soldiers through the years.
The Lighthouse Evangelism pastoral staff was himself touched by MCF as a young national serviceman more than 20 years ago. 
"I received Christ during NS in 2000 and grew spiritually through a captain who led Bible study for us weekly," he related.
That weekly session would not only expose David to military fellowship, but go on to shape his spiritual journey.
"After I ORD*-ed, I went to study in Nanyang Technological University, where I joined Campus Crusade for Christ, now Cru." (*Operationally Ready Date marking the completion of National Service) 
"I received Christ during NS in 2000 and grew spiritually through a captain who led Bible study for us weekly."
The SAF scholar, who would go on to serve in Guards, Commando and Armour as an Army Regular, saw God directing him towards the Military Fellowship.
"I felt God's clear leading that MCF was a way for me to give back and reciprocate the Lord's kindness to me by serving the Lord's people in the military," he said.
Even after leaving SAF to join the private sector and church ministry, he continued volunteering in MCF as Council Member and Ministry Staff.
"At the time, my predecessors, the previous MCF staff, were also having a different season, and so MCF needed someone to take over from them.
"In a way, it's really God's timing because as an ex-regular, I fit the bill easily," he said. 
Today, not only David but also his wife, Esther Grace, count over 12 years of service in MCF.
Has their dedication been worth it?
For David, the answer is a resounding yes.
One particular episode, during his time as a regular, remains etched in his memory.
"Whilst in service, my prayer whenever I had a new posting to a new camp and unit, would be to ask the Lord to connect me with like-minded believers," he said.
In one of the camps he had to wait a year for such an encounter.
"I was walking past the cookhouse, and one young second lieutenant (2LT) said, 'Sir, I recognise you from my OCS outreach.'"
The 2LT was looking for help to start a group for his Christian admin support assistants (ASA). It was a request David readily agreed to.
"So, we started the group, and it was largely led by the NSFs," he said. "They were the ones to message the ASAs in HQ and in Signal Institute (SI) and rally them." 
The warrant officer had come with a request: "Could you guys join us for the upcoming Christmas mass?"
While worshipping one day, the group was interrupted by a warrant officer.
"Some of the NSFs got very scared, wondering what was going to happen."
But the warrant officer had come with a request: "Could you guys join us for the upcoming Christmas mass?"
The group rehearsed an entire repertoire of Christmas and Gospel songs to share at the event.
The story did not end there.
One NSF had invited some of his secular friends and bunkmates to the event.
"After sharing my testimony with them, I had the privilege of leading two of them to Christ," said David. 
Passing the Torch
Today, MCF engages Christian soldiers with three P's: Prayer, pre-NS gathering and publications.
They also partner churches such as Life United Church, Hope Church and 316 Church, among others.
Through MCF's annual thanksgiving dinner, dedication service and monthly Zoom prayer meetings, the Fellowship hopes to encourage servicemen to come together to pray and intercede.
"Regardless of church denomination, as a Christian soldier, they are invited to pray for the SAF, the nation and the commanders," said David.
"Typically some of the senior commanders will join us, so it's really cool for NSF's as well," he said with a laugh, "because it's quite a sight to see their commanders in uniform just worshipping and praying."
The Pre-NS gathering is a bi-annual, overnight event. 
Through hearing testimonies from NS-men, as well as prayer and engagement with fellow Christians and the MCF team, the enlistees are better prepared spiritually, emotionally and physically for the new season they are about to embark on.
"The Pre-NS Gathering also connects them so that, when they go to their camps, they can have accountability groups, even if their church doesn't have that critical mass. 
"Nowadays, we leverage on technology to help us," he said. "We create Telegram groups after we do a Pre-NS Gathering. Then we'll link them up with the rest of the senior batches."
Publications such as Onwards Soldiers, which include prayers, devotions and faith articles, also help servicemen stay spiritually connected to the Word.
"My prayer is that MCF can continue to provide that strengthening of Christian soldiers, to give them a sense of belonging, and raise some mentors also," said David.  
"God is on the move. We are just one piece of the overall puzzle that He's building here in Singapore.
"I hope that servicemen will recognise first and foremost their identity in Christ, by realising that they cannot go it alone. And when they do realise it, I hope they will find their God-specific assignment, and to align it with the Kingdom."
If you have enjoyed reading Salt&Light...
We are an independent, non-profit organisation that relies on the generosity of our readers, such as yourself, to continue serving the kingdom. Every dollar donated goes directly back into our editorial coverage.
Would you consider partnering with us in our kingdom work by supporting us financially, either as a one-off donation, or a recurring pledge?
Support Salt&Light