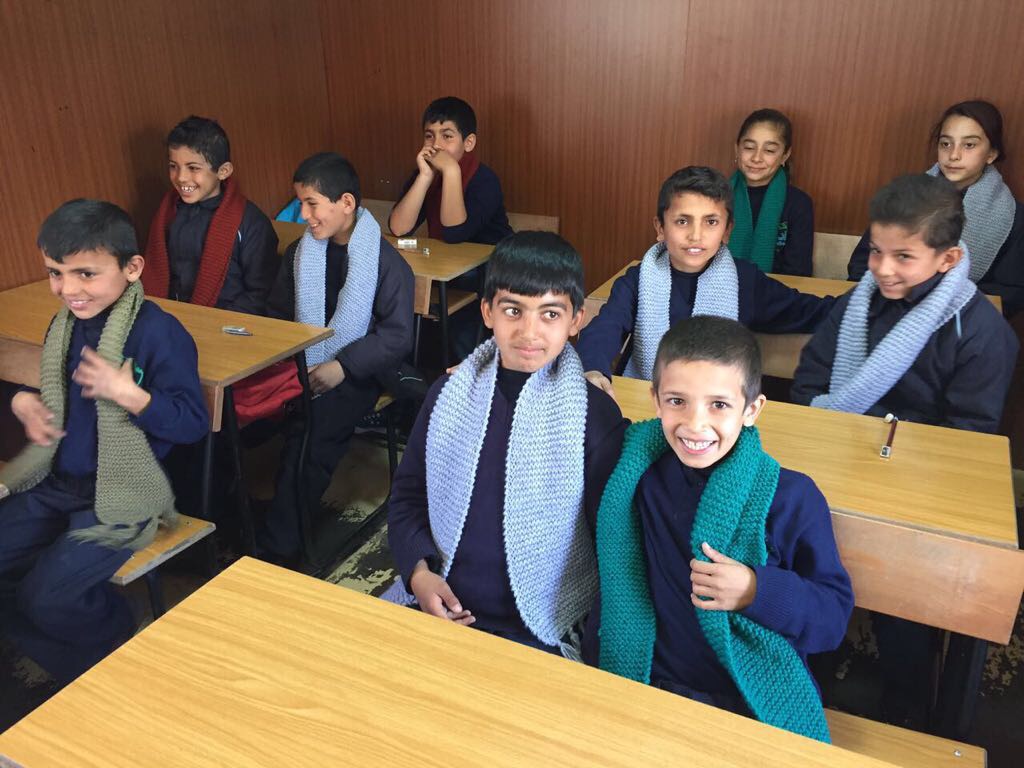 Young Syrian refugee children wearing donated LoveME scarves at school
Compelled by a desire to help those displaced by the Syrian conflict, a Singaporean woman is trying to improve the lives of refugee women and children, one scarf at a time. 
With the Syrian war entering its seventh year, The United Nations estimates that over 5.4 million refugees have escaped across their war-torn country's borders into neighbouring nations Lebanon, Turkey, Iraq, Jordan and Egypt. Housed in makeshift refugee camps or forced to fend for themselves in urban areas, the refugees face a life of daily struggle.
As with many conflicts, however, women and children are the worst-hit. For every one in four Syrian refugee families, women are the sole providers. They face a plethora of difficulties, from struggling to find employment to supporting their children, many of whom lack access to education and are vulnerable to high rates of violence and child marriage.
Scarf for a scarf
It is in the face of these staggering trials that Singaporean Mirimba Giam, 48, founded LoveME, a social enterprise that sells scarves knitted by Syrian refugee women in Lebanon. For every scarf bought by Singaporeans, two are given free to a refugee in need.
Giam, a management consultant, began her venture in March 2016 armed with a $2,000 loan and the concept of helping refugees help refugees.
Commissioning her scarves from Yadayna, a micro business that trains and employs refugee women, Giam has forged ahead with a one-for-two business model that last winter saw the sale of 185 scarves provide for 370 to be given away to children in Lebanese and Jordanian refugee schools. 
While most of us do not associate the Middle East with freezing temperatures, Giam, who has travelled to the region, knows that winter months prove especially tough for refugee communities that lack proper housing, heating, medical supplies and food. It was a natural choice to start an enterprise around simple, knitted, acrylic scarves. 
The scarves are not just for warmth but are symbols of hope. Designed to be durable and last for decades, they are "something tangible (for the recipients) to show their own children when they recover from war and tell stories to the next generation", says Giam.
The call
In 2010, Giam started visiting Syria and Turkey, seeking God's heart for these lands. In her mind was Isaiah 61:4: "They shall build up the ancient ruins; they shall raise up the former devastations; they shall repair the ruined cities, the devastations of many generations."
"I found out so much about church history on my first visits," says Giam. "The Bible became so much more real as I walked Straight Street where blinded Paul went after his Damascus encounter to wait for Ananias."
She feels a special connection with Syrians: "When Jesus started His ministry, the word spread, and one of the first Gentiles to believe and seek Him were the Syrians. Mathew 4:24 says: 'News about him spread all over Syria, and people brought to him all who were ill with various diseases, those suffering severe pain, the demon-possessed, those having seizures, and the paralysed; and he healed them.'
"I've been praying and visiting the Middle East regularly since 2010. I am still wrecked by what is happening to the children in Syria and Iraq. LoveME is a very tangible means to show them love, which hopefully goes a little way in healing their hearts.
"I pray that when the children bring the scarves home, their families will find hope in knowing that the 'outside world' is willing to pay for a scarf to keep their kids warm and happy," says Giam.
This winter, LoveME aims to sell five times more scarves than they did in 2017. This will allow the initiative to gift thousands of scarves, not only to children, but also to the elderly as well as disabled Syrians and Iraqis.
To get involved with LoveME, visit its website or contact Mirimba Giam at partner@loveme.global.