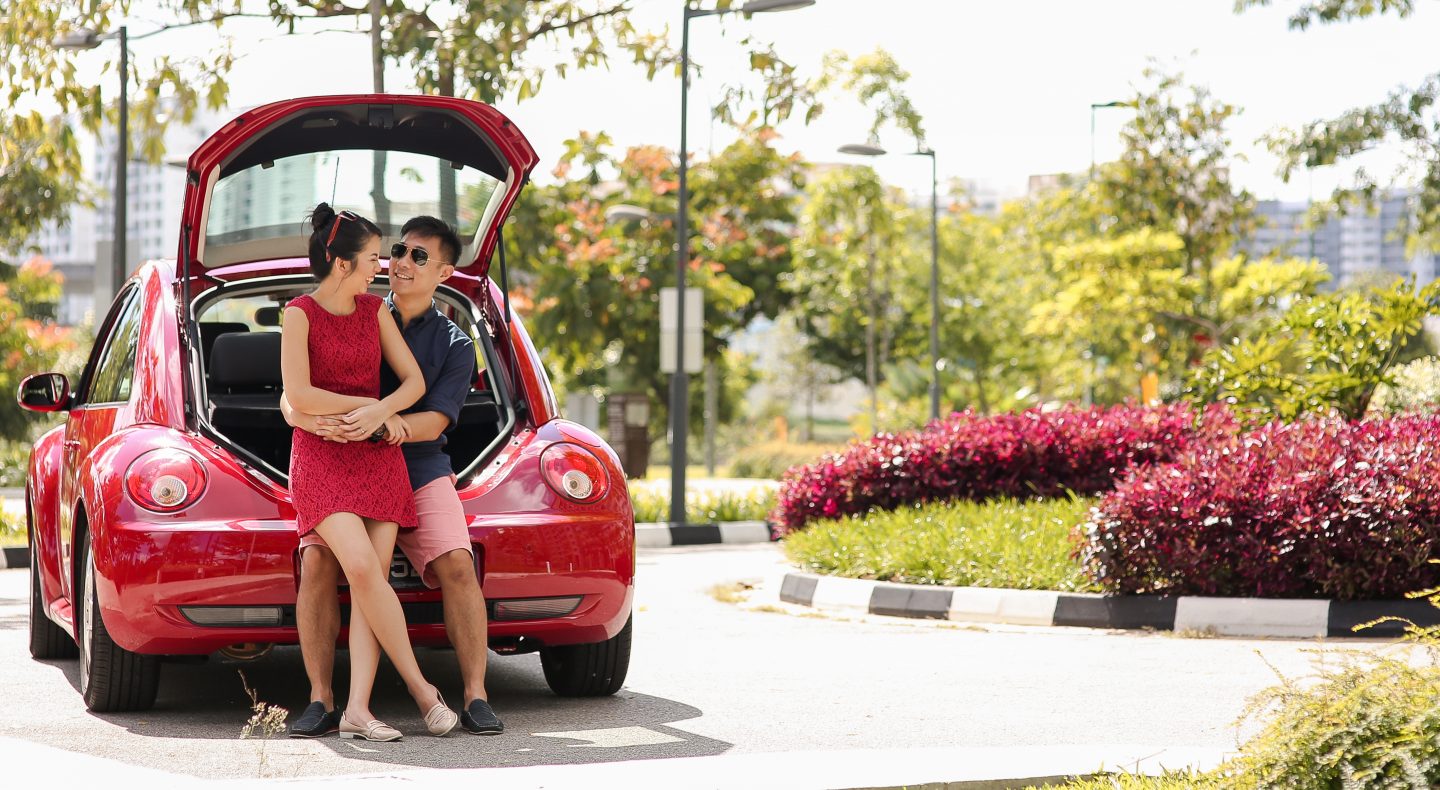 A match made in heaven. 
The Valentine story of missionaries Ian and Marianne Chew could only have been written by the ultimate Matchmaker with a clear purpose … and not a little sense of humour.
Theirs is a classic story of the continual unfolding of Proverbs 16:9: "The heart of man plans his way, but the Lord establishes his steps."
Ian: From Accountancy to Asia
The couple's first steps towards cross-cultural missions started very differently.
At 20, before university, Ian embarked on a two-month mission trip with Overseas Mission Fellowship (OMF) to East Asia with his best friends. They had merely intended to expand their understanding of missions. But he came back "pretty much convinced" that God was leading him down the path to full-time missions.
In response, he took steps towards fulfilling the purposes of establishing God's kingdom among the nations.
Ian chose to study Accountancy at Nanyang Business School as he felt that it was a profession that would be useful in almost every country in the world, enabling him to enter closed nations if necessary.
Marianne: Story of a broken heart
Marianne's call to missions was a longer struggle.
She was 14 when her heart was first broken – not by a boy, but by the stories she heard of people afflicted with HIV and AIDS.
At 18, she attended a missions conference by the English Presbytery in Singapore. At the altar call, she knew she wanted to be a part of the work that God was doing. But her fears held her back and she carried the heavy burden of disappointment at her small faith.
Marianne's call to missions was a long struggle.
Still, God continued His work of conviction and, after much prayer and struggling, she said 'yes' to Him.
An opportunity arose for her to attend a six-month Mission Discipleship Training with Operation Mobilisation in South Africa, followed by an outreach in Zambia. She came home after 10 months, knowing that her journey in missions had only just begun.
When Marianne resumed her life in Singapore, she too (like Ian) chose a course of study that was congruent with becoming a long-term career missionary.
She took up Nursing at the National University of Singapore because of the deep compassion she had for people suffering from HIV/AIDS.
But she had also come home with another conviction: That she would not date, much less marry, a man who did not desire to serve the Lord in missions. Because she probably wouldn't even be attracted to someone who had no interest in serving God and His people!
But she did not know that God was also at work, planting a surprise in her path. His choice of instrument: A matchmaker.
A meeting of paths 
Not long after Marianne returned, an OMF missionary whom she knew invited her to share at the church at which she would be speaking. A few days before, the missionary had called Marianne, saying she wanted to talk.
It turned out that this missionary also wanted to set Marianne up to meet a "great, single guy" from that church.
Marianne was surprised, and said 'no', but their matchmaker got her way when they all had lunch together after the sharing. Ian and Marianne hit it off and they started talking in the days that followed.
God was at work in Marianne's life; His choice of instrument: A matchmaker!
As they got to know each other, Ian found that he was in "a hilarious situation". On the one hand, he had just promised God that he would remain single for the rest of the year to focus on knowing Him. On the other, he knew what he wanted in a partner and Marianne fit the bill in every aspect – plus, she had the favour of his parents and his best friends.
No other girl had made such an impact in his life before!
Ian did remain single for the rest of the year. But as he got to know Marianne more, he was increasingly convinced that she was the one for him. About a year after they met, Ian asked Marianne's parents for their permission and blessings to officially date her.
In 2016, Marianne and Ian got married in Singapore.
Stretched … and then some
While they were dating, Ian graduated from his course in Accountancy and, with the Lord's leading, started work first at PricewaterhouseCoopers (PwC) as an auditor and then in OMF Singapore as a missions mobiliser.
It was a strategic decision to enter the workforce, not just to gain professional work experience, but also to develop an intimate understanding of corporate work life and prepare himself for the mission field.
As an entry-level auditor in one of the big four accountancy firms in Singapore, Ian faced incredibly long work hours. Being perpetually exhausted, the work stretched his faith and, on occasion, tested his relationship with Marianne.
Ian made a strategic decision to enter the workforce as an accountant.
Still, there were aspects of his job that he enjoyed. Once, a huge, unforeseen issue arose out of a deceptively simple assignment. Ian worked through the night and in the morning was called in by several partners of the firm to present his findings.
Things were only resolved a good 16 hours later but, despite having barely gotten any sleep, Ian found the adrenaline rush exhilarating and unforgettable.
In his five years of corporate life, Ian faced the realities of work. While he was blessed with good supervisors and colleagues at PwC, he saw, first-hand, the unrealistic demands of difficult bosses and the unforgiving judgement of co-workers.
"Everything is very efficient. If you don't get things done, there's no room for grace … word gets around fast if you are incompetent or not hardworking enough," he said.
"Everything is very efficient. If you don't get things done, there's no room for grace …"
Even in OMF Singapore, Ian admitted that working together with many different churches as a missions mobiliser was surprisingly challenging.
But he found refuge in God's Word. In Joshua 1:9, God commanded young Joshua to "be strong and courageous" – not on his own strength, but because the Lord God would be with him wherever he went.
Ian took those words to heart. Determined to build up his skillsets so that he could be like a swiss army knife on the mission field – versatile in many things – Ian became a Crossfit coach, taught music and guitar classes and even completed an intense volunteer firefighting course.
While it was a difficult journey, Ian looks back on his stints at PwC and OMF with no regrets. Fittingly so, because under the grace and mercies of God, he has come out of that time as one tested by fire.
Saving young lives
As a nurse, Marianne faced her own time of growth working as a staff nurse in the largest children's emergency department in Singapore. One particular incident stands out in her memory: When her team helped to resuscitate a child in the emergency room.
"I never thought I'd be filled with joy at hearing a child cry!" she said.
The best times at work were the times spent learning from and working with her team. Marianne was blessed with the privilege of working with a great team in a healthy work environment. Her superiors and colleagues were extremely welcoming and patiently taught her the ropes, extending grace when she made mistakes. 
"I never thought I'd be filled with joy at hearing a child cry!"
She helped save lives in the children's emergency department and she is thankful that she got to be a part of it. 
With characteristic enthusiasm, she said: "I couldn't have asked for a better first job!"
However, being a nurse in the children's department is not all rainbows and sunshine.
Sick children are often accompanied by anxious and demanding parents whom Marianne also had to manage. Some were unreasonably rude and at times become verbally and physically abusive towards the nurses.
Marianne's main challenge at work was to handle difficult people and diffuse tense situations, while protecting herself and her colleagues from abuse.
For someone with a tender heart, being kind and compassionate to people who were abusive to her colleagues was a source of discouragement to Marianne.
"Work is not easy – it's a mission field in itself! And it also reminded us that we need God in and for all that we do."
Once, Marianne caught herself being infuriated with yet another abusive parent. So she took a "time out" and went to the toilet so that she could pray and clear her mind. As she poured out her anger to God about having to deal kindly with someone so rude and unreasonable, God gently spoke.
"He reminded me that we are all sinners saved by grace, that His Son endured every unreasonable accusation thrown at Him, and yet still went to the cross because of love," said Marianne. "This humbled me and reminded me that I am no better, and gave me the perspective I needed to show kindness when I felt it was not due."
Living out Colossians 3
Indeed, a verse that both Ian, 30, and Marianne, 27, hold to dearly is Colossians 3:12-14: "Therefore, as God's chosen people, holy and dearly loved, clothe yourselves with compassion, kindness, humility, gentleness and patience. Bear with each other … And over all these virtues put on love, which binds them all together in perfect unity."
It is obvious that they have applied this truth to their lives.
Their time in the corporate world has given them a strong dose of reality.
When Ian gets frustrated by bosses with unrealistic expectations, he considers how they have their own impossible deadlines and thus have to enforce demands on others. While he admits that it is challenging to work with different churches, he recognises that they are brothers and sisters working towards the same goals albeit in different ways.
And when Marianne encounters abusive parents, she remembers that they are people whom Christ loves, people whom He is kind and compassionate towards.
Being a nurse is physically, mentally and emotionally draining. Nevertheless, Marianne continues to serve faithfully in church and intentionally uses her calligraphy skills to bless others with beautiful, hand-drawn Scripture verses.
There is no yardstick that can judge the effectiveness of their marketplace preparation for the mission field.
But the Chews believe that their time in the corporate world has given them a strong dose of reality. They are no longer over-idealistic and "unscathed". Instead, they can now better relate to the struggles of working adults whom Marianne believes will make up a large part of their ministry.
Marianne summarised their work experience by saying: "Work is not easy – it's a mission field in itself! And it also reminded us that we need God in and for all that we do."
Soon, Marianne and Ian will go into the mission field, not just with double the marketplace experiences, but also with two combined communities of believers who will be praying and journeying with them.
And given their different gifts and talents, the things they can do together far outweigh what they could ever do alone. 
Going into cross-cultural missions with a spouse was not something either of them had planned. Yet, when the Lord establishes your steps, then, as Marianne so enthusiastically says: "It's the best!" 
Be part of Ian and Marianne's journey!
In April this year, Ian and Marianne Chew will take their first steps towards becoming long-term, cross-cultural missionaries as they embark on two exploratory trips to Zambia and East Asia. 
In a short span of one year, they will have to adapt and adjust to two vastly different cultures and environments, including different languages, practices and living arrangements. 
They invite you to support them in prayer for the missions ahead.
"We want to be faithful and obedient to God in every season, whether we are overseas or in Singapore, so pray that we will be sensitive to the Spirit's leading, and constantly desire and seek God's heart in both big and small decisions," said Marianne. "At the end of the day, we want to do what God wants of us and go where He leads. We look forward to the growth in our faith as we trust God to supply our needs!"
To support the Chews and follow their missionary journey, click here.