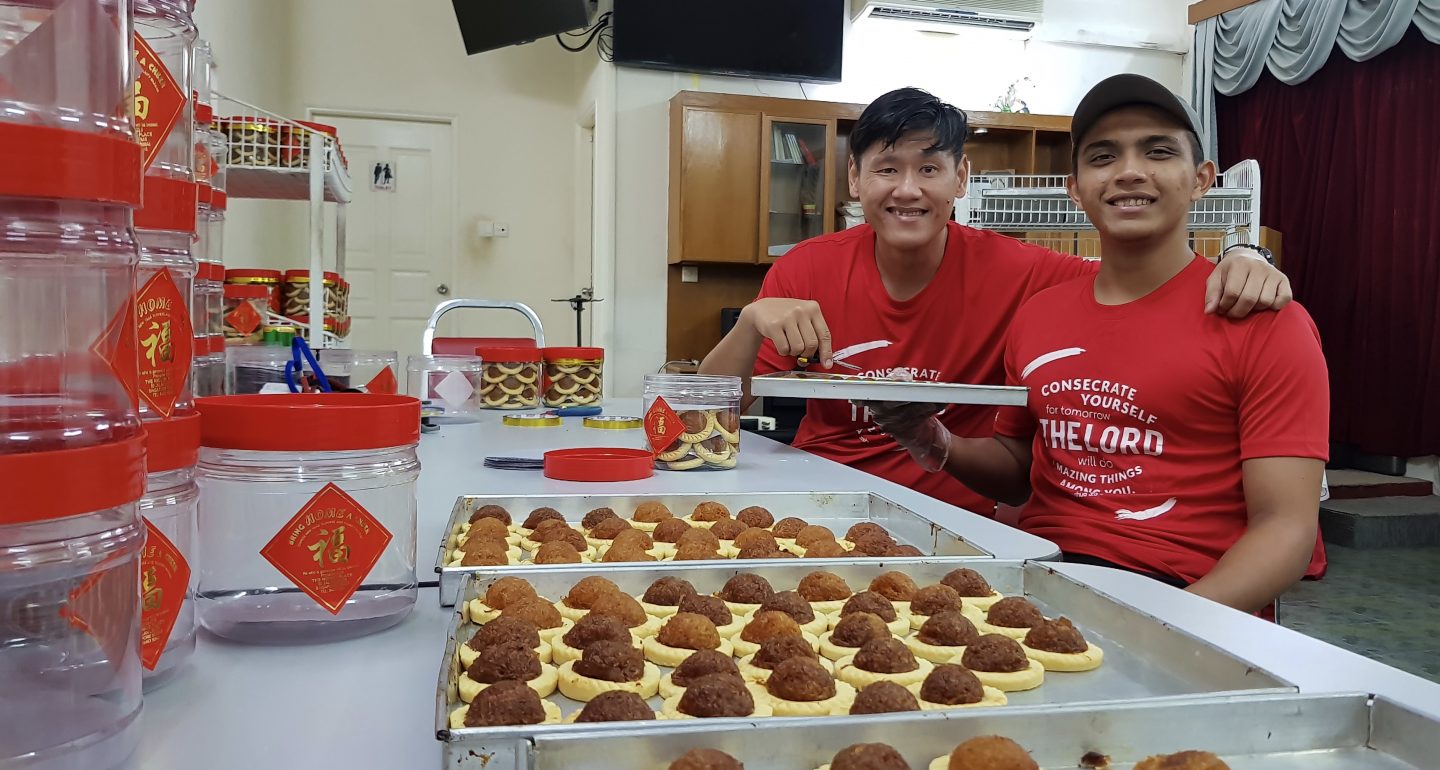 Bottled blessings: Residents at The Hiding Place pack their handmade pineapple tarts for Lunar New Year sales. Photo by Yeo Kai Wen.
All was quiet as we turned into The Hiding Place, but the toasty scent of buttery pastries baking stirred my appetite as I got off the vehicle.
"We only use SCS butter," Caleb Tan said proudly, as he led me to where the action was taking place. Tan coordinates the halfway house's annual pineapple tarts project – managing its timeline, processes and even the procurement of the ingredients.
"I really enjoy making pineapple tarts. Every time, I'm very excited. Wah, today finally start already. Even though it is busy, I really love it!" chimed the former chef on January 5, as The Hiding Place (THP) began its first day of Chinese New Year baking.
Looking at Tan, 45, one would never have guessed what he was like nine years ago.
On the way to 50 Jalan Lekar, where THP is located, he shared with me his sordid past. Tan was once not only a drug addict but also a trafficker. To fuel his addiction, he resorted to cheating family, friends and neighbours. He was in and out of prisons for most of his adult life.
"I think the real recipe is love. Twenty years on, we are still doing the same thing." 
But an encounter with God while he was on the run in the Philippines turned his life around. A series of God-orchestrated events led him back to Singapore and, eventually, to THP upon his release from prison.
It was here that the hardened criminal experienced the life-changing power of the Gospel under the watchful care of Pastor Philip Chan and his wife, Christina, who founded THP.
As we approached one of the buildings, Tan introduced me to Sart S, who oversees discipline in the home, and Sart led me to the packing room to sample one of the pineapple tarts.
"We never put in any extra things," he beamed proudly. 
Taste and see
The pastry was fragrant, rich and crumbly. The pineapple jam was well caramelised, with just the right amount of sweetness and chew. The combination was a clear winner with me, and I understood instantly how THP manages to sell 6,000 bottles of tarts during the Chinese New Year period.
"I don't want to say there's a secret recipe or not lah! I think the real recipe is love," Sart, 64, offered. "A lot of love has been put into this. Twenty years on, we are still doing the same thing." 
To produce 150,000 tarts, they require about 12,000 kilogrammes of fresh pineapples to be skinned, grated and cooked, 3,000 sticks of SCS butter and 2,500 kilogrammes of flour.
In all, it's a mammoth task for the 16 residents and a dozen staff. But the load has been lightened by volunteers.
Business owner Quek Wey Lon, who has been volunteering for the last five years, brought his cell group from Adam Road Presbyterian Church to help for the first time on January 5.
"Sometimes we think we are helping them by making pineapple tarts, right? Actually, it's the other way around."
"For me, it's a humbling experience. Sometimes we think we are helping them by making pineapple tarts, right? Actually, it's the other way around," said Quek, 53, whose faith has been strengthened by the transformation in the residents' lives. He hopes the experience of witnessing the power of God to make all things new (2 Corinthians 5:17) will do the same for his cell group members.
Moored to victory
The idea of baking pineapple tarts for sale was first mooted by Pastor Philip. After he received a bottle from a church member, he asked if she would teach the residents in the home and she readily agreed.
In the early days, before THP used a machine to cook the pineapple jam, they did so by hand over a makeshift stove, using a boat oar to stir the mixture. It was no easy feat: The jam would get increasingly sticky as the fruit sugars caramelised.
"It was a nightmare! A lot of sweat and tears, real tears," said Sart, chuckling at the memory. "But a lot of love still goes into the pineapple tarts."
More than a means to raise funds, the enterprise is an endeavour to help the boys build character and learn what it means to work as a team.
"When we see people take the first bite and say, 'Wah, shiok leh!' immediately what comes to our mind is the people behind this," Sart revealed. Every one – from the resident in charge of cleanliness, to the one preparing the pastry, to the volunteers – plays a very important role.
Sharing how the residents have matured, he smiled broadly: "Now, if they notice a fellow resident's area isn't ready, they'll alert them and sometimes, even step in to help one another (Galatians 6:2), or they find a better way of doing things.
"As a staff, though these are little things, it is a big deal to me as it shows that they are maturing. We always tell the boys: 'You must always thank God for one another.' (1 Thessalonians 5:18) That's how we build up our strength."
Baking pineapple tarts also teaches the residents how to handle stress, noted Tan, and would help put them in good stead when they return to society and find jobs. Left to themselves, most would prefer to run away at the first hint of pressure or problems. 
This is home
Nine years on, Tan – who has no surviving blood relations – calls his THP friends, family; and the Chans, his spiritual parents, even addressing Christina as "Mother".
Pastor Philip's principle has always been: "Everyone I will take in, everyone is just like my son.
"Being in this ministry and running the home, we are like parents to them." 
He, too, struggled with drug addiction in the 1970s. But, as with Tan and Sart, God set him free from the bondage. This propelled him to dedicate his life to the ministry, which was founded by his wife in 1973.
The unconditional love that the Chans model is contagious, evidenced by how the residents and staff interact with one another in the home. For Tan, it was here that he found what he had been yearning for his whole life: Love and acceptance.
"Here, it is so freely given to me. (When I first arrived) I asked Pastor Philip and 'Mother', why they treat me like that? I don't have any blood ties with them but they treat me like a son.
"He said: 'Go and read more of the word of God. You've been trying a lot of ways to change, but none of them can make it. Why don't you give Jesus a chance? See whether God can change you or not.'"
Their love for him so moved him, and after experiencing freedom in Christ (Galatians 5:1), Tan chose to be baptised on November 28, 2010, just two months after moving into THP.
Not only was his life transformed at THP, he also met the love of his life, Grace, now 46, when she volunteered to make pineapple tarts in 2014.
"Now I have Jesus. He gave me back everything: I have a spiritual father and mother, I have family members in The Hiding Place, I even have a wife."
Keen to support The Hiding Place?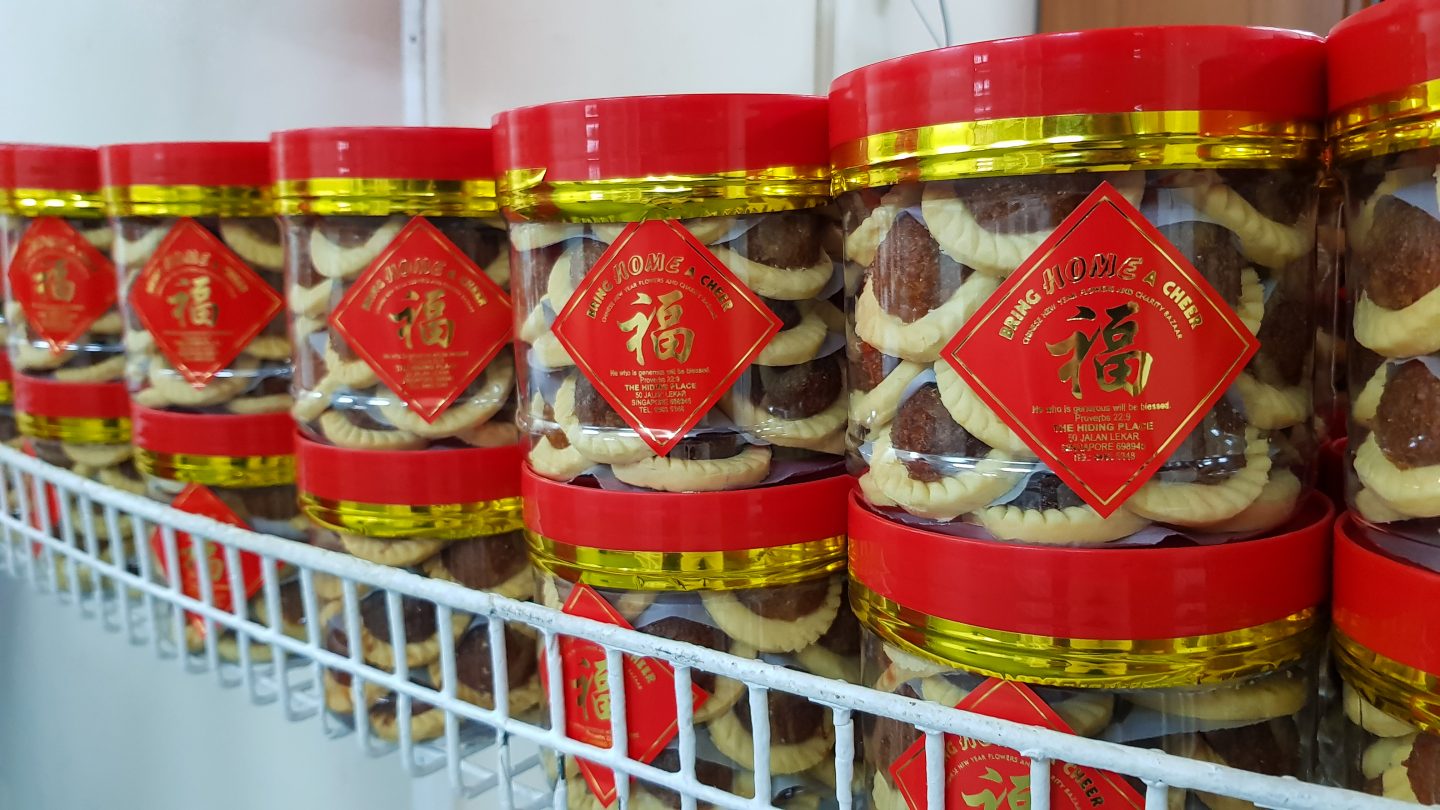 A bottle of pineapple tarts (25 pieces per bottle) retails for $23.80. THP also sells other home-made cookies, such as sugee, pistachio and almond biscuits. Click here for the full list and information on how to order. Limited quantities available. Orders close January 29, 2019.
If you are interested to volunteer, whether to tutor the residents, conduct Bible studies or bake pineapple tarts, email THP at [email protected] or call them on 6483 5348.
If you have enjoyed reading Salt&Light...
We are an independent, non-profit organisation that relies on the generosity of our readers, such as yourself, to continue serving the kingdom. Every dollar donated goes directly back into our editorial coverage.
Would you consider partnering with us in our kingdom work by supporting us financially, either as a one-off donation, or a recurring pledge?
Support Salt&Light