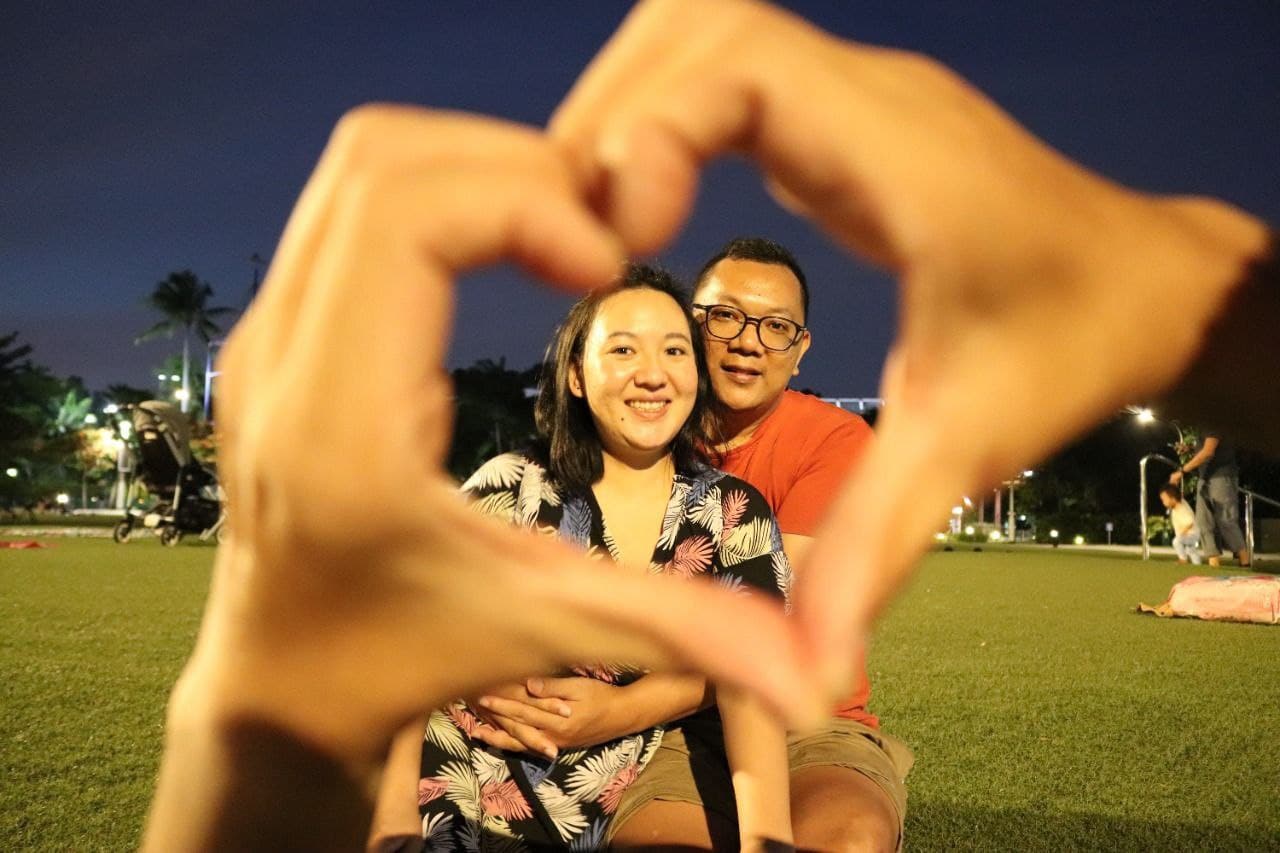 She hailed from wintry Shangri-La in Yunnan. He came from sweltering Medan in Indonesia. Neither spoke the other's language. Yet God would divinely orchestrate a love story between these two missionaries who sought to glorify Him. All photos courtesy of Larry and Eeleen.
They could not have come from more different worlds.  
Eeleen, 32, hails from a minority tribe in the city of Shangri-La in Yunnan, China. During the bitter winter, temperatures in her hometown can plunge to -10 degrees celsius. Eeleen has lived there with her parents and brother most of her life.  
Larry, 40, was born in Sidikalang, a town in North Sumatra, Indonesia, near Lake Toba. The weather there is warm and humid but Larry is not often around to experience it. For the last 15 years, Larry, who has lost both his parents, has been travelling to different parts of Indonesia doing mission work.  
Yet both of them had at least two things in common.  
First, both loved God deeply and sought to serve him faithfully. It was a love borne out of, or in spite of, the unusually difficult circumstances of their lives.  
In 2011, Eeleen became one of the first few, possibly even the first, Christian among the 100,000 residents in her hometown, after a Singaporean missionary shared the Gospel with her. Though there was no fellow believer there that she could talk to or learn from about her newfound faith, she would go on to do God's work, including becoming a missionary, in Africa.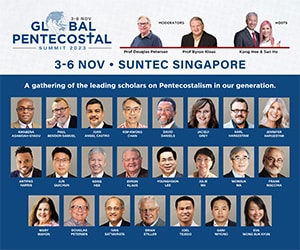 Their love of God was borne out of, or in spite of, the unusually difficult circumstances of their lives.  
Larry found himself alone when he was three years old. His father left the family and his mother died shortly after from a blood disorder. Despite feeling abandoned and lonely for most of his life, he encountered God in a youth camp in 2001. Since then, he has been doing ministry work on different islands in Indonesia.  
Second, they were both feeling the pressure of being single. 
In the minority tribe from which Eeleen hails, young ladies get married as early as 18 years old. The age of 25 is considered late for marriage. In 2018 when Eeleen returned from Africa where she was an interpreter for a mission team there, she was already 28 years old. Her family members set up blind dates for her and pressured her to go for them.  
In the meantime, Larry was feeling burnt out after serving in the mission field for 15 years. He also felt intensely lonely having been largely on his own from his childhood days when he was orphaned all the way to his years as a travelling missionary.
Said Larry: "I had reached a point where I was so discouraged that I pitied myself. I was almost in my late 30s, with no money, and not successful in the eyes of the world. I wanted a partner to serve the Lord alongside me but which girl would want me?"    
God saw the needs and heard the heartfelt cries of these two missionaries, who could have led completely disparate lives, and worked His magic between them in another part of the world – right here in Singapore. 
"Sell all and go" 
One night in 2016, Larry found himself tossing and turning in bed, mulling over whether or not to go to Singapore to join the Youth With A Mission (YWAM) School of Frontier Missions programme.  
He was feeling burnt out from 15 years of mission work in Indonesia. When his friend recommended the YWAM programme, his heart leapt. Yet there were many obstacles in the way: He had no money to go, his command of English was extremely poor and he did not know anyone in Singapore.  
As Larry lay sleeplessly in bed that night, he heard God whisper to him: "Son, what do you have?"  
"I have nothing," was his immediate thought. The Lord's question came back again.  
He looked around his home and listed it out for God: "I have a small motorcycle repair shop, a TV, a bed and a fan."  
"Sell all and go," came the reply.  
Larry struggled with the instruction because, if he did so, he would have nothing to his name when he returned.  
Yet when morning came, Larry remembered how Abraham in the Bible had surrendered even his own son to obey God and Larry decided to comply. He sold off all he possessed to friends and neighbours. Together with a donation that God sent his way, he found he had enough to cover his voyage to Singapore. 
Two pictures
As part of his year-long course, Larry attended a silent retreat at Montfort Centre. He was glad for the rest, given his burnt-out state. He was also feeling immense loneliness and sought out the spiritual director to pray for a life partner for him.  
As he waited on the Lord in the pavilion in the garden, he boldly asked God to show him who his future wife would be. It was then that he received a vision of two boys sitting on a bench and the map of China.  
"I felt hope but didn't really understand it. Was God saying He would take me to China for mission work? But that was not what I was asking Him. I also did not have any Chinese friends," he noted. Though he did not understand its meaning, he drew the two pictures he received from God in his journal.  
Later that year, he left for Malaysia to work amongst the Orang Asli people as part of his School of Frontier Missions internship programme. 
The following year, he received a Facebook friend request from a woman called Eeleen. It turned out that while Eeleen was on a short-term mission trip to Uganda, Africa, she had browsed through Facebook and added Larry as a friend when she saw that they had many mutual friends who were missionaries. She felt very encouraged when she saw a picture of him worshipping God with his guitar in Malaysia.  
"I didn't know whether he was single or married then as that did not cross my mind. I don't usually add people I don't know but when I saw his picture, I felt he was a man of peace," said Eeleen, who also noticed that he was active in mission work and that they seemed to have similar values and calling.  
For Larry, he was surprised to see Eeleen's profile picture with an African child, and later surmised that she might be a missionary. He accepted her friend request but they did not chat much then. She was just another Facebook friend, Larry assumed.  
In 2018, Eeleen returned home after spending a year in Africa. Her family was getting anxious about her marriage prospects as she was already 28 years old. In China, any unmarried woman above the age of 27 is commonly referred to as sheng nu, or leftover woman. Her cousin and friend volunteered to accompany her on a blind date that was set up with three men who had been screened for wealth, status or power.  
The blind date
"I knew I shouldn't have gone as the Lord had already told me that He would prepare a partner for me and the men were not Christians. Yet I bowed to the pressure and went anyway," Eeleen said.  
That night after she came home, her heart felt heavy laden with guilt. She felt a strong conviction from the Holy Spirit and repented.  
"God, I am sorry that I did not trust You and went for the blind date. I surrender this area of my life to You and will not go on any more blind dates. I will trust you. I ask for a partner who has a heart to serve You, whether as a missionary or a pastor," she prayed.  
At that time, she had found a job as a training manager at the Shangri-La Hotel in her hometown. She busied herself with learning the ropes in the new job.  
That year, Larry was asked to return as staff to help run YWAM's Discipleship Training School and School of Frontier Missions programmes in Singapore.  
During that time, a colleague casually asked him how long it had been since he had seen his relatives in Indonesia.  
Eight years, he replied. As a missionary, he did not have the savings to return home to visit them.  
Immediately, the colleague decided to sponsor Larry's trip back home. Soon he was flying home with gifts for his aunts.  
"I will provide for you"
During his flight home, Larry heard the Holy Spirit whisper: "I will provide for you." He knew in his heart that the Lord was referring to a life partner.  
He also heard a voice telling him: "Visit your mother's grave and I will provide for you."  
"I didn't really believe the voice because it sounded like a pagan practice of needing to visit the grave," said Larry.  
Two days before returning to Singapore, he decided to visit his mother's grave since he did not know when he would be able to return to Indonesia again.  
At the grave he prayed: "Even though my mother's life on earth was short, I am thankful for her. Through her life, I was born to serve You."  
After he returned from his mother's grave, he was surprised to find that four of his maternal aunts had prepared a traditional meal specially for him. He was taken aback as, in his Batak tradition, such a meal is usually prepared for elders in the family, such as to honour the older generation and ask for their forgiveness before they die. On other occasions, such a meal is prepared to present urgent wishes to God or confer special blessings upon a person.  
His aunties sat in a circle on the floor, with him in the middle. The feast laid out in front of him included a full pig and chicken, with all their parts nicely arranged for an official ceremony. Each of the aunties, who are believers, took turns to stretch out their hands and bless Larry, saying he would be married before the next time he returned home. 
"I was very touched that they would do this for me and didn't understand the many things that were happening since I boarded the flight to Indonesia," said Larry.  
From phone calls to video calls
When he touched down in Singapore, the first person who contacted him was Eeleen.  
It turned out that one week after Eeleen repented before God and promised Him that she would not go on any more blind dates, her hotel sent her to Chengdu for a training workshop. Every day after training ended, she found herself with some free time to scroll through social media and that was when she saw the picture that Larry had posted of visiting his mother's grave. After more than one year since they had first chatted briefly online, she messaged him on Facebook again.  
"Finally I have a believer friend to talk to about life and about God." 
"I wasn't very excited because I thought she mainly spoke Mandarin and I didn't want to spend much time online. But the Holy Spirit reminded me about His promise of a provision of a life partner and after witnessing the many signs that were from Him, I started to be more open towards her," said Larry.  
However, his command of English was so rudimentary at that time that he had to enlist the help of a Korean-American classmate from YWAM to help him craft his messages to Eeleen.  
After texting to and fro, the pair decided to migrate to audio calls to chat. The first time they called each other, they talked for three hours.  
"I thought her English would be bad but actually it was better than mine," said Larry sheepishly. 
Then, they shifted to video calls. The first time they saw each other live online, they stayed on the call for four hours.  
"We shared our life stories, our past, our different cultures and our prayer requests. It was such a big thing for me because finally I have a believer friend to talk to about life and about God," said Eeleen.  
It was a scene reminiscent of young love the first time Larry finally met Eeleen in person.
That was also when Larry found more common ground and common friends between them and felt more assured about the friendship with Eeleen. 
Soon, they found themselves chatting with each other every day, sharing deeply with one another.  
On August 8, 2018, both of them committed to seriously exploring a relationship with each other, even though they still could not meet in person. 
Two months later, Larry went to Thailand for a YWAM conference and met Eeleen's ex-bosses there. Their suggestion was for Larry to go to China to meet Eeleen in person to get to know her and her parents better. 
The plan was for Larry to fly over to China and for both of them to serve the Lord together on a mission platform so that they could observe each other and get to know each other better in community, while staying accountable to their ministry leaders.  
Finally face to face
It was one year later in 2019 when Larry finally had the opportunity to go to China. His leaders decided to release him for two months as he worked on the mission platform while getting acquainted with Eeleen.  
It was a scene reminiscent of young love the first time Larry finally met Eeleen in person. Her teammates teased her as one of them pulled a shy Eeleen to meet Larry. Though Eeleen was nervous, Larry did not seem to have any jitters. Visibly amused, he introduced himself and carried himself confidently.  
During those two months, each saw how the other loved the Lord and was committed to a life of missions. Their values and hearts aligned.  
Two days before he was due to return to Singapore, Larry travelled nine hours by bus to visit Eeleen's parents in their hometown. Apart from honouring her parents by paying them a visit, Larry also took the opportunity to share the Gospel with them at Eeleen's request. Over the years, she had been sharing with them about her faith but they were not ready to convert to Christianity. 
Understandably, her parents also had reservations about her mostly long-distance relationship with Larry.  
During those two months, each saw how the other loved the Lord and was committed to a life of missions.
"Marrying a mute from our village might be better, at least he knows our customs and our language!" her mother once remarked to her in Mandarin.  
Yet in the two days that he stayed with them, her parents saw how serious he was about their daughter. He also shared the Gospel with them in a simple way using white, black and red bowls on the table. White represented the perfect state of the world and black represented sin that disrupted God's relationship with mankind.
When he explained about the red bowl symbolising Jesus' sacrifice on the Cross, her mother seemed to understand. In their culture, they would offer pig's blood to the mountain and also spread it across their doorposts.  
Baptism on a winter's night
Her mother decided to accept Christ that cold, wintry night of -10 degrees celsius, and Larry baptised her at 10pm in a bathtub in the house.  
"It was so cold that we had to boil water many times for two hours to be able to baptise mum. But we were so happy," said Eeleen.
Before Larry returned to Singapore, her parents told them they approved of the marriage and urged them not to delay it. 
Eeleen's family became the first Christian family in their entire minority tribe. 
The following year in 2020, Larry planned to go to China to ask for Eeleen's hand in marriage. He had bought the air tickets and visa but his plans were disrupted due to the Covid-19 outbreak. 
Feeling disappointed and lost, the young couple devoted themselves to praying together remotely. When the church went online due to the Covid pandemic, Eeleen also started to join the Zoom fellowship of Larry's church in Singapore. 
The church in Singapore supported her as she discipled her mother, since they were among only a handful of Christians in their hometown. Eeleen also found a job so as to save up some money to head to Singapore when borders opened.  
Seeing his wife transformed after accepting Christ, Eeleen's father also invited Jesus into his heart in February 2021. Larry and his church group in Singapore guided Eeleen via Zoom to conduct a baptism for her father back at home.
That was how Eeleen's family became the first Christian family in their entire minority tribe. 
Reunited in Singapore 
The following month, Larry returned as staff at YWAM's School of Frontier Missions. 
Eeleen felt a sense of home and security when she was with Larry.  
Eeleen also applied for a visa to join the YWAM school, and Larry, in Singapore. It would be the first time she had the chance to attend a Bible and mission school programme, and her time here allowed the young couple to get to know each other more and seek the Lord about their relationship.  
In July, Eeleen finally arrived in Singapore, bidding farewell to her family and her home, full of anticipation for a brand-new life ahead with Larry. She was filled with peace as she left with the blessings of her parents and the knowledge that her parents had received salvation.  
As they spent time together daily at the school, Larry saw that Eeleen was truly a godly woman and that they could work together as partners. Eeleen felt a sense of home and security when she was with Larry.  
Of course, there were also moments of friction between them.  
Quarrels arose due to differences in language, culture and personalities.  
The differences in language were smoothed over as they relied on Google Translate to bridge the gap. Their command of English has been improving.  
The more frustrating aspects in relating to each other mostly had to do with culture and upbringing.  
"In my culture, we speak loudly. Since young, my parents have been using 'big voice' to speak to each other yet I know it doesn't mean they are quarrelling. But Larry finds that I speak too loudly," said Eeleen.  
They experienced miracle after miracle.  
On her end, she finds that Larry is too "jungle", with mannerisms unlike "city people".  
Apart from eating with his hands, he also eats much faster than she does. She prefers conversing over a slower meal.  
When asked how they resolved such differences, Eeleen laughed and blurted out: "I just tell him I would make mala hotpot for dinner tonight and he can use his hands to eat it if he wishes. He loves Chinese food." 
In August last year, God answered their prayers and arranged for them to receive regular pre-marital counselling by a Singaporean couple whom Eeleen got to know in 2013. 
A month after the School of Frontier Missions programme ended in December, Larry proposed to Eeleen at a beach in Sentosa.
Without much savings, both of them had planned to wed in a simple solemnisation at the Registry of Marriages in February.  
But as they started planning it and praying about their financial challenges, they experienced miracle after miracle. 
The Singaporean couple who counselled them had a cell member who worked at the Metropolitan YMCA. The cell member offered them a hugely discounted wedding package of $4,000 to hold a reception for 50 people at its premises at Stevens Road.  
As they started planning the wedding and praying about their financial challenges, they experienced miracle after miracle.
The couple tabulated the costs and confided in their classmate from YWAM that they would roughly need $5,000 to cover most of the expenses if they were to go ahead with having a reception. Subsequently, a supporter of that classmate gave her a donation of exactly $5,000 (without having prior knowledge of Larry and Eeleen's situation) and asked if she or any others whom she knew needed that amount. Their classmate knew the money was meant for the couple.  
Their classmate also blessed them with a simple wedding package that included a gown and suit rental, as well as photography and makeup, so the couple was all set for their big day.  
Beyond provision of the material aspects for the wedding, Eeleen is most grateful to God for sending their way the Singaporean couple to offer them pre-marital counselling before they said their marital vows.  
This was crucial, said Eeleen, because she needed inner healing from the hurts sustained in her previous years of doing ministry work. She did not want to bring such baggage into her marriage. 
It was also important to the couple to share their testimonies at their wedding. When their classmate shared this with another friend, the friend offered to film the couple's video testimony if Larry was from Medan, Indonesia. The place was close to his heart as his good friend was from Medan.  
The couple's classmate had no idea if Larry was from Medan, but proceeded to relay the message. Indeed, it turned out that he was. It was yet another incident where God used complete strangers to bless the couple.  
On February 26 this year, the couple wed in a beautiful hall at Metropolitan YMCA, in the presence of God and many friends from church and the YWAM community.  
Whether from nerves or otherwise, Larry missed the cue to kiss the bride and had to be prompted a second time, to cheering and laughter from the audience.  
Later on, the couple would also learn that their pastor had paid for the wedding reception, so they could use the money that they had in hand for their living expenses and school fees.  
"I see that He did not forget me or my work. He was not too busy to answer my prayers." 
"Many people back in my hometown don't even have a passport because few travel overseas. Here I am, being able to get married in Singapore. It feels like a daydream," said Eeleen.  
Their next steps, from what they have discerned from the Lord, is to head to East Kalimantan, Indonesia, for ministry and mission work in June. They hope to rent a house there and start a small house church in it, doing Bible study and other forms of ministry through music, sports, cooking or dance to reach out to the young people there.  
To that end, Larry has been taking a short course in music production at LASALLE College of the Arts. Eeleen has also been learning the keyboard and will soon take up language studies in Bahasa Indonesia.
 Through their adventures together in the last few years, the two missionaries have experienced God in fresh new ways.  
"He was not too busy to answer my prayers. In His timing, he returned me with abundant blessings beyond my imaginings."
"In the past, I did believe that God is real but did not deeply experience Him as my Provider. It has been a faith journey from the very start, being the first in my tribe and hometown to come to Christ, then coming over to Singapore knowing no one except Larry," said Eeleen.  
"But seeing our answered prayers and miracles of finding each other, getting married and surviving financially here despite us not being able to work, we know we can trust Him with our future and so much more," she added.  
For Larry, their divinely-crafted love story has showed him that God has not forgotten him. 
"All these years I have been serving Him, yet I thought I was ending up tired, poor, lonely and such a failure. Now that some of the puzzle pieces have come together, I see that He did not forget me or my work," he said. 
"He was not too busy to answer my prayers. In His timing, he returned me with abundant blessings beyond my imaginings."
To find out more or support their ministry work, reach them at [email protected] or [email protected]  
---
IF YOU LIKED THIS, READ:
"We fought so many times, we thought we would break up": But God was the third cord that held their love story together
If you have enjoyed reading Salt&Light...
We are an independent, non-profit organisation that relies on the generosity of our readers, such as yourself, to continue serving the kingdom. Every dollar donated goes directly back into our editorial coverage.
Would you consider partnering with us in our kingdom work by supporting us financially, either as a one-off donation, or a recurring pledge?
Support Salt&Light