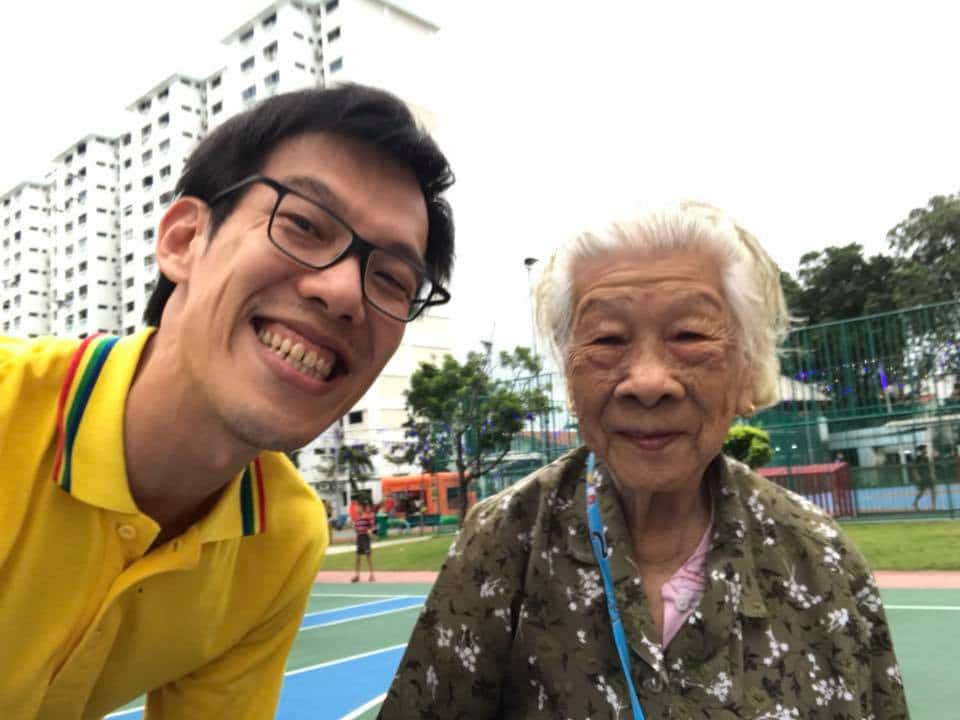 Isaiah hanging out with an auntie at a community mental health event.
There was a time when Isaiah Chng, 38, found himself having to say the Sinner's Prayer in dialect with an elderly woman in her 70s.
Earlier, he had shared with her about his faith and, after some time, she had indicated that she wanted to receive Christ.
"It was quite funny," said Isaiah, when recalling the encounter. "I said zham di ki for the cross in Hokkien. But she laughed out loud as that meant a gambling game common amongst seniors. I should have said zham zi ke when referring to the cross!" 
This was one of the many times Isaiah had shared the Gospel with dialect-speaking elderly in his interactions with them over the years.
Isaiah has been working with the elderly and on eldercare-related matters for the past 15 years. He is the founder of social enterprise ProAge, which helps people age well, and charity Empower Ageing, that seeks to improve the quality of life of the elderly. Data from the Singapore Department of Statistics show that in 2015, only 18.3% of people aged 55 and above are Christians, leaving more than 80% of them untouched by Christ.
Revival among the seniors
Isaiah believes that if Singaporeans want to be blessed by seeing a revival in the nation, then it's necessary to obey God by restoring dignity among the country's forerunners.
"The Father will not just raise up Jacobs and Isaacs and leave out the Abrahams, said Isaiah.
He has also walked the talk beyond sharing the Gospel with them.
"The Father will not just raise up Jacobs and Isaacs and leave out the Abrahams, said Isaiah."
In 2018, ProAge employed Uncle Kim, whom Isaiah had met in a rental flat in 2010. Uncle Kim, 79, only speaks Hokkien and was unemployed for a few years after a backache forced him to quit his job as a road sweeper.
It was not a natural choice for the ProAge team – they do not speak Hokkien fluently. But Isaiah challenged the team to give Uncle Kim opportunities to thrive. Uncle Kim started off as a part-timer and is now working full-time with ProAge as an operations assistant.
"I visit him during Chinese New Year with my family and he and his wife have become our family friends," said Isaiah.
"What do you think will happen when he is afraid, when he needs help beyond what this world can give, or when he comes to the end of his life? I'm not sure, but I'm sure I will be there sharing the Gospel for the last time."
Salt&Light has a Q&A session with Isaiah Chng to get some tips on getting started in sharing the Gospel with the dialect-speaking elderly.
Q: Why is it important to share Christ with the dialect-speaking elderly?
A: They are a unique group who are quite isolated in some sense, due to age and language, in a predominantly English-speaking country. You'll be surprised that some have never heard of the Gospel of the Kingdom before. They've heard of Jesus, but really what does it mean to them?
Q: Is it very difficult to share Christ with them? How and where do I start?
A: You can start by telling yourself that you don't need to be fluent in dialect to share or minister to them. Focus on just meeting their practical needs and praying that they will encounter His love. I remember the times when I would ask the aunties to teach me dialect and they obliged. We spoke like "a chicken and a duck" but it was through such moments that relationships were built.
Q: How do I talk about God to those who have the impression that Christianity is a Western religion?
A: Share with them the love of God through deeds and by honouring them, not through words or by trying to get them to understand the Gospel. You need to build that relationship and only that would give you the right to share the Gospel.
Ask yourself what makes you different from a charity worker, grassroots leader or community volunteer who also visits and does good for them.
I don't think the stumbling block is "Western" religion. If we build a relationship with them, they will understand that they can build a relationship with Father God or Jesus.
In fact, Christianity is Asian! Israel is part of Asia. Jesus didn't have blonde hair. I don't know what He looks like except He must have looked very much like a person with Jewish descent today.
We don't worship His image. We worship Him for who He is.
To the dialect-speaking demographic, worship can mean something very different from what we think. 
They think they need to serve a god through deeds to receive benefit. They are driven by fear that something bad may happen. But our God wants to have a relationship with us and He looks at the heart.
Q: What are some of the useful tips to note when I am sharing Christ with the dialect-speaking elderly?
A: Love them. Honour them. Build a genuine relationship with them. Don't do one-off visits. Ask yourself what makes you different from a charity worker, grassroots leader or community volunteer who also visits and does good for them.
Don't adopt a "saviour" mindset. I've often walked away receiving so much more than I've given.
Listen, nod your head, and reflect back what they've said.
If you've built the relationship and you are talking to them respectfully, there is nothing to avoid or be worried about. The Gospel is what it is – the Kingdom of God is here! Jesus made a way for us. Repent and believe.
What I didn't do was to try to share the Gospel all the time and pressure them. We are not doing apologetics … and they don't need us to convince them to believe nor be a barometer of our evangelistic success.
For those who have received Christ, I try to connect them with a believer community or local community church. In subsequent visits, I make mention about the Bible and share the Word with them.
Q: What if they ask: "I have worked hard my entire life and depended on my own efforts to get by. Why do I need your God?"
A: It is true you haven't need God thus far but all men have limitations.
This is where we share our own testimonies. Facts and knowledge are not useful. I share that I was once like that too. Young, with vigour and I didn't need God. So was my dad. He believed in every god and was self-reliant. Then I share how our lives turned towards God.
Q: What if they ask: "Maybe I will think about this God later on when I am on my deathbed. I don't have to decide now."
A: No one has told me this explicitly. They may just delay and not believe. The question is why they delay.
You could ask to understand but do leave it to them to decide. It has to be them making the decision, not us trying to "clock" salvations. We share, pray for them and continue to love.
Q: What if we do not speak any dialects?
A: Love and honour them, meet their practical needs and ask them to teach you dialect! Listen, nod your head, and reflect back what they've said.
After so many years of interactions with them, I now understand 70% of what is being said, compared to 20% when I first started. The good news is that approximately 80% of human communication is non-verbal. Being present already helps, especially to seniors who feel alone.
---
IF YOU LIKED THIS, READ: 
Plug in to your elderly folk: You may be the livestream they need
They go the extra mile to make sure the elderly are not left behind in the pandemic
If you have enjoyed reading Salt&Light...
We are an independent, non-profit organisation that relies on the generosity of our readers, such as yourself, to continue serving the kingdom. Every dollar donated goes directly back into our editorial coverage.
Would you consider partnering with us in our kingdom work by supporting us financially, either as a one-off donation, or a recurring pledge?
Support Salt&Light