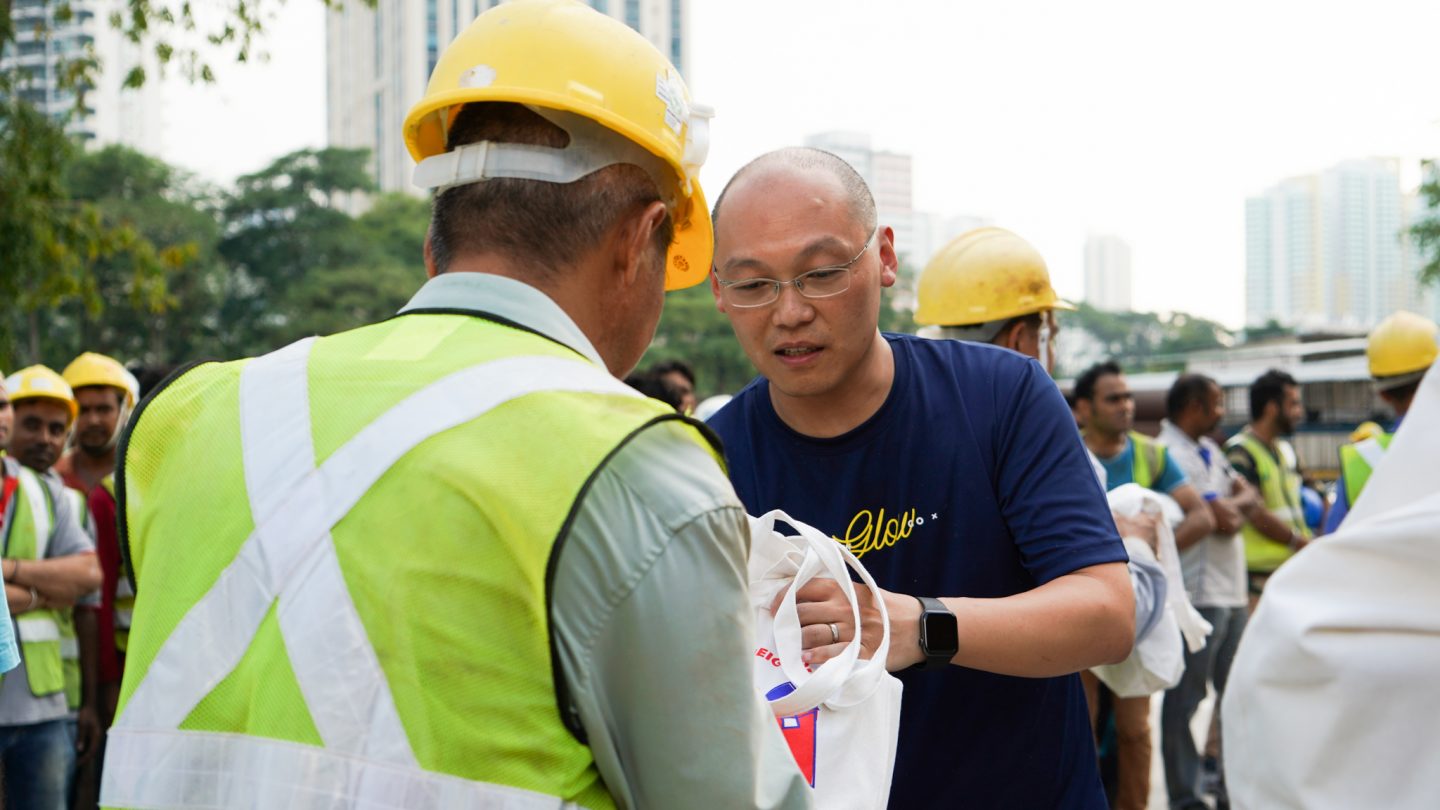 On March 11, Zion Full Gospel Church thanked 250 migrant workers for building the nation during these challenging times. All photos courtesy of Zion Full Gospel Church.
Today, The Straits Times reported that 20,000 migrant workers in two dormitories are being quarantined as 32 workers in the dormitories tested positive for the coronavirus yesterday (April 5).
This is in addition to the 39-year-old Bangladeshi worker who has been warded at the National Center for Infectious Diseases (NCID) since early February. His wife gave birth to a baby boy on March 30 but he does not know it yet as he is still sedated and in critical condition.
These cases which are an unfortunate consequence of COVID-19 have sparked fear and panic among the local community and foreign workers alike. 
There are approximately half a million foreign domestic workers (FWDs) and migrant (construction) workers holding work permits in Singapore, according to The Ministry of Manpower (in a report from June 2019). They come from places such as Myanmar, China, Bangladesh, India and the Philippines.
Many spend years in Singapore, far away from their loved ones and families to earn a living.  
Even though they are not citizens of the country, they each play an essential role in contributing to the economic development and functioning of our nation. They are often the unsung heroes of our society.
Love Others
1 John 4:8 reminds us that "God is love".
The church is called on to be an expression of God's love in the community. Within the church, believers are called to love one another. In the wider society, believers are called to love our neighbours, colleagues, friends and people whom God has connected us with to share His word, support and encouragement.
This includes migrant workers and FWDs in Singapore.
He is relentlessly faithful to those who love and call upon Him.
When self-preservation seems natural in times of fear and uncertainty, believers are called to love those around us, knowing we have His love and grace to exercise such kindness to others. This is easier said than done in reality.
So how do we find the strength to exercise such faith when we ourselves are fearful?
Paul writes to the church in Corinth, urging them not to lose heart and reveals the purpose of the temporary troubles:
Therefore we do not lose heart. Though outwardly, we are wasting away, yet inwardly we are being renewed day by day. For our light and momentary troubles are achieving for us an eternal glory that far outweighs them all. So we fix our eyes not on what is seen, but on what is unseen, since what is seen is temporary, but what is unseen is eternal. (2 Corinthians 4:16-18)
It is through moments of crisis that we find our sweetest moment of knowing that we can only depend on Christ and He is relentlessly faithful to those who love and call upon Him.
It is only when we go through the crises of our lives that we discover that Christ isn't just waiting at a destination, He has always been beside us, supporting us through our tribulations.
Do not lose heart; our trust is in the Lord, not on our circumstances.
Why do we have to go through these momentary troubles?
1. Troubles are meant to show the all-surpassing power of God (2 Corinthians 2:7)
Paul describes us believers in 2 Corinthians 2:7-9 as "Jars of Clay". We are moulded into shape, but not crushed during the process. We can be struck down but never destroyed. The jar withstands heat and bruising on the outside to demonstrate the "all-surpassing power of God".
No one can take the credit for being able to withstand the knocks and pains of life but God allows us to go through seasons of tribulations to correct us when we go the wrong way. The realisation of our spiritual helplessness increases our desire to know and seek God more and more.
The COVID-19 crisis is temporary, the word of God is everlasting.
2. Troubles are meant to reveal the life of Jesus in us (2 Corinthians 2:10)
These jars are meant to carry something – Jesus the overcomer of death, who now lives in us through the Holy Spirit.
The Holy Spirit not only gently guides us according to His will, He gives us the strength to overcome trials and tribulations. When we choose to live by faith in seasons of tribulations, our steadfast trust in the Lord prepares us to empathise and comfort others who are suffering.
3. Troubles are meant for the eternal glory of God (2 Corinthians 4:17)
The troubles that we are going through only last for a moment, but the glory of God lasts for all eternity.
Paul encourages his readers not to lose heart but to fix our eyes not on what is seen, but on what is unseen, since what is seen is temporary, but what is unseen is eternal.
The COVID-19 crisis is temporary, the word of God is everlasting. Seeing believers overcoming seasons of troubles shows others how He works in His people and the world for the greater good.
Appreciating Migrant Workers
As our nation battles with COVID-19, we remember that we have been supplied with the grace to love others and we do so for the glory of God.  
So, as believers, we continue to extend the expression of God's love onto others, especially to the forgotten and vulnerable in our society.
Showing sincere appreciation for migrant workers and FWDs sends an important message that there is someone who cares for them.
On March 11, volunteers from Zion Full Gospel Church (ZFGC) had the privilege of extending our appreciation to 250 migrant workers at the Great World City SMRT station construction site. 
ZFGC volunteers handed out care packs with antibacterial wipes, soap, Vitamin C, fresh oranges, oat drinks and an assortment of snacks, connecting personally with many of the workers and thanking them for their continuous contribution to our nation-building even under such challenging times.
We can only overcome this crisis when everyone in Singapore – residents, including short-term ones and visitors – take ownership of keeping Singapore clean and practise good social responsibility.
We are in this together, and only together can we overcome.
If you have enjoyed reading Salt&Light...
We are an independent, non-profit organisation that relies on the generosity of our readers, such as yourself, to continue serving the kingdom. Every dollar donated goes directly back into our editorial coverage.
Would you consider partnering with us in our kingdom work by supporting us financially, either as a one-off donation, or a recurring pledge?
Support Salt&Light