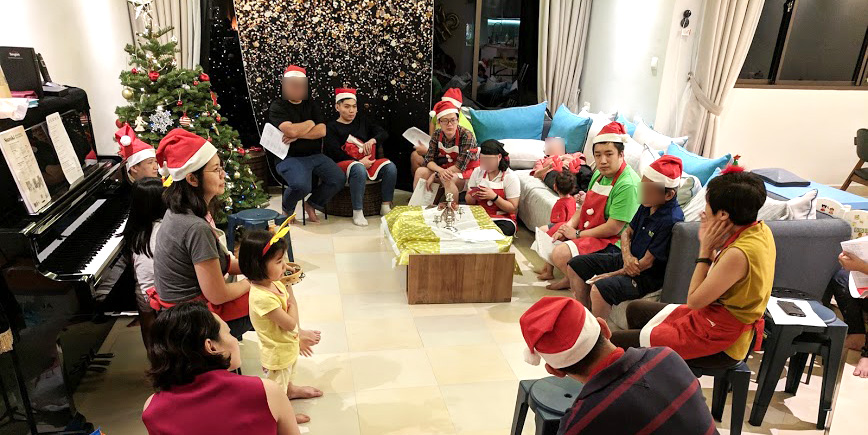 "Our lives should be God's tapestry of love," says this cell group from Saint John's-Saint Margaret's Church, who invited the homeless for their Christmas gathering last year. The faces of the homeless have been blurred to protect their identities. All photos courtesy of Reuben Lai.
Decked out in fun Santa hats and aprons, a group of about 20 people sit around the living room jovially belting out Jingle Bells, their tummies satisfied from the Christmas meal.
The piano offers up a bright tune, and the slightly off-beat chime of triangles and bells indicate that the children are well-engaged in the song.
"We wanted them to experience the Father's lavish love during this season."
By all accounts, it looks like a typical Christmas gathering with friends and family.
But this party was not a typical one for host Reuben Lai and his cell group members. The group, from Saint John's-Saint Margaret's Church, had invited seven homeless people to join in their Christmas celebrations last year.
"We wanted them to experience the Father's lavish love during this season, so we decided to invite them to a feast, modelled after the Bible's heavenly feast, where they would enjoy lavish food and the warmth of friendship," said Lai, 40, who heads Grab Financial Group.
Shelter and love
The idea was first planted two years ago when a few families from Lai's cell group participated in a Christmas outreach programme with Homeless Hearts of Singapore, a volunteer group that seeks to befriend the homeless.
As they distributed food, sang carols and listened to their stories, Lai's group was surprised to find out that many of them had been ostracised by their own family members.
"At the end of the day when we are all before God, we are completely the same."
"What struck me was this concept of loneliness despite living in a highly dense city like Singapore. Even though we're surrounded by so many people, there is a lack of social connection," he said.
Lai, whose only other encounter with the homeless then were with the ones he had seen on the streets of San Francisco, also realised that they were just "regular folks" like himself. 
"There's no difference between them and me, yet our situations are so different. It could be because of the families that they were born into, it could be the situations that they have encountered along the journey of life, but at the end of the day when we are all before God, we are completely the same.
"That gave me a profound sense of that I needed to use what I've been given to be a blessing to them, because I don't deserve any of these things. There's no reason why they shouldn't be like me, or I shouldn't be like them. Yet in this situation I am in the position to give, to bless, to enable them, and I should be doing so."
A heavenly feast
Armed with this conviction, Lai set off on a quest to find out how he could live it out in a practical way.
After some deliberation with his cell group, he decided that the best way to create an "environment of love" for the homeless would be to invite them into his home during the festive season.
"Given that it's Christmas Day, it's probably the peak of their loneliness knowing that everyone else is at gatherings with friends and family. Instead of lavishing ourselves with fatty foods and more presents, we thought why not just bring them all together and enjoy these things with them?"
He admitted that there were some initial apprehensions about inviting complete strangers into his home. 
"We didn't know what to expect. As a regular human being, you wonder, 'What are the backgrounds of these strangers? Who are they? Would this expose us to potential dangers or risks?'" said Lai, who is married with two young daughters.
"But we just took the step of faith and told God, 'You taught us to love and so we are just going to love. We trust You to protect us, protect our family, and we leave it all in your hands.'"
"You taught us to love and so we are just going to love."
On Christmas Day, as the cell group busied themselves with preparing the food and place, pastors from their church ferried the homeless people to Lai's apartment.
Initially, the hosts were nervous. "Would our guests feel awkward? What would we talk about?" they wondered.
But their worries were for naught.
Once the ice was broken, the living room brimmed with laughter and the chatter of easy conversations. As they dined over turkey, roast beef and popiah, their conversations flitted from computer games and favourite foods to deep hopes and fears.
Together, they sang carols and took Polaroid photos, played Bingo and bantered. 
Two cell group members also stepped forward to share their testimonies and what Christmas means to them.
By the end of the night, a few of their guests had opened up and shared their personal stories. Some agreed to be prayed for. 
Making room in the heart
Abraham Yeo, the 38-year-old founder of Homeless Hearts of Singapore, who was present at the gathering, told Salt&Light that he hopes more people can open up their hearts to the homeless, especially during festive seasons like Christmas and Chinese New Year.
"If we consider ourselves as disciples, we need to be more intentional about welcoming in those who are orphans and widows."
"The Bible reminds us to remember the poor. It says very clearly: Do not forget to welcome strangers, for by doing so some have welcomed angels without knowing it (Hebrews 13:2). If we consider ourselves as disciples, we need to be more intentional about welcoming in those who are orphans and widows."
Yeo also questioned the boundaries we often draw around our families and inner circles, keeping people out for the sake of "privacy".
"I think God's definition of family is far bigger and more magnificent," he said. Quoting Ephesians 3:14-15, he added: "If we really have knelt before the Father, then we will catch the heartbeat of what it really means to be family, because He is the Father from whom every family in heaven and on earth derives its name."
But some may wonder: Where do we find these people to invite into our homes?
Yeo's answer is simple: "If we do not know who these people are, it is because we have not gone out to them."
He encouraged us to be more observant of the needs of those in our neighbourhoods, and more importantly, in our very own churches.
"It's not about the money, it's always about the heart."
"One wise Bible teacher once shared this with me and it really opened my eyes. He said, 'Do you know who the poor people in your church are? If you don't know, then you've failed, no matter how much good work you do outside your church.' I thought that was so powerful."
At the end of the day, it's not about how much we have to share, but how willing we are to do so.
Yeo said: "Even if you don't have that much money, then why not go to the kopitiam (traditional coffee shop), sit together and lim kopi (Hokkien for "drink coffee")? It's not about the money, it's always about the heart. Once you make room in your heart, there will be a way to make space."
This year, Lai's cell group will be hosting yet another gathering with the homeless on Christmas Eve.
Lai said: "Deciding to do it again this year was a no-brainer because we received so much more love than we gave out. The laughter, conversations and shared moments were truly special. It gave us a glimpse of heaven on earth."
Serving together as a cell group has also allowed them to truly experience the meaning of Psalm 133, where King David proclaims: "How good and pleasant it is when God's people live together in unity!"
Fellow cell group member Vivien Teo said: "We all got along so well with no selfish agendas, just having a good time. It was like the fellowship of the ring in the Lord of the Rings, or should I say the fellowship of the King!"
Gifts for good: Local social enterprises to support this Christmas
"Loving the poor and needy shouldn't be seen as radical": More Christians open doors to homeless
If you have enjoyed reading Salt&Light...
We are an independent, non-profit organisation that relies on the generosity of our readers, such as yourself, to continue serving the kingdom. Every dollar donated goes directly back into our editorial coverage.
Would you consider partnering with us in our kingdom work by supporting us financially, either as a one-off donation, or a recurring pledge?
Support Salt&Light