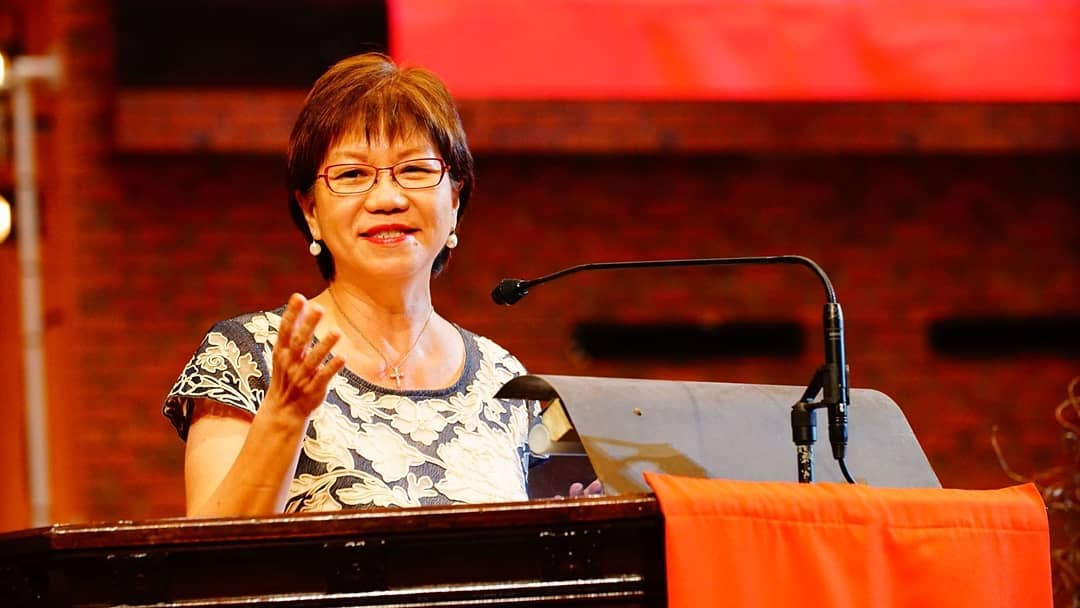 Disability advocate and parliamentarian Denise Phua on stage at Paya Lebar Methodist Church at the 2018 Aldersgate Singapore celebration. Photo by Paya Lebar Methodist Church.
"A working mother must be anchored to the right centre in order to juggle the various roles she has." Denise Phua speaks from life's experience.  
Phua, who was speaking at this year's Aldersgate Singapore celebration, shared how she balances her different jobs as a member of parliament (MP) and mayor of the Central Singapore District. She also sits on committees of several autism-focused charities including Pathlight School, on top of her responsibilities at home as wife and mother, raising two kids, including one special needs son. 
To be God-centred, Christian parents should study the Gospel and use Christ's life as an 'instruction manual'. 
During her sharing, Phua said that Christians must always put God at the centre of their lives. Otherwise, they might end up becoming centred on their careers, possessions, family or even their children instead. 
"Many families revolve their lives only around their children, just focusing on how well their children fare in the PSLE (Primary School Leaving Examinations) and other high stakes exams. They believe this is the key passport to a good quality life, to good jobs, to good education, to opportunities later on, and that is one very entrenched worldview." Phua concluded that this has caused much worry to themselves, their kids and spouses.
Study the Word
To be God-centred, Christian parents should study the Gospel and use Christ's life as an "instruction manual", she emphasised.
The parliamentarian said that when she and her husband face challenges, the couple would ask themselves, "What would Jesus do?" and read the Bible for an answer. For example, when they are feeling stressed, they would take reference from Matthew 6:25-34. And in all situations, she has discovered, Jesus often turned to prayer first (Mark 1:35, Luke 5:16, Matthew 14:23, Luke 22:41-44). 
Be intentional 
With multiple portfolios on her hands, the former corporate consultant said that she and her husband would prepare the upcoming year's schedule in advance every October so that they can plan to set aside time for their family as well.
It was from one of her conversations with her daughter that it dawned upon Phua that quality and not just quantity matters when it comes to spending time with her children.
She listed six things that her daughter says she appreciates:
Praying together in the morning before both of them leave for work
Coming home for family dinner before her Meet-the-people sessions
Talking to her children as if they were grown-ups
Involving her children in her work and volunteering efforts
Obeying God even when it is tiring
Seeking God when she has to make a decision.
Rest on God's sovereignty 
Ultimately, believers must recognise that God is always in control, Phua said. This truth has comforted her and kept her spirits high, even in her dry seasons. 
During her son's early years, she was striving to improve his condition, sending him to multiple therapists – "I insisted and I waited till they gave me a slot" – but he was never cured. 
Quality, not just quantity, matters when it comes to spending time with her children.
"I did all I could as a human being, relying very much on my own strength. But it didn't change anything."
It was another Aldersgate Sunday meeting, in October 2000, that transformed the way she looked at the issue. She had gone for a healing service, seeking for a miracle for her son.
But God had another plan.
Phua and her husband both fell under the power of the Holy Spirit when they went up for prayer. At that altar, her faith was reignited as she chose to surrender the issue to Him, knowing that the Almighty knew what was best for the family. 
If you have enjoyed reading Salt&Light...
We are an independent, non-profit organisation that relies on the generosity of our readers, such as yourself, to continue serving the kingdom. Every dollar donated goes directly back into our editorial coverage.
Would you consider partnering with us in our kingdom work by supporting us financially, either as a one-off donation, or a recurring pledge?
Support Salt&Light