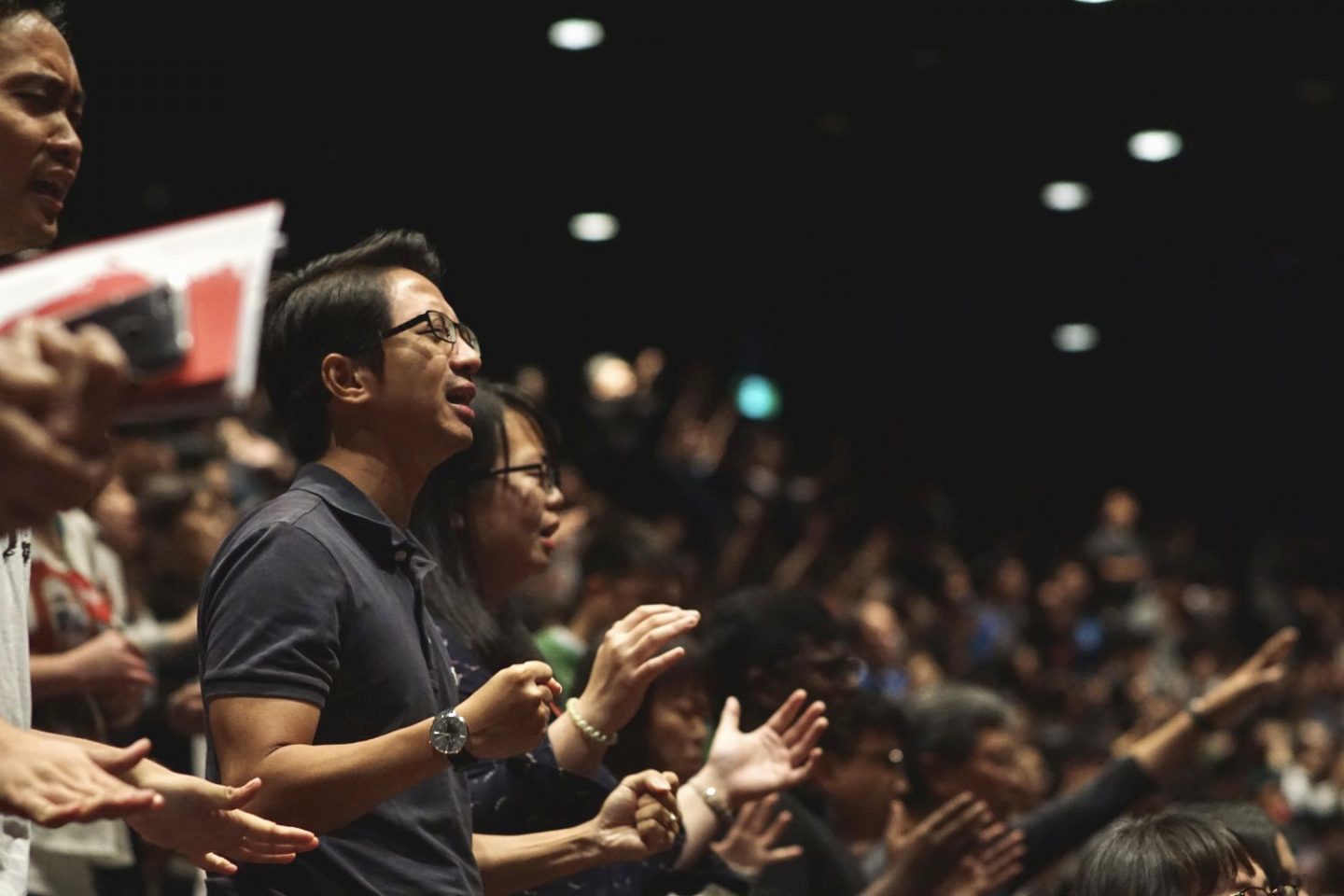 Contending for Singapore at Momentum 2018. Photo by LoveSingapore.
"How much of our prayer meetings revolve around the church's needs, and how much does it revolve around the vision and the Word?" probes Dr Suzette Hattingh.
"And we wonder why we don't see the breakthroughs we want to see yet!"
If revival comes to Singapore – when it comes – what are we going to do about it? Will we be ready?
Let it not be such that, "when God brings this bumper harvest that we've talked about, the local nets cannot hold it", Dr Suzette Hattingh said at Momentum 2018 on May 1.
She pleaded: "If you pray Singapore through into revival, let it be that we hold the nets, so that we don't lose it again!"
The possibility of "losing" it is real, she warned. Through her extensive study of revival history, she has found that many revivals were short-lived for the main reason that local churches were ill-prepared to follow through – not for want of people and programmes, but for the lack of focused prayer.
"The only way to keep the revival going is if the shepherds and gatekeepers pray together" – which means pastors ("shepherds") and marketplace believers ("gatekeepers") praying in unity for God's original call upon the nation to be fulfilled.
This would require church and city altars being restored first, and even before that, personal prayer altars and the family altar being established, so that a lifestyle of prayer can prevail and be woven right into the fabric of a nation.
Church and city altars are different, Dr Hattingh went on to explain to the 6,000-strong audience at The Star Vista theatre.
The church altar is where a church gathers its people to pray, whether in corporate prayer meetings or in small groups. The city altar is where churches from different denominations assemble to pray together towards one goal.
Restoring the church altar
There is an urgent need to restore the church altar despite the many weekly services and monthly meetings held separately everywhere, because most people do not know the vision of their churches well enough to be praying it into being.
"People respond to vision," the co-founder of Voice in the City explained. "That's why the Bible says in Habakkuk 2:2 to 'write the vision and engrave it plainly on tablets, so that the one who reads it will run.'
Do you know the vision of your church? Have you been praying for that?
Urging persistent prayer, she cited 1 Kings 18, when Elijah looked beyond the fire he had called down from heaven before the prophets of Baal. God's promise was rain to end the three-year nationwide drought, and Elijah did not waver from his pursuit of its fulfilment. He prayed seven times for rain until a cloud appeared – and even then, only the size of a man's hand.
There is a similar experience awaiting Singapore, whose vision is given by God to be fulfilled. Dr Hattingh called upon the church to continue in earnest prayer, as well as to pray the Word.
When the disciples were under attack (Acts 4:23-26), she said they "raised their voice to God with one accord" and cited Psalm 2 – a strategy modelled by Jesus Himself.
"Why do we have prophecy after prophecy? And what do we do with that? God has said clearly in His word in 1 Timothy 1:18 to wage a good warfare with the prophetic word spoken over you.
"Speak it out, declare it, release it, fight with it! It is time you pray it, because only that prophetic word cannot come back without fruit. Get your people into agreement and you will see your church grow faster than what you can handle."
Called to be priests and kings
"God has given us this responsibility – a two-fold calling to stand before Him and to move as priests and kings with the authority of God," said the 61-year-old prayer warrior, citing Revelation 5:10.
As in Joel 3:17, where the priests wept between the porch and the altar, believers are to move likewise between these two places, she added. It is what Zechariah, the father of John the Baptist, did: he served first in the altar area (Luke 1:8-21), and later spoke and prophesied at the porch (Luke 1:59-67).
She explained the altar is where we worship, humble our hearts and hear from God. Thereafter, it is our responsibility to go to the porch, to declare what God has said. This includes operating in signs, wonders and miracles, which she said are key to the church fulfilling its Great Commission.
"The Great Commission was never a suggestion; it was a command, a lifestyle."
"The Great Commission was never a suggestion; it was a command, a lifestyle. Just as prayer is a lifestyle.
"If we can get our churches and our church members to take personal responsibility and pray a Scripture over just two people or their neighbours and start praying for the land that way, we can prepare a land for revival."
No one is exempt, and there is no barrier that faith cannot break down. Dr Hattingh related a heart-warming tale of two grandmothers in their 80s who told her they are now evangelists after hearing her teach on the believer's two-fold calling. Though they are not adept at preaching, they bake very well.
They pray daily, and every Sunday, they bake, invite friends over and show videos of evangelists speaking. "While they sit there watching the videos, eating our cakes, they cry and give their lives to Jesus Christ," the octogenarians shared.
Restoring the city altar
Dr Hattingh also reserved a specific address to pastors, saying: "You are responsible for the spirit realm over your cities. Command and release what you want there, and bind and resist what you don't want there.
"And together with the marketplace believers and intercessors' support, close the gates to whoever comes to harm the city and open it for whoever comes to prosper the city."
When we come together in unity, God commands a blessing.
Sharing that this was how she made the preparations for the Reinhard Bonnke crusades, she revealed the strategy of teaching the local churches how to rebuild their personal prayer altar, family altar, church altar and city altar.
"The city altar is Psalm 133, where we come together and in unity, for there, God commands a blessing. It is that simple," she said.
Restoring it needs to be done systematically:
Divide the city, area by area;
Assign areas to the churches;
Gather pastors and believers to their assigned areas to close the spiritual gates and entrances to the city; and
Pray, anoint and declare God's word over the spiritual gates and entrances.
The gates and entrances to the city were places where the governments of old used to sit (Ruth 4:1, Job 29), and where righteousness entered a city (Psalm 118:19). These places were, and continue to be, covered by a promise from God: "I will make your officers" – whoever is in a high position – "peace, and your magistrates righteous." (Isaiah 60:17)
"If you can get your church and your people to start praying, not only the vision of the city, but pray the vision of your church, you actually build your church into a new dimension," she said.
"We see breakthroughs. Thousands upon thousands swept into the kingdom of God. That's how we win every city."