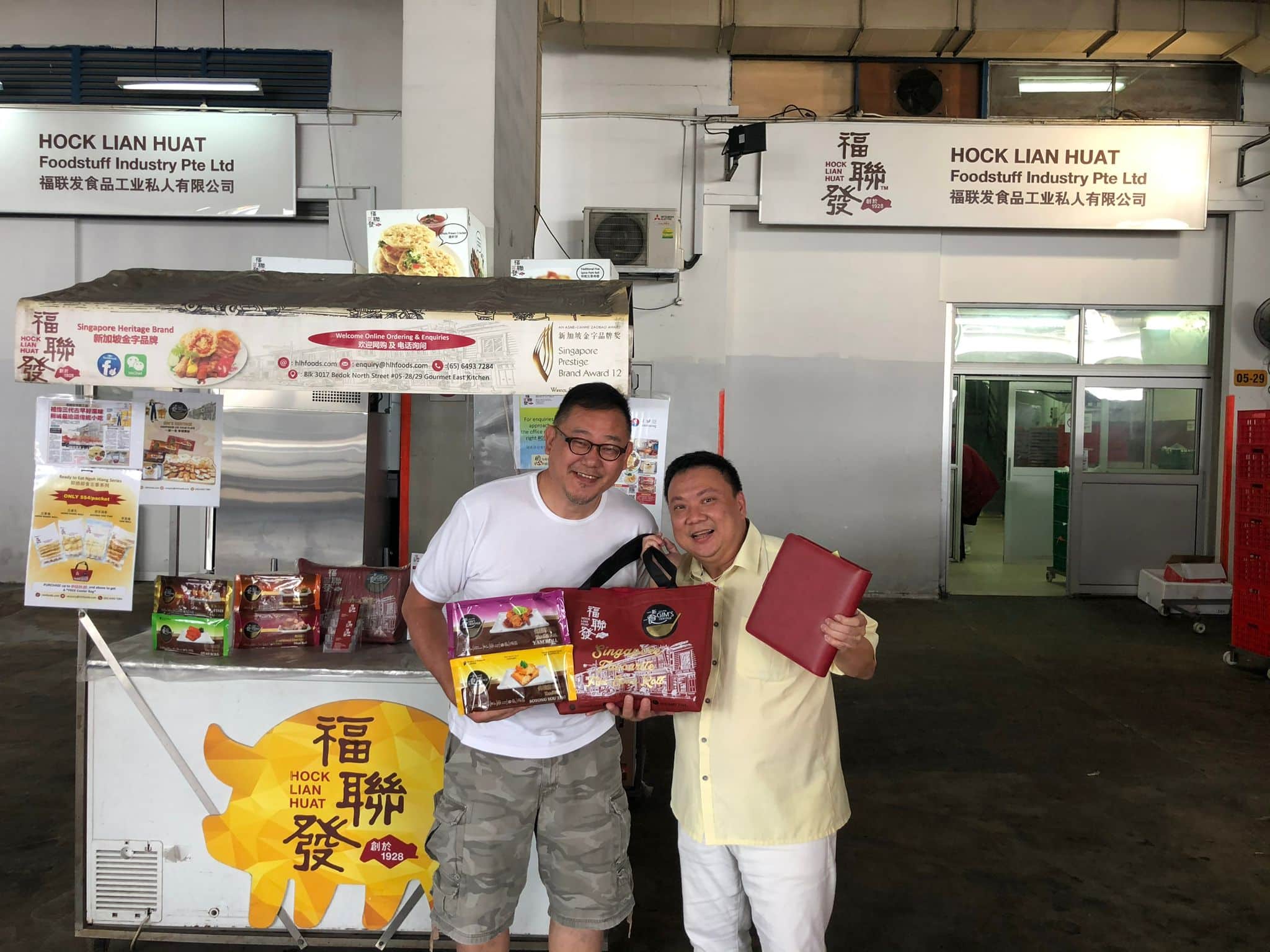 Managing director of Hock Lian Huat Foodstuff William Tan (right) with a fellow supplier and friend at his food factory in Bedok North. All photos courtesy of William Tan.
In a 8,148 sq ft food factory in Bedok North, workers and machines are hard at work producing ngoh hiang (five-spice pork rolls).
Hock Lian Huat Foodstuff Industry runs two factories that manufacture and supply more than 40 products – from four classic snacks of ngoh hiang, liver roll, Chinese sausage and water chestnut cake, to newer offerings like mala fish roll.
A meat-forming machine churns out 1,000 ngoh hiang rolls in 20 minutes, with four people operating it. Then, a conveyor belt transfers the machine-made rolls to the fryer.
Amidst the hustle and bustle on the factory floor, a group of 16 workers have gathered in an office on the mezzanine floor every Wednesday at lunchtime this past April and May.
They watched a video that explored the big questions of life, unpacked the basics of the Christian faith, and addressed questions like: "Why and how do I pray?" "How does God guide us?"
Breaking up into small groups over their lunchtime meal, they shared their thoughts and had conversations with one another about life, faith and God.
"The hair on my arms began to stand and I felt goosebumps on my skin."
To William Tan, the Managing Director of Hock Lian Huat, such a scene was not strange at all.
"I have learnt that my career is no longer my career. My career is really God's career and we are just His stewards," said William, 58, who led the Alpha course at his factory.
"I have experienced how He has changed my life, and I hope my workers will get to know His love, too." 
How did a relatively new believer of six years come to have the faith and passion to reach out to colleagues at his workplace?
Seeds of faith 
The seeds of faith were first planted some 30 years ago.
Back then, William was a young man on reservist duty with the Singapore Police Force.
He was sent to help with crowd control for a Chinese evangelistic meeting headlined by well-known celebrities like DJ Dongfang Billy and Moses Lim at the National Stadium.
The sky was dark that day and huge drops of rain started to fall.
"I assumed that, given the rain, the event would surely not start. I was happy that I could knock off work and get some rest that day," William told Salt&Light in Mandarin.
Yet he noticed that the people in the stadium seats were all holding hands and praying loudly for the rain to cease.
As they prayed, William felt a strange sensation.
"I was shocked. That day, I realised that Christians have access to a supernatural power."
"The hair on my arms began to stand and I felt goosebumps on my skin," he said.
Before him, he saw the clouds moving away. Soon, the rain stopped and the sky was clear. The event started 10 minutes later.
"I was shocked. It was an amazing miracle and I knew it was from God. That day, I realised that Christians have access to a supernatural power," said William. 
At the meeting, he also heard DJ Dongfang Billy sharing his testimony. His life story resonated deeply with William as he felt that the deejay's life sounded like his own.
Dongfang Billy talked about how he used to go to nightclubs to party, drink and womanise. He shared how, despite the high life, he had felt empty and unhappy. Later on, he was also diagnosed with cancer. Eventually, he met Jesus who transformed his life, healed him and gave him peace and purpose.
"I was moved but I did not respond. I was enjoying life and had no need to seek God. All my friends around me were also living worldly lives, chasing after pleasure and money," said William, who admitted he also drank, smoked and fooled around with women.
After he got married, his wife met with a serious industrial accident in 1999.
A hoist dropped on her, damaging her brain and spine. She went into a coma. Doctors told him that, even if she were to survive the accident, she would be a "vegetable" (paralysed).
In another miraculous turn of events, God healed her and she became a believer.
William, however, still did not embrace the Christian faith.
A leap of faith
It was only later on in 2016 when their marriage was on rocky ground that both of them went to Emmanuel Assembly of God to attend marriage counselling classes.
"I saw how going to church was good for my wife. There was a change in her emotions and she became much calmer," said William.
So when the pastor suggested she join a cell group, William was supportive and promised to accompany her if she went.
On the very first night that they went for cell group, William met a guitarist friend who used to perform in a band at the club that he used to frequent 30 years ago.
The friend was delighted to see him and arranged to meet with him for one hour every week at a coffeeshop.
"I announced to my friends and family that I had become a Christian so that I wouldn't have room to backtrack on my decision."
"He would read the Bible with me and pray with me. I had a lot of friends at the coffee shop who knew me and each time he prayed for me, I would get self-conscious and look over my shoulder," said William, who stopped going for the weekly sessions after two months as he lacked motivation.
However, he continued to accompany his wife to church every Sunday as he found that the values espoused in the sermons were relevant and applicable to his life and business.
Once, a visiting speaker shared his testimony about how he used to resist going to China to evangelise after a bad experience there. However, he submitted to God's call and went to China to preach despite not being able to speak much Mandarin. He related how God empowered him to speak the different dialects of three provinces despite his language handicap.
"I was amazed at his story because I also have workers from China and I know how different and challenging each dialect can be," said William. "So I went up to speak to him, wanting to hear more." 
When he went up to the speaker, he was asked: "Are you saved?"  
"No," William replied, adding that he was waiting for his parents to be saved first.
The speaker urged him not to wait further, as none of us knows what tomorrow holds.
Not knowing how to reject the speaker, and with his wife also encouraging him to take a leap of faith, William said the Sinner's Prayer there and then.
However, his heart was confused. He wondered if he had said it impulsively.
He spent the next three days asking his friends what it's like to be a Christian and praying about his decision.
"After three days, I felt the peace about my decision – that this was the way I wanted to go. So, I announced to my friends and family that I had become a Christian so that I wouldn't have room to backtrack on my decision," said William, who was then 51.
Barely a month later, it was his first Christmas as a new believer. He celebrated the joyous occasion by taking 10 of his workers to go carolling at some nursing homes.
His staff began to notice changes in his life.
"He stopped drinking and became a much happier person," said his former employee of three years, Huang Hong Yu, 36.
"What touched me was that he began to see the person behind the worker or work issue. His focus was on how to help the person, such as imparting lifelong skills for a better life, instead of focussing on just making money or increasing productivity." 
Childlike faith 
Even as a new believer, William had the faith to trust God for his own miracle.
After he completed the Alpha course in his church – which allowed him to ask questions and understand more about the fundamental tenets of the Christian faith – his childlike faith grew further.
When his company held its first barbeque at East Coast beach shortly afterwards, William noticed that it was starting to drizzle.
Recalling the power of prayer that he had learnt about in the Alpha course and the miracle he had witnessed 30 years ago at the National Stadium, he suggested they hold each other's hands in a circle and pray for the rain to stop.
"I was nervous and worried that if I pray and the rain doesn't stop, it would affect not only me but God's image. But I just went ahead and did it," he said.
After praying, it still rained and William's heart continued to pound. However, the sky began to clear up and in five minutes, the rain stopped.
"My workers all started talking and speculating about the miracle they had just seen. It was my first time experiencing the power of prayer and my faith was built up," said William.
His pastor also approached him to ask if he could help host the Alpha course for the workers in his food factory. William hesitated, as he was unsure how many workers would turn up.
"As long as one or two people come for it, we can start a class," his pastor assured him.
Alpha in a factory
So, in 2017, William teamed up with his pastor to host the Alpha course at his factory for the first time.
"I have been suffering from back pain for a long time but have never told anyone. How did the pastor know about it?"
In the end, about 20 office and production workers from Singapore, Malaysia and China turned up. He allowed them to stop work half an hour earlier on weekend half-days to come for the course.
During the first session, the pastor who led the course felt prompted by the Holy Spirit to ask if anyone had back pain and difficulty squatting down. One of the managers walked out of his seat to receive prayer from the pastor.
After the prayer, he was asked to squat down and stand up. He felt no pain when he did so and realised he had been healed.
"I have been suffering from back pain for a long time but have never told anyone. How did the pastor know about it?" the manager asked William.
"God must have told him. God knows everything about us and God is showing you that He is real and He loves you," William replied.
Driven by the impact he was seeing in his office, William began to take a more active interest in the personal problems that his employees were facing.
Some had marital woes and depression, and he would link them up to the counselling team from his church. Others needed help getting their work permits extended or with their police or court cases when they landed on the wrong side of the law, and he would support them and pray for them.
To encourage them to rest and seek God on the Sabbath, he also allowed the workers who do operational work to have their days off on Sundays instead of Mondays.
"It doesn't make business sense as Sunday is usually when business is the highest, while Monday is when the markets are closed and business is the lowest. But those who want to go to church must have the opportunity to do so," said William.
Apart from hosting the Alpha programme in the factory, William also organises morning devotions and lunch fellowship gatherings for further discipleship and outreach.
At 8am every Tuesday and Thursday since 2017, a small group of five or six workers have been gathering in the office to start their day with worship. William would do a daily reading from the devotional Our Daily Bread and end off with a time of sharing and prayer.
"Even if we are busy, this is something basic that we do to prioritise God. It also gives us a platform for other workers to join us," he said.
Blessings given and received
Going so public with his faith means that William has to walk the talk.
When his father was hospitalised in 2018, his HR manager, a non-believer, gathered the colleagues together to pray for him.
He tries to do so by treating his workers as humanely as he can, even if they are with him for only a short period of time.
For instance, there was a worker from China who had only worked for him for two weeks before he injured his finger while using a machine. The agent advised William to simply compensate him and send him home.
William felt that he needed to do more. He sent the worker for treatment at a local hospital, paid for the surgery and allowed him recover for a few months without needing to go to work. Little did he expect that the worker, on the other hand, was trying to sue the company to claim for more damages.
William, however, is not bitter about it. Over the years, he has often been surprised by how other employees have been influenced by his faith and love, which they have reciprocated.
When his father was hospitalised in 2018, his HR manager, a non-believer, gathered the colleagues together to pray for him.
Out of a total of over 50 employees from Singapore, China, Vietnam, India, Malaysia and Myanmar, eight have come to Christ because of his workplace outreach efforts.
"It's worth our efforts because it's not about the numbers but seeing how their lives have been transformed," said William, who has two adult children.
"It took decades for me to come to Him. So even if your friends do not receive God right away, do not give up."
"Even for those who have yet to believe, we find that they are holding more and more similar values as we do."
One of the ways William has been blessed since putting God first in his workplace is in his business.
For more than a decade, the revenue of his food business had stagnated and plateaued at about three million. Since 2017 – the year he first hosted Alpha in the office – business has grown steadily year-on-year and has since doubled in revenue to over six million.
William is training some of the workers who now attend his church to run the Alpha sessions on their own as they grow in their faith. He has also been going on overseas mission trips and hopes to do more mission work.
Looking back, he realises that God has been pursuing him all along, even when he did not choose to acknowledge Him.
"It took decades for me to come to Him. So even if your friends do not receive God right away, do not give up. Your persistence will grow and bear fruit in His time. So let us be bold in sharing the Gospel and our testimonies with others."
---
Alpha is a series of interactive sessions where people can explore life, faith and meaning in a safe and honest space, online or in person. Alpha is free and everyone is welcome.
If you wish to join an Alpha course, go here. For more information, contact Alpha Singapore at [email protected]. 
---
RELATED STORIES: 
"Even freehold is not good enough": Far East Organization's Philip Ng reveals his best investment decision
"Even freehold is not good enough": Far East Organization's Philip Ng reveals his best investment decision
If you have enjoyed reading Salt&Light...
We are an independent, non-profit organisation that relies on the generosity of our readers, such as yourself, to continue serving the kingdom. Every dollar donated goes directly back into our editorial coverage.
Would you consider partnering with us in our kingdom work by supporting us financially, either as a one-off donation, or a recurring pledge?
Support Salt&Light