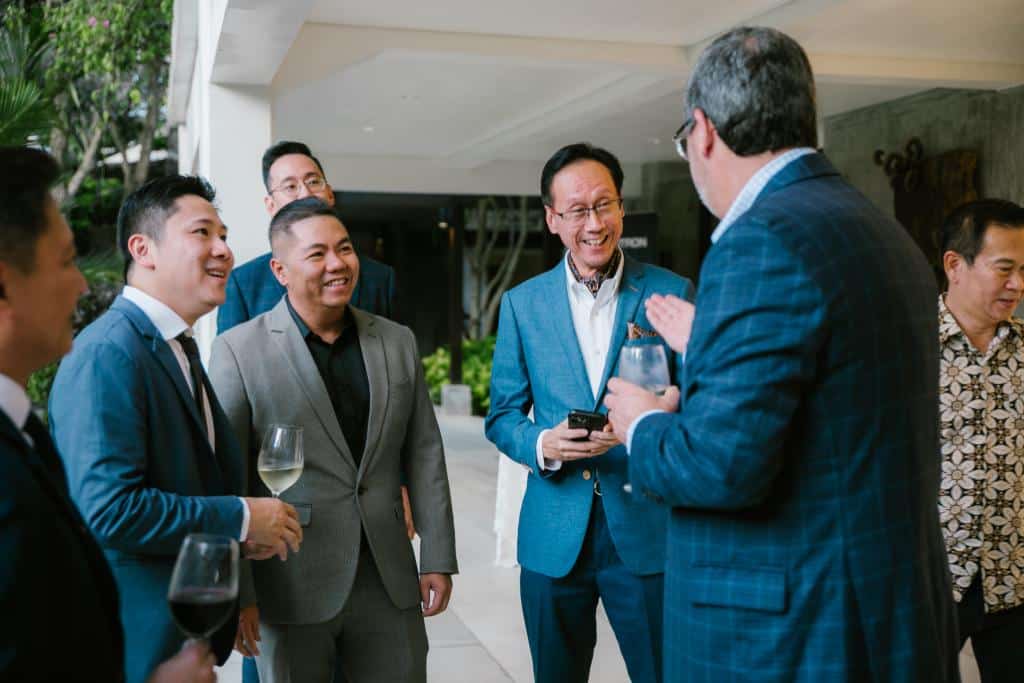 Kenny (centre, right) networking with others at a work event. All photos courtesy of Kenny Boey.
Back in its heyday, the security company that Kenny Boey had built up did brisk sales of home security systems – alarms, auto-gates, intercoms and closed-circuit televisions.
Its potential attracted the attention of an overseas investor who wanted to grow it into a regional company.
Kenny, then the company's managing director, was excited at the prospect of expansion and doubled his manpower to more than 40 staff. 
Little did he expect there would be roadblocks to the investor's funds coming into Singapore.
Cashflow problems arose, but Kenny tried his best to retain the newly-hired workers as advised by his management team.
He felt so down that even he ­– a lay pastor at Harborlight church – entertained suicidal thoughts.
He took out personal credit card loans, amounting to $200,000, to try to raise money to pay the company's suppliers.
When that was not enough, he took out bank loans and personally committed close to a million dollars to try to ease the company's financial issues.
Still, he had no money to pay some of his foreign workers and they reported him to the authorities. His other debtors – the banks and credit card companies – began hounding him for repayment.
At these signs of trouble, his management team took off and left him to fend for himself.
Unending trouble
That was in 2013.
Kenny's world crumbled. He had to go to Court many times to explain why he could not pay his workers and work out repayment plans.
Stressed, he could not sleep or eat and was constantly short-fused. He felt so down that even he ­– a lay pastor at Harborlight church – entertained suicidal thoughts.
"I was depressed. How could I still support my family?"
"I was depressed. How could I still support my family?" said Kenny, now 59. "I prayed and asked God to help me see that He was still with me in the midst of this storm." 
Indeed, he soon saw how God's favour and provision sustained him, one obstacle at a time. His church members referred lawyers who offered pro bono legal advice. The investigation officer assigned to his case put up a good report for him.
Yet, Kenny's faith was shaken. He wanted to stop serving in church but was encouraged to continue.
"I struggled with being the host at church services, especially when I encouraged people to tithe yet I knew I could not do so myself, given my financial situation then," said Kenny, who was also preaching in church.
In addition, Kenny's father was diagnosed with colon cancer. Being the only child, Kenny had to visit the hospital to care for his dad several times a week.
The family meeting 
Faced with the prospect of possible bankruptcy or a jail term due to his debts, Kenny felt he had to quickly convene a family meeting.
"Why does God allow all these to happen?" 
His three children were taken aback when he briefed them on the situation that he and his company were in. All of them kept quiet, except his youngest son, who made his anger known: "You have been serving God faithfully all these years, yet this has happened.
"Why does God allow all these to happen?" 
Apart from his youngest son, the rest of the family was active in church. His wife was serving in the youth ministry and oversaw the cell groups. His elder son was a drummer in the worship team and his daughter served in a children's ministry programme.
Kenny replied: "I don't have answers now about why this has happened but whatever happens, God is still in control. I believe He will see me through this."
Unconvinced, his youngest son later drifted from the faith and left the church.
Kenny continued, nonetheless, to hold fast to his confidence in God, whose faithfulness he had experienced in the past. 
Integrity first
Back in 1996, a contractor had defaulted on a final payment and Kenny had to go without pay for 10 months. God eventually helped him to resolve the company's cash flow problems.
Kenny was forced to close that business, but he had a back-up plan involving a former partner, who would start a new company to support their existing clients.
Once the issues plaguing the old company were resolved, the agreement was for Kenny to join the new company as a partner. Thus, he transferred more than 3,000 of his customers' contacts and contracts to his former partner.
"Sometimes, it's easier not to be a Christian. It may seem stupid to do all these, but I did what should be done."
Difficult as it was, Kenny focused on trying to repay the debts owed to suppliers and workers of the old company. The easy way out for him would have been to file for bankruptcy. In such a scenario, he would not need to find ways to settle the debts.
However, he felt indebted to the suppliers and workers – some of whom he had worked with for years – and did not want to lose their trust by leaving them hanging.
As a Christian, he also felt accountable to them to try to resolve matters.
He visited the suppliers and explained the problems. Then, he proposed linking them up directly with his clients so that they could still get paid when the outstanding jobs were completed.
He asked some suppliers for help to pay for the goods first, so that he could complete the jobs and then pay them back. The suppliers found him earnest in genuinely trying to honour their agreements.
"Sometimes, it's easier not to be a Christian. It may seem stupid to do all these but I did what should be done, to the best of my abilities," said Kenny.
Though he acted in good faith, he found himself dishonourably betrayed by his former partner, who recruited another partner for the new company. Kenny was cut off and no longer welcome.
"I was very angry and bitter. How could my childhood friend whom I have known for so long do this to me? I was busy dealing with all the legal mess of the old company while he took all the fruits (of the business) and enjoyed them," said Kenny.
He felt like giving his friend "tit for tat" by approaching all of his old clients to tell them what happened. Though he held back, he harboured unforgiveness towards his friend.
One blow after another  
Not long after the family meeting, Kenny's father passed away in August of that year, 2014.
One blow after another and yet another left Kenny wondering how long he could hold on to hope. Apart from being weighed down by the burden of the legal cases and debt repayment, he was further battered by the hurt of betrayal and the grief of loss.
"Why did all these happen? How do I deal with them? Please grant me the wisdom and help me go through this," Kenny cried out to God.
In his anguish, he also lamented: "What am I going to do? What is my future going to be?"
He could no longer envision a future in the same industry. Word about his troubles had caused a number of his industry associates to avoid him.
Doggedly, however, Kenny continued to raise money in various ways to pay off the debts that his company owed.
His father had left him some gold jewellery, which he pawned. He depleted his own savings and gave up his insurance plans. 
To put food on the table, the former managing director who once earned a five-figure salary turned to driving for Uber for daily cash. 
A God-sent cousin came alongside with a substantial sum of money to help him tide over urgent financial deadlines.
Forgiveness and breakthroughs
One day, while he was in a prayer meeting, Kenny felt a strong sense that God wanted him to forgive his former partner.
"I felt a stirring that kept coming. It was like the same prompting that I felt in the past when I was led to dedicate my daughter to God. I knew I had to obey Him," said Kenny, who by then had been struggling with unforgiveness for over a year.  
Kenny first asked God to forgive himself for holding onto unforgiveness. Then, he released forgiveness to his ex-partner and prayed to bless him instead.
As he wept before the Lord, Kenny experienced release. It felt as if a burden had been lifted off him.
It proved to be a turning point in his life.
Shortly after, Kenny found that his parents' house could suddenly be sold, after having been on the market for some time.
Following his father's death, his mother did not want to live there all by herself. They sold the house and, with some of the proceeds that Kenny received, he settled his debts.
Back to business
In mid-2015, after a few months of driving for Uber, Kenny received a call from a former supplier, inviting him to dinner.
During the meal, the supplier said their company intended to start a new subsidiary and they wanted him to head it. They also offered him a 20 per cent share in the business.
"I was shocked. I never imagined I could go back to the same industry." 
"They said they were impressed by how I responded and managed my former company's issues at the lowest point of my life. It was challenging but I tried to resolve the issues with integrity," said Kenny.
"I was shocked. I never imagined I could go back to the same industry." 
He was immediately attracted to the name of the new company, Trilogy Integration (TI). It reminded him of the holy Trinity. He accepted the job offer and became TI's general manager. 
"It was God's blessing and favour flowing into my life. I realised that what I had sown in the past, I was now reaping its fruits." 
Let there be light
When he first started leading TI, he started with what he knew best – security systems. It was a good market to be in, albeit highly competitive.
Though he had lost thousands of his previous customers, a former client – who had also noticed his sense of responsibility to clients like himself – helped to open new doors for him.
In 2017, the same client introduced him to a market leader in lighting control, Lutron. TI would go on to become its authorised dealer.
"God is faithful and we will reap what we sow."
Kenny did not have any background in the area. Initially, he did not even understand how to read the lighting plans that were given to him but he and his staff team promptly underwent training and familiarisation. 
When Covid-19 swept the world in 2020, his business – like many others – took a hit. Others in the industry adopted a wait-and-see approach, hoping to ride out of the pandemic unscathed.
But Kenny stepped out boldly when God gave him – while he was in the shower – an idea of a showroom that showcased his lighting control products.
He took a leap of faith and expended some resources to launch the showroom, despite the ongoing pandemic.
It paid off. The company's business soared.
Today, the company is doing well, achieving in just six years the same revenue that took his former company 10 years. Thus, Kenny has been able to clear most of his debts.
His older son has joined him in working for his company. His youngest son has not only returned to church, but is now a cell leader.
Lessons from suffering
It has been 10 years since his former company was hit with the huge setback. Kenny has learnt some key life lessons.
"I learnt that God is faithful and we will reap what we sow," he said.
"God was also dealing with my pride so that I can be a better steward when more successes come."
Qualifying that the condition of our hearts is crucial, he pointed out that the breakthroughs in his life only came after he had repented of unforgiveness and blessed his former partner.
He added: "Through the Uber driving experience, God was also dealing with my pride so that I can be a better steward when more successes come." 
As his character was refined through the trials of life, he hopes to be a better and wiser leader at work and in church.
"Sometimes when we allow emotions to affect us and become 'too nice' without being clear about what the end goal is, the church or business can be adversely impacted," said Kenny, who has been sharing his experiences and journeying with a few business and church leaders.
For those who are still in the thick of battling challenges, Kenny urges them to persevere and trust God's timing.
"When we are in the heat of things, we expect miracles to happen overnight. But it may not be according to our timeline, but His timeline.
"God is faithful and He will see us through."
---
RELATED STORIES:
https://saltandlight.sg/leadership/he-thought-he-had-a-messy-cv-but-god-led-him-to-minister-in-the-marketplace-all-over-the-world/
https://saltandlight.sg/leadership/this-corporate-bigwig-was-so-brash-her-husband-almost-walked-out-instead-god-stepped-in/
https://saltandlight.sg/work/your-mission-field-is-without-borders-god-told-banker-raymond-lim-who-took-to-board-members-and-officer-workers/
If you have enjoyed reading Salt&Light...
We are an independent, non-profit organisation that relies on the generosity of our readers, such as yourself, to continue serving the kingdom. Every dollar donated goes directly back into our editorial coverage.
Would you consider partnering with us in our kingdom work by supporting us financially, either as a one-off donation, or a recurring pledge?
Support Salt&Light