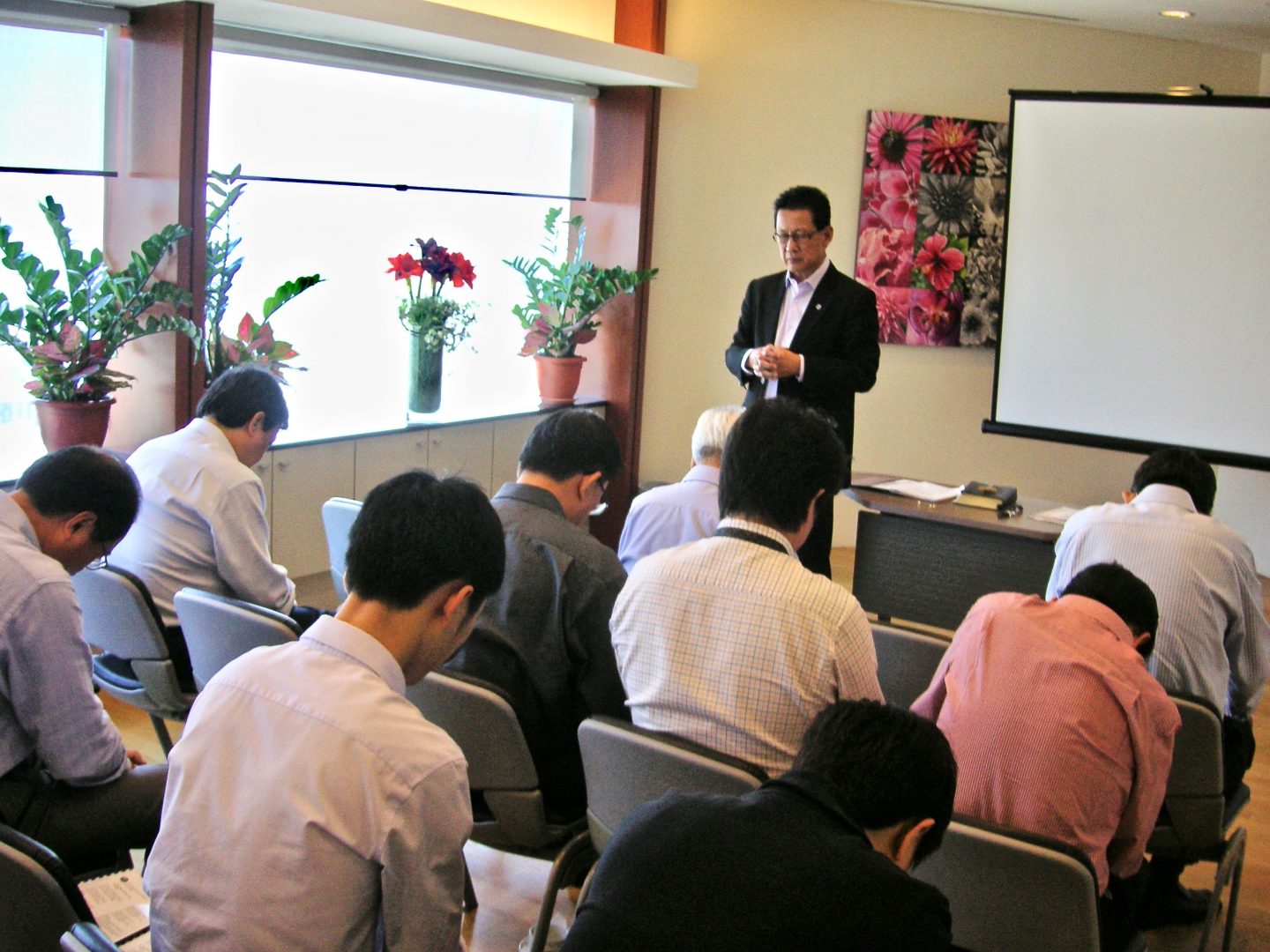 At Gatekeepers Singapore lunchtime ministry meeting. All photos courtesy of Raymond Lim.
Few people are aware that the oft-cited term "Giro" means bank transfer in Dutch. 
Mr Raymond Lim, 71, knows this obscure nugget of information because he and his team were the original implementers of Giro in Singapore. Way back in the 1970s, Lim was an assistant general manager with POSB bank. He was responsible for building and expanding the bank's branches and systems and introduced Giro at POSB.   
Over the next four decades, Lim would have had an illustrious career in the banking sector. After leaving POSB, he joined American IT company NCR Corporation to install banking terminals and ATMs in banks in Singapore. In 1989, he joined Citibank as the global bank then headhunted him to launch its credit card business.  
After spending a decade in Singapore managing Citibank's retail banking operations, Lim began working overseas for the bank. He started in Philippines, then shifted to Poland, then Brussels, then Turkey, then China and finally returned back to Singapore in 2011 when he retired at the age of 62.  
Shenton Way lunchtime ministry
Yet Lim never forgot his first love. At the age of 26, he experienced the Lord's dramatic hand of deliverance that led him to salvation. From then onwards, he strove to be the salt and light for God in the banking world.  
They organised Bible study during lunch every week for some 450 people who worked in the Shenton Way area in the 1980s.
Lim recalled booking an auditorium at DBS bank for lunchtime ministry. He was then the president of the Central Business District Chapter of the Full Gospel Business Men's Fellowship International, now known as Gatekeepers Singapore.
He and his team organised Bible study and ministry during lunch every week for some 450 people who worked in the Shenton Way area in the 1980s.  Many were recharged in their passion for God while others received salvation or rededicated their lives to God. A significant number of people were unable to attend church services on Sundays and so, these weekly lunchtime sessions were their source of spiritual food for the week. 
Subsequently, he went to Tung Ling Bible School for three months to rest and seek the Lord. It was during his time there that he received a prophetic word from God.  
"I will bring you into a mission field without borders … into the corridors of power and boardrooms that my servants may not reach," God told Lim.  
Shortly after, he joined Citibank after being headhunted for a role. During his 23 years with the bank, he shared with his colleagues about God and many of them came to know the Lord. 
However, it was during his time overseas that Lim's eyes were opened to the vast social needs in the world.  
"You can still tee off at 1pm"
When Lim was sent to the Philippines as the bank's country business manager, he realised that many of the children there had cleft lips. It was such a visible deformity that it impacted their lives significantly, yet it could be easily fixed in a simple 45-minute operation. 
"I will walk you through the whole Bible. My wife will provide lunch and you all can tee off by 1pm." 
 Many of them, however, were resigned to living with the condition because they were from the lower strata of society and could not afford to pay for the surgery. Lim partnered Operation Smile, a medical non-profit group, that provided volunteer doctors to repair the cleft lips of the children. On the scheduled one-week visit by the Operation Smile team in Manila and Cebu, about 1,000 children went for the operation, transforming their lives and smiles thereafter. Staff volunteers were recruited for the project and the bank's customers also donated funds in support of the worthwhile cause.   
"I was thankful for my sphere of influence because I was only able to do such work in the position I was placed in," said Lim.  
His wife Sally was also leading women's prayer groups while she was based overseas with her husband. While their wives were attending the prayer group, Lim would meet the husbands and go over the Bible with them.  
"I remember seeing their eyes glaze over when I spoke about Nehemiah in the Old Testament. I knew then that I was not getting through to them," said Lim.  
Undaunted, he told the crowd of men: "I know you all are going to play golf on Saturdays. Come to my place this Saturday morning and give me three hours. I will walk you through the whole Bible and give you the Big Picture. My wife will provide lunch and you all can tee off by 1pm."  
Lim went back to prepare flash cards. On Saturday morning, he used the cards to give them the Big Picture story of the Bible in three hours. When the session was completed, the entire wall of his living room was decked with the flash cards; a panoramic view of the entire Bible was made visible before their eyes. One of the golfers, who was a senior officer in a bank, believed what he saw and accepted the Lord that morning. 
He continued to deliver his three-hour Big Picture of the Bible everywhere he went – Poland, Brussels, China – and a number of pre-believers were saved this way.  
Take my bed
Sometimes, it is the pastors of a city that may need support. While the couple was living in Istanbul, Turkey, Sally told him that God told her to bless a pastor's family with their master bedroom furniture.
Every item they gave fit the space in the pastor's house exactly to a T.  
At the time, they were preparing to return to Singapore in a month's time.  
Lim called up the Dutch pastor and his wife and told them to come down to his place. Unbeknownst to him, the Dutch pastor's wife had been praying for a new mattress because her husband had a bad back. They also needed a better computer.  
Walking through his home, he asked them item by item what they would like and stuck a piece on masking tape on each item that they wanted. Eventually, they picked the entire master bedroom set that comprised a queen-sized bed, two nightstands with accompanying table lamps, dressing table, matching chest of drawers, his computer, Sally's desk and a large Turkish carpet. Sally also threw in the bed linens and pillowcases that were meant for the bed. 
For one month, Lim and his wife slept in the guest room because there was no bed in the master's bedroom. Yet they were happy because they saw the Lord's hand in the arrangement – every item they gave fit the space in the pastor's house exactly to a T.  
We restore, God heals
Three years after he retired from Citibank, Lim went back to school. He graduated with a Masters in Divinity from TCA College at the age of 68.  
By then, he had been serving in church ministry for decades and is an elder in Church of Singapore (Balestier) and chairman of the church board. 
"I can't make things new, only God can do that. But I can help to restore." 
 "I heard God telling me that my knowledge of His word is not deep enough for the work He will next call me to. So I went back to school to study and dig deeper," said Lim.  
For most of his life, Lim has been a builder and a repairer.  
In the banking sector, he was in his element when tasked to build up a new business, merge businesses or to turn a fledging business around.  
He also enjoys fixing broken things and people would often pass him their handbags, toys, shoes or even Bibles with pages falling from their spines to repair.  
In line with his interest, he sees his next assignment from God to be in a ministry of restoration – repairing broken lives through physical and inner healing.  
"I can't make things new, only God can do that," said Lim. 
"But I can help to restore." 
---
Read the first part of Raymond Lim's story of how God called him out of darkness to healing.
---
MORE STORIES ON BLESSING THE WORKPLACE:
"Every 'version upgrade' was through a trial or challenge": St Luke's Hospital CEO on learning to give control to God
Arthur Kiong's improbable journey from radio DJ to Far East Hospitality CEO
Meekness in leadership? It's possible, says Choe Peng Sum in farewell look-back at Frasers Hospitality
If you have enjoyed reading Salt&Light...
We are an independent, non-profit organisation that relies on the generosity of our readers, such as yourself, to continue serving the kingdom. Every dollar donated goes directly back into our editorial coverage.
Would you consider partnering with us in our kingdom work by supporting us financially, either as a one-off donation, or a recurring pledge?
Support Salt&Light