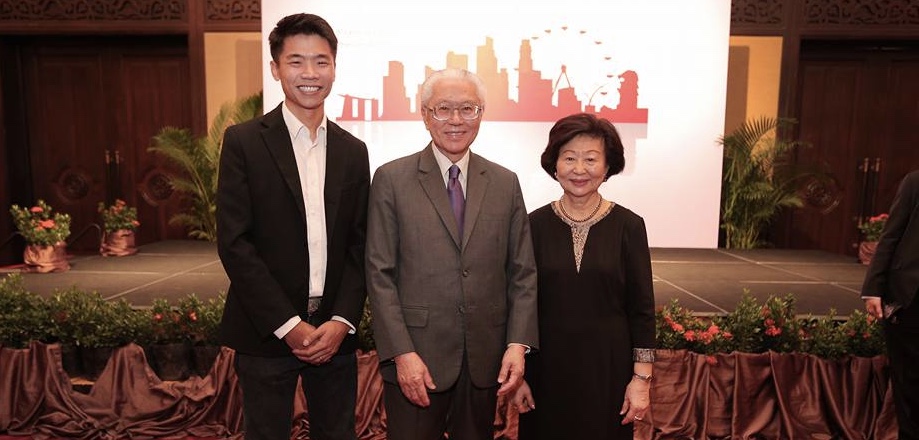 Goh (left), together with former Singapore President, Dr Tony Tan and former First Lady, Mary Chee, at a 2017 reception for Singaporeans in Cambodia. Photo courtesy of Nicholas Goh.
Never in Nicholas Goh's wildest dreams, did he – someone who had struggled with his studies and was even kicked out of a local polytechnic once – think his work on a farm would one day be recognised by former Singapore President, Dr Tony Tan.
The successful entrepreneur who set up TwinAgri, Cambodia's first composting facility, was among a handful of Singaporeans who was highlighted by former President Tan during his state visit to Phnom Penh, Cambodia, in January 2017. 
The honour was all the sweeter because the six-year journey had not been an easy one.
In a country where more than 70% of the population depends on agriculture for a livelihood, Cambodia seemed like a natural place for his agri-related business to succeed.
But that wasn't the case.
In fact, the farmer-entrepreneur was almost forced to end his operations in 2014. The company was on the brink of bankruptcy as he failed to understand the nuances of doing business in Cambodia.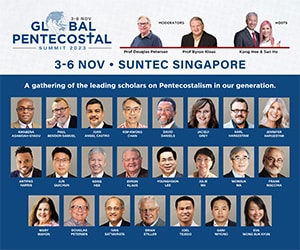 How did things turn around? Goh would not hesitate to tell you: It was God, all the way.
A call to Cambodia
Goh's life was one marked by sheer obedience – when God calls, he goes. No questions asked.
That was how he had ended up in Cambodia.
The adventure began in 2007. While pursuing his degree in business management at the Singapore Institute of Management, he was offered a full-time role to pastor the youth at Community of Praise Baptist Church.
Believing it to be a Great Commission (Matthew 28:19) call, Goh quit school and accepted the offer. 
"I'm thankful for a supportive spouse, who understands the importance of obeying God's call despite struggles."
During his visits over a span of six years, he noticed three things: 1) The majority of Cambodians were farmers; 2) most used chemicals in their farming; and 3) there was an absence of proper waste management.
Goh, who had had an entrepreneurial streak since he was a teenager (he was offering food delivery services before Grab Food existed), saw a business opportunity. When his time in ministry was up, he decided to pursue what he terms a "2-in-1 business" in Cambodia – collecting rubbish and converting it into fertiliser.
Despite having just given birth to their son, his wife Kaixin gave him the green light. With no background in agriculture, and a young family to care for, Goh went with his family's blessing.
"I'm thankful for a supportive spouse and one who understands the importance of obeying God's call despite struggles," said Goh, now a father of an eight-year-old son and six-year-old daughter.
To prepare himself, he studied agriculture, aquaculture and animal husbandry in Malaysia and Vietnam. Finally, he ventured into Cambodia in 2012.
Facing cobras and tigers
Following God's call proved anything but simple.
In his first week, he met with a serious accident while scouting for materials and machinery. His car skidded on the sandy road and was sent spinning into the house of a villager.
No one was seriously injured but the accident put a dent on finances as he had to compensate the home owner and repair the damaged vehicle.
"There was no other weapon I could use other than the Word of God."
The near-death experience was not the end of his troubles. He had to contend with cobras and tigers as the factory was at the forest edge. He also had to deal with demonic spirits that interrupted his sleep.
"I prayed and started scribbling Scripture on the walls. After a week, it stopped. It sounds straight out of a movie, but to fight this battle, there was no other weapon I could use other than the Word of God," he said, recalling Hebrews 4:12.
"Recently, while I was driving, I discovered my car's brakes were not working. But, again, God was there to protect."
Starting from nothing
Business, too, was difficult.
"All I had in the beginning were a few small machines. My investor had little hope that this would be a profitable business as there were no economies of scale," said Goh, 35. The company was only producing 40 tonnes of fertiliser a month at that point.
"Even if we sold all of it, it would not have been enough to cover monthly salaries and rental, much less yield good profit margins."
Despite not making business sense, the investor – a Christian – went ahead in faith. 
"Miraculously, customers started to purchase the fertiliser on a regular basis, allowing us to increase our production. I used to use a small front-loader that carried about 50kg in one scoop. Now, one scope is 500kg. Even my staff are amazed at the progress!"
Within six years, TwinAgri turned around from producing a meagre 40 tonnes of fertiliser to 800 tonnes a month. The business has also branched out into agriculture and animal farming.
God was instrumental every step of the way, Goh said. For instance, he still wonders how he came up with his fertiliser formula, which is compatible with commercial chemical formulations.
For someone who was only trained briefly, the formulation was nothing short of divine inspiration, he admitted.
Despite reaching recognition and business success today, Goh has not forgotten his tenuous beginnings.
"I was humbled to a point where I literally had nothing. So even when I have things today, it means nothing to me," he said. 
Beyond a bottom line
The rough start might have sown a seed of doubt in the minds of most people: Are challenges an indication that we are outside God's will? 
"I told myself to look at the greater picture," said Goh. "Am I looking at small incidences? Or are these obstacles to doing greater things?
"If you're not even faithful to deal with the small problems, how can you be faithful to handle the big ones? (Luke 16:10)
"If you're faithful, He will give you the tools and equipment to know what to do."
"If we're not even faithful to deal with the small problems, how can we be faithful to handle the big ones?"
His tenacity was founded on the conviction that the business was not just to benefit his family; he saw it as a call to make an impact in the Cambodian community.
The Great Commission (Matthew 28:19) was never far from his mind.
He was intentional with employee and job development. As the business grew, so did staff strength – from just five to his current 60.
Seeing himself more as a mentor than a boss, the former youth pastor joked that he was running a youth ministry in a corporate setting. The majority of his staff are under 35.
Beside sending his employees for regular training, he also organises outdoor activities and monthly birthday celebrations.
The end goal is to develop character and encourage the youths to persevere and achieve their goals through hard work.
Kingdom values influence culture, which can change a country.
He noticed that as his young employees absorbed Kingdom values like integrity, even the culture within the company started to change.
He recalled an incident when some workers tried to steal company property but the rest intervened to stop the act. Those who fail to fit in eventually leave, said Goh, while the ones who have remained continue to positively influence new recruits.
Kingdom values influence culture, which can change a country, he emphasised.
A Khmer family
His staff have become his extended family. The Khmer New Year is a big holiday and he celebrates alongside them, giving out biscuits as a token of appreciation.
"Believing in Jesus and walking the faith are different." 
He is not just by their side during the good times, but the bad as well. He recounted an incident when an employee was diagnosed with nose cancer.
"As a company, we visited and provided financial support but he eventually passed on. Before he died, he told his son, 'This is a good company, I want you to work for them'. His son is now with us.
Referring to Matthew 5:16, he said: "Believing in Jesus and walking the faith are different. What I'm trying to do is walk with people first. If they believe and are convicted, they will come to Christ. It is different approach." 
Business as a bridge
The rocky road that TwinAgri took in its early days changed the way he conducts his business even now.
In Cambodia, business is not done any differently from elsewhere in the world – entertainment and a show of wealth are associated with success.
"We do business without compromise or under-the-table dealings."
"I used to think that was the way to do business," admitted Goh.
But seeing how God rescued and turned his business around, he came to realise that there is a better way of doing business – with sincerity, consistency and integrity.
"We do business without compromise or under-the-table dealings.
"God needed me to learn what it means to be desperate, what it takes to run a business His way. Through these experiences, He gave me the wisdom to be able to handle challenges.
"If we avail ourselves of God, we are going to be put in situations where God is going to develop our character into one that is useful and effective for His purposes (Romans 5:3-4).
"I also see my business as a platform to build relationships and a bridge to many organisations, especially churches," he said.
Churches now realise that in order to reach people, they need to understand the local community. Goh shares his agricultural knowledge with churches, who find this helpful in connecting with the local communities they are trying to reach.
As a Singaporean who has brought sustainable farming practices into Cambodia, Goh has also facilitated goodwill between both countries. This has fostered spin-off projects spanning food sustainability, agriculture, food processing and manufacturing.
God-dreams
As much as the business has grown, Goh remains humble and single-minded in his mission: To fulfil God's call on his life, to share the Good News, to show God's love in practical ways.
"I've been put in a position of influence but at the end of the day, what I am doing is reaching out to my staff, ministries, different people." 
He urges those who have God-given dreams to take that bold step forward.
"God will come alongside you," he said with a smile. And he would know.
If you have enjoyed reading Salt&Light...
We are an independent, non-profit organisation that relies on the generosity of our readers, such as yourself, to continue serving the kingdom. Every dollar donated goes directly back into our editorial coverage.
Would you consider partnering with us in our kingdom work by supporting us financially, either as a one-off donation, or a recurring pledge?
Support Salt&Light