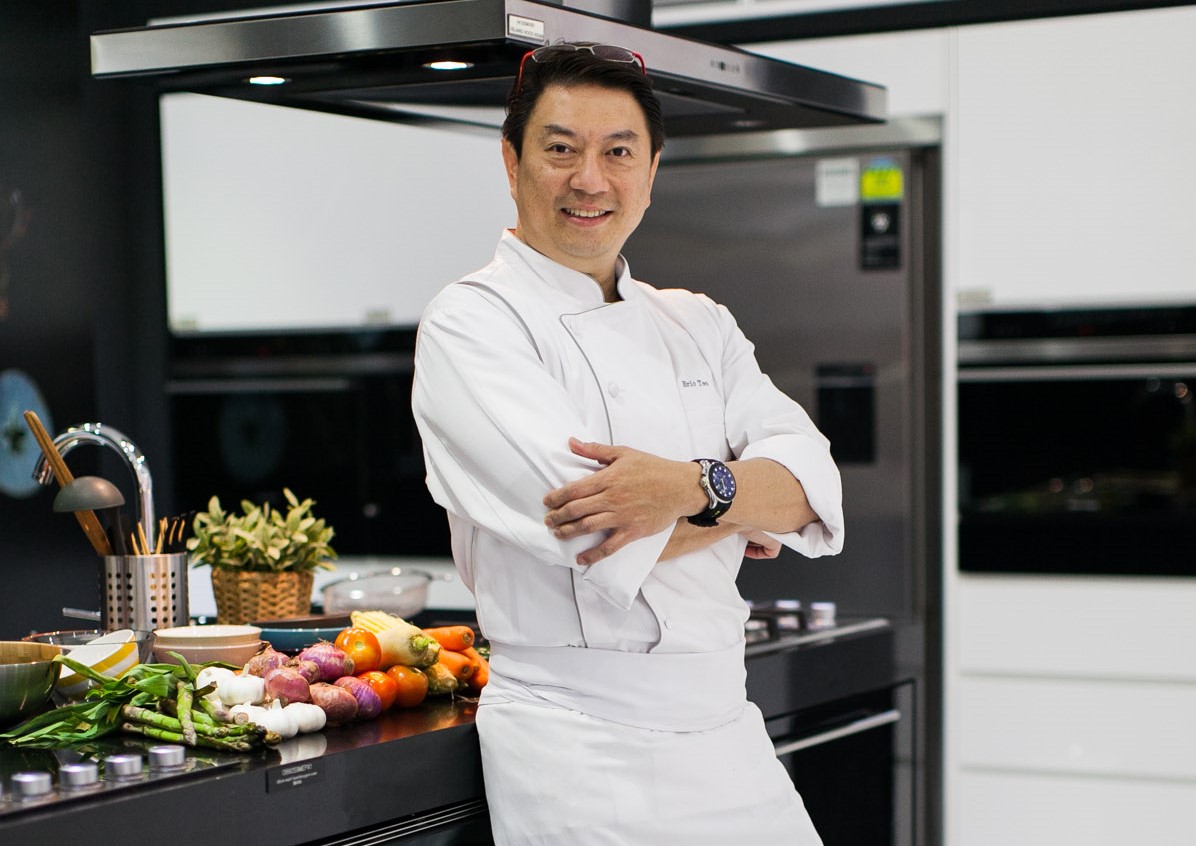 Chef Eric Teo has been representing Singapore in international culinary competitions since 1992.
Eric Teo, celebrity chef extraordinaire, is a household name.
And if you do not know him, you may want to check a television screen near you. Chances are, you will find him there.
This is a Singaporean who can't walk down the street without someone stopping to ask for a wefie.
At 55 years, Chef Eric, as he is popularly referred to, is more than a famous face. He has been representing Singapore in international culinary competitions since 1992. The medals, awards and trophies he has received in his 32-year career could easily fill the entire living room wall in a three-room HDB (Housing Development Board) flat.
The award that he holds dear in his early career is the second prize at the IKA 2000 Culinary Olympics, Erfurt.  The competition is one of the most prestigious of its category in the world. The Singapore team led by Chef Eric helped put the little red dot of Singapore on the global culinary map.
"We came in second; Singapore had never come so close to top placing before, and we did not come that close to the top after that, until we won the championship in 2016."
Although Chef Eric was not in the team that competed in 2016, he was at hand to advise as mentor. He has served as mentor chef to many national teams. For his contribution to Singapore's food and beverage industry, this big brother of the local culinary scene was recognised with the lifetime achievement award by WGS (World Gourmet Summit) Awards of Excellence last year.   
Chef de mission
Chef Eric has been mentoring his junior colleagues for awhile now. "These were all my young boys who were commis (junior) chefs when they came in. Now, they are big shots, executive chefs in different places. Whenever I teach the young ones, I tell them, please pass it on. We need more good people out there."  
"Mentoring is more than an award, a trophy or a certificate. It is something that you pin on for life."
Outside the industry, this chef with a big heart has also been inspiring the next generation, giving cooking demonstrations and career talks at various learning institutions. Some weeks ago, he was at Boon Lay Secondary School.  
His efforts have not gone unnoticed.
In 2017, he was awarded SkillsFuture's Adult Education Fellow (AEF) by the Institute of Adult Learning. This prize is given to veteran role models who set the benchmark of quality and excellence in training others within the industry.
"Mentoring is more than an award, a trophy or a certificate. It is something that you pin on for life. It is something that you do not need to display but will grow in the heart."
The greatest journey
But this man who has come so far understands the fragility of success.
Coming to know the Lord at age 37 has gained Chef Eric a different perspective. "It has been a good journey, but then again the word 'good' is not enough to express my gratitude towards God. I think it must be called the 'greatest journey' when I came to know the Lord."
He is especially grateful to God for helping him overcome difficult patches in his personal life.
"When you have kids and you have work, there will be pressure. The Lord saved my marriage."
Back in the nineties, the budding chef was pulling off 16-hour days at the hotel that put a strain on his family. "My son was about two to three years old. It was not easy. At that time my wife was also young, with a temper. I was the soft one, but we overcame. I did it by sweeping everything under the carpet and covering up, until I knew the Lord."
It was two years into knowing the Lord that everything under the carpet was exposed.
"I was attending the Alpha Marriage Course and there was role playing. As my wife and I got into the role playing, everything surfaced. My wife and I started pouring out and sorting our lives right in front of more than 10 couples who were sitting and watching us play out the real-life stories.
"The Lord saved my marriage."
"My cell leaders Keng Lim and Lai Cheng who conducted the course are a lovely couple, I love them. They helped save my marriage a few times. And of course, this is not about them, but that they have God in them.
"Now, my wife and I, we are very close, and we can sort out things overnight. Not easy, but can be done. I am happy."
Happy-go-lucky
Chef Eric describes himself a happy-go-lucky guy. For this Dunearn Secondary School and SHATEC (The International Hotel & Tourism School, Singapore) alumnae, it was not even in his wildest dream that he would reach the epitome of the culinary world. Especially when he was at the bottom rung as a 22-year-old apprentice.
"My chef asked me what I would like to become in the future, I told him I would like to become a Chef de Partie, a section leader in the kitchen. My chef laughed and said, 'Young man, you can become the Executive Chef in future.' I laughed my pants off and said, 'No way!'" He chuckles as he relates the incident.
Despite Chef Eric's insouciant demeanour, the mentor to many younger chefs catches you off-guard when he shares poignant thoughts which can only come from understanding the limits of his own strength. 
"When you are near the bottom like I was at one time, you look around and everybody above you is celebrating their successes. It's hard. You can only say to yourself, 'I will work harder'.
"But there are people who can work harder and achieve success, and there are many people who can't because there's no one to teach or coach them, or they may come from a very unfortunate environment. That's where God can come in and totally change things. He guided my career and gave me lots of confidence."
For Chef Eric, loving God and loving the people who cross his path, personally and professionally, are part of his ongoing "greatest journey".