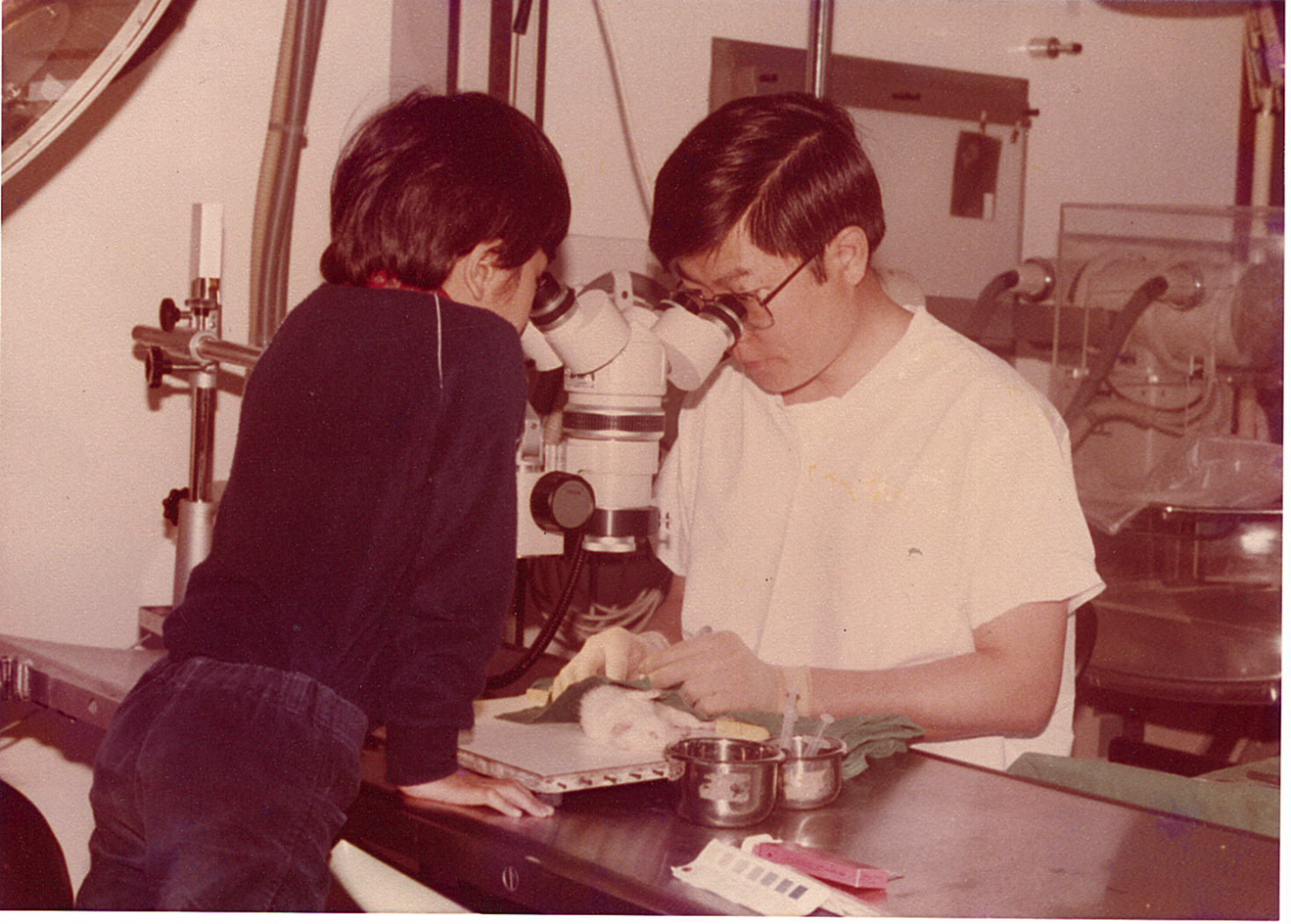 Dr Wong Sen Chow dissecting rats for his thesis in 1981, with his son and future work partner looking on. "I was fascinated by teeny-weeny intestines and smell of formalin, and was asking incessant questions" says Dr Mark Wong, who was then age 6. All photos courtesy of the Wong family.
In an operating theatre at Mt Alvernia Hospital, two general surgeons specialising in colorectal surgery and their team are performing a procedure on a patient. Their communication is focused but relaxed.
The younger of the two, who may or may not be the lead on this particular case, calls his work partner "Dad".
Dad is Dr Wong Sen Chow, 74.
His son, Dr Mark Wong, 45, joined his practice in 2018. Dr Mark also has a separate clinic at Mount Elizabeth Novena.
Salt&Light asked the Drs Wong about their unique chemistry as father and son, both in and out of the operating theatre.
Did you secretly wish that Mark would follow in your footsteps?
SC: I believe that every doctor-parent secretly hopes that their child will follow in their footsteps and succeed them eventually in the family trade. At that time I never thought that we may one day work together as surgeons in the same practice.
For him to be a surgeon and excel in my same speciality was truly a blessing. And having Mark join my practice in 2018 was the icing on the cake.
It gives me peace of mind, knowing that I can entrust the care of my patients – many of whom have been seeing me for years – to Mark's good hands when I retire. I know that he will continue the same brand of compassionate healing that has been central to my practice, guided by the Almighty.
What were the first signs that Mark was interested in becoming a doctor?
SC: When Mark (then 6), and my wife Maira visited me at the experimental lab in Westminster Hospital, London, he was very curious about the experimental project that I was doing.
He peered down the microscope and asked me a lot of questions. This was one of the early signs that we thought we had a future doctor in him.
"There's comfort in knowing that, as my dad and mentor, he has my back no matter what."
M: Dad was on a Ministry of Health sponsored fellowship to pursue advanced surgical training. He spent the whole of 1981 in London. Mum and I joined him six months later for the second half of his stint.
We lived in a comfy basement apartment, and I attended a local public school, making friends from all over Europe. At home, I was often busying myself with biology experiments. My favourite was planting bean sprouts and fussing over Mum to cook them for dinner as soon as they were ready to be harvested.
SC: Once, when I was still giving tutorials in Singapore General Hospital to junior college students on work attachment, I invited Mark (who was then also in JC) to join us. He was very excited and enjoyed the whole session. He wasn't squeamish about seeing wounds and the sick.
I suppose my work and what I sometimes talk about at home must have got him interested.
What is the X-factor of operating together as a father-son team?
SC: I must admit that a father-son team operating together is uncommon. We operate well as a team. I acknowledge that Mark is more advanced in his training.
Laparoscopic (keyhole) surgery and robotic surgery certainly were not mainstream during my training days. These days, I concede to him as lead surgeon and I as assistant in such major surgeries. It is such pleasure and pride that I have.
M: For me, it is the special mix of pride and comfort.
Pride in making Dad proud, and knowing that I can stand with him as a colleague to heal patients.
Comfort in knowing that, as my dad and mentor, he has my back no matter what. That level of trust and reassurance is something sacred. The operating room is a special place where we put our years of training into action.
Every patient is the same once under anaesthesia – lying there as vulnerable as a newborn. The trust placed upon us as surgeons by patients is truly humbling. I feel blessed to always have Dad's counsel available especially during challenging cases.
Whoever is the primary doctor for the patient will usually lead the surgery, but between us it is flexible and this is something special yet again.
At the end of the day, we ensure the patient gets the best treatment they need. Having us both see the patient during rounds is also very special and reassuring for patients and their families. And the hospital staff love the whole idea too.
What do you call each other at work?
M: I call him Dad both at home and at work. It doesn't bother me, and I think those around also find it endearing. I'm proud that he's my dad and I want the world to know it, too.
The clinic team calls us both Dr Wong. Sometimes we both respond, which never ceases to amuse all of us. 
What were/are some things you love doing as father and son?
M: I started out learning sailing at Changi in a little sailboat called Optimist that Dad aptly called "little floating bath tubs". Sailing taught me to be independent and resilient, as often, one had to rely on your wits to battle the elements. It also taught me to be patient and appreciate nature's beauty.
I was delighted when I graduated from "bathtub-sailing" and could join the grown-ups on their faster sail boats.
We also travel together.
"I feel blessed to be able to discuss work-related matters any time … and to wind down with Dad."
I've always loved planning trips. My wife Faye and I are travel bugs; we have been to every continent except for Antarctica. It just made sense to bring Dad and Mum along since they were getting on in years. We felt they would be safer with us.
Our most memorable trips to date have been to Iceland and a South African safari. I wrote about both for SMA News (the monthly publication of Singapore Medical Association).
On safari in 2017, one thing that fascinated us colorectal surgeons was the similarities that humans share with animals in terms of stool patterns, with herbivores producing pellet-like stools and  carnivores making more tubular shapes. It made me wonder if the plant-eating animals are often bloated and constipated like many of my fibre-loving patients.
Our guide told us about the South African sport of dung spitting, where contestants spit out pellets of antelope stool from their mouths to see who can expel them the farthest. He demonstrated enthusiastically on two kinds of animal dung, leaving us in stitches.
I am looking forward to bringing everyone for another African safari on our next trip overseas.
What was the Wong parenting style like?
SC: My wife Maira and I are very blessed that our boys, Mark and his younger brother Brian, have always been very good. They never gave us any serious problems.
We have never resorted to caning to discipline them. I must admit that I was quite stern with them when young; that might have been why we did not resort to corporal punishment.
Brian had told us that he would do any course in university except medicine – after seeing his old man and elder brother working their bottoms off. He went to Cornell University to study aeronautical engineering, and then to Stanford University for his MSc in the same field.
We are very proud of what our sons have done and achieved. Praise the Lord.
M: As young kids, we were always showered with love and attention. And as we grew older, we came to appreciate that God was working through our parents to keep us on the right path.
How did the family come to faith? 
M: We attended several services at various churches, but found a special peace in the Catholic church. We converted shortly after the passing of my grandpa (Dad's dad). Former Archbishop Nicholas Chia was then our church parish priest and we journeyed with him to baptism.
We make it a point to attend weekend masses together. This is something special that we look forward to all week. Especially when we embrace as a family during the Offering of Peace, all our worldly troubles and worries seem to disappear as we feel comforted by His Love.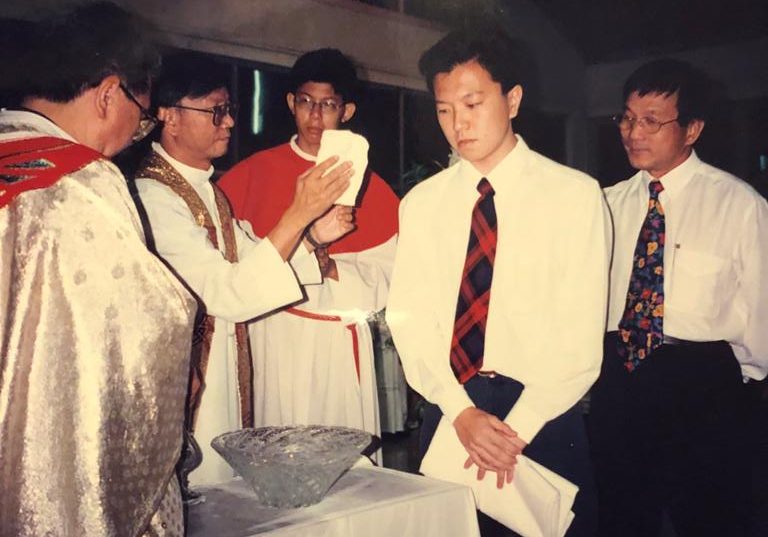 SC: I always do a silent prayer in the OT (operating theatre) before every surgery that I perform and give thanks afterwards for a successful outcome and for the patients' speedy recovery.
M: Having a church and chapel near my workplace has been a blessing. I make it a point to visit these whenever at work for quiet reflection and prayer and to ask for God's blessings in all that I do.
You spend so much time working together, and you travel together. How do you make this work?
M: We are blessed to share a special relationship. We love each other as father and son, and respect each other as professional peers at work. I feel blessed to be able to discuss work-related matters any time at ease, and to be able to wind down with Dad – sharing a good bottle of Bordeaux or going on holiday.
My wife, Faye, is the best. She bonded with Dad and Mum from Day 1. She too has always placed God and family above all else.
We love spending time with them, and pre-COVID, we made it a point to have meals with them at least twice a week. So it was tough during the Circuit Breaker, not being able to spend as much time as we would like with them, even though we could go on marketing runs to bring groceries to them, and check that they are keeping fit with their neighbourhood walks.  
How are you proud of each other?
M: Dad beams with pride, sharing my success with his colleagues. I, too, beam with pride sharing with my peers about Dad.
It is heartwarming to hear others shower Dad with praise, from the CEO of the hospital, to the missionary nuns, and the hospital attendants who have known him for decades.
They mention his surgical prowess, his humility and friendliness – values which I continually strive to uphold in my own life and practice.
SC: I am very proud of Mark – seeing the way he interacts with his patients, the nursing staff (many of them adore him) and the ancillary staff. He carries himself well and I can see that he is well respected.
In what ways has Dad been your role model?
M: Dad is a gentleman first and foremost. He still opens the door for Mum.
He always puts family first, striving to take the best care of us and even his siblings and extended family. During festive periods, he tirelessly ensures that everyone is available for family gatherings, which is important.
He is also a friend to all, and loyalty is something he values very much. He's been the peacemaker between mutual friends whose relationships may have gone awry.
"I'm proud that he's my dad and I want the world to know it, too."
He also speaks fluent Malay because he grew up in a kampung. That is kind of why he mixes well with anybody. He has many friends of different races.
He would also remind me to always treat everyone with respect. This became very clear when I followed him on hospital rounds as a child. He amazed me with his uncanny ability of remembering everyone's names, and effortlessly striking up conversations with everyone from the parking and housekeeping attendants to senior medical staff.
These are lessons I hold dear as I try to walk in his footsteps. The values are something that I try to inculcate in the juniors I mentor in their medical journey.