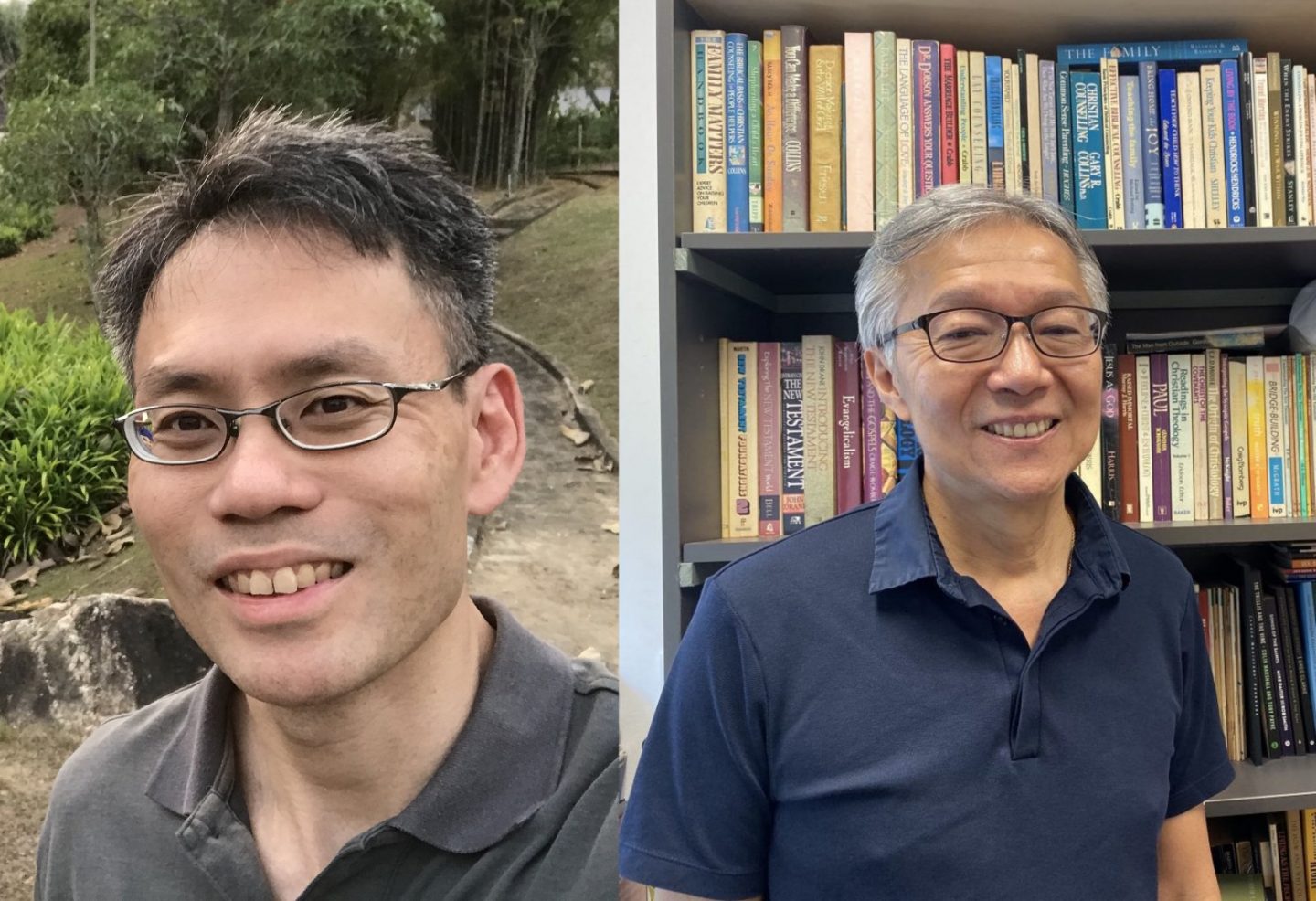 Reverend Eugene Low of Grace Baptist Church (left) and Reverend Christopher Chia of Adam Road Presbyterian Church (right) are former journalists with The Straits Times.
Last month, I vacated my brown-hued office desk – which had the familiar mess of a second home – at Salt&Light, and found myself a space in a larger and secular newsroom.
Yet one main worry has surfaced: Will I live up to my former company's namesake in the marketplace?
As one of my last assignments, I decided to seek the advice of two journalists-turned-pastors: Reverend Eugene Low, a pastor at Grace Baptist Church and a former Washington Correspondent for The Straits Times, and Reverend Christopher Chia, the senior pastor at Adam Road Presbyterian Church and previously a sub-editor at The Straits Times.
Here, Rev Low shares his insights. (Please see Rev Chia's interview here.)
To begin with, how exactly can I be salt and light in the marketplace?
Rev Low: The general answer would be what Paul says in Romans 12:1 – that all of life is worship. We are to give ourselves as living sacrifices. Our jobs are not outside of that larger calling.
Scripture tells us that we are to worship with every part of life. This includes work, as well as our relationships, such as in marriage and parenting. In this broader sense, we are salt and light by embodying the truth of the Gospel wherever we are.
"The workplace is one key area where God does His sanctifying work in us."
We should remember what Paul tells the masters and slaves in Colossians (Colossians 3:22-25) and Ephesians (Ephesians 6:5-9): We have a master in heaven. We don't belong to ourselves anymore. Given that Christ is our Master, the way we engage with others should therefore reflect Christlikeness.
For example, we should still love our colleagues even if they are unjust. We should also be willing to sacrifice our time to build relationships with them. Peter said something radical — that it is better for you to suffer while doing good, than otherwise (1 Peter 3:17).
So it is broader than seeing our workplace as a mission field. It is that, but it's more than just "I'm here to share the Gospel with everyone". It's also about how I can embody the very truth of the Gospel that I'm sharing.
How can we apply these truths to the role of a journalist?
Rev Low: Sometimes as a journalist it's hard, because your colleagues are viewed as competitors. Everyone is chasing after leads and scoops. But I wonder if sometimes being godly also means letting go of certain stories for the sake of loving others.
This sort of ethical dilemma is not exclusive to journalism. A big part of being salt and light is also trusting God with our careers and being willing to rest in his provision.
It's like a Daniel-type of situation. One regime he is under seems pretty happy with him, but under another regime, his colleagues are trying to kill him. Yet all through those changes Daniel simply says: "I trust that God is sovereign. He provides, and whatever He gives me is good and right."
Are there other purposes Christians have in the marketplace?
Rev Low: I do think the creation mandate still continues. As Christians, we are to think actively about how our jobs contribute to other people's good.
It might not be very glamorous. I don't think our role is to transform culture, but to be the faithful presence of Christ in the culture, and ultimately point people to a completely new culture that can only be found in Christ.
To borrow John Piper's words, I want to find my ultimate satisfaction in God. How do I do that through my work?
Rev Low: I think this is part of the bigger question of "How can I worship God with all of my life?" I think the short answer is that we need more of Christ in us.
We must understand that, first and foremost, we are not workers, but we are followers of Jesus. The way for me to pursue contentment is not to look at my circumstances, but to be filled with awe over Christ and what He has done, what He is doing and what He will do.
This must become the dominant narrative in our lives, or else other narratives – that I need a successful career, a better marriage, children who perform – start to dominate.
Discontentment and angst will start to creep in because we buy into the idea that we need more and we deserve better.
And how can I have an experiential faith that goes beyond the circumstances?
Rev Low: This gets into the bigger area of how we think about suffering in the Christian life. How do I respond to my circumstances? Am I still able to have joy and contentment in Christ when trials come?
Sometimes legalism creeps into the way we think about suffering. We think we don't deserve suffering because we're "good people". Or we think suffering means that we're somehow outside of God's plans.   
"We often experience difficult circumstances at work, and God brings those into our lives to reveal where our hearts are at."
How we respond to our circumstances reveals what our hearts are actually fixated on. If my idol is personal success, then a setback at work can cause me to lose my sense of self. Whereas someone who trusts that Christ is in control will respond quite differently when times are tough.
The workplace is one key area where God does His sanctifying work in us. We often experience difficult circumstances at work, and God brings those into our lives to reveal where our hearts are at.
This is another way that our work matters to God. It's not just a matter of what we're doing for God in our work, but also how God is using our work to sanctify us.
This includes success at work as well. How do we remain humble and thankful when things are going smoothly? In a place like Singapore, we are accustomed to view prosperity as unmitigated good. But prosperity can also turn into something that stumbles us.
God is gracious. He does give us success, but He also means for us to respond to prosperity in a way that glorifies him.
Proverbs 30:8-9 says: "Give me neither poverty nor riches; feed me with the food that is needful for me, lest I be full and deny you and say, "Who is the LORD?" or lest I be poor and steal and profane the name of my God."
How do we "humbly submit" in a competitive industry? Journalists-turned-pastors Eugene Low and Christopher Chia give their take
Looking for meaning in work? The secret lies in a Rule for monks 1,500 years ago