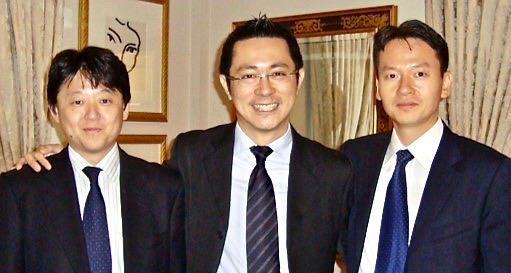 Eugene Seah (middle) with colleagues during his banking days. The more he had to lose, the more insecure he became, he said. Until God answered his prayers in an unexpected way. All photos courtesy of Eugene Seah.
Since Eugene Seah was a child, he followed a script imbibed from his parents and teachers. The script went like this: Study hard to get good grades, so that you can get a good job in order to lead a happy and fulfilling life. 
Not knowing the existence of other scripts, he followed this roadmap for a successful life to a tee. 
He studied hard and became the president of the Hwa Chong Junior College students' council. To help pay for his university education which his family could not afford, he managed to score a prestigious, bond-free scholarship offered by the Singapore Exchange (SGX). 
For the first time in his life, he began deviating from the cookie-cutter script.  
In university, he almost studied law. He applied for it during his first year of National Service because it seemed to be an elite degree, and got in.  
The year after, however, he read a book by CS Lewis entitled Mere Christianity and was convicted that God was more real than he thought.  
For the first time in his life, he began deviating from the cookie-cutter script.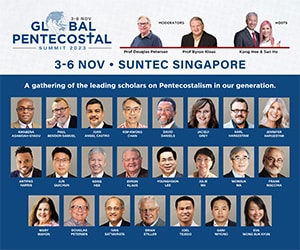 He was convinced he should give up his place in the law faculty and opted to study mass communications at the Nanyang Technological University (NTU) instead. Since young, he had always enjoyed speaking, acting, directing, scriptwriting and being on stage.  
"I felt the realness of God meant I ought to devote more of my time, talents and life to Him and began dreaming of being a film director or writer to impact lives," said Seah, 44, who was then writing newsletters and Christmas drama scripts for St Andrew's Cathedral (SAC), the church he was attending.   
At NTU, he joined Campus Crusade for Christ, now known as Cru, and became "first a Christian, then a student" during his university days.
Almost every day, he could be found busy with Cru's activities, whether it was sharing the four spiritual laws with his peers at the canteen or organising weekly evangelistic services and camps. He even relinquished an opportunity to go to the United States for an exchange programme in order to stay behind in Singapore to be involved in Cru. 
He had a new script and identity: To live a life of purpose for Christ.  
He assumed that meant going to theological college, full-time ministry, or landing a job in the arts scene post-graduation.
Bull charge
When he graduated in 2001, that was the period when the dotcom bubble burst and jobs were not easy to find. He also needed to save money urgently given that he was planning to get married one year later.  
Knowing that he had just graduated, SGX offered him a corporate communications job and he accepted it.  
"I had the mistaken idea that having good character and excelling in finance is mutually exclusive."
Seah did not like finance at all. As part of his job, he needed to read The Business Times every day but his eyes would glaze over and he could not get past the second paragraph.  
However, the people there were kind and nurturing. He grew to appreciate finance the more he learnt about it. Scholars like him had the opportunity to have breakfast with then SGX's CEO, Mr Hsieh Fu Hua.  
"I remember challenging him about faith and career matters, such as suggesting that playing stocks was no different from gambling. I had the mistaken idea that having good character and excelling in finance is mutually exclusive, since the Bible says that one cannot serve God and money at the same time," said Seah.  
"It was a false and artificial dichotomy and we had frank discussions over it," he added.  
During this time, Seah also started a Christian Fellowship group during lunchtime every Friday. He led Bible study and introduced colleagues who wanted to know more about the faith to the Alpha group that was running in the central business district nearby.   
Jekyll and Hyde – he was a political player during weekdays and a worship leader during weekends. 
With Mr Hsieh's support, Seah and his team also spearheaded the SGX Bull Charge, the only corporate charity initiative that brings together Singapore's financial community and listed companies to support the needs of underprivileged children and families, persons with disabilities, as well as the elderly.   
Though finance was not his cup of tea, Seah found his time at SGX immensely fulfilling because he could tap on his networking skills to garner corporate support for the social cause of SGX Bull Charge. He excelled in it and was promoted to become the assistant vice-president of investor relations after seven years, despite only having corporate communications and marketing experience prior to that.  
While handling investor relations, the banks began noticing him. Soon, a Japanese bank offered to double his salary to $12,000 a month should he decide to join them.
It was 2008 then and the Asian Financial Crisis was gripping the world. His wife, formerly a church worker at SAC, had also quit her job and became a housewife to look after their two children.
Motivated to secure a higher salary to support his family and by the thrill of trying something new, Seah took up the bank's offer to be its executive vice-president for corporate access.  
Power and money
It was during his time at the Japanese bank that Seah gradually began losing himself. He started priding himself on an impressive title and looked forward to distributing his name cards with pride to his former classmates during class reunions or weddings. Now, he had a team to manage and flying business class for company trips felt "so good" to him.    
Hungry for more money and power, he also threw himself into work. When he did a good job in bringing the leaders of listed companies in Singapore to Tokyo for his bank to grow their investor relations and knowledge, they began asking him to do more.
"All I wanted was to climb the corporate ladder because I had too much to lose by then."
When they asked him to bring regional companies to them, he also did it.
Finally, they challenged him to bring all these companies to their other businesses in London and New York. Eager to impress, he stretched himself thin and bent backwards to meet their demands. Being competitive, he also participated in office politics when it was to his advantage.  
One day, the bank hired a Japanese worker who was once from Lehman Brothers. He was perpetually in a suit and tie and reported to Seah. For some reason, Seah felt uneasy and wondered if the man was there to replace him. He consulted another Japanese colleague, who told him that, indeed, he had heard that the Japanese subordinate was placed to learn from Seah, with the aim of eventually taking over his role.  
Seah became worried and insecure, as he had three kids by then and feared being unable to support his family should he lose his job. So, he plotted to force the Japanese subordinate to leave the company and he succeeded. The man left.  
"It was scary. I was so different from my Crusade days in school. All I wanted was to climb the corporate ladder because I had too much to lose by then," said Eugene.  
Jekyll and Hyde
He adopted a Jekyll-and-Hyde persona – political player at work during weekdays and worship leader in church on weekends. 
While speaking on stage one day, he caught the eye of a global bank, who offered to double his paycheck again – this time to $24,000 – if he were to join them in Hong Kong and be their assistant head for the Asia-Pacific's corporate access team. 
Curious about working overseas, he took up the offer and relocated his whole family to Hong Kong. He thought he had "arrived" in life to be able to work overseas like an expat.  
"Before I knew it, I had subconsciously changed track from pursuing dreams to pursuing promotions."
Little did he know that he was walking into an extremely hostile environment. He did not know how to speak Japanese or Cantonese and was akin to being a naive kindergarten kid whenever political or power play surfaced. As a novice, he also was "eaten alive" by the Chinese during his business trips to China. Travelling frequently meant that he was often stressed and tended to fall sick easily.  
Besides battling politics externally, he also faced friction from his colleagues internally.
They felt that he was a "foreign talent" being parachuted in and thus, did not like him. No one wanted to have lunch with him. He was close to experiencing burnout.  
During the weekends, he still made it a point to attend an international church in Hong Kong. Going to church and taking his three children on outings to Disneyland during the weekends were the highlight of his week. When Mondays came, he had to drag himself to work.  
Growing increasingly dissatisfied, he was quite sure there was much more to life than a stable high-paying job.  
"Each time I watched a video or read the news about someone leaving his job to pursue a meaningful career, I would feel very envious but I did nothing about it. What could I do? I was the sole breadwinner and didn't dare leave my job," said Seah.  
"My desire to work in the media field was replaced by KPIs such as money and stability. Before I knew it, I had subconsciously changed track from pursuing my dreams to pursuing promotions. Every time I was promoted, my desire for my dreams lessened and the desire to earn more money increased. I slowly became a corporate zombie, working for money," he said. 
He doubted that he would be able to earn as much if he pursued his dream to be a life coach and motivational speaker. So he only indulged in his interest whenever his job required it – whether it was giving talks and emceeing at the Japanese bank or being a panellist at conferences when he was in Hong Kong.  
As he was unhappy in his job, Seah began finding joy in signing up for the many free training courses offered by his company instead. While attending the courses, he thought to himself that he could do the trainer's job, or even do it better.  
He arranged to meet the full-timer trainer for coffee one afternoon, thinking that a transfer to become a trainer would be perfect for him.  
That same afternoon, he received a call from HR. 
Shocking answer to prayer
Seah thought that he was going to be promoted because his boss who hired him was retrenched a few months ago. He was the deputy and next in line for the position. 
"A few minutes ago, I was the vice president, now I wasn't even allowed to walk back to my own desk."
During this period, he had also been constantly telling God that he wanted to leave his job but was not sure of what to do next. He was questioning the meaning of life.  
"I realised on hindsight that, in late 2013, God answered my prayer," said Seah.   
He lost his job.  
After getting the call from HR, Seah went into a room where he saw both his manager and colleague from HR.  
They said he has been retrenched and gave him a few minutes to leave the building. 
He asked for permission to pack his things on his desk, and they replied: "There's no need to. We will courier your stuff back to your home." 
"Wow, a few minutes ago, I was the vice president at the bank, and now I wasn't even allowed to walk back to my own desk," Seah thought to himself.  
Yet losing his job was not the worst thing that happened to him. 
Over the next nine months, he tried looking for a job and was rejected or ignored by hundreds of companies. 
In a bid to make money, he fell prey to two financial scams and lost close to $20,000. 
Initially, he was not too worried as he was confident of getting a job very soon. Using his retrenchment benefits that was equivalent to three months' pay, he took his family for a holiday to see snow in Hokkaido, Japan.  
When he returned to Singapore, he made some poor financial decisions. Wanting to retain his previous lifestyle, he bought a used car, which he sold within six months, losing a five-figure sum in the process. 
In a bid to make money, he fell prey to two financial scams and lost close to $20,000. 
Eventually, he approached headhunters to help him with his job search. When he finally got a job offer that would pay $8,000 a month, he rejected it. 
"To me, it was an insult," he said. But his arrogance soon gave way to desperation when he saw his savings dwindling fast. He shifted his sights to look for any job.  
"It was very ironic. I gave up a job that would pay me $8,000 a month, then I ended up looking for jobs that pay $4,000 a month," he said.  
Despite lowering his expectations, he still could not find a job. 
$2.50 economy rice
Desperate, he asked his brother for a loan to tide him over and also sought financial aid. His children were placed on a financial assistance scheme and were given food coupons, free textbooks and school attire.  
He himself was given a Workfare Transport Concession Card, which allowed him to get discounted fares on public transport. He ate $2.50 economy rice every day.  
At first, he tried to look for "meaningful" work – a job that paid well and impacted lives but he realised there were very few of such opportunities. 
"I felt that the story of the prodigal son only happens in the Bible."
On a few occasions he was tempted to start his own life coaching company, but he stopped himself. 
Numerous questions ran through his mind: What do I know about running a business? What if I fail? How can I provide for my family?
He continued his job search for the next few months. But there was rejection after rejection. Silence was followed by more silence. 
He almost sank into depression but managed to find strength in his faith. While leading worship at SAC one weekend, Seah gave thanks to God for bringing him and his family back safely to Singapore.
He also shared his personal and financial struggles in church and that was how his mother, Madam Jennifer Tan, got to know of them. 
Hoping to take his mind off his worries, Madam Tan invited him on outings to watch movies and window shop. She also paid for their meals. 
"At that time I was angry and kept scolding God," confessed Seah. "I felt that the story of the prodigal son story only happens in the Bible because I kept asking Him to show himself to me but there was no clarity as to what to do next." 
God's colours
Despite the seeming silence of God, divine encounters were waiting to happen.  
One day in 2014, Seah was at Toa Payoh MRT when he bumped into a friend from his NTU Crusade days. They spoke briefly and arranged to meet for coffee shortly after. During the catch-up session, his friend shared about how the events company he was running was doing very well and they were looking to start a training outfit as well.  
Despite the seeming silence of God, divine encounters were waiting to happen.
He asked Seah if he would be interested in jointly launching a training company. That was the nudge Seah needed to take a leap to set up his own business. His friend did almost everything: Registered the company, created the website and marketing materials.  
All Seah needed to do was to speak.  
"God was kind and knew that I may not have the will or courage to start my own company if this door did not open. I wanted to do it, not only because it was my interest, it was also because my savings were running out," he said.  
He became a trainer and life coach in 2014 after co-founding a corporate training services company, Trainum Academy. For most of 2015, he provided training and gave public speeches for free at places such as schools and corporate organisations, while networking extensively and honing his presentation skills. 
"Life wasn't easy as a new entrepreneur, but I felt so alive. I was living the life I had dreamt of – coaching people in need, speaking on stages to large audiences, and training motivated professionals," he said.
It was no walk in the park though. He and his co-founders did not agree on business strategy. In late 2015, they split up and he became the sole director of the company.  
A year later, in 2016, he began charging for his training sessions – starting from $200 a day and working his way up to $1,000 a day. 
He also began designing customised training and coaching programmes for organisations, helping them solve corporate problems such as low morale and high turnover among staff. His clients include organisations such as biopharmaceutical company Ferring Pharmaceuticals and car parts supplier Continental. 
Divine appointments
Further divine appointments continued to pursue him.  
"My life is so colourful but I could not have planned the colours myself. His ways are higher than my ways."
In mid 2016, his friend recommended him to meet his university friend who was also running a training company. Open to meeting new people, Seah met the stranger who was the same age as him.  
It turned out that the man was a director at Prudential and he hired Seah to teach public speaking to the children of his clients. That fascinated Seah, for why would a financial consultant pay him to offer his clients' children such training for free?
Seah later learnt that the man was extremely generous in giving out scholarships and aid to others, and aspired to understudy him in order to adopt his strategies for his own life coaching business. That led him to eventually take the exams needed to obtain the MAS license to become a financial consultant.
To offer more holistic impact, he added personal finance to his repertoire of training and consultancy services. With his past disasters in financial management, he hopes to educate others in this area so that they do not make similar mistakes.    
"I began seeing a pattern that revealed to me the hand of God in my life. Whenever I try to move away from finance, God pulled me back to it. When I wanted to be a film director, my first job was at SGX instead. When I became a life coach, I was drawn to a financial consultant that showed me the value of financial management," said Seah.   
"Yet at the same time, my childhood interests and dreams still continue to feature as part of my story wherever I went; I was speaking and emceeing even during my banking days.
"My life is so colourful but I could not have planned the colours myself. His ways are indeed higher than my ways," he added.  
In 2017, he was earning the same pay as his former banking job. It felt like a miracle. His current coaching rate has increased to $8,000 a day.
The 44-year-old now makes more than he did in his previous corporate job. His three children are aged 10 to 16.
For those who have been retrenched or are struggling to find a job, Seah has some tips.  
"Don't put God in a box and dictate what He can or cannot do. Be open-minded to the full range of possibilities and be willing to explore.
"In the garden of Eden, God allowed Adam and Eve to do anything except eat from one tree because that would hurt them. Yet we tend to focus on what we can't do instead of everything that we can do. Adam and Eve could have been hikers, nutritionists, graphic designers and more!" he said.  
He also urged those looking for jobs to go out and meet more people.  
"Sometimes we think that God is absent, but He is actually there carrying us through."
"Every person you meet and interact with gives you a new piece of data that may help to solve the puzzle. Do what you need to do, even if you are an introvert," said Seah.  
Today, he is also using his giftings to aid social causes. He has helped Wesley Wee, who has cerebral palsy and used his toes to type out his life story, to launch his book. He is currently supporting a bedridden lady, who is only able to move her face yet runs an e-commerce business, to get her book published as well.  
These life stories, including his, remind Seah of how God is always present, and always speaking to us. 
"Sometimes we think that God is absent, but He is actually there carrying us through. We discover more about God when we get to know ourselves better and come to realise that we are being carried," he said.  
"I recognise how God has been working in my life. I do not force God to speak my language; He is free to speak in His own ways. We just have to learn to recognise it."  
---
IF YOU LIKED THIS STORY, YOU MIGHT LIKE:
Unwanted as a child, homeless as an adult, Wesley Wee finds happiness against the odds
Retrenched, but finding step with the One who stilled the waters
If you have enjoyed reading Salt&Light...
We are an independent, non-profit organisation that relies on the generosity of our readers, such as yourself, to continue serving the kingdom. Every dollar donated goes directly back into our editorial coverage.
Would you consider partnering with us in our kingdom work by supporting us financially, either as a one-off donation, or a recurring pledge?
Support Salt&Light