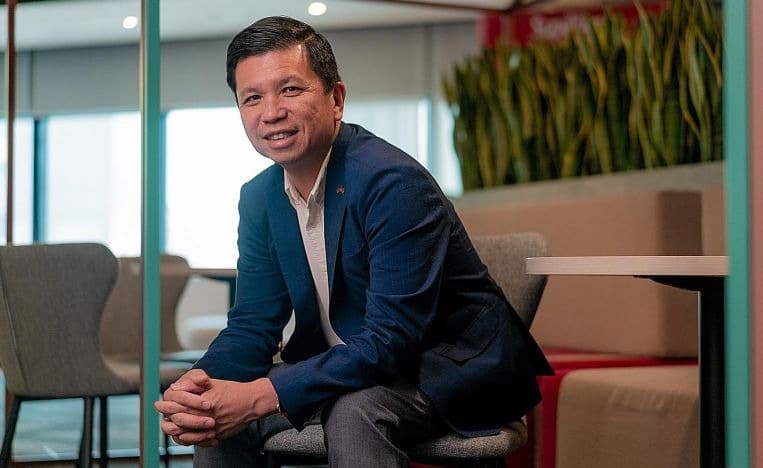 "You do not need to be a pastor to serve God; your circle of influence is your congregation," says Henry Tan, group CEO of accounting firm Nexia TS.
Henry Tan endured many sleepless nights when the pandemic raged on the last two years.
The 58-year-old heads an accounting and consulting firm, and the business was not doing too well then. His staff could not go out to meet clients for discussions or check their books for auditing.
Each time he woke up in the middle of the night, he fretted over how he would be able to pay the 300 staff under him. Many of them were breadwinners; hundreds of dependents would be affected should he have to fire any of them.
On one of his regular walks at Upper Pierce Reservoir, he decided to conquer the fear and worries in his heart. He did so by turning to God and asking Him what He would do in such a situation.  
God whispered to him: "What did I do?"
"I know You sacrificed yourself for all of us. But I can't die, and even if I did, it would not help the situation," Henry replied quickly without much thought.
Upon pondering longer on the idea of sacrifice, Henry realised that – as Group CEO of Nexia TS – he could lead by example by sacrificing some of his salary instead of cutting jobs.
He announced to his 20 partners that he would take a 30% pay cut until things started to look up.
Despite doing so, the business situation remained uncertain.
I felt God asking me: "What are you existing for?"
Henry recalled that apart from setting the perfect example of sacrifice, Jesus also shared with His disciples matters that were close to His heart.
So, he shared honestly with his 20 partners and convinced them to take the lead through a 25% pay cut.
It was guided by the principle in Luke 12:48, that "to whom much is given, much will be required."  
One month later, Henry shared with his employees about the ongoing situation and asked for their understanding to take a 20% pay cut for the next three months.
"Everyone started owning the issue and began to monitor the cashflow situation. They finished their work in a timely manner and made sure they collected the fees after that," Henry told Salt&Light.
Surprisingly, the cashflow situation reversed and improved significantly, to a degree the company had not seen before in the last three decades.
To reward all employees for their sacrifice and loyalty, the company eventually paid them back a bonus that covered all the pay cuts that they had taken.
This was one recent example of how Henry is guided by divine wisdom and biblical principles in running his marketplace business. 
Finding his "why": Tentmaking and marketplace evangelism  
He has come a long way since he took the leap of faith to leave one of the Big Four accounting firms he was at to set up a boutique company with a partner in 1993 at the young age of 29.
"I was working till midnight or 1am every day, helping companies complete their financial statements to meet deadlines after deadlines. I felt God asking me: 'What are you existing for?'" said Henry, who is married with two young adult children.
As Henry explored his "why" – the purpose of his existence – things became clearer for him.
"I wanted to use the abilities God has given me to handhold and support small and medium enterprises (SMEs) in the long run to ensure their success, instead of rushing to meet deadlines after deadlines," said Henry.
His dream was to guide and help these SMEs set up systems and values in their companies that are pleasing to God, and eventually share the Gospel with those with whom he has developed a relationship, should there be an opportunity to do so. 
He tries to walk the talk.
Apart from constantly reminding businesses to be truthful in their growth forecasts of numbers to investors or banks, he also cuts off lucrative deals whenever he gets a whiff of any fishy business.
He recalled an instance where his company was engaged to check the books of a firm in Asia as his client wanted to do a transaction with that entity.
The numbers that the firm reported seemed too good to be true, and Henry felt a prompting that something was not right, yet there was no evidence of any wrongdoing.
His employee later reported to him that when he reminded the CEO of the company to chase a customer for some outstanding debts, the CEO simply took out a stamp to ink the document on the customer's behalf. It was clear then that something was amiss.
Henry advised his Singapore client to pull out of the transaction. Though huge profits were being passed over, Henry and the client decided that integrity in business was paramount.
Episodes like these did not go unnoticed by his staff members. They saw that he often gave people second chances and chose to surrender any business problems to God in prayer.
"Henry, you are too nice and kind. That may not always be the best way of dealing with things," one of the leaders often remarked to him.
Yet when the leader was facing some challenges, he would call Henry to seek his prayers.
Over time, after more than 20 years of knowing each other, Henry brought that colleague to Christ and he now attends church with his family.
"The marketplace, where we spend so much of our time and lives, is a prime spot for evangelism.
"You do not need to be a pastor to serve God; your circle of influence is your congregation," said Henry, who sits on various boards. He is a council member of the Institute of Valuers and Appraisers, Singapore, an executive committee member of the ASEAN Federation of Accountants and chairman of the Nanyang Business School Alumni Advisory Board, among others.  He also serves with LeaderImpact Singapore, a movement dedicated to developing leaders. 
Marketplace minister Henry Tan shares with Salt&Light some ideas that may be effective for marketplace evangelism, including some do's and don'ts when attempting outreach.
#1: Share Bible verses without citing the source
The Bible has much wisdom for everyday living, and it could be a way in which pre-believers encounter God.
However, some people may not be open to receiving such wisdom should they know that it is from a religious book. Thus, Henry often shares Bible verses with his friends, staff, clients and fellow entrepreneurs without citing the Bible's book or chapter. He also helps them put the verses in the context of their situation so that they can see how it applies practically in their lives.
For instance, he used to have a client running an import and export business in a neighbouring country, where giving the authorities a "commission" was the norm. Henry asked his client directly: "Is this commission or actually bribery?" The client replied that if he did not do it, he would not be able to run his business at all.
After praying about the issue, Henry texted him this line inspired by Philippians 4:8: "Whatever is true, whatever is noble, whatever is right, whatever is pure, whatever is lovely, whatever is admirable – if anything is excellent or praiseworthy – think about such things."
He then suggested getting the goods from proper agents instead. The client subsequently followed his advice and did so, despite incurring higher costs.
#2: Wait for the kairos moment, but be on alert for opportunities
Not every moment is a good one for evangelism, and Henry found that out the hard way. There were times he tried to share the Good News with taxi drivers while on the way to his destination, only to be gruffly threatened by the driver: "If you share some more, you will have to get out of my cab."
Instead, he has learnt to use opportunities that come his way, as those may be indicative of His divine timing.
Recently, an employee came to him to request for a work-from-home arrangement, as her son was struggling with mental issues. Henry asked for the son's name and the concerns she had, and prayed for him in his own time. He also texted her written prayers and she was appreciative of his efforts.
"God has placed all of us where we work for a reason and there will be opportunities right where we are," said Henry.
#3: Let the other person speak first
Henry believes that in any conversation, spiritual or otherwise, if a person lets the other party talk for 15 minutes, they would feel obliged to listen to the person for at least five minutes after that.
In the midst of heated discussions, he finds it more fruitful to listen, think and pray instead of chiming in.
"After others have had their say, they may notice that you have not spoken and ask you what you think. This is the time when you can give a different perspective and propose a solution that comes with God's wisdom and perspective.
"When it is received well, you can then talk about spiritual matters at that moment or at another time," he said.
Do's and don'ts in marketplace evangelism
Be consistent in your behaviour whether at work or in church, and whether interacting with clients, colleagues or bosses.  
"If you act differently in different roles and occasions, people can see through that. They know whether you are authentic and trustworthy, or have other motives or agenda," Henry shared with Salt&Light.
"Yet we should not be afraid to be known as Christians or do outreach at work just because it may put more pressure or expectation on ourselves to behave or carry ourselves well. We are called to be the light of the world, instead of being covered up. This way, we are also held more accountable to practise what we preach," he added.
He recalled an instance where he was trying to get a colleague to see that everyone was having difficulty working with her because she had some areas that she could improve on. However, instead of acknowledging the feedback, she began blaming others instead.
"If any Christian initiative is anchored by the boss, it may be seen as a form of coercion or prejudice."
Henry became so frustrated with her that he banged the table with the pen he was holding and it flew up into the air.
"I felt so bad about it that I stopped the meeting to calm myself down. Then, I apologised to her and met her for coffee. We are all not perfect and that is okay as long as we try our best to act rightly," he said.
Another point to note is to remember to mix with colleagues from different cliques, faith and socio-economic backgrounds.
"Some Christians only have friends from prayer groups or other church groups, and they find that they don't have anyone to bring to Alpha (a course for pre-believers to explore the Christian faith)," he observed.
"I make it a point to check that at least 40% of the friends I meet up with are pre-believers. We also need to be interested in what they want to talk about instead of sticking with a holy huddle of believers who use Christian jargon," he added.
One aspect to avoid when it comes to marketplace evangelism is not to get the boss to directly organise or facilitate any evangelistic or faith-related activities.
"Our company welcomes employees of all faiths, so if any Christian initiative is anchored by the boss, it may be seen as a form of coercion or prejudice," said Henry.
Instead, Christian employees who wish to organise such events – his company has hosted Alpha sessions and talks from Focus on the Family – can do so and others can sign up on a voluntary basis.  
"The harvest is plenty, the labourers few"
The needs of people in the workplace, spiritual or otherwise, are immense. Given that people spend most of their time at work, it makes sense for believers to engage in marketplace evangelism, Henry noted.
He recalled that a few years ago, a colleague had shared that she found no meaning in life apart from constant striving. Henry took the opportunity to share that for him, the ultimate meaning in life is knowing one's Creator. He then passed her a Gideon Bible, encouraging her to read it whenever she felt angry, worried or in need of comfort.
"We must be willing to be used by Him and it starts with a 'yes'."
A few weeks later, she took her own life. Shocked at the development, Henry visited her family at home. When he was at her flat, her husband pointed to the Bible Henry had given her and said she had been reading it every night as it calmed her down enough to be able to sleep thereafter.
"I may not know why she took her life, but what encouraged me was that I believed that in her heart, she has accepted Christ," said Henry.   
To those who wish to equip themselves for marketplace evangelism, Henry's advice is for them to seek out stories or sharing sessions on how others are doing it, and to get involved with those who are already doing it.
Going forward, he is asking God to show him where and how to do further outreach, especially during his overseas travels. Nexia TS is ranked among the top 10 largest accounting firms in Singapore and has offices in Malaysia, Myanmar and China.
Henry is also active in other forms of ministry work, including being in the leadership of Wesley Methodist Church for about 18 years and as the conference lay leader of TRAC (Trinity Annual Conference).
Yet he recalled the small beginnings of his ministry work in 2000, when he said "yes" to carrying chairs and handling other logistics as part of his church's camp committee.
"God will look for suitable opportunities for us, only if we say 'yes'. We must be willing to be used by Him and it starts with a 'yes'."
---
RELATED STORIES:
"Even freehold is not good enough": Far East Organization's Philip Ng reveals his best investment decision
"Every 'version upgrade' was through a trial or challenge": St Luke's Hospital CEO on learning to give control to God
If you have enjoyed reading Salt&Light...
We are an independent, non-profit organisation that relies on the generosity of our readers, such as yourself, to continue serving the kingdom. Every dollar donated goes directly back into our editorial coverage.
Would you consider partnering with us in our kingdom work by supporting us financially, either as a one-off donation, or a recurring pledge?
Support Salt&Light