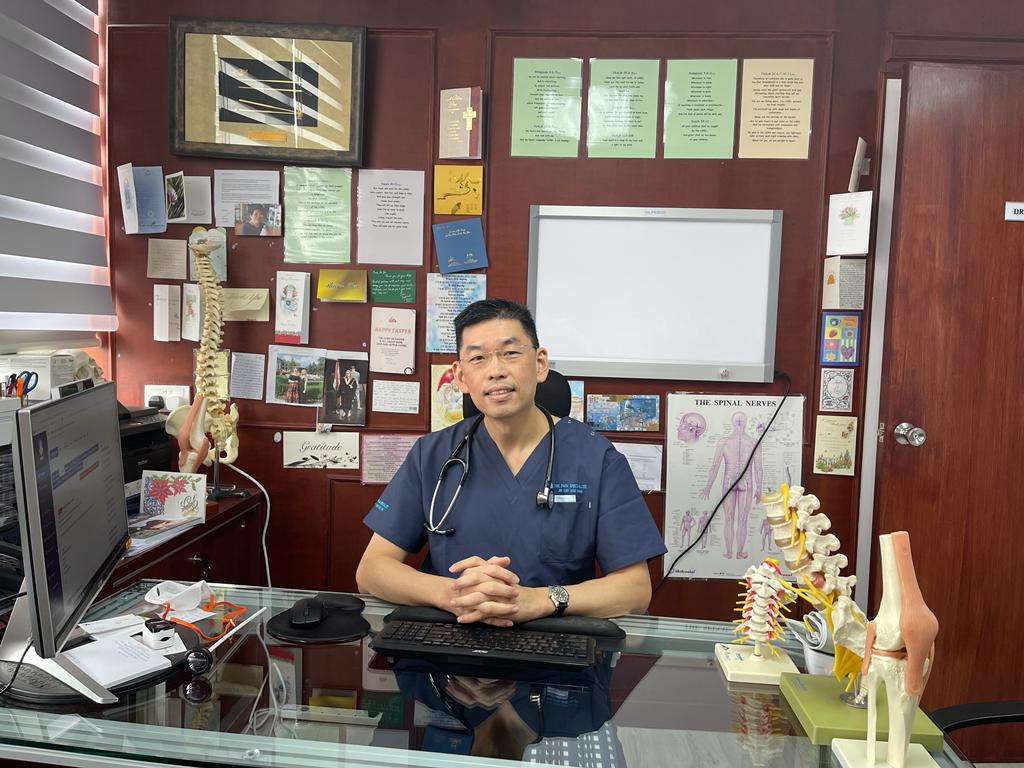 Dr Yeo runs a clinic called The Pain Specialist at Mount Elizabeth Hospital. As a young doctor, he decided to pursue the specialty of pain management after seeing his mother suffer from lung cancer. All photos courtesy of Dr Yeo.
The day that Yeo Sow Nam started his housemanship after graduating from medical school was the very same day that his mother coughed out blood.  
She was later diagnosed with Stage 4 lung cancer.  
Their mother-son bond had been a tightly knit one. She was the classic Asian mum who did not talk much but had an enduring and persevering love for the family.  
He stood by, witnessing the toll that chemotherapy took on her: Vomiting, hair loss, loss of appetite and not being able to move her bowels.  
As the tumour spread from her lungs to bones, he often saw her breathless and in excruciating pain. 
He watched in helplessness over the next two-and-a-half years as she suffered and died.
"I was then training to become a doctor. There was this big gap between the fullness of my aspiration and seeing how existing medical science could not relieve much of her suffering," said Dr Yeo.  
He searched furiously for treatment programmes and drugs, as well as sought out the top oncologists in the country.  
 
Yet there was little information or strategies that could be found on managing her pain. It was 1995 then and palliative care and the specialty field of pain management had yet to be incorporated into public hospitals.  
His mother was only 49 years old at that time, and he watched in helplessness over the next two-and-a-half years as she suffered and died. He could only inject her with small doses of morphine to ease the pain when she was dying.  
"There was no such thing as pain management then but I decided to make it the field that I would go into. The closest field to that at that time was anaesthesiology and I went to be trained in it," said Dr Yeo, now 53.  
His colleagues urged him not to take this little-known path as they felt there was "no future" in it, compared to other more promising specialties such as cardiology.  
A pioneer in pain management
Yet he was profoundly affected by his mum's experience and that gave him the impetus to go overseas to pursue this pioneering course of study.  
He became the first Singaporean physician to obtain accreditation in the specialty of pain management, awarded by the Australian and New Zealand Faculty of Pain Medicine. In 2006, he returned to Singapore to start the Pain Management Centre at the Singapore General Hospital (SGH), the first and largest such centre in Singapore that serves patients with chronic and disabling pain disorders. 
He has been wearing many hats in the field since, being the current president of World Institute of Pain for Singapore, Indonesia, Philippines and Thailand and the former president of the Pain Association of Singapore. 
Yet nothing prepared this top pain specialist for the most painful experience in his life that happened four years ago.  
A woman, who was neither his patient nor his employee, alleged that he molested her four times at his clinic – The Pain Specialist in Mount Elizabeth Hospital – in October 2017. 

The four-year ordeal 
Thus began a brutal four-year legal process for him, beginning with the investigations, then being charged with the offences and going to trial. In August this year, the anaesthetist was acquitted of all charges when the prosecution decided to drop them. 
"The pain I felt then was beyond bodily pain. Without Jesus, my family, career and trust in Man would have been torn apart," Dr Yeo told Salt&Light.  
"I was angry and shocked at the allegations. I asked God for a coping strategy and He showed me Isaiah 54:17 that no weapon formed against me shall prosper," he said.  
He asked God many of the questions that his patients grapple with: Why me? Why now? Why so unfair?  
Though he maintained his stand of innocence from the start and his family stood by him, the news provided fodder for gossip amongst some in the medical community. The Pain Management Centre at SGH put his "visiting consultant" status on hold till the case was over and he also lost some patients.  
The toughest moment for him was when he found himself delayed at the customs for checks even though he was allowed to travel abroad. He was then making two work trips to visit his patients in Indonesia and Malaysia and almost missed his flights. He also recalled the shame of being handcuffed when he was charged with the alleged offences.   
"It was humiliating and I felt persecuted by the country I loved and served. I was assumed to be guilty until proven otherwise and it was one long, uphill battle," said Dr Yeo.  
The four-year legal process cost him more than $600,000. 
Fortunately, Dr Yeo said most of his loved ones and patients supported him throughout his ordeal. Many wrote character references and prayed for him.  
Above all, it was his faith that kept him going.  
Initially, he asked God many of the questions that his patients grapple with: Why me? Why now? Why so unfair?  
 
"God told me that He had a bigger plan for me and to walk by faith and not by sight. I did not understand that, but I believed that He could cause good to come out from this. From that day onwards, I stopped asking Him why," said Dr Yeo, who has two young adult children. His wife helps him in his clinic with the accounts and HR matters.  
Holding fast to God's Word 
During the four long years, he and his wife would go for long walks, almost daily, at the Botanic Gardens, meditating on Psalm 23 and 91 that assured them of God's comfort and protection. They would also praise God with the verses in Psalm 25 and 103, and use them whenever they needed guidance in walking the right path. Every night, he also tuned in to audio sermons before he slept.  
"Whenever I felt down because the odds seemed stacked against me, Psalm 23 reminded me that He is my shepherd and I shall not lack. Even though I walk through the valley of the shadow of death, I will fear no evil," he said.  
"It was not easy because we also had to talk to our children about learning to ignore the harsh comments from social media or people around them. It was a dark time," he added.  
Dr Yeo, who worships at New Creation Church, came to faith during his army days.  
Then, he had everything going for him, having just graduated from Hwa Chong Junior College where he was the President of the Students' Council and headed to medical school next. Yet he still felt empty.  
"I loved to read books but I realised neither human philosophies nor success would fulfil me. Growing up in a Chinese family meant that I internalised the belief that hard work is everything and there is no free lunch. There was a lot of expectations and striving so the Christian message of grace and God's unconditional love was transformative for me," he added.  
Despite having the case hanging over him these four years, he continued to go about his work as usual.  
"I played sermons on CD in my car as I drove around from hospital to hospital, letting the Word of God wash the 'dust and negative words' of the world off my mind. I hung on to His promises and trusted God to vindicate me," said Dr Yeo.  
While in the midst of preparing legal representations and meeting his lawyers every few weeks, he pressed on with making key contributions to the field. In 2019, he started the Chapter of Pain Medicine Physicians at the Academy of Medicine and co-chaired a committee which assisted the Ministry of Health in publishing the national guidelines on opioid use in 2020.  
"My wife and children kept encouraging me to focus on Jesus and keep giving my best to my patients," he said.  
The five-day trial 
In the lead-up to his five-day trial in March this year, his daughter led the family to fast and pray for one month.  
When the trial commenced, Dr Yeo said he felt "lighthearted" instead of feeling stressed.  
"I felt Jesus with me all day and all night, as I beheld Him in court and continued to meditate on His name. I could sleep well and it was so heartening to see my friends, medical colleagues and patients turning up in the courtroom to support me," said Dr Yeo.  
His daughter remarked to him and his wife that, ironically, those few days were the happiest she had seen them in the past four years.  
During the trial, the complainant confessed several times that she had lied while testifying in court. 
The prosecutors said they decided to withdraw the charges after considering the evidence as well as the defence lawyer's representations. They later issued statements raising concerns over his defence lawyer's conduct and the "misleading and regrettable" claims made about the woman lying about "material elements" of the molest allegations. 
"I asked God for the grace and humility to forgive her."
"I left the matter between them and my lawyer. To me, it is more important to be spiritually at peace and to let it go rather than humanly fight over what is right or wrong," said Dr Yeo.  
Initially, he had wanted to keep the option of removing the gag order on her identity and pursue legal recourse against her, but he later changed his mind.  
"Humanly, it is hard for me to forgive and, yes, I would like to see justice being served. But as time went on, my perspective changed. I asked God for the grace and humility to forgive her," said Dr Yeo.  
During this time, the Biblical story of Joseph, who was betrayed by his brothers and thrown into jail over false accusations of an affair, ministered to him.  
"God was with him and even when he eventually came into power, he chose to forgive rather than punish his previous employer and siblings. That guided me in seeing that there was no point escalating matters further," he added. 
In September, MPs in Parliament welcomed new laws to increase penalties for various sexual offences, but also sought more protection for those who are wrongly accused of such crimes. 
"Continue to talk to Him and be still and know that the battle is the Lord's."
Nominated MP Raj Joshua Thomas called for a study on whether or not the identities of those accused of sexual crimes should be published before they are convicted and have exhausted all avenues of appeal. 
He cited the cases of Dr Yeo as well as Mr Ong Mingwee, who was initially convicted of rape before being acquitted on appeal in 2012. 
Mr Sharael Taha (Pasir Ris-Punggol GRC) acknowledged that it takes courage for victims of sexual assault to make a report, but he similarly urged that steps be taken to ensure the justice system is not abused by the "very few" who lodge false reports out of spite or mischief. 
To others who find themselves in similar predicaments, Dr Yeo encouraged them to cry out to God.  
"Continue to talk to Him and be still and know that the battle is the Lord's. Meditate and speak His words that there is no condemnation for those who are in Christ Jesus."  
Healing from the inside
Dr Yeo said he is simply relieved he can focus on fulfilling his purpose once again – that of relieving pain and suffering.  
"Beyond physical pain, many of my patients need their spirits to be uplifted and to be healed from the inside."
"There is gain in every single pain we face. For me, what I have gained is the peace and clarity that I now have on the path I am to walk in life. I learnt to slow down in order to understand the needs of the patients better, to pray before I make major decisions and to work with godly partners," said Dr Yeo, who is currently working on expanding his clinic as well as other acquisition plans.  
He now angles the CCTV in the corridor towards his consultation room (CCTVs cannot be installed in the room to guard patients' privacy) and plans to switch out his wooden door for a glass one for greater transparency.  
He also treats pain differently now.  
"The pain I felt was in my spirit and so I can better empathise about the different aspects of pain. Beyond physical pain, many of my patients need their spirits to be uplifted and to be healed from the inside. A lot of them have anxiety, depression, insomnia and other emotional baggage," said Dr Yeo, who prays for patients with their consent. 
"Sometimes when they are in so much pain, I get them to look up to the sky and remind them that God is smiling down on them. That always gets them smiling too."  
---
RELATED STORIES: 
"The process was painful; what I gained was priceless": Dr Lim Lian Arn, who was fined $100,000, then saw his conviction overturned
If you have enjoyed reading Salt&Light...
We are an independent, non-profit organisation that relies on the generosity of our readers, such as yourself, to continue serving the kingdom. Every dollar donated goes directly back into our editorial coverage.
Would you consider partnering with us in our kingdom work by supporting us financially, either as a one-off donation, or a recurring pledge?
Support Salt&Light