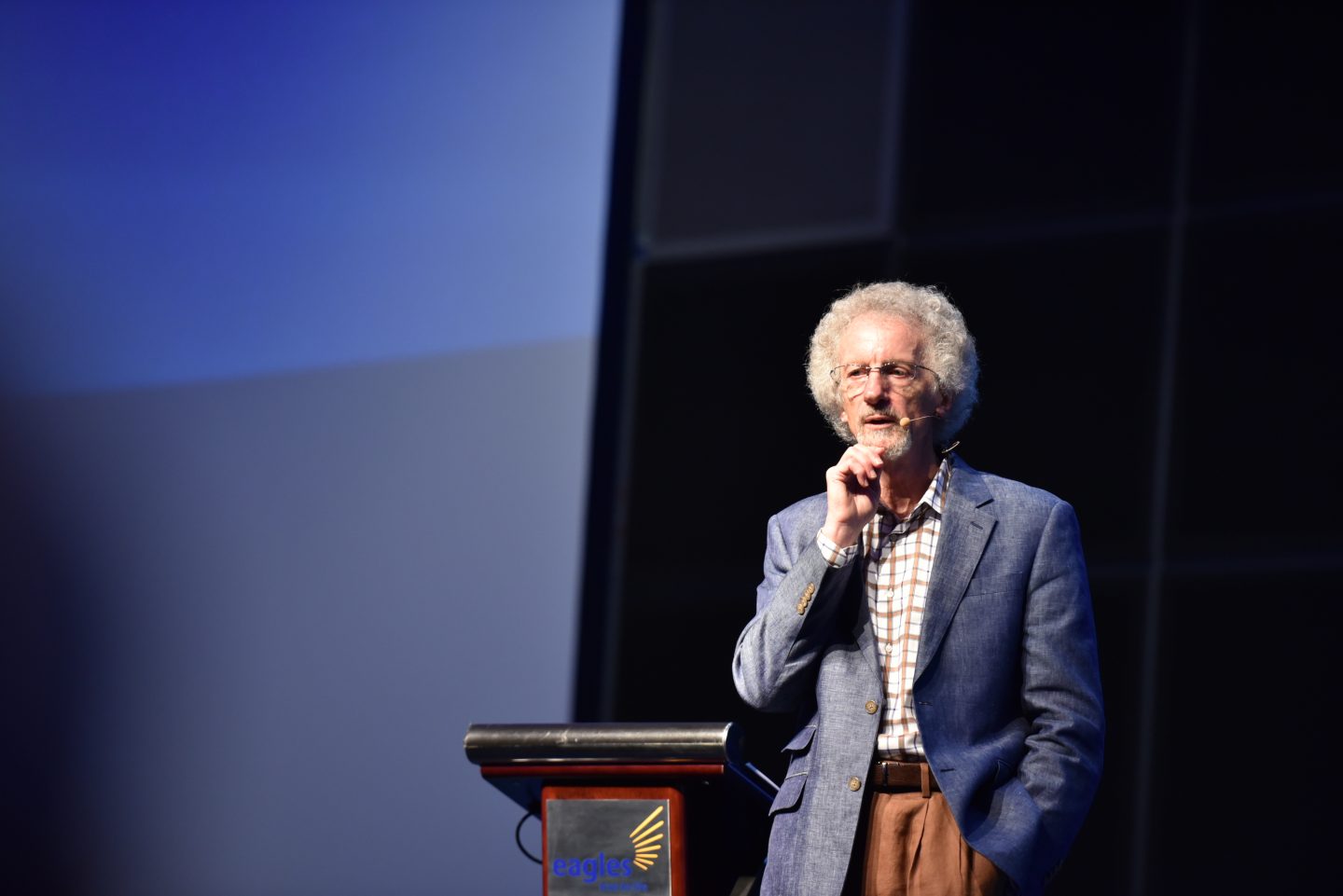 Philip Yancey closed the Eagles Leadership Conference (ELC) 2019 by reminding the audience of the Biblical perspective of the true test of leadership. Photo courtesy of Eagles Communications.
Philip Yancey, best-selling author of more than 20 books, had the final word at the three-day 2019 Eagles Leadership Conference last week (July 27), when he quoted theologian and writer Frederick Buechner: "The place that God calls you to is the place where your deep gladness and the world's deep hunger meet."
Attended by 1,300 leaders and pastors, the biennial conference drew to a close with a talk by Yancey entitled The Future of Leadership, and a dialogue with Eagles Communications president Michael Tan.
Love changes everything
All responsibility can be summed up with the call to love (Mark 12:30-31), said Yancey.
He described a loving leader as one who "has a lot more time for you than anybody else, somebody who listens to you, somebody who cares about all of your life, not just what happens in the eight hours at the workplace". 
He cited from a study from the University of California Berkeley's Haas School of Business, which found that people were 23% more productive at work when they were recognised for their work, and 43% more productive when they felt cared for. 
While companies only care about the bottomline, God cares for our mind, soul and spirit (1 Thessalonians 5:23)
Loving is important because a leader's main job isn't to be "a star", but to motivate and transform those who are doing the work.
It is especially meaningful to acknowledge and value those at the bottom and behind-the-scenes, he said. These are the people who are indispensable and keep the show running.
The true mark of a leader is a desire to develop one's inner core, said Yancey. While companies only care about the bottomline, God cares for our mind, soul and spirit (1 Thessalonians 5:23). What's good for us is our wholeness and integrity. 
There will always be pressure to disintegrate, he said, as we juggle the various aspects of our lives. We will inevitably have to let go of some aspects, but the ones we mustn't sacrifice are family, marriage and faith. 
"A true leader works as hard on legacy virtues as résumé virtues," he said, adding that at funerals, eulogies aren't made up of career summaries, but how loving the person was. 
Contentment from losing your life
During the question-and-answer session, Yancey elaborated that successful people may be riddled with self-doubt and anxiety, but those who give themselves away find fulfilment.
It's declared in the Bible: Whoever receives you receives me, and whoever receives me receives him who sent me (Matthew 10:40).
Service to others is one way of truly making an impact (Matthew 10:42). Showing grace to others is another way.
"Leadership is about managing people who are very different than you are, some of whom are going to oppose you and be hostile. And the true test of leadership is how you handle those people." 
Find fulfilment by giving yourself away.
Ending off his talk, Yancey talked about Fred Rogers, a famous children's television personality in USA. Often when Rogers was invited to give a talk, he would start off by telling the audience to spend one or two minutes thinking about who had deeply influenced them. 
Once, Rogers was invited to the White House, and was given eight minutes to speak in front of the Cabinet and the President of the United States (then Ronald Reagan). At first, he thought it would be a waste of time and an embarrassment to carry out the same practice of asking audience members to recall an influential person in their lives. But he went ahead.
When he looked around the room, he saw Reagan smile. The former President of the United States later told Rogers that he thought of his uncle, who had taught him how to fish.
The African-American butler thanked Rogers too, saying that his third-grade teacher came to his mind. He could have ended up like the rest of his neighbours, he said, abusing drugs, but this teacher kept him out of trouble by loving him and inviting him over to her house.
"Thank you for reminding me what it takes to change a person," the butler told Rogers. 
Yancey challenged: "When I was telling that story, who came to your mind? More importantly, who are you doing that for?
"That's the true test of leadership."
"They wanted to spin hate, we will bring love": Father who lost 12-year-old son in Sri Lankan tragedy
If you have enjoyed reading Salt&Light...
We are an independent, non-profit organisation that relies on the generosity of our readers, such as yourself, to continue serving the kingdom. Every dollar donated goes directly back into our editorial coverage.
Would you consider partnering with us in our kingdom work by supporting us financially, either as a one-off donation, or a recurring pledge?
Support Salt&Light