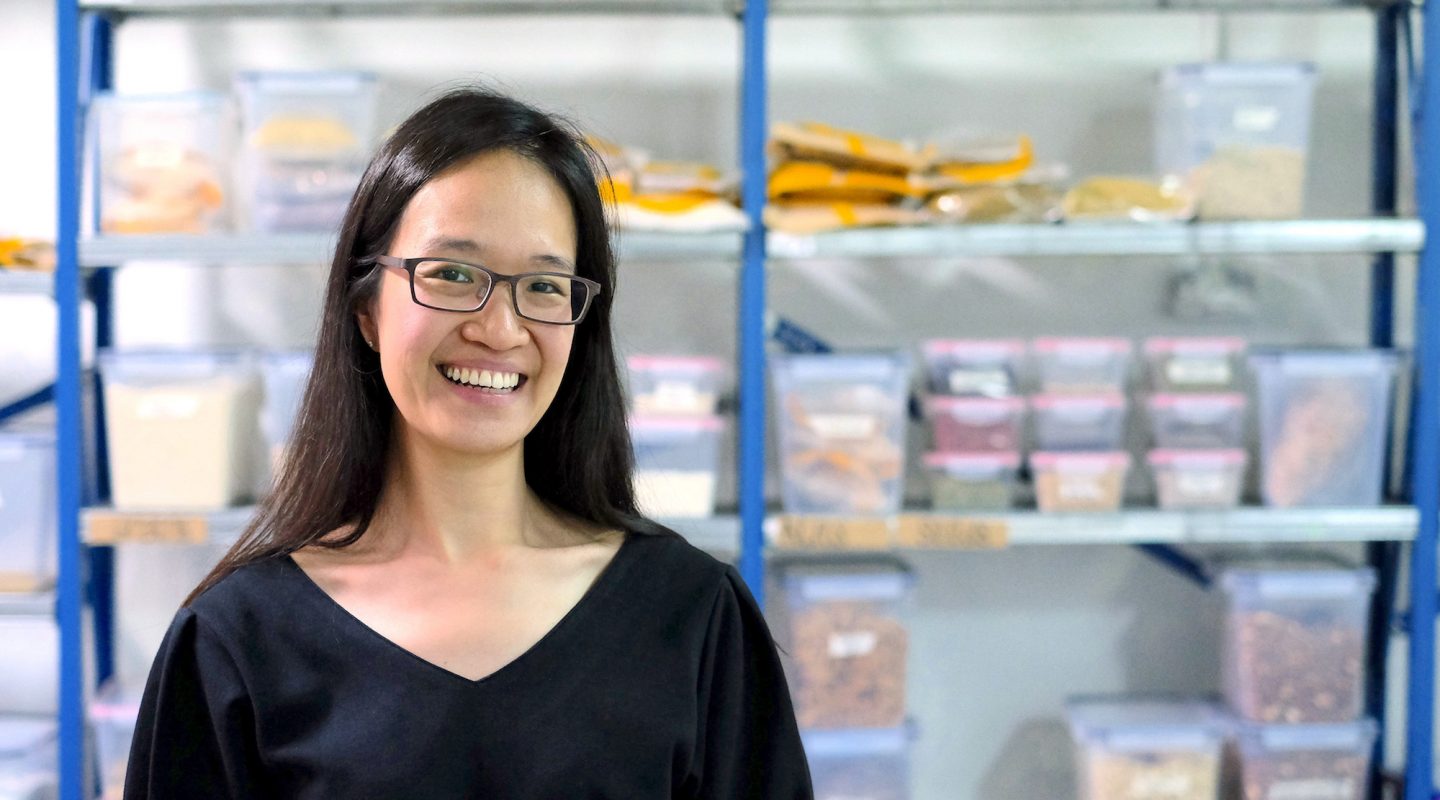 Appalled by the amount of plastic pollution in the sea, Jerine Yue wants to introduce the "milkman service" for groceries. Photo by Tan Huey Ying.
As large online supermarkets limit orders and struggle to cater to overwhelming demand due to the latest coronavirus measures, a small homegrown e-grocer has been cheerfully making sure customers get what they need within two days. There's just one catch – you need to use your own containers.
As a zero waste and packaging-free online store, The Bare Essentials works on the basis of a "milkman service" for groceries. The groceries are delivered in reusable containers and bags, which are returned during the next delivery for a subsequent order.
While first-time customers will get their order in paper bags, repeat customers can either provide their own containers or get them from the store. The containers or bags are coded with the customer number and will not be used by others.
Ordering mindfully
Although Singaporeans are getting accustomed to buying their groceries online, they are perhaps not so used to planning their shopping list around the number of containers in "circulation".
"Customers have given me feedback that they have to think through what they need to buy and what containers or bags they have with me," says founder Jerine Yue, 39, with a laugh.
Ready-to-eat produce such as nuts and dried fruit and those that do not require washing before cooking like flour and oats are put in containers to make sure they are kept hygienic. Other dried goods such as rice and legumes can be delivered in bags.
And customers can buy as much or as little as they like. Instead of having to purchase groceries in big quantities, they can literally order 1g of bay leaves for a pot of beef stew or 200g of flour to bake some cookies.
"That's why the customers have to plan and think about what they need, which is not necessarily a bad thing. It helps us to be a more mindful consumer," she explains.
A plastic awakening
It was at the end of 2017 while Yue was taking a break from work that she became convinced that she needed to reduce waste in her life, having seen how consumeristic lifestyles have led to severe marine pollution.
According to the National Environment Agency, packaging waste, including plastics, makes up about a third of domestic waste in Singapore.
Packaging waste makes up about a third of domestic waste in Singapore.
Singapore uses about 1.76 billion plastic items each year, according to a Singapore Environment Council's paper in 2018. This includes 820 million plastic bags from supermarkets, 467 million PET bottles and 473 million plastic disposable items.
"I became more conscious about how I consumed and how I could reduce plastic usage in my life. I was looking for ways to change my lifestyle but there were very few options in Singapore," says the mother of two.
"I could go to the wet market with my own containers but I thought it'd be nice to have a delivery service where I can get daily essentials package-free."
So Yue started researching on the feasibility of the business idea. Could this be something from God, she found herself asking.
"Give me peace"
Earlier in 2017, Yue's husband, who works in his family's business, sensed that God was calling him into full-time ministry.
"My main concern if he went full-time was finances," she recalls.
And as they headed to church camp in June that year, she only had one thing on her mind.
"I needed God to give me peace about my husband going full-time," she recounts. "And God spoke. Almost every session assured me that we'd be taken care of even if I didn't know how it was going to happen."
Then the idea for The Bare Essentials came but Yue was still unsure as "starting a business is not in my DNA".
"Our work impacts those around us. Is it helping people or oppressing them?"
A year later as they attended a church conference in June, she continued to ask God for further confirmation. One of the preachers talked about how the three prayers that Jesus prayed before His crucifixion had different meanings. The first prayer was at His hour of anointing, the second at His hour of vision and the third at His hour of miracle.
Yue was struck by the parallels with what's been happening in her life. 2017 was her hour of anointing with the assurance that God will provide, 2018 was her hour of vision with the business idea, and 2019 would be her hour of miracle.
Stepping out in faith, she incorporated the company soon after the conference.
Business for good
Yue started working on the business full-time from early last year and began operations in August.
It was a steep learning curve for Yue, who worked in product development in insurance and had no background in business or marketing.
"What I used to do was very technical and I wasn't into business at all. I had to learn how to build a website and test the user interface," she adds.
Guided by Jeremiah 22:13,16 which talks about paying a fair wage, Yue wanted to use her business to do good. She seeks out local wholesalers for the groceries and intentionally works with social enterprises that work with rural women or youths with special needs for household items such as soap, beeswax wraps and reuseable feminine products.
"Our work impacts those around us. Is it helping people or oppressing them?" she asks. "I'd like to use this business to help those who are marginalised."
Overcoming disappointment
Yue knew that the online space was very competitive and she'd deliberately priced her offerings lower than regular supermarkets while offering free delivery for a lower minimum order. Yet business remained slow initially.
"I was expecting it to be better and it can be quite disappointing when there is no business coming in. People say that when God calls, He will open doors and things will happen miraculously," Yue's eyes redden as her voice trails off.
But she holds on to Isaiah 43:2 – a verse that's engraved on a piece of metal in her office/warehouse.
"Even when everything is a challenge, it's a reminder to me that God is here for me no matter what I'm going through.
"It's a reminder to me that God is here for me no matter what I'm going through.
With the Circuit Breaker, business has picked up somewhat and Yue has also put precautionary measures in place such as providing contact-free delivery for her customers, a mix of locals and foreigners. The containers would be left at the door and she'd inform the customer of the delivery.
Heartened by the government encouraging everyone to bring their own containers when doing takeaway, she is optimistic that this will become a new habit for Singaporeans after a month.
"This is a good time for everyone to slow down," she muses. "Hopefully we will now have the head space to think about what really matters, and to reset our lives if we need to."