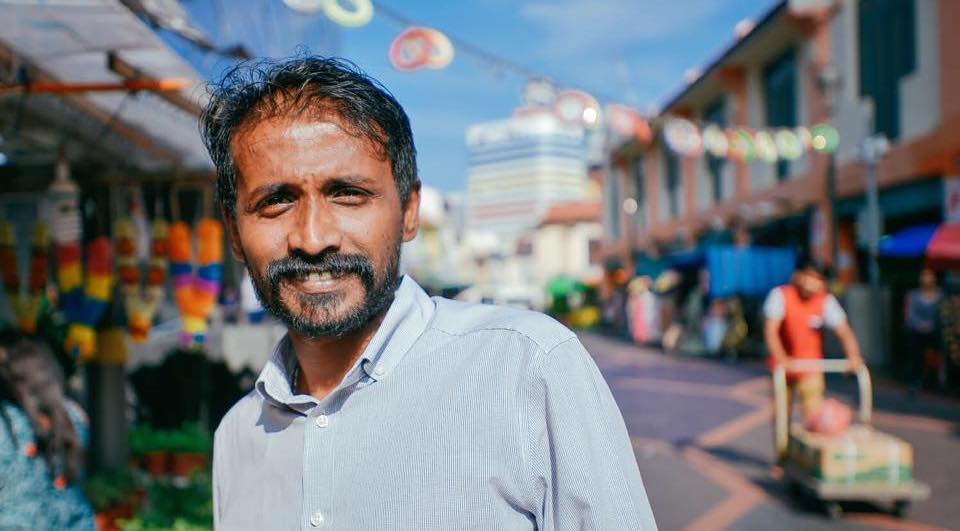 "Surely faith without action is dead," says Jennifer Lim, one of the core team members of #WelcomeInMyBackyard, a campaign that seeks to foster empathy and thoughtfulness in the community towards migrant workers who have been relocated into residential areas like Bukit Merah and Taman Jurong. Photo from MigrantXMe Facebook.
"We must go beyond religion, be His hands and feet.
"Surely the broken were not meant to be ignored, surely faith without action is dead," says lawyer Jennifer Lim, rephrasing the poignant lyrics of Lincoln Brewster's, The Power of Your Name.
She is one of the core members of #WelcomeInMyBackyard (WIMBY), a ground-up campaign calling for empathy and thoughtfulness towards migrant workers who have been relocated into residential areas like Bukit Merah and Taman Jurong.
Over 7,000 healthy migrant workers working in "essential services" have been relocated in temporary accommodations as Singapore authorities move to contain the coronavirus crisis facing migrant workers.
These include vacant HDB blocks and, as of last Friday (April 17), sport halls in Pasir Ris, Clementi and Hougang, which are being converted to house more workers.
WIMBY hopes to foster a community spirit that actively welcomes migrant workers – many of whom are facing anxiety in these COVID times. 
The campaign, which is supported by the Ministry of Culture, Community and Youth's Our Singapore fund, was launched last Friday (April 17) with WIMBY ambassadors in the neighbourhood, opportunities for the public to post online notes of welcome and encouragement, and virtual dialogues between residents and migrant workers once a month.
By creating a welcoming online space and bridging gaps in understanding between migrant workers and residents, WIMBY hopes to transform the social dynamic and encourage empathy and thoughtfulness towards migrant workers.
The call to love
WIMBY was set up to "pre-empt tensions wrought by the sudden change" in the housing estates and hopes to "counter Nimbyism" – a "Not In My Backyard" attitude. 
"We wanted to make these migrant workers feel at home and to counteract concerns and negative sentiments residents might have – which are also symptomatic of our nation's attitude as a whole," said Lim.
The key now is not just for us to provide basic needs to the migrant workers, but also to "change hearts and minds" among Singaporeans, she reiterated.
While help for the migrant worker community has been forthcoming on many fronts, several isolated incidents – such as a forum letter on the Chinese news daily that went viral, and a "concerned" comment on The Online Citizen by a resident in Redhill Close – have led Minister K Shanmugam to call out the "underlying racism" of Singaporeans.
"We are all created in God's image, fellow brothers and sisters whom the Lord has placed here in Singapore!"
In 2009, Nimbyism erupted when 1,400 residents of Serangoon Gardens signed a petition to stop a migrant worker dormitory from being built in the neighbourhood.
Similarly, in 2012, residents in Bishan, Woodlands and Jalan Batu objected to news that eldercare facilities would be built in their neighbourhoods.
Nominated Minister of Parliament Anthea Ong, who first mooted the WIMBY idea to Lim and several of her friends, clarified that this would not be a "quick fix" for biases. Instead, she hopes that this WIMBY campaign will "hold up a mirror" to biases.
Quoting Henry Thoreau, NMP Ong said: "The question is not what you look at, but what you see. We all have our biases and prejudices. How do we see the similarities that we have instead of looking at the differences of the other?"
Lim, a lawyer who has been actively volunteering with migrant workers since 2013, is adamant that Singaporeans need to "see them as how our Lord does – precious in His sight".
"Our Lord calls us to 'love your neighbour as yourself' (Mark 12:31)," Lim said. "And He has a special love for foreigners as well (Deuteronomy 10:18-19).
"We are all human beings created in the image of God, fellow brothers and sisters whom the Lord has placed in this home we call Singapore!"
It is not a call limited to those living in close proximity to migrant workers, Lim added, "This is a call to all of us."
If you have enjoyed reading Salt&Light...
We are an independent, non-profit organisation that relies on the generosity of our readers, such as yourself, to continue serving the kingdom. Every dollar donated goes directly back into our editorial coverage.
Would you consider partnering with us in our kingdom work by supporting us financially, either as a one-off donation, or a recurring pledge?
Support Salt&Light