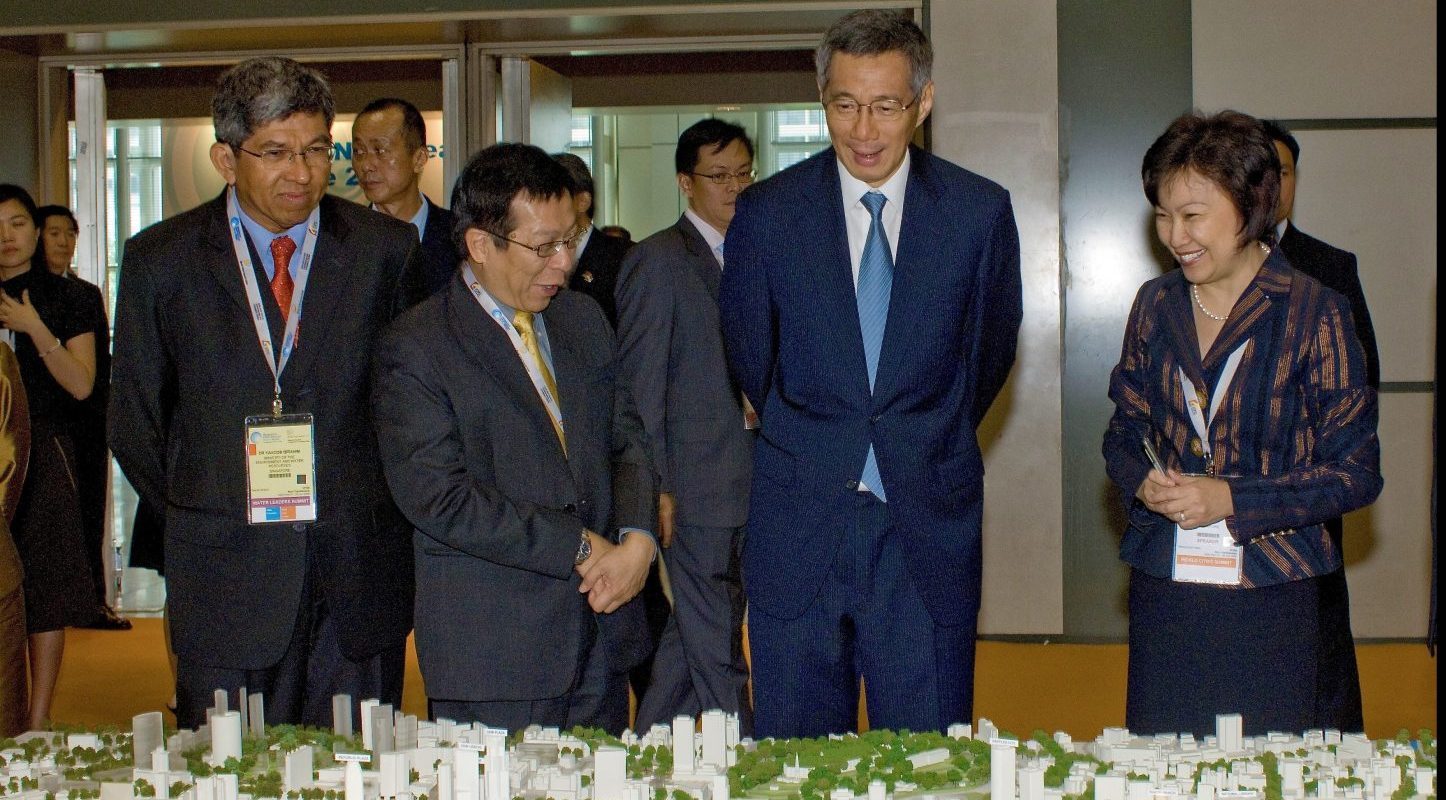 Dr Cheong Koon Hean shows a city model at an exhibition to Prime Minister Lee Hsien Loong, Minister of National Development Mah Bow Tan, and Minister of Environment and Water Resources Yaacob Ibrahim at the World City Summit in 2008. All photos courtesy of Dr Cheong Koon Hean.
She spent five years studying architecture in Australia. 
But when the Colombo Plan scholar returned to Singapore in 1981, she was not channeled into designing buildings, but into urban planning.
This would set her on the course to add her "two cents worth" to roles that included convincing investors – during SARS no less – to develop the Marina Bay area, where land reclamation started in the 1970s.
From "backyard", Marina Bay is now the "tua merng" (Hokkien for big door), or global image, of Singapore. 
In 2004, Dr Cheong became the first female CEO of Urban Redevelopment Authority (URA), and from 2010, helmed the Housing Development Board (HDB) with 5,600 staff – three times the number at URA. At HDB, her teams would introduce a new generation of public housing, and shape Singapore's surroundings to include waterways (Punggol) and farmways (Tengah).
Her architecture training and skills have been invaluable to the complexity of urban planning.
"Instead of doing single buildings, an urban planner has a much greater influence over the design and the development of a city. And I found that, at that macro scale, I enjoyed the work very much, because I could do more," Dr Cheong Koon Hean, now 64, elaborated.
She has since won a slew of international and local accolades – including two public service medals – for the key role she has played in the urban transformation of Singapore, ranked among the most liveable cities the world.
Yet Dr Cheong reiterates over and over that this is not the work of one person alone.
The hands-on leader who believes in "rolling up my sleeves and being in the trenches with my team", stepped down from HDB and retired from civil service on January 1 this year. 
In her new season of life, she is chairman of the Centre for Liveable Cities (under the Ministry of National Development Centre) which distils knowledge from Singapore's urban journey, and shares knowledge and solutions with local and urban leaders.
She is also on the board of trustees of the National University of Singapore and sits on the advisory board of the Faculty of Engineering and its School of Design & Environment as part of a task force that developed a common curriculum between the two domains.
From June this year, she will be also take on the role as chairman of the Lee Kuan Yew Centre for Innovative Cities at the Singapore University of Technology and Design (SUTD). The research institute looks at issues related to an ageing population, the future of work, digital technology, city management and transportation.
Dr Cheong sat down with Salt&Light to talk about how God's "long-term view" allowed her to "add my two cents worth" in making a difference to lives:
How did you set out to be an architect and end up in urban planning?
At age 18, I really didn't know what I wanted to do. I was in a course that was very much engineering oriented, with maths and physics subjects. But I always knew I had a creative side.
So when I was given a scholarship, I chose architecture because it marries both the right brain and the left brain.
Unfortunately, when I graduated, I wasn't posted to a place where I could be an architect. And I was disappointed because I wanted to design and build.
I was posted instead to an urban planning job. I eventually spent most of my career in that field, although I did manage to practise architecture subsequently and also became a qualified architect. And I had the opportunity to be posted to different positions over time.
"Sometimes you think: 'Eh, why am I going this way?' Then, much later in life, you realise God had a plan."
I found that doing urban planning was actually great.
Because instead of doing single buildings, an urban planner has much greater influence over the design and the development of a city. And I found that at that macro scale, I enjoyed the work very much, because I could do more.
Sometimes you think: "Eh, why am I going this way?" Then, much later in life, I realised God had a plan for me to add my two cents worth to the table and shape the environment and make a difference in people's lives.
Our timeline is very short. God's timeline is very long. And we tend to look at things in short spurts and ask why. But God always has a plan.
But we, as usual, are very ignorant, we don't understand the plan.
I spent a large part of my career dealing with cities and urban development. So in the end it turned out well because I'm really passionate about cities.
How have you seen God's guiding hand in your career?
I do believe that God gives different people talents and gifts. If you don't use it, I think He'll take it away.
"The thing I pray for the most is guidance for wisdom and good ideas."
If we are given a gift, then we have a very heavy responsibility to make good use of these gifts. So I've been blessed with the training that I've had. And blessed with the good people I work with.
Very often, in work, you have to make many decisions.
The thing I pray for the most is guidance for wisdom and good ideas.
And I want to do what is right. And I ask for strength.
I simply try to do my best and to do my job to the best of my ability.
How did you live out your values as a civil servant?
I often say to young people who apply for a civil service scholarship or job: The job of a civil servant requires a mindset of service. It's not just a job.
We need to find the meaning behind the job and truly want to make a difference and to make lives better. This is the better motivation for what we do.
And we have to discharge our duties with integrity and be neutral, fair and impartial as best as we can.
We should also make recommendations in a professional way, rather than try and second guess the boss.
What kind of wisdom is called for as an urban planner in Singapore?
People say it is a cliché, but we are indeed land- and resource- constrained. We are only half the size of Metropolitan London, and we are a country having big needs on a small island.
"We need to be teachable – have the humility to know that we don't know everything and the humility to learn."
It is not easy to strike that balance of making sure you have enough land for all developments to meet all your needs for the long term.
You read in the newspapers of competing needs: The "nature people" want more greenery; the "heritage people" want to keep as many old buildings as possible. Actually, the DNA of the planner is to want to keep all these things.
But, unfortunately, we have the unenviable task of being the juggler – trying to juggle the various interests with the very limited resources that we have.
Planners in Singapore – my colleagues and I – have to be really innovative to shape a city that, though high density, is highly liveable.
Where do these ideas come from?
Ideas are never only from me.
You're working always with a team of people to brainstorm things and say: "How do we solve this problem?"
You have to continuously learn.
I try to learn from many other cities – both the good to follow and bad practices of what not to do. And we try to learn from people who are very good and innovative.
We need to be teachable – have the humility to know that we don't know everything and have the humility to learn from other people – even people who are more junior, younger than you. They have fresh ideas. In fact, I encourage it.
Tell us about one of the most difficult times in your career.
We had a dispute with a neighbouring country over our reclamation of Pulau Tekong. And this case was brought before the International Tribunal for Law of the Sea (ITLOS).
I was thrown into the deep end.
It was a very complex issue and we worked with a very tight timeline to settle it. It was my first time in court, not to mention an international court, making a case before 25 judges from all over the world.
"In very difficult situations, I always believe that there is God's guiding hand."
I had to learn overnight. So I suppose this is where you really need wisdom and strength to see it through.
As part of the proceedings, I was tasked to lead a (joint) technical study and was given one year to complete the study. Every time we met, it was a meeting of almost 80 to 100 people because you had engineers, marine scientists, biologists, nature people and lawyers from both sides involved in this study.
But I learnt that it was not just about solving the technical issues, but the way you deal with people that was also important.
We had a really good Singapore team with good camaraderie, and good leaders who made wise decisions on how to proceed.
I call it a blessing that my counterpart was a reasonable leader I could talk to. We treated each other with respect and tried to take a professional approach to resolve the issue.
The outcome was good for Singapore and we could continue to reclaim the land. Why is this so important? Because it gave us more land for the future.
So, in very difficult situations, I always believe that there is God's guiding hand. The signs are not so starkly in-the-face. But you just have to have the faith and confidence that He is there.
What were the circumstances when you joined HDB as CEO in 2010?
After the financial crisis, suddenly the property market shot up because there was so much liquidity in the market.
We didn't have enough flats, so we had to ramp up building to three times the volume. It was a stressful time for everyone.
At the same time, I didn't want to just do cookie cutter flats – building what had been done previously even if that would have been the fastest thing to do.
It was an opportunity to design a whole new generation of public housing towns and flats.
It was an opportunity to design a whole new generation of public housing towns and flats to give Singaporeans a better quality of life. And we brought in a lot of science in order to develop in a sustainable manner.
I'm just very grateful that my colleagues supported this "difficult" CEO and went along to try many new things! So I give them all the credit.
In the last decade, I had a fun time working with my colleagues. And it's been fulfilling and most satisfying.
Over the next three years to five years, a lot of these projects will be finishing. They include Bidadari and Tengah.
When we do new town plans, we want each town to have its own unique identity so that our residents feel a sense of ownership of their town. One way is to bring back the history and heritage of a place.
Everyone remembers Bidadari as a cemetery. But, if you go back far enough in its history, it had a beautiful garden called Alkaff Gardens with a lake in it. There was also an Istana built by a Sultan of Johor for one of his wives (in the late 1850s to 1915).
"We want each new town to have its own unique identity so that our residents feel a sense of ownership."
If you look at the old archival photos, you'll see men in starched white suits, and women with brollies, sitting in a boat on the lake rowing. You would have thought that you were in Hyde Park in England. So we are going to re-introduce a lake and garden when we develop the regional park in Bidadari.
The bird watchers were initially unhappy that we could not keep all the wooded areas and some trees had to be felled because they were not safe.
But we do understand why we needed to keep some nature. So we kept one part of the wooded ridge that is like a runway for migratory birds, where they can land. One of the blocks of flats has a roof garden at the same level of the ridge to complement this greenery. And we are working with nature advocates to plant the right type of trees and vegetation to encourage the birds to come back.
At Tengah, we safeguarded green eco-corridors and will introduce farmways where you can do urban farming. The aspiration is that you could harvest the vegetables and even have restaurants in the neighbourhood centre that will cook it for you.
I really look forward to seeing some of these ideas realised in the years to come.
Why was working in public housing so meaningful?
The home is very important to everybody – for a stable society, for bringing up a family.
Public housing brings homes to people. And you serve such a wide range, from the very low income to middle and upper middle income.
You're trying to meet aspirations and make sure that the flats are affordable to them.
This is a people business … housing is just a conduit for delivering outcomes that are beneficial for people.
When I was at HDB, I asked my colleagues: "What type of business do you think you're in?"
Some would respond : "The housing business?"
Actually, this is a people business. It's not a hardware building type business. Housing is just a conduit for delivering outcomes that are beneficial for people: Making their lives better and encouraging community bonding.
It is also about how we can encourage positive and neighbourly behaviour, so that we live harmoniously as a community.
We live in a very high density environment. You have neighbours above you, below you, to the right, to the left. And you share many of the public spaces.
In Singapore, we are a nation of different races, ethnic groups, cultures and religions. It is one of our mantras to develop not just well-designed but also community-centric towns to develop this bonding.
A lot of people may not realise that HDB is not just a housing provider. When someone is in arrears, we work with many partners and colleagues in other agencies to get jobs for people (who are in financial and other difficulties) to help them get back on their feet and ensure that their children stay in school, so that they can continue towards owning their own homes.
Interestingly, one of the lessons in my recent Bible study was about God expecting us to seek the least, the last and the lost. So I find my job a meaningful one.
Why did you stay in public service for so long?
Because of the nature of urban planning, you need to be in government. Because only the government can make policies on urban planning, and is able to influence and shape at such a large scale.
Staying on in public service meant I could do more than if I were in the private sector.
I am grateful to have had a meaningful career.
I feel blessed in the sense that I've had very good colleagues in the organisations that I serve. I've always worked with very good people.
I'm not being political here, but Singapore is really a good place to practise urban planning. We have a Government that, so far, has always tried to make the right decisions, strike the right balance, take the tough decisions with a very long term view.
And because of this, most of the plans that we make actually do happen. I have many counterparts all over the world who have formulated plenty of plans but they never get implemented.
So Singapore is, in that sense, very fortunate. We can collectively achieve a lot for Singapore – it is never a one man show – and really make lives better.  
Singapore's quality of life has improved tremendously compared to our parents' time.
Tell us more about going the distance.
A favourite mantra I have is: It takes three years to build a building, but 30 years to shape a nation. So you need to be quite determined and persevere to realise your plans.
"It takes three years to build a building, but 30 years to shape a nation."
I always tell my younger colleagues: If you want to do planning, you have to be around long enough to make it happen.
After 10, 20 years, you get fulfilment and a great satisfaction from seeing what you have done.
I'm afraid this is a profession that requires staying power. I sometimes say that urban planning requires missionary zeal!
How do you time manage?
In life, we have to prioritise our time, though we don't always get it right.
It is a difficult balance. We sometimes put our families first. I haven't always put God first, but it's something we need to always be mindful of and that's a work in progress. And if not, I'm sure God will remind us in His way.
I was fortunate to have good family support when I was bringing up my children. Having said that, I made sure I never missed anything important in my children's lives.
How did you come to faith?
I was in Primary 6 at Raffles Girls' Primary School which was located then at Queen's Street. Next to it was a Presbyterian church. I cannot recall how I signed myself up for their holiday programme. There, the message just spoke to me and I accepted Christ.
"My parents only came to Christ in their 70s and 80s, so don't give up on your elderly relatives."
I had a simple faith. At that age, you don't challenge theology. That's why I believe that there is a great mission with children. They come to faith in a very simple way. Faith is something very simple, but adults complicate it a lot.
My family was not Christian then and I wasn't in a church. I wanted to read the Bible, but didn't know what to buy. So I bought a King James version. Can you imagine a 12-year-old trying to read a King James version? I actually read it from cover to cover. I don't know if I understood half of it then!
My brother came to Christ perhaps in Secondary School and my parents only when they were in their 70s and 80s.
So I always encourage people who think their parents will never come to Christ: Don't give up on your elderly relatives. It is in God's time, not our time.
---
RELATED STORIES:
"Family comes first" tenet has not stopped IBM veteran Janet Ang's rapid rise
Meekness in leadership? It's possible, says Choe Peng Sum in farewell look-back at Frasers Hospitality