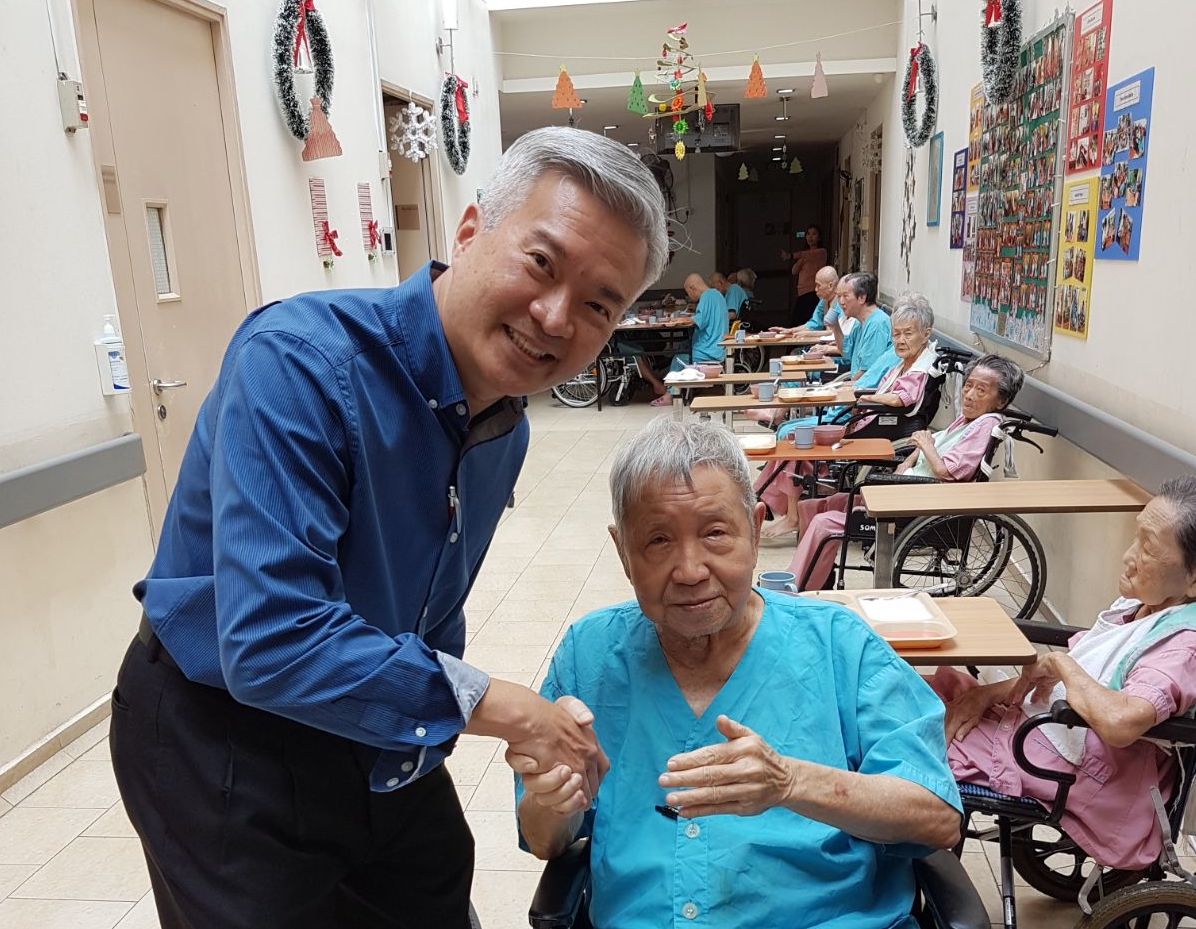 A man for all seasons: Kelvin Ng on his daily rounds at Pacific Healthcare Nursing Home.
You're unlikely to turn your head if you saw him on the street. Kelvin Ng, 59, is the next regular guy in a long-sleeved shirt.
But, to the pioneers in Pacific Healthcare's two nursing homes, Ng is a VIP. 
A wheelchair-bound woman reaches out to grasp his hand as he walks past the dining table where she is parked. Lunch is being served, and a toothless grin flashes from a seat here, a wave of a hand breaks out over there.
The exchanges are warm and the interactions heartfelt. Every day, they look out for that straight back in the long-sleeved shirt, walking through the corridors.
Bible at the beach
It's a far cry from the Kelvin Ng of 1975.
Then he was a 16-year-old in limbo, with a nondescript 'O' level certificate to his name.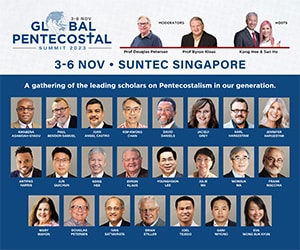 "In my time, it was very strange. I had three 'O's, so I could not repeat. If I had had two 'O's I could have repeated. I could not do anything, so I waited two years before going into NS."
"Every morning I would wake up, go to the beach, read the paper, read my Bible."
Once National Service was done, he began working his way up the ranks in big-name companies like Wywy and Polaroid. He chalked up 18 years of sales and marketing experience and slogged for a diploma through night classes as well.
His dogged determination earned him a place as a mature student in Cardiff University in the UK.
"It was not because of a better position or better pay – I never thought of those things. I just thought: I need education," he shares. 
He obtained his Master's in Business Administration in the MBA's heyday of the early 1990s, and was one of those who had both the degree and the track record to prove he was worth the asking salary.
Upon his return to Singapore, he was promptly sought out to troubleshoot a beleaguered furniture company with cash-flow problems.
A new investor was brought in to ease the crisis, but the funds came with fengshui overtones and Kelvin tendered his resignation. It was a watershed for him: He'd accepted Christ in June of that year, 1996, and on principle decided he could not go with the flow.
"I prayed, and I felt the peace, so I quit without having another job lined up."
He would never have done so previously. "This was the first time," he said.
"I was still single, I still stayed with my mum. Every morning I would wake up, get The Straits Times, get my Bible, go to the beach, read the paper, read my Bible.
"I did that for three months. It felt so good; I felt so relaxed.
"When the three months were up, somebody called me, and I got a job. My jobs have always been like this: Somebody calls me."
Cassette tape sermons
Ng's journey to salvation involved the witness of a young woman named Josephine.
Mutual friends had romantic ideas for them, but she seemed more interested in sharing the Gospel than in him.
"Every outing, every date, she would talk to me about God. She was very persistent."
"Everything is God's timing. God knows when to call us and how to call us."
In the era of the cassette tape, she would bring him recordings of sermons. "This one is very interesting. You listen," she would say, producing a cassette player just to be sure.
Once, she had a recording entitled Mafia turned Minister, and Ng's interest was piqued.
"I thought 'minister' was cabinet minister – very interesting! So, I listened!" 
He heard about someone within the ranks of the Italian mafia becoming a minister for Christ.
"That was 1995. Then one day in '96, she said, hey, my colleague gave me tickets to this drama called Heaven's Gate, Hell's Flames. She knew that I liked musicals. So I said, okay, let's go!"
He was 37 years old at that point, and his wistful assessment to Josephine was: "I wish I had known Christ earlier, when I was young."
Yet, he concedes: "Everything is God's timing. God knows when to call us and how to call us."
'Mama shop' ministry
Goodness and mercy (Psalm 23:6) did not seem to follow him in the days thereafter.
Whereas there are testimonies galore of lives turned right-side up by God, "for me it's the other way around".
"Actually, before I accepted Christ, my life was very smooth. After I accepted Christ, my life took a dip.
"My wife says we were 10 years in the wilderness. I took a much lower pay; I was in and out of jobs."
One of the jobs was in the animal feed industry for nine months, another in high-end corporate office furniture for six months.
"But I never regret lah, because as I look back, the Lord was with me every moment." (Deuteronomy 31:6)
"I learned to hear the Lord and move according to the Lord's will."
God showed Himself to be in the big and small when, soon after wedding bells rang for him and Josephine in 1999, he was invited to run the bookshop in Trinity Christian Centre (TCC).
Josephine was the connection; she had long been a personal assistant to one of the associate pastors in TCC. The church was in the midst of renovations in 2000, and the question was asked: Would Ng run the bookshop?
Around the same time, an acquaintance of Ng's called unexpectedly with a business proposal. "He asked me, 'You want to set up a bookshop or not?' I was shocked. I said, 'Why you ask me this kind of thing?'
"His passion was ice-cream. He'd always had this vision of people coming to have ice-cream and browsing through and buying books.
"I thought, 'Just nice! Maybe the Lord opened the door!' So I prayed. But the Lord said, no. Instead, the Lord gave me an image of my cousin."
They had grown up together but were hardly in touch as adults. Furthermore, he was not a believer. In obedience, Ng called him anyway. "He said, okay. He was so ready to help!"
They ran The Vine Christian Bookshop together for six years. Everything – even the name – seemed put in place by God, but Ng was desolate.
Always the first one into the box-sized shop and the last one out, his habit was to push the rack of gift wrap out at the start of the day and pull it back in before locking the doors.
"Why am I doing this?" he asked the Lord one day. "It's exactly like a mama shop!"
God had His reasons, and in the quiet of that morning, spoke a word during Kelvin's devotional time: Those who can be trusted with little can be trusted with much (Luke 16:10).
"That verse actually held me for (the next) five years."
The end of this season was to come in 2006, when God signalled the next step via the next phone call: "Hey! There's this opportunity …" 
Ng's leaf out of that bookshop experience was double-sided: "I learned to hear the Lord and move according to the Lord's will."
Flipped over, that same page read: "I trust."
He said: "I trust that my cousin will, in his heart, come to know Jesus. I just trust that."
The pilgrim's progress 
Ng's next two jobs were in healthcare, first with the National Healthcare Group, then with Mount Elizabeth Hospital.
Little did he expect to be called back into the church to work a second time, and even less that Josephine would again be the conduit.
By then she was working at Covenant Evangelical Free Church (CEFC) – a place the Lord had revealed by name in prayer when she was seeking a change.
His all-encompassing plan included Ng in that move too, and one day, someone said to him: "Hey! There's a position here. You want to consider?"
His answer was just as customary: "Let me go back and pray first."
The job was to be with New Life Community Services, CEFC's social arm, but the Lord seemed to only be saying: "Maybe."
A year later, in 2009, Kelvin sensed the go-ahead. 
As New Life's corporate services manager, he would oversee the donor and volunteer portfolios, marketing and event management, as well as the childcare centre within CEFC.
"It was a very happy time for me. I told myself and I told all my friends, 'I'm going to this place to work and this will be my last station. This will be my last job.'
"But the Lord is always so humorous. He asked me to go back to marketplace ministry."
In 2011, he joined Pacific Healthcare in response to another phone call, and is today the General Manager of its two nursing homes.
It was a job that just happened, but one God had long been preparing him for.
Ng had all the background needed to step right in when, two weeks after he joined the company, the person running the nursing homes left.
It was a job that God had long been preparing Ng for. He had all the background needed to step in.
"My CEO said: 'Hey Kelvin, you go and oversee the nursing home also.' I said, okay."
What he saw in the wards gripped his heart. "I tell you the truth – the first day I walked around the nursing home, I felt depressed. I asked the Lord, 'Why am I here?'
"The Lord said, 'Well, if you don't take care of them, who will? If everybody says I don't want, then what?'
"I said, okay.
"Everybody would love to work in the Pacific Healthcare office in Paragon. It's along Orchard Road, people are well-dressed, there is aircon.
"But I told my boss, 'Take me out. I want to run the nursing homes.' I saw the need."
No accidents
Ng saw, too, that the revolving doors between the marketplace and the church environment had a momentum powered by God. His most valuable lessons:
"To live below my means. In the secular world you get better pay. In church you get much lower pay. So I have learned to live simply."
Workplace devotions bring joy and unity. He's started weekly sessions open to his staff and is waiting for the right time to extend this grace to the home's residents. "That is my dream."
In the church setting, "you read a lot more, you have the time to interact with colleagues and share about Christ in a different way – it all helped me to grow. I learned to walk with the Lord more closely".
"I'm very clear. Whether in church or not in church, an organisation is an organisation. Only the mission is different. As I look back, I know God is with me every step of the way. There is no accident." 
In the inimitable spirit of a true pioneer, he adds: "I like to do new things, I like to do different things. If the Lord calls, I just go."
God's communication line
A new book on the ways God has communicated with Kelvin Ng and his wife, Josephine Wong, including through visions, will be launched on November 10. To buy copies of The Lord is my Shepherd, priced at $12, please email [email protected].
If you have enjoyed reading Salt&Light...
We are an independent, non-profit organisation that relies on the generosity of our readers, such as yourself, to continue serving the kingdom. Every dollar donated goes directly back into our editorial coverage.
Would you consider partnering with us in our kingdom work by supporting us financially, either as a one-off donation, or a recurring pledge?
Support Salt&Light